It's no secret that I've been pretty conservative as far as pandemic safety goes. So, when I finally decided to travel, I wanted to make sure I protected myself the best I could. That meant using good-quality face coverings. That said, here's what I think are the best disposable face masks for traveling.
I don't need to tell you guys that travel isn't quite the same as it was pre-pandemic. From vaccine passports to mask mandates, there are different things we need to consider when heading away from home. But because I have many high-risk people in my life, I wanted to make sure I was as safe as possible when away from home. Naturally, that meant not using any old face masks. No, I wanted to make sure that I used something that is highly effective yet is as comfortable as possible too. As a result, when preparing for my trip, I ended up buying three different face masks.
Best Disposable Face Masks for Traveling
Naturally, the easiest way to ensure you have an effective face mask is to bush a NIOSH N95 face masks, which is why this type of face mask was my first purchase.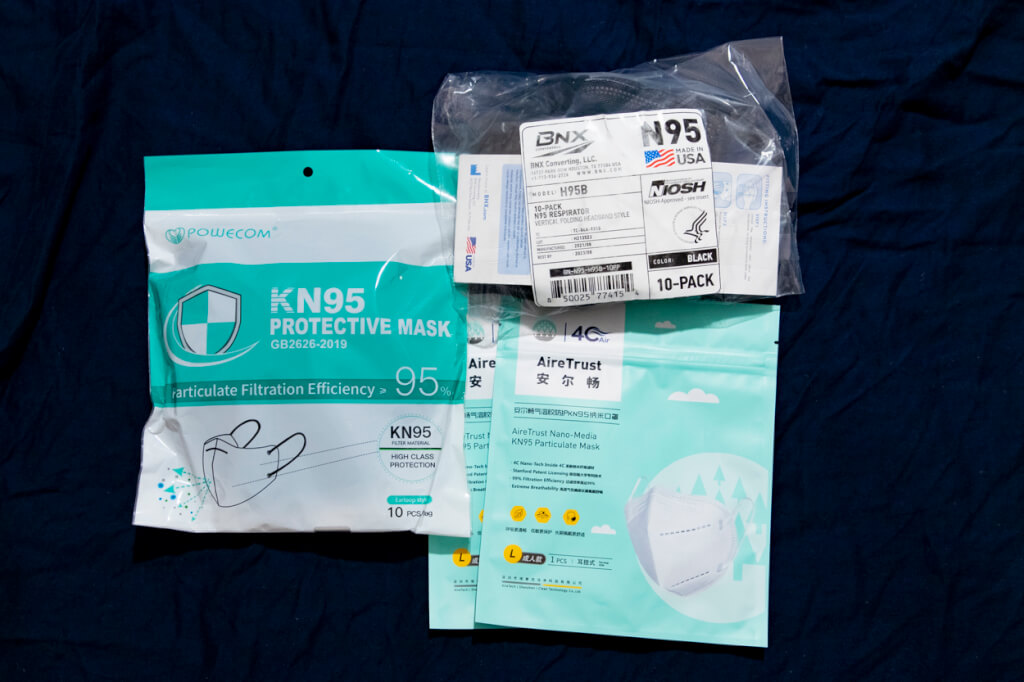 BNX N95 Masks
The BNX N95 masks were the only masks I bought from Amazon.com. Yeah, I know. Buying from them is risky since it's hard to verify authenticity. However, the manufacturer sells their masks directly on Amazon, so I felt comfortable buying these masks in this way. But at $32 for a pack of 10, or about $3.20 each, these masks are not cheap. True NIOSH N95s seldom are, though.
So, how do these masks perform? Well, the BNX N95 masks, like all N95s, utilize headbands, so ear pain isn't a concern here. Putting this type of mask on is a bit of a pain, but once it's on, it's actually pretty comfortable. The fit is also nice despite its snugness. That said, I did find these masks difficult to breathe in, which isn't good when you're lugging your bags clear across an airport. In fact, after briefly testing this mask out, I decided not to use it during our travels.
Powecom KN95 Masks
KN95 masks are similar to N95 masks. The biggest differences are that KN95 is based on Chinese standards and, as such, you can often find these with earloops instead of headbands. Now, not all KN95s are created equal – and there are tons of fakes out there too. So, this time, I avoided Amazon and went straight to the distributor. In this case, I bought Powecom KN95 masks from bonafidemasks.com.
Why Powecom KN95s? Well, for one, earlier in the pandemic, the FDA gave Powecom KN95s a temporary emergency use authorization. That means that, during the NIOSH N95 shortage, hospitals could use masks – like the Powecom KN95 – in their place. What's more, Powercom KN95s are fairly inexpensive – I paid $23.40 for a pack of 30. That's just $0.78 apiece. The more you buy, though, the less it costs per piece.
As far as comfort goes, the earloops are nice and soft, while the masks are still held snuggly against your face. However, perfecting the fit is somewhat difficult, and I often found the need to adjust the mask to keep air from leaking out by my chin. This is common among KN95s with earloops, though, so I didn't find it to be an issue. When the mask does sit perfectly on your face, though, I found it to be more breathable than the BNX masks. You'll definitely still notice the mask, but it just didn't feel as restrictive as the BNX one.
4CAir AireTrust
Like the Powercom KN95 masks, the 4CAir AireTrust masks are also made in China and are also KN95s. That, however, is where the similarities end. AireTrust masks are, by far, the most expensive masks I bought when you factor in the cost of shipping. What's more, while they're made in China, the nanotechnology behind the masks was developed right here in the US at Standford University. Specifically, a professor of material science and engineering and a professor of physics and molecular biology co-developed the technology. And while these are claims made by the company themselves, they're also backed up by information from Stanford University itself. What's more, independent laboratory testing shows that the masks are just as effective as a NIOSH N95 mask.
With the providence and effectiveness of the mask squared away, the biggest question I had left is how they feel. After all, 4CAir claims that these are the most breathable masks available. And, you know what? They're right. It is a night and day difference when compared to the Powecom and BNX masks. The breath extremely well while maintaining an excellent seal. The materials are also soft and comfortable against the skin. The only thing to be aware of is the different sizes. I fit a large perfectly, but Mrs.Island Miler needed a small.
So, how much do these masks cost? Like the Powecom masks, thigh more you buy, the less they cost. However, a pack of 5 will set you back $15. Shipping to anywhere in the US will run you $5 regardless of the quantity purchased.
Note: 4CAir is experiencing supply shortages and is only selling masks in packs of 25 going for $75 a pack. If you need that many masks, I'd say go ahead and order. But, if like me, you can't possibly use that many, I'd fall back on the Powecom masks.
Final Thoughts
It goes without saying that the 4CAir AireTrust masks are my favorite. In fact, I'll be ordering more of these in both small and large sizes for Mrs. Island Miler and me to use in higher-risk situations. I think the premium is worth it for the level of comfort AND protection these masks supply. That said, for shorter tasks in higher-risk situations, the Powecoms will likely be my go-to mask of choice, thanks to their affordable price. Plus, I've got quite a few of them left. For everyday needs, though, we will continue to use the inexpensive FLTR masks from Costco.