For the past year I have become more and more fascinated with the "digital nomad" lifestyle. For those of you who are unfamiliar with what a digital nomad is, it's essentially someone who is able to conduct their work from anywhere in the world. Digital nomads will often live in inexpensive cities all over the world, soaking in the culture around them while doing enough work to sustain a certain lifestyle.
This type of lifestyle has been romanticized in books like the Four Hour Workweek and the $100 Startup, with being a digital nomad is the modern embodiment of working to live, not living to work. This is something I have been striving to do ever since I left my stable job late last year to pursue various entrepreneurial activities.
While being a true Digital Nomad is something that I have loosely considered doing in the future, any immediate plans were curbed with my recent move to San Francisco.  For now I just live vicariously through those who do this and share their experiences through blogs like Travel is Free and more recently Lucky at One Mile at a Time.

With that background out of the way, I wanted to share a cool website that I came across recently which showcases the best places to live and work abroad for digital nomads. The site is called NomadList and offers you a ranking of what are the best cities to live and work from when it comes to cost of living, temperature and Internet connections.
The #1 overall rated city is Chiang Mai in Thailand, which has become a sort of mecca for Digital Nomads over the years. I know of several businesses that have moved operations to this city because of the low cost of living.
The most surprising city on the list for me is probably Taipei. While I knew they had wonderful Internet and nice temperatures, I had no idea it was so inexpensive to live there. It turns out that living like a king abroad is only a Hello Kitty airplane ride away!
How does the US compare?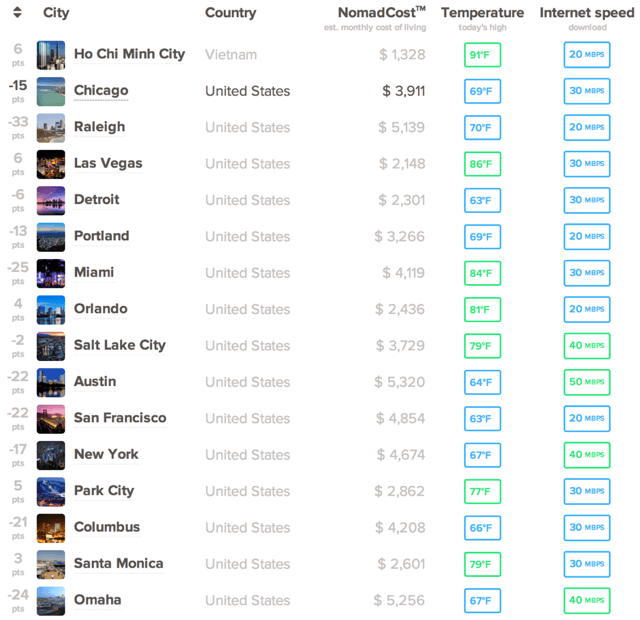 Not well at first glance. When you look at most cities, the cost of living is expensive and the Internet speeds aren't that great.
But it seems that this data is inaccurate in many places. For example, it shows Omaha, Nebraska as more expensive to live in that San Francisco. I can personally assure you that this is not the case. San Francisco is very expensive and Omaha is not.
Another inaccuracy I have found is the Internet connection speed. Here in San Francisco I am using Webpass as my ISP and I have a guaranteed 200MBPS Internet connection for only $50/month. There's nothing like it in the world.
I'll stick to San Francisco for now, but will definitely refer to this list once it starts to become more accurate.
Improving the Accuracy of this Data
If you live in one of these areas and want to help improve the accuracy, you will have the option to edit any entries in the future. This feature is currently disabled because of the massive amount of interest in this website over the past week.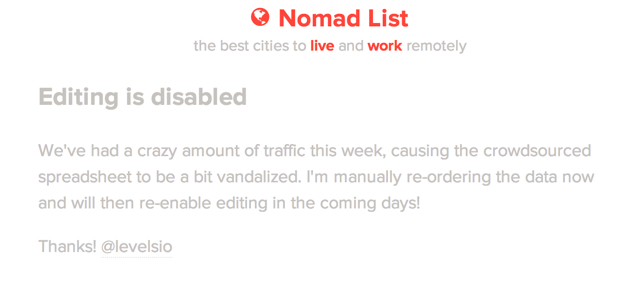 Any places jump out to you as the location of your next visit?
H/T to Matt Mullenweg for mentioning NomadList on his blog.