Looking for a night outside of your resort in Bora Bora, then consider the local icon Bloody Mary's.
Bloody Mary's offers fresh seafood prepared to showcase the natural flavor of your hand selected meal.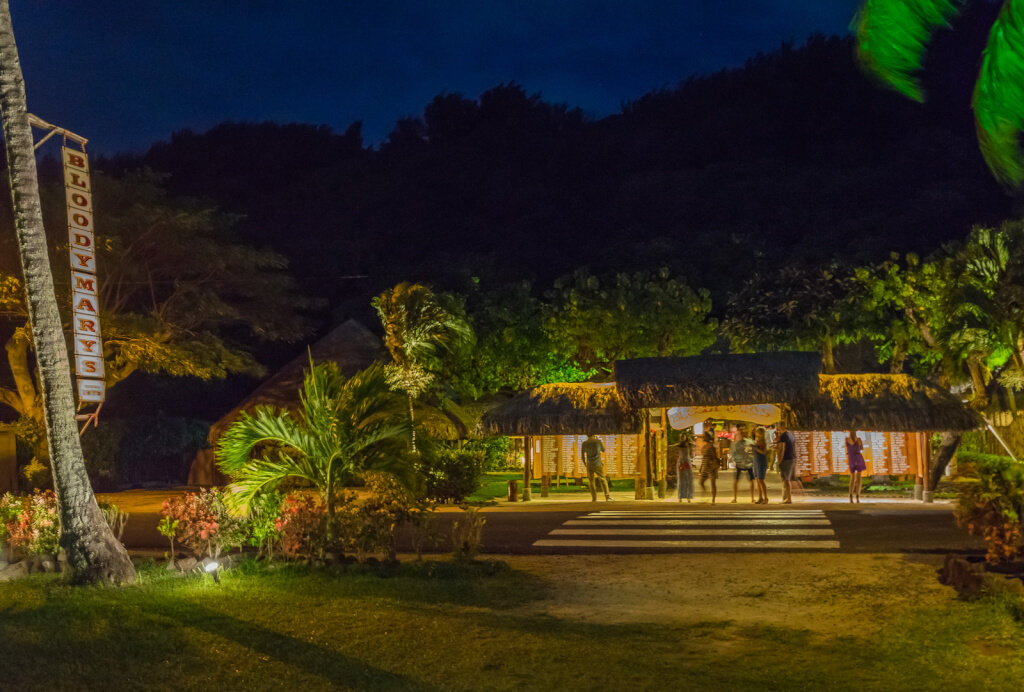 Bloody Mary's is an establishment on Bora Bora. Some say the quality has gone down due to its popularity. Others still highly recommend it.  We had a mixed review as well. My food was perfect, and Jeff's was ok, and especially ok for the price of the meal.
The best way to approach your decisions to visit Bloody Mary's is to manage your expectations. This is an island establishment, not a 5 star luxury resort. Unfortunately like with all of Bora Bora, Bloody Mary's follows the 5 star luxury price point.
If your expectations for this restaurant are a Michelin star experience, then you probably should just stay at your resort.
Logistics
The lunch is pretty basic bar food. I suggest going to dinner or just for a drink.
You need a reservation for dinner, it is an absolute must. Your hotel can easily arrange this for you. Your reservation also includes transportation to the restaurant. We arrived by taxi van.
Bloody Mary's has a private dock as well. The dock is used mostly by patrons staying on boats or cruise ships anchored off shore and arriving by dingy.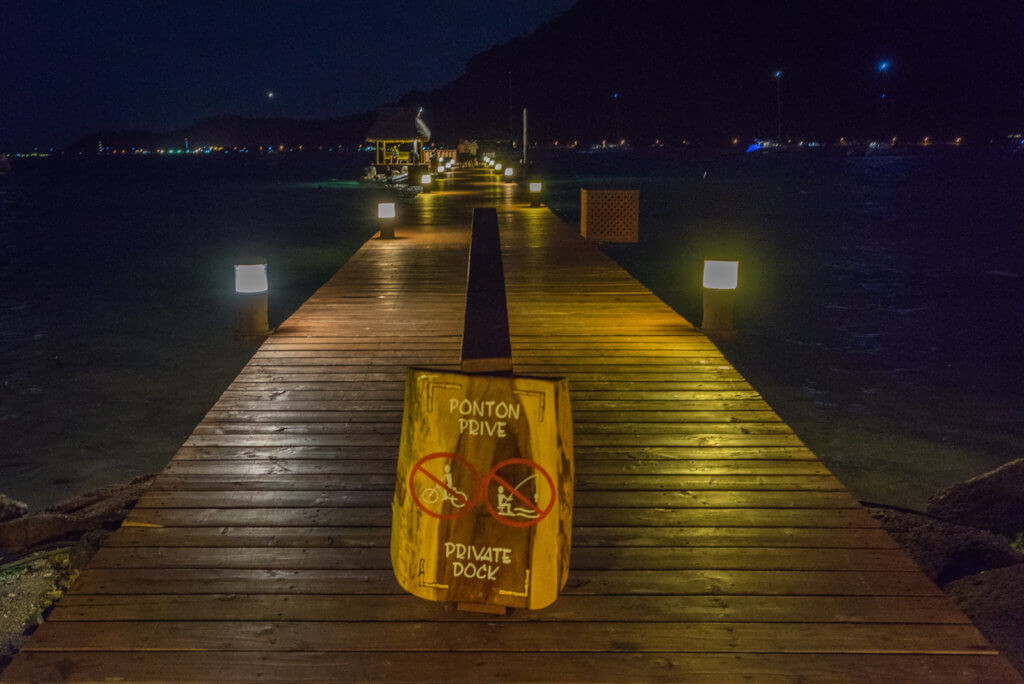 Even with a reservation, we had to wait 30 minutes. (I think this is intentional, so you can spend some time in the bar and souvenir shop.)
The pricing is high, but that is Bora Bora. Dinners can run $40 – $120 per person. This is a bit steep for what you get (iceberg salad, a cut of meat, small portion of veggies and fruit), but it is in line with Bora Bora pricing.
I, also, suggested skipping any pre-paid meal vouchers from a booking agent or cruise ship excursions. Typically, these vouchers are for a specific plate (a combo plate that excludes lobster), so you may be in for some "upcharges" to get the meal that you really want. Don't limit yourself because you think you are saving $10 by prepaying, it's not worth it.
The Bar
Waiting for your reservation isn't bad. You will have plenty of sights to take-in.
In fact, many people go for happy hour or just to hang out in the bar. Contrary to the name, they are not known for their Bloody Mary's. I suggest sticking to beer or island drinks.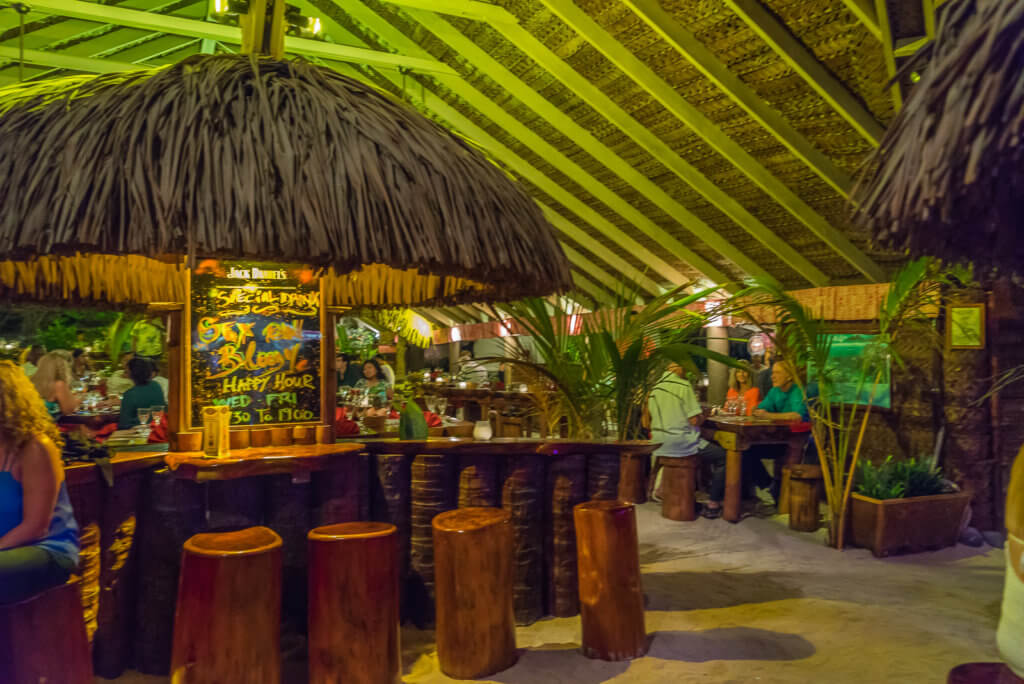 The bar is in the sand, so of course you know you are on a tropical island. If you are not interested in having a drink at the bar, then there is plenty more to see while you wait.
You can note you presence at the restaurant on the money wall.
Be sure to check out the bathrooms, they are pretty cool.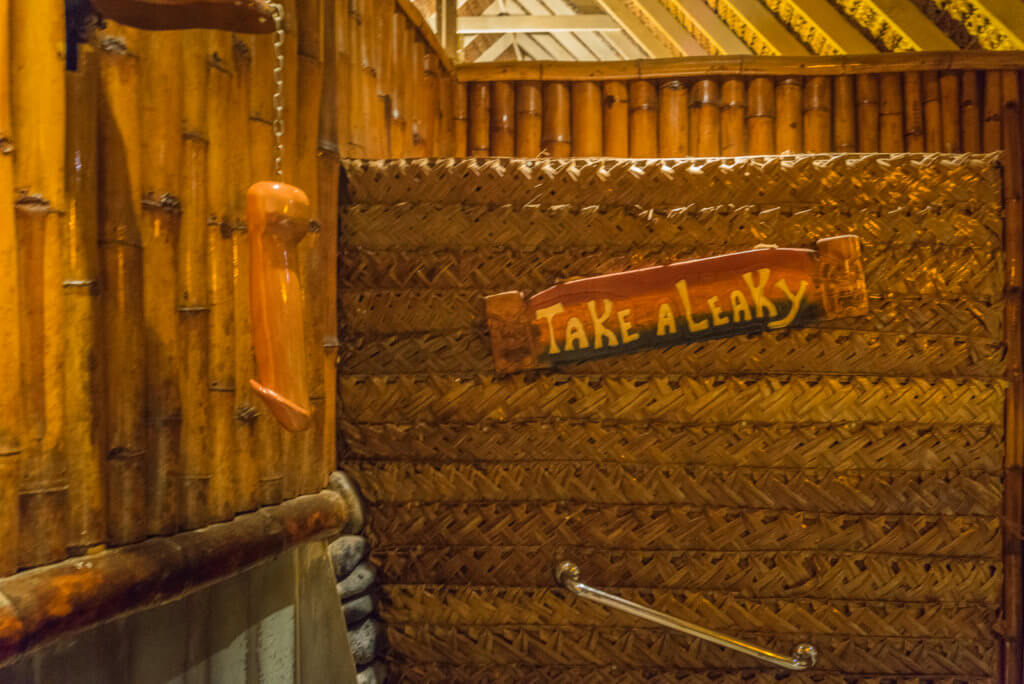 Feels like you are in a rainforest, with a cool waterfall sink.
They may seem a bit rustic. Remember, you are on an the remains of a volcano not in Beverly Hills.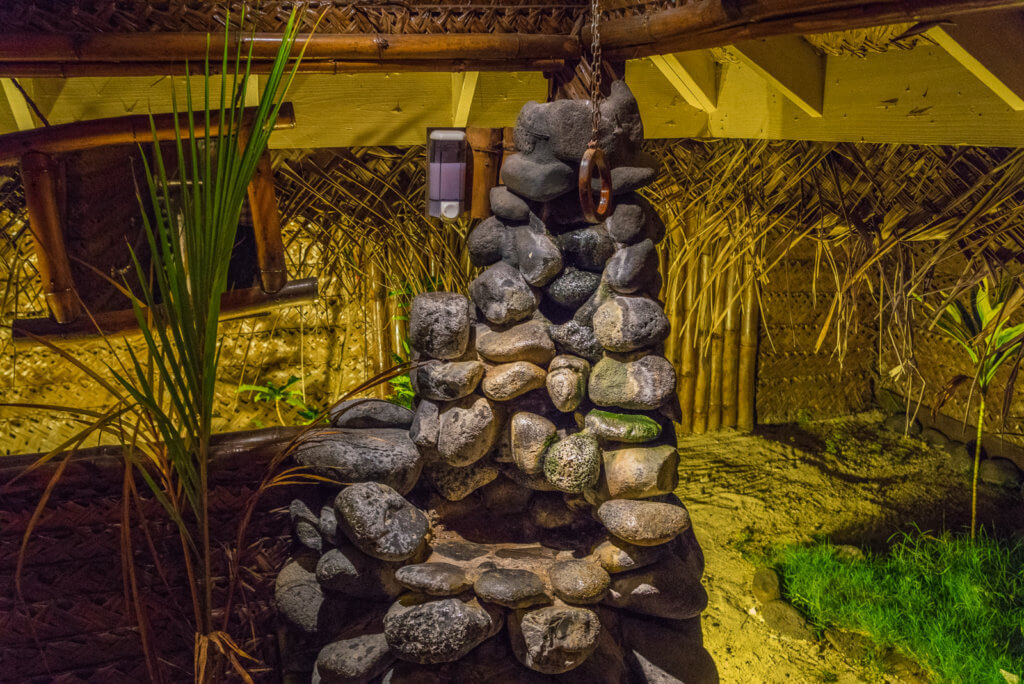 Of course, you can check out the shop, if you want to bring home a souvenir.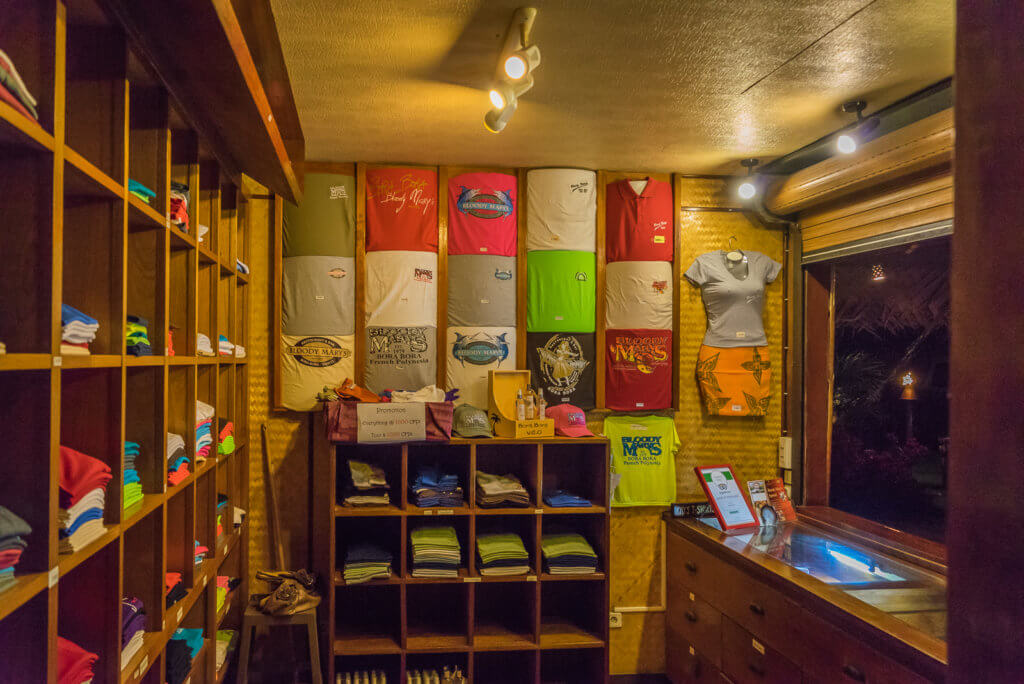 Last but not least, you can take a look at their wall of fame to see who has visited before you.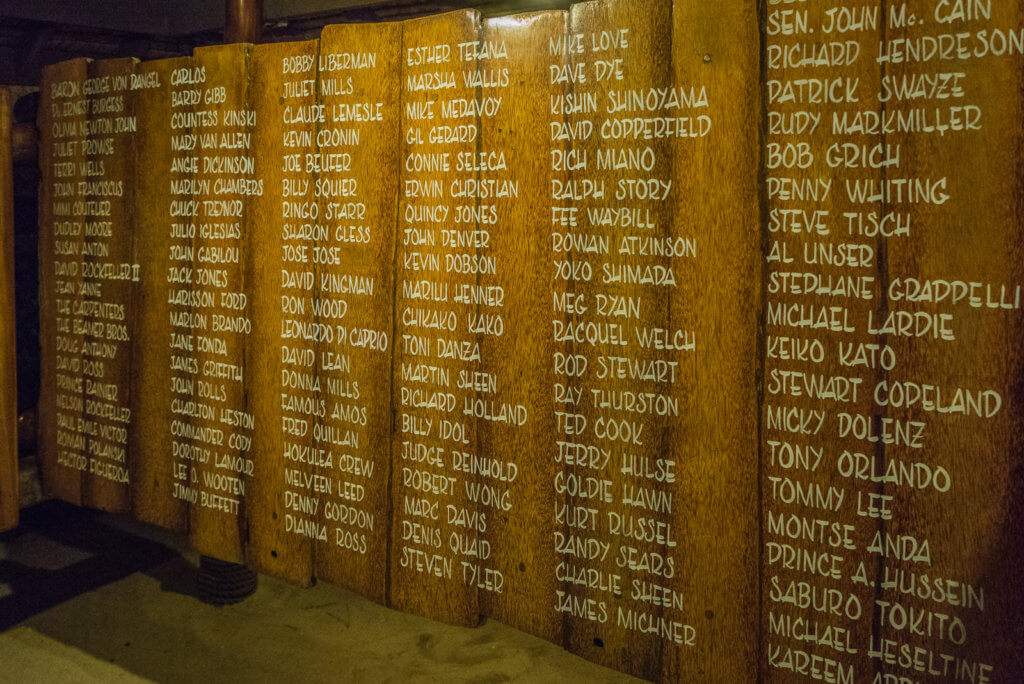 The Menu
Here is the best part of Bloody Mary's, the menu.
Dinner every night (except Sunday) is the fresh catch of the day.
Upside: you know it's fresh and you can decide what looks best to you. We were told by another local establishment that Bloody Mary's get the first pick of the daily catch because they pay a premium (ergo, the higher pricing as well).
Downside: Selection is limited, and when they are out of something that is it. When we were there, the only item they ran out of was smaller sized lobster (4oz, I think).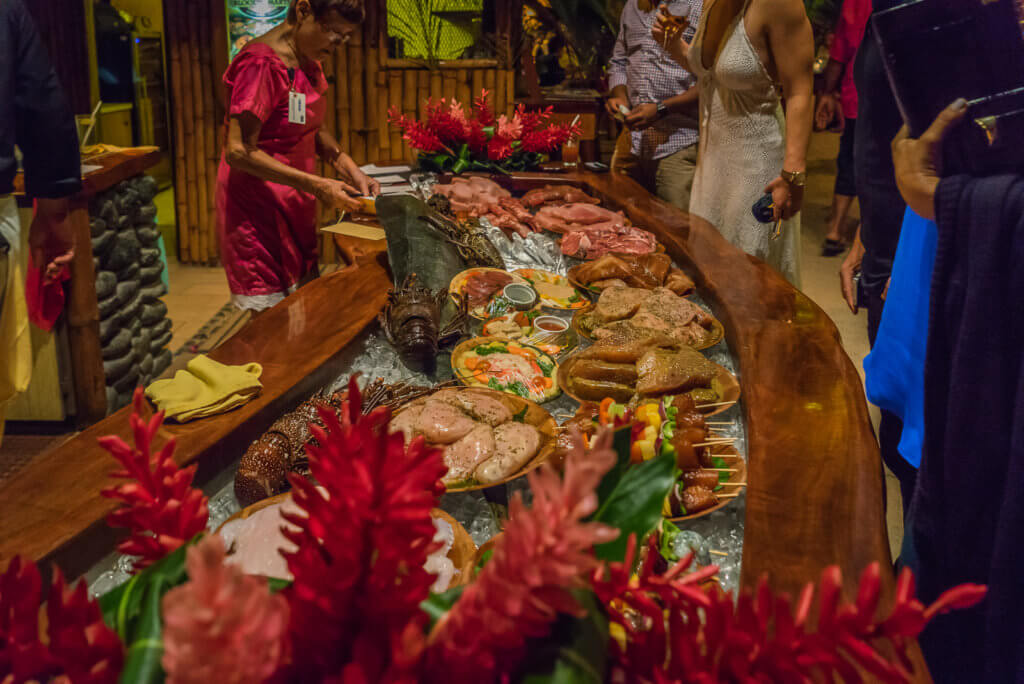 Look at the size of those lobsters! The options are explained and your order is taken with the chef as you look over the menu. Note: vegetarian options are available along with beef and chicken options.
However, the highlight of the menu is the amazingly fresh seafood selection.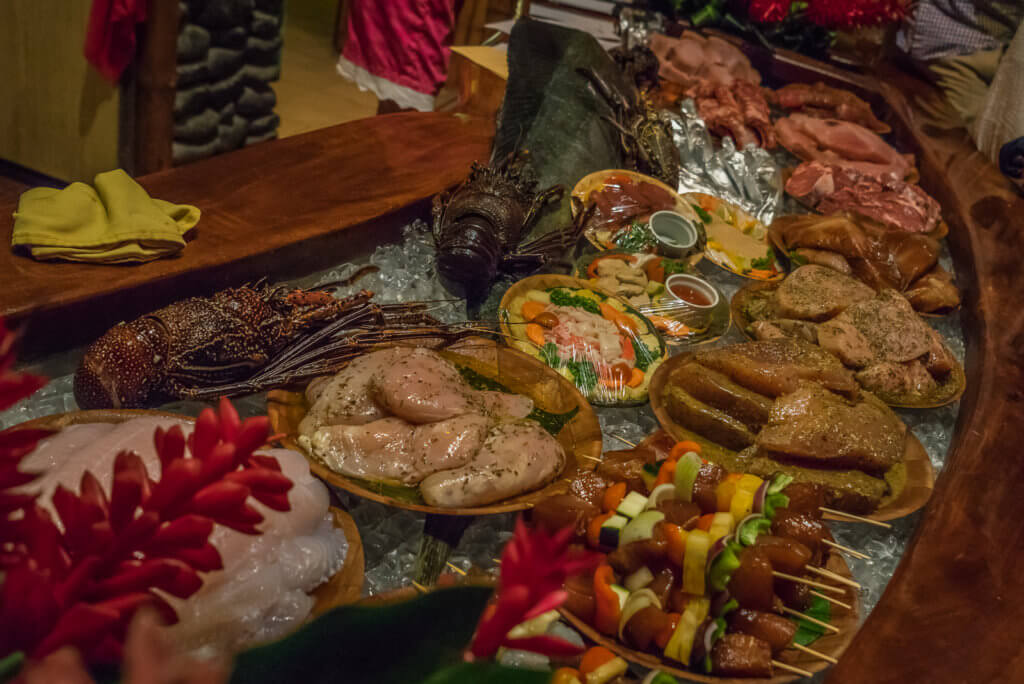 Once you have place your order, a host seats you at your table. (If you are prone to mosquito bites, then bring some bug spray. Some may be available at the bar.)
I decided to try the parrot fish, a flakey fish that has a sweeter taste to it. Mr. J had the swordfish.
Many reviews on Trip Advisor said that the veggies were frozen. Ours were not. Our fish came with a small portion of zucchini and squash.
You do get a salad with the meal (not pictured). It is your typical supper club salad (iceberg lettuce, one cherry tomato, a shave of carrot). Nothing to write home about, but then again you should be there for the fresh seafood.
Mr. J said his was average for the ~$50 price tag. Mine was very good, and prepared perfectly just salt and pepper.
Recommendation
Basically, Bloody Mary's is a backyard BBQ with a Bora Bora price tag. Mr. J and I are split on whether to recommend or not.
I enjoyed the fresh fish, the menu presentation and getting out of the resort for a bit. Mr. J found it over priced for a meal that you would have at a neighbors backyard BBQ.
I recommend definitely going for a drink. For dinner, if you are a foodie or don't like seafood, then I would skip it. Lunch we didn't try, but I have heard it is pretty mediocre.
If you do go for drinks and a cruise ship is in port, then watch out for crowds. Your hotel should be able to tell you if a cruise ship is in port.