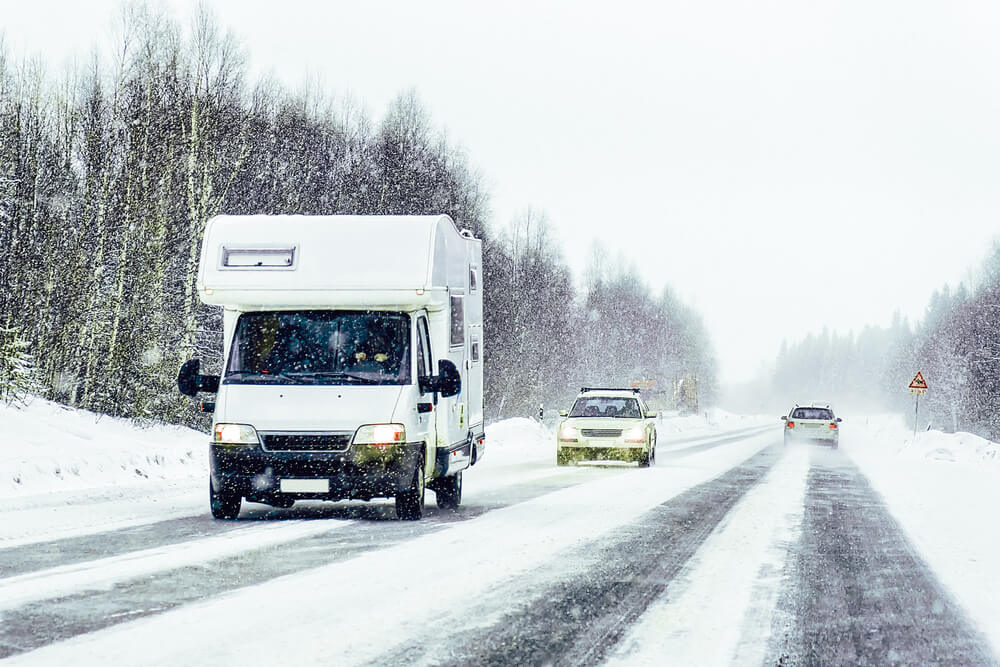 All of our reviews are based on exhaustive research, industry experience and whenever possible, hands-on testing. When you make a purchase using one of our chosen links we'll a small percentage of the proceeds. This supports the site and keeps Jeffsetter running. You can read more here.
Propane is among the most important fuel sources for your RV. If ever you wish to conserve electricity, or are facing a power outage, propane is the perfect backup. It can power generators and many essential appliances in your rig such as the refrigerator and freezer.
It is especially useful when winter camping as using a propane heater can really help keep you and your rig warm. That's why the one thing you definitely don't need while winter camping is any problem with your propane supply. Cold weather can pose lots of problems for your rig if you're not prepared such as snow damage to the roof or water pipes freezing.
With regards to propane however, what problems can arise due to the cold? Can a propane line freeze just as a water pipe can?
Your RV's propane lines can't freeze on their own, but their contents can when exposed to the intense cold. The weather can cause an increase in moisture in the propane lines which can then freeze and disrupt them. Additionally, the cold can also affect the propane itself which can prevent it from adequately supplying your RV.
Let's further discuss how the cold weather affects your rig's propane lines and the steps you can take to avoid this.
How Can The Cold Affect Propane Lines?
It may seem that the main issue would be the propane itself freezing within the lines. After all, when water pipes have the same issue it is due to the water within them freezing. However, while propane technically can freeze, you will never encounter the conditions necessary for that to occur.
Propane Constriction
This is because propane has a freezing temperature of -259 degrees Fahrenheit. or -162 degrees Celsius. That is far colder than the coldest areas on the planet, never in your travels will you encounter the temperatures necessary to freeze the propane within your lines. So, if the propane itself cannot freeze, why does the cold affect an RV's propane lines?
Propane may not freeze during the cold, but that does not mean it doesn't have any effects. The flow of propane in general, but especially in your rig's lines, is promoted by heat. Heat is essential in allowing propane to move efficiently from its source to your RV. Cold temperatures will cause the propane in a tank to essentially constrict, and subsequently the pressure will also drop. This makes it very difficult if not near impossible for the propane to then flow through the lines. If you have ever felt slow and sluggish in the cold, then you have an idea of what is happening to the propane as well.
Condensation
However, while your propane won't freeze in your lines, freezing can still become a problem. This is due to the fact that often in the cold there will be an increase in moisture within your propane lines. This condensation can then freeze and create obstructions in the lines or if severe enough, can even begin to damage them.
It's important to know how the cold can affect your propane lines, but its even better to know what to do if these situations arise.
How to Fix Propane Lines Affected By The Cold
Luckily, each problem that you may encounter with your propane lines being exposed to the cold has a solution of its own.
Pressure
If the cold has lowered the pressure in the propane tank and constricted the propane moving through the lines; the first thing you'll want to do is find a way to raise that pressure again. Heating up your tank and propane lines is the obvious solution, however, you need to be careful doing so. Do not use anything even remotely flammable to heat up the propane as the gas is highly susceptible to such materials. Igniting propane can be incredibly life-threatening and very destructive. To avoid any disasters, use a heating blanket or a similar device that will be able to heat up your tank and or lines without posing a fire risk.
Once you have restored pressure and heated up your lines, its important to take some preventative steps. The best thing you can do is to insulate your lines and to regulate the pressure ion the tank. By keeping the tank no more than around 3/4 the way full, you can increase the chances that it maintains a stable pressure despite the cold. A completely full tank is far more prone to cold temperature induced pressure changes.
Moisture
If the problem with your propane lines is due to moisture freezing within them, you'll want to use heating tape or a heating blanket to thaw the lines. At times, your lines can be affected due to moisture freezing within the propane tank instead. The blockage caused by this then prevents propane from even entering the lines. If this is the situation for you, you will want to use the drain valve attached to your propane tank to drain excess fluids.
Afterwards, anhydrous methanol can be added to the tank and lines to prevent moisture buildup in the future. Methanol is a harsher form of alcohol that is used in many things such as pesticides. Anhydrous methanol is a form of methanol that is free of any water. This makes it better suited for moisture prevention in your propane tank and lines. However, be very careful if you choose to use it as it should not come into contact with your skin or eyes.
Keeping Propane Lines Working in The Cold
Ideally, the last thing you want is to even have to encounter any of the aforementioned cold related problems. A great method to keep your propane lines working in the cold is to use a propane mixture designed for cold weather. If you purchase propane in a cold area, chances are the suppliers will mix their propane with compounds that serve only to keep the propane from succumbing to the cold. They do not affect the propane itself or keep it from fueling your rig and its appliances.
Seeking these cold weather mixtures out for use in your RV is a great preventative measure. Others include having heating tape and blankets alongside other methods of insulation. However, the best is to ensure the propane you're using is designed to handle the cold.
Closing Thoughts
Cold weather travel brings with it a ton of cold-related issues. However, all of these problems are usually the result of a lack of adequate preperation. By understanding the way your RV's propane and propane lines interact with the cold, you can prevent them from being among the problems you may encounter.