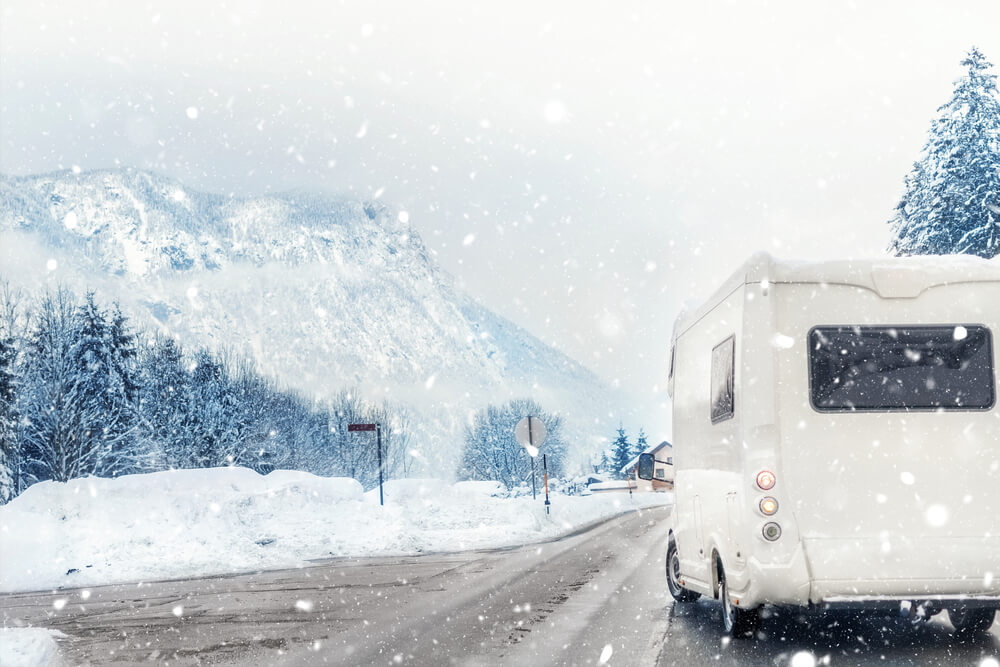 All of our reviews are based on exhaustive research, industry experience and whenever possible, hands-on testing. When you make a purchase using one of our chosen links we'll a small percentage of the proceeds. This supports the site and keeps Jeffsetter running. You can read more here.
Winter camping poses a whole different set of challenges than summer camping. From heating demands and insulation to snow driving and snow/water damage, there are a ton of things to look out for. Among them, and easily one of the most important are your RV pipes. Your pipes, or more specifically the water carried by them, can quickly freeze during the night when camping in a cold area.
If this happens, you'll want to take immediate action to save your pipes from any lasting damage. So, what do you do if your pipes have frozen?
The most important thing to do if you discover your pipes have frozen is to unfreeze them as soon as possible. Luckily, there are many different tools available to you that can get the job done and save your pipes from any damage.
Let's take a closer look at all the different tools you can use to unfreeze your pipes and how to properly utilize them!
How Do You Unfreeze RV Pipes?
The different tools out there for your pipes give you a ton of options as to how you can unfreeze them. However, It's best to understand your pipes before using any of them and why some may be better for you and your pipes over others.
Portable Propane Heater
A portable propane heater is great for the pipes underneath your RV. They can easily be rolled and placed below the rig's undercarriage and gradually heat up any frozen pipes. It's very important to practice safety when using this heater, however, as propane carries a few risks. Firstly, you must never leave the heater unattended. The heat it produces is very powerful and if placed too close to anything not so durable underneath your RV, it can easily melt it or cause it to catch fire.
This also applies to rigs that use plastic or PVC on its pipes as this material is very susceptible to melting under high heat. If your rig does not have metal pipes, it is best to not use a propane heater.
Another thing to watch out for when using a portable propane heater is carbon monoxide. While these heaters often don't release very dangerous amounts, if you run it for too long or are sensitive to carbon monoxide it can be a problem. Make sure your rig has carbon monoxide detectors before using a propane heater. This way you can monitor the levels before they become too high. At best, carbon monoxide poisoning can cause nausea and vomiting, at its worst it can cause death. You definitely do not want to overlook this aspect of your safety when using a propane heater.
Heat Gun
A heat gun is a great way to unfreeze your pipes. They have the added benefit of being able to be used on PVC pipes with a lower risk of melting than a propane heater. Although, you should still be careful to not heat up one section for too long as it could still cause issues. Heat guns are far more portable and easier to handle than propane heaters. However, it will take them longer to unfreeze your pipes as a result.
A fun thing to remember is that hair dryers are essentially just less powerful heat guns so they can be used as well. The only downside is that it will take longer, but if you already have access to a hair dryer and don't want to spend money on a heat gun, it's a good option.
Heating Tape and Cables
These are both great options as they are far more accessible to your pipes than any other. That's because heating tape and cable wrap around your pipes and slowly heat them up. Most of them are thermostat controlled as well so you can set it to stop once the pipes are thawed, preventing any heat damage if your pipes are PVC. The time it takes for them to unfreeze your pipes may seem annoying, but this is for the best as it drastically reduces the risk of damage. Trying to heat up or melt anything too fast can cause problems, the same is true for your pipes.
Each and every one of these tools will allow you to unfreeze your pipes. While it is great that they can get the job done, we've all heard the saying that prevention is better than a cure and the same is true in this case.
How to Prevent RV Pipes From Freezing
Keeping your pipes from freezing in the first place not only saves you from having to spend time heating them up, but it also saves you from any potential damages that freezing may cause.
It's important to remember that keeping your RV as warm and insulated as possible definitely helps keep your pipes on the warmer side. It is not foolproof, far from it in fact, but it is still something you should be doing.
A quality winter RV cover is a good start, but you'll also want to consider insulated skirting that you can attach to your rig's bottom half. It entirely covers the space between the ground and the base of your rig, hence the name. They are so effective because the exposed under-carriage of your RV is the area that is usually most susceptible to the cold. Especially for your pipes as they are located there as well.
Another option is to use heating cables or tapes as mentioned before as a preventative measure. Since most of them use thermostats for temperature control, you can wrap your pipes in them and have them set to heat up once they approach freezing temperatures.
Once it dips below 32 degrees Fahrenheit, your pipes are at risk. With 20 degrees Fahrenheit being the most common point at which pipes begin to freeze. If you do not have access to heating cables or tape, wrapping your pipes in towels is another way to keep them insulated. The best thing you can do, however, is combine all of these methods together, insulation, insulated skirting, and heated pipes.
Closing Thoughts
If you frequently camp during the winter or live in a cold climate, frozen pipes are something you've got to prepare for. After all, you definitely don't want to find that you can't even run any water after a long day out in the cold. Or worse, discover that your pipes have been damaged when you need them most. Taking the steps to prevent your pipes from freezing, or quickly heating them back up if they have frozen, will keep that from happening. Leaving you to enjoy the best parts of winter travel without any worry!