Beyond the quarterly Freedom bonuses, Chase often offers others on the rest of their card lineup. So be sure to check your Chase Q3 2022 bonuses to see what kind of offers you've been targeted for.
Chase often has quarterly offers for their cards aside from the Freedoms. However, they seldom send you emails to notify you of them. Plus, you aren't guaranteed to get an offer, and even if you do, it will often differ from what others get. Luckily, it's easy to check.
Check Your Chase Q3 2022 Bonuses
To check your current offers, all you need to do to head to chase.com/mybonus. From there, all you need to do is enter your last name, last four digits of your credit card, and your zip code. If you're lucky, the next screen will present you with a bonus that you're already enrolled in. Otherwise, you'll need to refresh the page and try a different card.
By the way, any card is fare game. You can try their own card products along with their co-branded ones. For example, last quarter, I got an offer to earn up to 9 Marriott points per $1, which I maxed out entirely.
My Offers
This quarter, I snagged two offers – one I fully intend to take advantage of, and another I won't. First, the not-so-great offer – earn 10 points per $1 in the Starbucks app or online with the Sapphire Reserve. There is a spending cap on this offer of $500.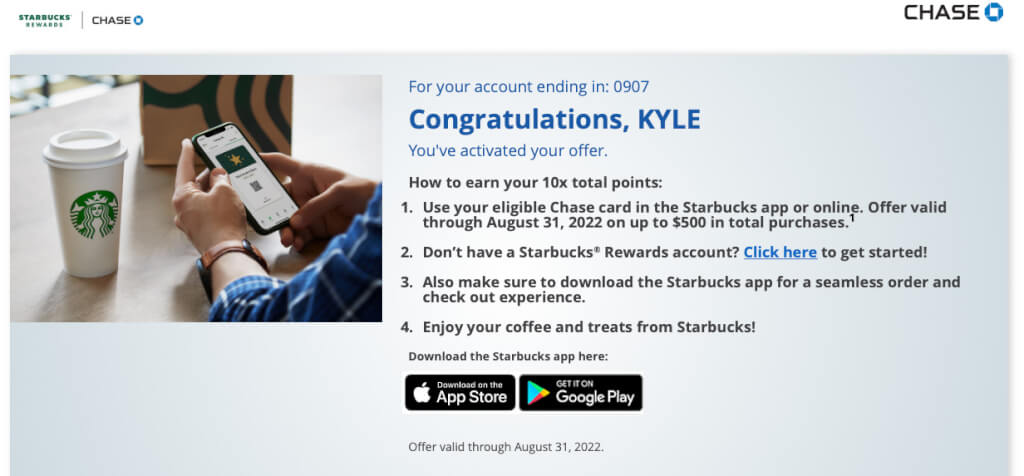 The other better offer I got is for the Hyatt card – spend $3,000 to earn 5,000 points. If i maximized the offer on everyday non-bonused spend, I'd earn a total of 8,000 points, meaning I'd earn about 2.67 points per dollar. If I focused on non-Hyatt bonuses such as dining, fitness, transit, and air travel, the earning rate increases to 3.67 points per dollar. With Hyatt spend, the bonus increases to 5.67 points per $1. Not bad! Even if I do just go with everyday spend.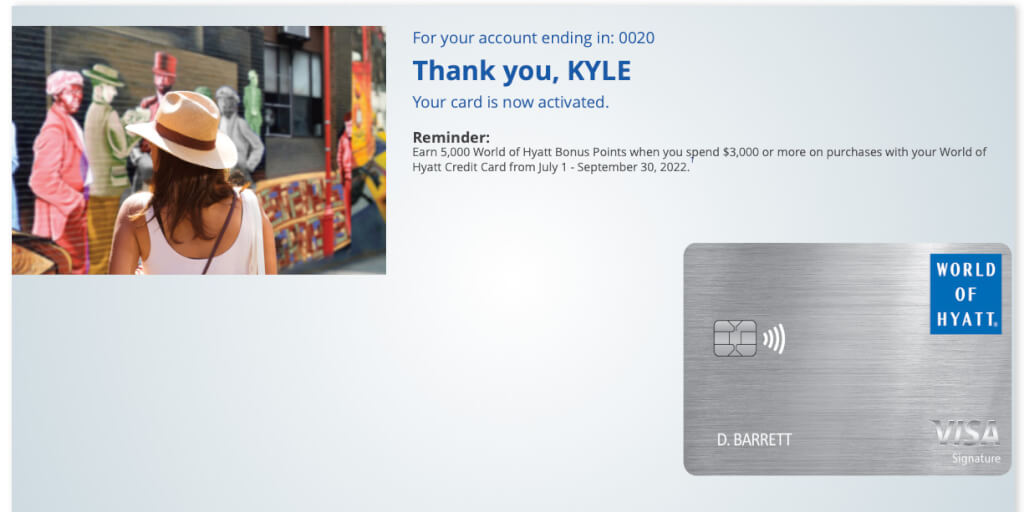 Check Your Chase Q3 2022 Bonuses, Final Thoughts
Again, if you haven't done so already, check your Chase Q3 2022 bonuses – you never know what you're going to get! It pays to check cards you recently had bonuses on too. But you have to do so after the start of the next quarter since checking during the previous quarter will continue to show that quarter's bonus.
At any rate, did you check your bonuses? What did you get this quarter? Let me know!