CLEAR has been around (at least in its current incarnation) for around a decade. Allowing members to skip the TSA or TSA Pre-Check line, CLEAR is beloved in busy airports. But it's never been available in the islands, at least until now, as CLEAR is coming to Hawaii.
Never heard of CLEAR? It's an ID company that seeks to make your passage through airports easier. It works by signing up for a subscription, providing your information, CLEAR runs a background check on you, and you get to use CLEAR Pods at participating airports to verify your identity with your boarding pass and eye/fingerprint scan, which then allows you to skip to the front of the line. Sounds good, right? Well, there are things you need to know about the service.
First of all, there are specific requirements you must meet to sign up. First and foremost, you must be 18 years old or older and must have one of the following forms of identification:
U.S. driver's license
U.S. passport/passport card
U.S.-issued permanent resident card
U.S.-issued state ID
Global Entry card
It's worth noting that while minors aren't eligible for membership, they can accompany an adult for free and without membership when accompanying a member.
How much does it cost? $189/year for a single membership, plus $70 per person for up to three other adults in a family plan. Yup, that's a pretty steep price, but there are ways to lower it or alternatives you may consider.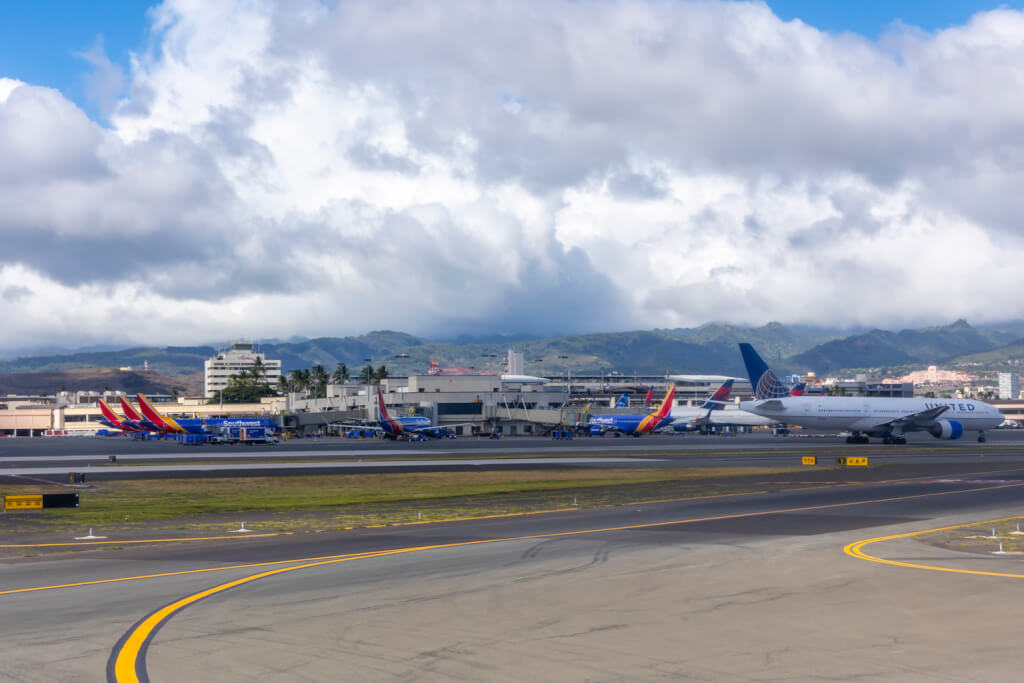 CLEAR is Coming to Hawaii
I'm sure many in Hawaii that aren't into the points & miles game or don't often travel out of state aren't familiar with CLEAR. And that's because the service has never been available in the islands. But that's changing soon. According to Hawaii News Now, the company's permits were approved by state officials recently, paving the way for them to begin installing their hardware.
That said, CLEAR is only setting up shop in two airports in Hawaii – Honolulu and Kahului. Honolulu will receive 36 of the company's signature pods, while Kahului will make do with 12. Company officials state that they plan to hire 100 ambassadors for Hawaii.
As for when CLEAR is coming to Hawaii? There is no definitive timeline, but the company hopes to begin operating here by the end of the year.
How to Get CLEAR
Since CLEAR is coming to Hawaii, I'm sure at least some of my fellow kama'aina will want to give it a shot. And you can, for free. CLEAR reps at the airport often pass out 6-month free trials, but be aware that they will automatically charge you the $189 fee at the conclusion of the trial. You will need to manually cancel your membership BEFORE the end of your trial period to avoid the automatic charge.
American Express
For those of you that like CLEAR and want to maintain an ongoing membership, one of the best ways to do this is via an American Express card. A couple of cards offer an annual $189 statement credit for CLEAR, which will cover the cost of your membership. These cards include:
Platinum ($695 annual fee)
Green ($150 annual fee)
The Platinum card carries an enormous annual fee, but it comes with a huge collection of benefits – provided you can make use of them all. Remember, Amex makes you jump through a bunch of hoops to use many of them.
The more reasonable card for the infrequent traveler – or those that can't or won't commit to the stratospheric annual fee of the Platinum card – the Amex Green makes a lot more sense and still offers a stellar value proposition. For $150/year, you get the $189 annual CLEAR statement credit plus $100 in airport lounge credits. Of course, the card also earns 3x points for travel, transit, and dining purchases.
Delta SkyMiles
Are you a Delta frequent flier? You probably already know you have this benefit. But, just in case, here are the CLEAR benefits by SkyMiles Medallion tier:
Silver: $149 annual membership credit
Gold: $149 annual membership credit
Platinum: $149 annual membership credit
Diamond: complimentary CLEAR membership
CLEAR is Coming to Hawaii, Final Thoughts
Though I'm not going to join, I say that it's about time that CLEAR is coming to Hawaii. However, if you are interested, I'd think twice about joining. For example, if you have Global Entry ($100 for 5 years) or TSA Pre-Check ($78 for 5 years), having CLEAR might not be worth it here in the islands. While the standard TSA lines can get quite long, Pre-Check lines in Hawaii seldom get longer than five or ten minutes. In fact, on average, I get through within five minutes or less – even during peak travel times. So I don't think it's worth it for Hawaii frequent travelers unless you travel frequently through continental U.S. airports that have CLEAR.
And that's why, even though CLEAR is coming to Hawaii, I'm still not getting it.