Question from reader Wyn in Minneapolis, MN:
Hey Jeffsetter, I just received this email from Club Carlson introducing their 85,000 Gold Point Signup bonus. Is this a good deal or a bad deal?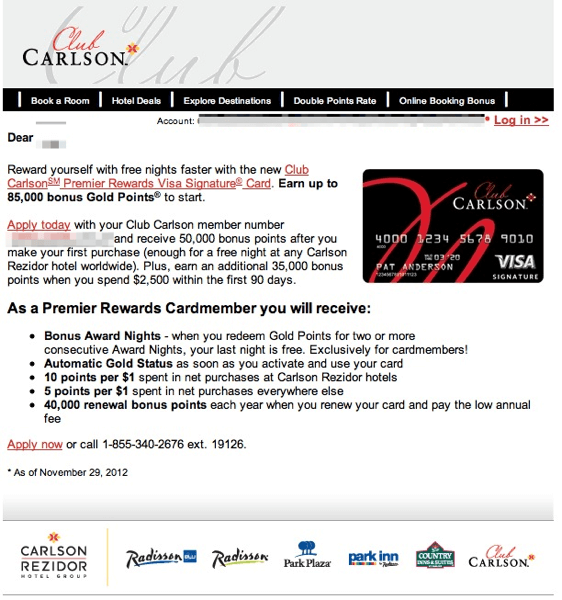 Club Carlson Credit Card Signup Bonus
Thanks for the question, Wyn. While Club Carlson has not been around for a long time in its current incarnation, the name still makes me sentimental. My dad's first job was with Carlson Companies in MN and he worked for the great entrepreneur, Curt Carlson. I also drive by the Carlson towers in the Western Twin Cities every so often, so Carlson is kind of a big name in Minnesota.
Nationally, the program is not considered to be a major player in hotel programs, but that may be changing in the future. Especially when they offer 85,000 points to sign up for their card – the most generous signup bonus right now for any hotel branded credit card.
But the real question is, what are 85,000 points worth? It sounds like a lot, but depending on the valuation of Club Carlson points, this may not get you very far. At the same time we must also ask – do you really want to stay at Club Carlson properties for free?
I personally have a perception that the hotels in the Club Carlson program are not on the high-end of aspirational travel opportunities. The thought of redeeming points to stay at a Country Inn and Suites is painful to me.
In addition, I have never stayed at a Radisson, so I am not sure if those properties are worthwhile or not either. The Radisson Blue are supposed to be nice properties, but really the points may only be worth a damn in certain cities across the world.
Getting back to your question, Wyn – is this a good deal? The answer is that it depends on your travel goals.
Are you particularly loyal to Club Carlson properties? Do you have a specific redemption in mind? Are you seeking local hotels, hotels in the greater USA or an international adventure?
If you don't have specific goals in mind or a particular affinity to Club Carlson, I recommend that you sign up for a different hotel program and use their benefits.
Want to be able to redeem 1-2 free nights in most cities in the world? Go with the Hilton or Marriot signup bonuses.
Interested in 2 free nights at any property in the world (even super high end properties)? The Hyatt Visa Signature can't be beat.
Want the most valuable currency in hotels and travel? The SPG Amex can't be beat.
Bottom line
If you are loyal to Club Carlson or plan to stay at one of their properties in the next 6-12 months, you should definitely sign up for the card. Chances are that their signup bonus won't get much higher, as this is already a high bonus. If you are signing up to gain points with an unclear redemption, get a different card, because Carlson may soon be subject to points inflation. The SPG and Hyatt points have held their value their best in recent years.
Side Notes
Two cool side notes that came out of this inquiry.
I also received the same email as you did, Wyn, but we actually received different offers in the subject line of our emails. Your subject line:

My Subject Line:

The Frequent Miler wrote a solid post about the virtues of Club Carlson earlier this week, presumably triggered by this promotion
I am particularly intrigued by being part of an email subject line test. Why would Club Carlson try to sell me on only 50k points when it clearly says 85k points in the email body? Aren't higher numbers always better?
Keep the reader questions coming!