Last updated on April 2nd, 2013 at 02:00 pm
A few months ago I teased about going on a trip to Turkey. I may have cleverly stated I would be spending Thanksgiving in Turkey, but the intent all along was to make it a trip for 2013.
The stars finally aligned a few weeks ago when my brother and my dad booked their flights to Istanbul for a week in April.
I did not book my flight on the same itinerary, because I was planning to pay for the flight using a redemption of 50,000 US Bank Flexperks Points that I had saved up, which seemed much better to me than paying cash.
They booked their flights on a Friday night and sent confirmation to me that evening for a flight just under $1,000. Unfortunately, I was not near a computer that night so I needed to book the next day.
As long as the flight remained under $1,000, I could redeem 50,000 Flexpoints to book the flight for 2 cents per mile – which is a great value for booking flights for 2 reasons:
Redeeming at 2 cents per point is generally considered a good value for a flight
Since the award is not booked through Delta, it is treated like revenue ticket in their system, so I will also earn MQM and flown miles on the 11,000+ mile flight. As a Platinum Medallion, that is 22,000 miles + 11,000 Medallion Qualifying Miles (MQM's) for the trip, making the value of the points significantly higher than 2:1.
This is the main reason why I have come to love Flexperks points. Not only do you get great value for your points, all miles flown are credited to your account. In this case, that's nearly enough for a free domestic coach ticket on Delta.
Unfortunately when I looked at the available fares first thing Saturday morning, the same flight was now closer to $1,250 – going up nearly $300 overnight! I would say it is unbelievable, but I would believe anything Delta does at this point.
This created a dilemma for me, because I only had 62,000 total Flexpoints and the new pricing meant I couldn't use Flexperks for the transaction.
At first I figured that the prices would surely go down, and searched for the flight every day for a solid week before I started to come up with conspiracy theories.
Delta Airlines Carrier Imposed International Surcharges Make No Sense
After digging around a little bit and reading the fine print for the trip, I noticed that my brother and my dad had a significantly lower charge on a single line item. Their taxes and flights weren't any less expensive, they just had a lower fee in the YR portion of their flight charge.
After doing a little digging, I learned from this Flyertalk thread with over 1000 PAGES of posts that YR standard for Carrier Imposed International Surcharge, which I was seeing when I tried to book the flight. These are not taxes at all, but rather charges Delta puts on an itinerary at a seemingly arbitrary rate. They were trying to charge me $516 in these fees for the flight, and this is what bumped up the price of the entire itinerary.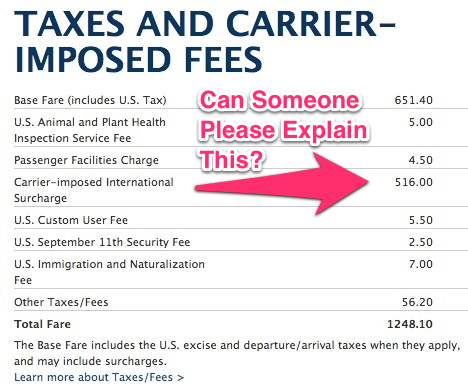 This didn't seem right, so I looked at my brothers itinerary and sure enough they were charged over 50% less just a day earlier!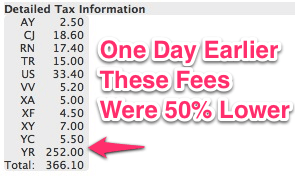 While I don't have a problem with Delta trying to make as much money as possible, it's very confusing to me that these fees are handed out in a seemingly arbitrary manner. Did they increase this fee because they saw two tickets booked already? After literally thousands of posts on the subject, nobody appears to have a straight answer.
Caught with my pants down and wanting to make sure I got booked on the same flight as my family, I did what anyone would do: I begged and pleaded for someone to loan me the Flexpoints needed to top off my account for a 70,000 point redemption.
Fortunately, I found the points needed and secured space on our family trip to Istanbul.
Now we just need to find hotels and gather a list of sights to see! My dad will be using his shiny new Hyatt Visa card for 2 of the nights – which we will either use at the Grand Hyatt Istanbul or the Park Hyatt Istanbul. The rest of the nights we will have to decide between Starwood, Hilton, Hyatt or Hotels.com redemptions.
Have you ever been to Istanbul? Have any recommendations for where to go and what to see? We would love to hear from you!