In what may have been the worst kept secret in the Frequent Flyer Miles/Travel Points ecosystem, Delta announced earlier this week that they would be shifting the Skymiles elite status earning rules from a miles-only system to a miles + revenue-based system beginning in 2014. This is the long rumored Delta Revenue Based Frequent Flyer Program.
Delta Revenue Based Frequent Flyer Program – What does that even mean?
Well, let's start by looking at the email Delta sent out to start to understand the rules: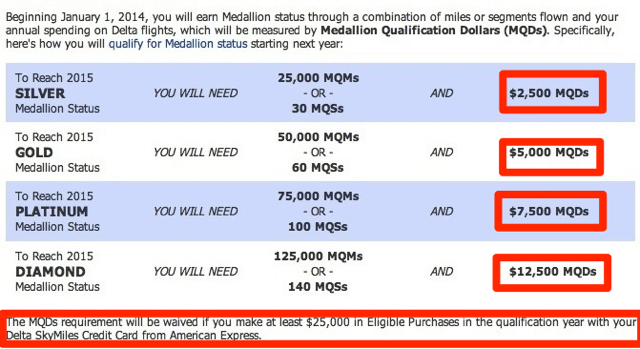 Basically, what this means is that in order to obtain Delta Skymiles elite status, you must spend at least $1 per mile earned in addition to actually flying the miles as well. In some cases, this won't be a problem at all, but for some people, it could be extremely difficult.
Let's discuss a few scenarios
Scenario 1: Weekly Commuter Qualifying on Domestic Segments to reach Gold Status
Say that you have to travel for work 40 weeks a year between Minneapolis and Chicago. This flight earns you a segment or the default of 500 MQM's based on mileage flown. On average, this flight will cost you $350 each week, $14,000 for the year.
In this case, you will have no problem re-qualifying for Gold Status. In fact, you would have reached the spend level required for Diamond status. You could reach Platinum status easily through an MQM earning Amex card or adding a cheap international flight or two. This type of traveler is pretty much unaffected by the change.
Scenario 2: Monthly business traveler going from Atlanta to San Jose, CA
Say that you are a business traveler with a monthly trip from Atlanta to San Jose, CA. Let's say this flight costs an average of $400 if booked far enough in advance, and the trip is 4,232 miles. If you travel 12 times, you will go over the Gold threshold of 50,000 miles, while having spent less than the $5,000 MQDs threshold. In this case, you would need to add at least one more flight in order to make the revenue number required by Delta. They have effectively earned at least $200 from you OR have one fewer Gold elite on their books. In either case, they are seeing a net positive due to this change, and the consumer is left having to spend more.
Scenario 3: Mileage goals are met by Mileage runs Domestically or Internationally
Using my upcoming trip to Turkey as an example, there is potential to earn 11,000 miles for less than $1,000 in airline miles on that flight (which over time would put you at mileage requirement but not spend), and that's not even an extreme case. For extreme cases, you can expect to pay less than $1,000 and rack up close to 20,000 miles with international flights and creative routing. You can also do mileage runs domestically where you rack up 4,000 miles on a $200 ticket.
This is actually how many so called travel hackers earn their status. They spend a bunch of time sitting in a seat to earn their status on a mileage run – getting status in the cheapest way possible.
These people will suffer the most from this change, because it makes pure mileage runs obsolete without some form of revenue backup plan.
Scenario 4: Delta Amex Cardholder using credit card MQMs to pad status
With two of the Delta Skymiles Amex cards, you have the potential to earn MQMs through credit card spend. For both the Platinum and Reserve cards, this capability starts after you earn at least $25,000 miles, so there is really no change. If you use the card to gain MQM's in the first place, that single act automatically qualifies you for the revenue requirement.
The Winners and Losers
Who wins with this change:
Delta
Business Travelers
Delta Amex Credit Card Holders
Who loses with this change:
Mileage Runners
Casual Travelers
Anyone with limited cash resources
How is Jeffsetter Affected?
I really will not be affected by this change much at all, because many of my miles are earned on business/reiumbursable expenses. I also have multiple Delta Skymiles Amex cards that meet the minimum threshold, so I don't see any change to my ability to earn in my current situation.
While many of the travel bloggers I read are outraged by this change, I actually like it. There are too many elites on Delta, to the point where there's 40+ people waiting for a First Class upgrade on certain domestic flights. If this means there's only 25-30 people waiting for that ticket in the future, I can only stand to benefit.
Like Gary, I think that Delta should use this shift as an opportunity to
give more benefits to elite travelers
. The biggest benefit I am seeking is the ability to upgrade to business class on international flights without buying a fare that is more expensive than business class.
What about you, what do you think about this change?
And here is the full email for reference: