Last updated on January 27th, 2016 at 01:58 pm
Hot off the Presses – Delta just announced a Summer Business Class fare "sale"  from several departure points in the United States to Charles de Gaulle (CDG) airport in Paris, France. You can book from now through July 21st. It appears that travel must occur from July 25-September 5, 2013.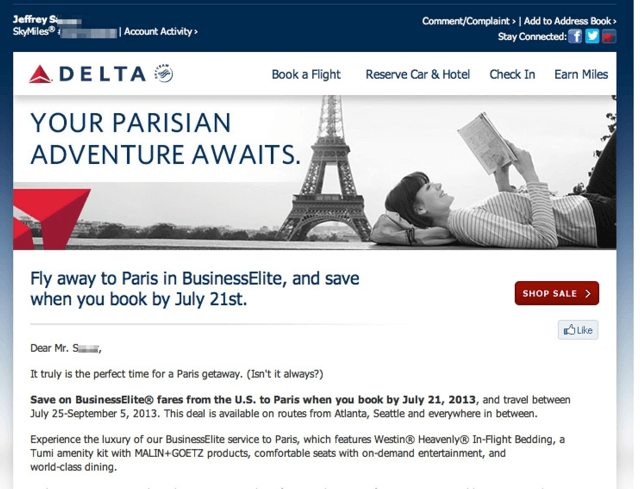 Now, when I first read the email and saw the prices on the website, I thought that this was going to be a substantial deal with fares between $1,300 to $2,000, but then I noticed that the fares are for "each way" of the ticket, meaning the price is $2,600 to $4,000 for a ticket, which is barely a discount over a standard Delta business class fare. Be careful before getting your hopes up.
When I normally search for business class tickets to Europe on Delta the price is around ~$4,500 round trip. That is far more than I would ever be willing to pay for a flight, but I have a new international business class addiction, so I have been trying to find ways to get the business class experience and lower the cost.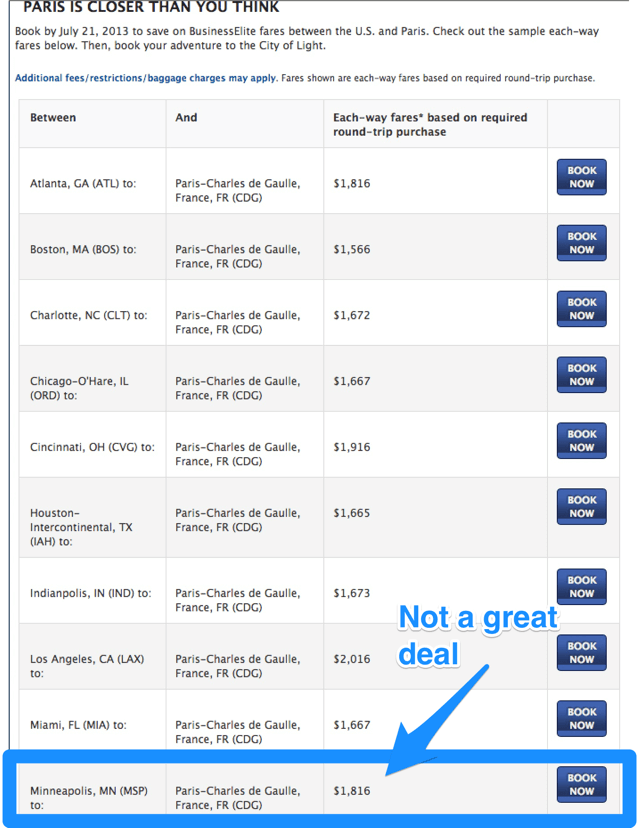 Seeing this email and going to the landing page got me immediately excited because I thought business class was finally in my acceptable price range from Minneapolis at $1,816 round trip, then I realized that the cost would actually be $3,632 for a round trip ticket. This is barely a deal!
Even as a mileage run it's tough to justify the expense. As a Platinum Medallion from Delta, I would earn 4,222 MQMs each way + another 4,222 class bonus MQMs each way for 16,888 MQMs at a cost of $3,632. For that earning, I would rather stick to several domestic tickets at a much cheaper price. I could earn 16,888 MQMs for less than $1,500 if I were really trying to pad my account.
Now if the price were $1,816 round trip, I would have jumped on this deal in a second for the comfort alone.
Delta Summer Business Class Fare Sale – Not a Sale
In summary, be careful when looking at Delta's sale offers; they really aren't much of a sale. Rather, it's a slight discount in an already over-priced international business class ticket. It's also deceptive marketing and I almost took the bait before reading the fine print.
While I hope to see you in Paris in the future, I hope it's not this "sale" that gets you going.