My first international flight I was in the dead middle seat of an airplane with a 2-5-2 configuration. The second 8 hours were on a sweaty voyage to Nairobi, Kenya. At 6'2″ tall and probably too wide for my own good, I did not really enjoy this experience. This was too long ago for me to obtain a seat map drawing of that flight, but you can imagine this is what I looked like on that flight:
XX| |XX(J)XX| |XX
Imagine if you will that the (J) blob above is me sitting in between several other passengers on their way to Nairobi. I hated every minute of that flight and similarly cramped flights I took later in life. I'm just too big to be comfortable on long haul flights when I am sandwiched in between others. That's why I try to fly business class every time I fly internationally (and the part of the inspiration behind my Delta Business class/heavenly bedding post earlier this week).
I just assumed that most frequent travelers felt the same way as well, especially after reading reviews of Lucky's exploits all over the globe in First Class. To me, that was the whole point of the miles and points game: to go beyond your normal means and fly like royalty.
It wasn't until I attended Frequent Traveler University in April of this year that I finally heard a contrarian point of view. At dinner with several great travel bloggers, Stefan mentioned his motto on international trips is quite different. In fact, he gave a presentation earlier that day that questioned why we want to bring a hotel room in the air. The title of the presentation sums it up quite nicely:
"If your aspiration is a lie-flat bed, you can always stay at home"
While I wasn't there to catch Stefan's presentation in person, I can't help but respect the stance he takes in titling his presentation in front of hundreds of frequent travelers who have precisely that aspiration. I would gladly spend twice as many miles to have a lie flat seat than to save my miles and fly in coach. It's really not open for debate in my mind.
My aspiration is a lie flat bed and there's no way I'm staying home! While I can't afford to pay for international business class tickets out of my own pocket, I can get to many great destinations by redeeming frequent flyer miles in return for a seat in business class.
But is it really that much better? Yes, yes it is!
What's Better in International Business Class?
Frankly, everything is better in International business class as opposed to flying in international economy class. I have found that even premium economy class on international flights is no substitute for the real thing. It's business class or bust.
Here's a summary of what I have noticed as the major differences between flying in economy class and business class on international flights:
The Seat
If you are sitting in economy class, you will likely notice that your seat looks like this (or some variation of this):
Not a lot of room side to side and generally not a lot of room for your feet in front of you. Contrast that with these "angled" lie flat business class seats and you can see that there is a big difference in comfort. And those are among the more basic seats available. There are others that lie flat completely, while some airlines have made seats into private suites that have a door that closes when you want to sleep.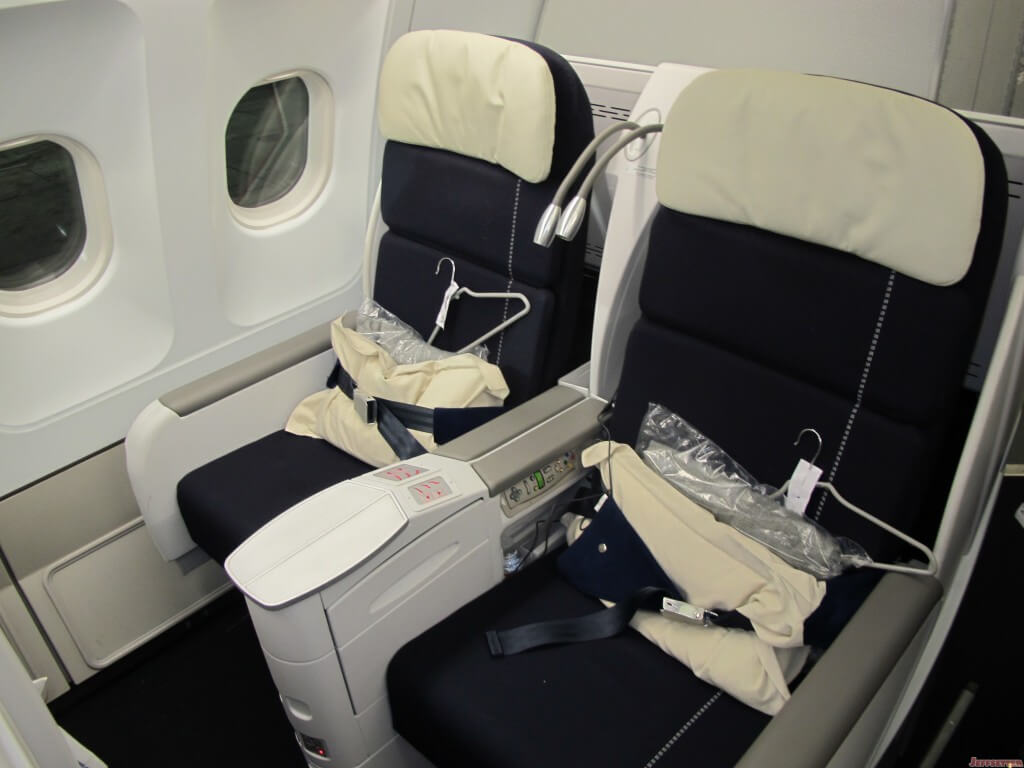 The Food
Food in economy class usually looks like this and it tastes like it looks: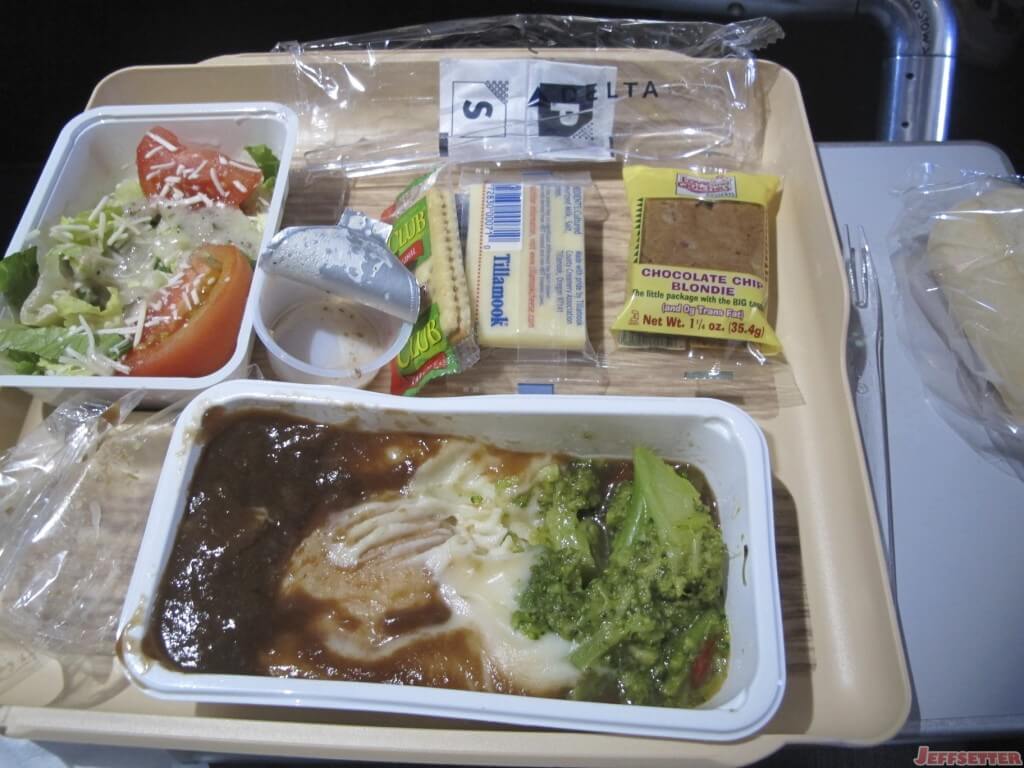 Contrast that to a meal that I had on business class, which was both extremely tasty and filling. While these entrees are essentially the same ingredients, which one is more appealing to you? The presentation in international business class is great!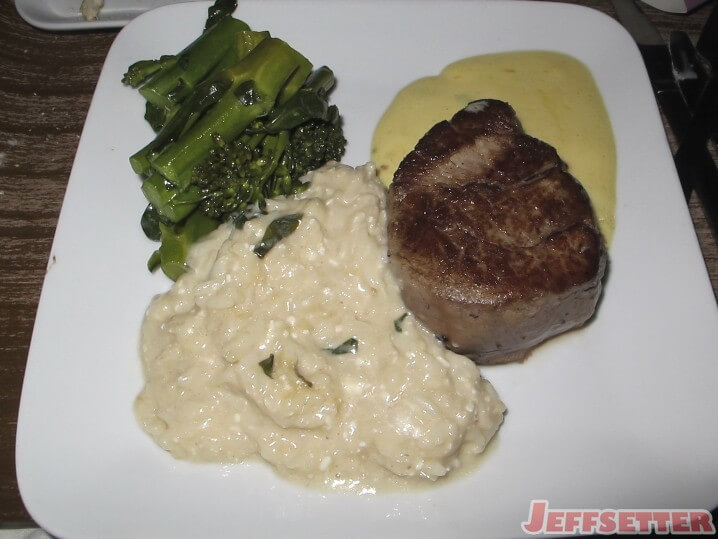 Food and Drink Menus
Coach Class: What menus? There aren't such a thing.
International business class menus are multiple pages, in several languages and have an awesome selection of wines, food options and desserts.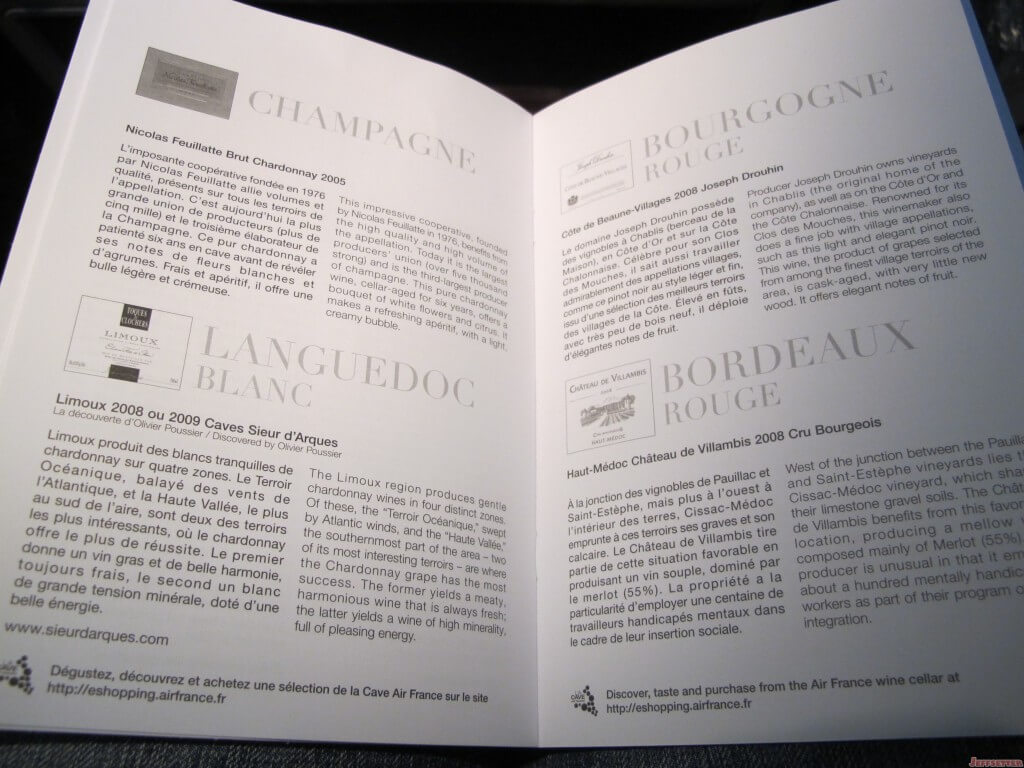 Amenity Kits
International Coach Class: What amenity kit?
International Business Class: If you are in business class, you will find a kit with all kinds of goodies contained within to help you on your flight. From socks to ear plugs to toiletries, these are designed to make your trip more enjoyable and feel more like home.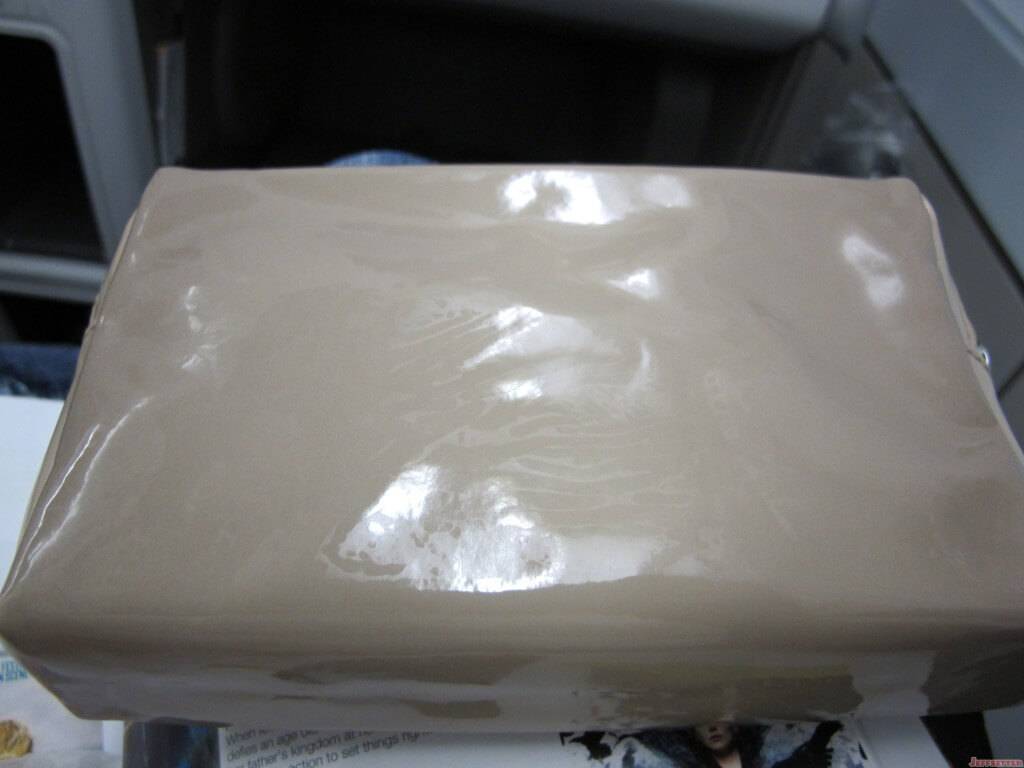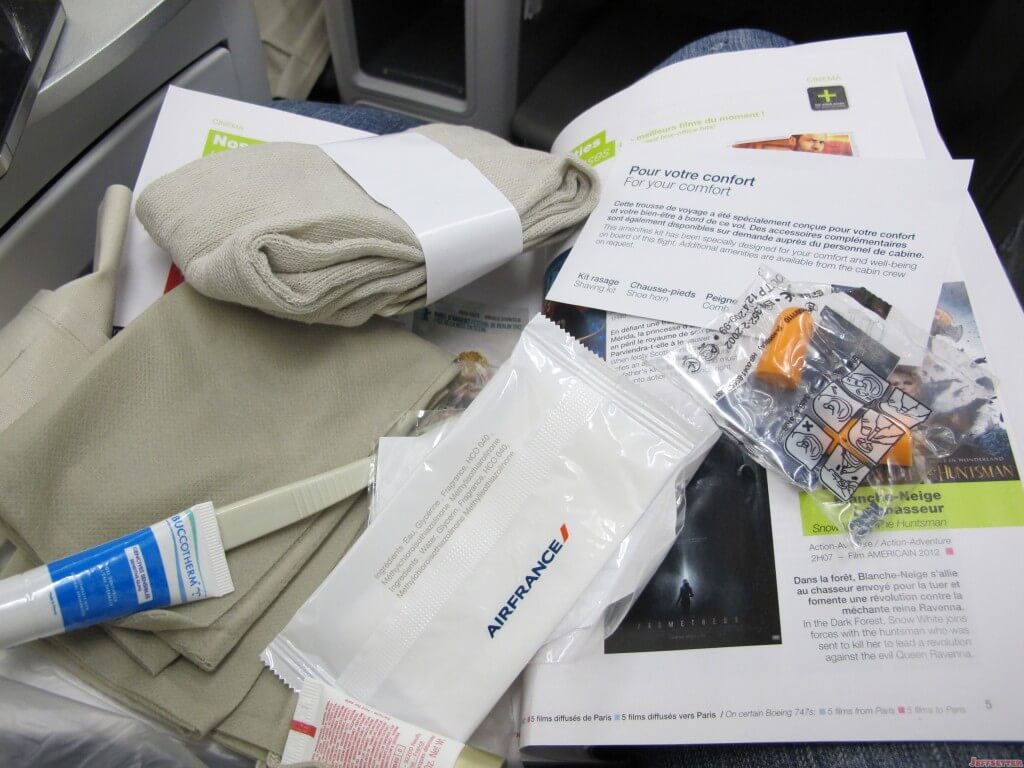 In Flight Entertainment
Coach Class: Your in flight entertainment is either non-existant in many seats or a very basic 6 inch screen with almost no color contrast and a controller that hardly works.
Business Class: Often the entertainment systems in business class are 2-3x larger than those in coach class, although not always the case.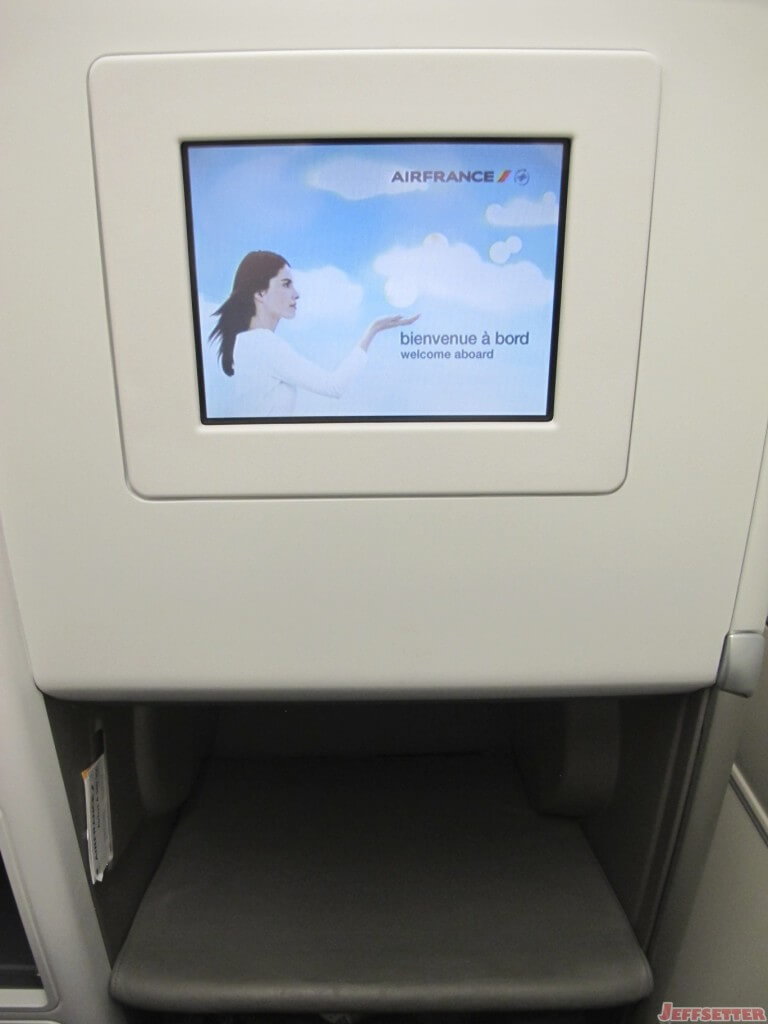 The Service
Coach Class: You are one of hundreds of people that need to be fed. With a ratio of flight attendants to passengers of somewhere between 25 and 50 to 1, it takes exceptional service for you to feel like more than a number.
Business class: The staff to passenger ratio is often more like 5 to 1, so you have a much better chance for high quality service and attentiveness on your flights as opposed to coach class.
Storage
Coach class passengers: If you are in coach class on an international flight, storage is actually not terrible if you use the overhead compartments. Unlike a domestic trip when most passengers carry on their bags in order to avoid paying fees, the overhead bins on international flights generally have quite a bit of open space for passengers to stow items. They are also bigger compartments on larger airplanes.
Business class: The big storage advantage in business class is that there are often compartments inside of the seating area to store headphones, books, tablets, etc. Rather than having to reach overhead to get items, you can easily store them within your personal area in a business class seat. While this may not sound like a big deal, it is quite convenient  when you get the hang of it.
Disembarkation
After the plane lands, international business class customers are also at a serious advantage because they are the first people off of the plane! That means you can get through customs sooner and save valuable time clearing the airport.
Go Business Class!
Exactly a week from today, I will be flying international business class on Air Tahiti Nui and I can't wait! 8 hours of great food, entertainment and premium service are calling my name. I'm not so sure I would be as excited if this flight were in coach class.
What about you. Are you a business class junkie like me or is coach good enough for your needs?
Update 6/17/2013
This post received some great feedback about the meaning of "worth it" and I wanted to clarify what I meant by "worth it" in this post. I meant that it is worth waiting or holding out for International business class tickets whenever possible. That means you won't fly coach ever again, but rather that to me it is worthwhile to have flexible travel plans in order to choose a flight with business class availability. My new Monday poll gives you the opportunity to vote on whether you think it is worth the wait for business class or not. Cast your vote now!