Earlier this year, a sand replenishment project wrapped up along Waikiki Beach. However, that project was only a small piece of the puzzle. In fact, Hawaii's DLNR may build more groins in Waikiki, accompanied by yet more sand replenishment projects.
For about a century now, the world-famous Waikiki Beach has been Hawaii's most recognizable attraction. However, ensuring Waikiki remains a, well, beach has long been a challenge. Why? Partly because portions of Waikiki Beach are artificial, which means that normal erosional forces are always eating away at it. Another issue, however, is climate change. Rising sea levels due to climate change are exasperating erosion, while more intense storms compound these issues. But, if Waikiki is in such high demand, we can't afford to let it disappear. In fact, some predictions peg the economic loss of Waikiki at $2.2 billion! So, something needs to happen.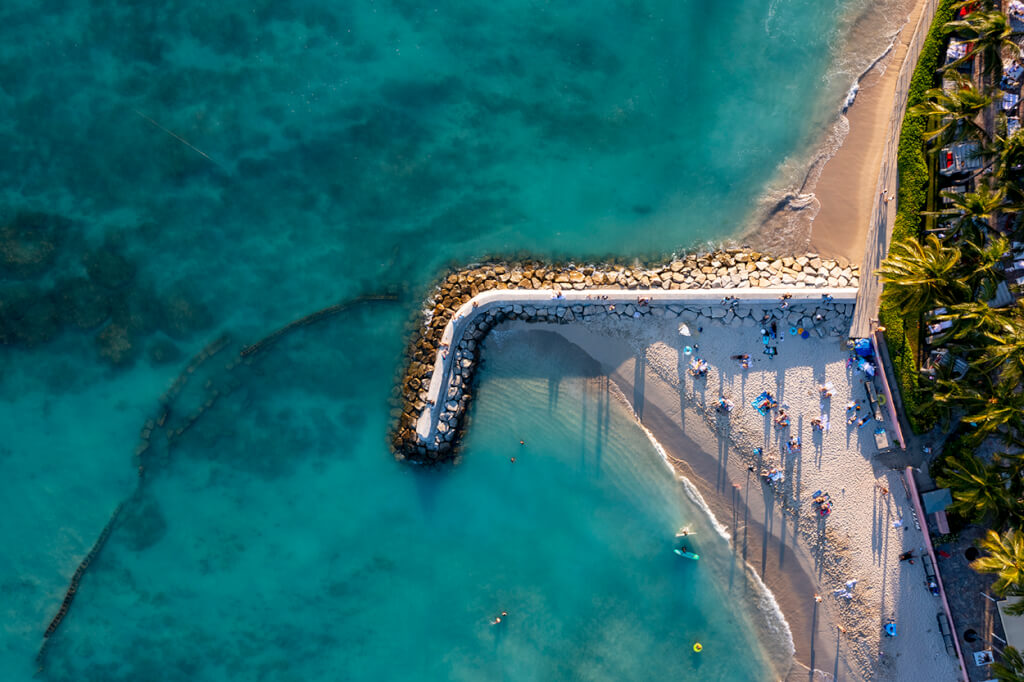 DLNR May Build More Groins in Waikiki
The most recent Waikiki groin project was to rebuild the decrepit, old groin that used to exist in the space. However, three new groins and two spurs could join the existing Royal Hawaiian one. Unlike previous Waikiki beach work, though, these projects are all slated for the western portion of Waikiki. Specifically, the Department of Land and Natural Resources is proposing the construction of thre new T-shaped groins between the Royal Hawaiian groin and the Fort DeRussy groin. A spur will also be added to the Royal Hawaiian groin to turn it into a T shape, and anotheer to the Fort DeRussy one to turn it into an L-shape.
Once thee construction projects are done, the DLNR intends to dredge sand from deposits offshore to fill in the beach fronting the Sheraton Waikiki, Halekulani, and the Outrigger Reef. Today, only tiny, seasonal beaches exist in these areas, if any at all. The new structures and replenished beaches will also help to protect the walkways connecting the area hotels.
Concerns
As with all such projects, there are concerns. However, the concerns vary based on who you're asking. Surfers, for example, fear that the dredging and groins will disrupt the area's waves. Environmentalists, on the other hand, fear for the area's fish. However, the DLNR argues that groins will provide additional habitat for fish. Needless to say, theere's much to discuss about the proposed projects. To that end, the public has until July 23 to comment on the current environmental impact statement.
Final Thoughts
Should the DLNR receive approval for the project, it's estimated to cost over $12 million and take 500 days to complete. That's nearly a year and a half of disruptions visitors will need to contend with. But, in the end, it'll all be worth it – especially if the aforementioned hotels regain a beachfront. But, I suspect we won't know if the project gets approved, and if so, when it'll start, ffor a while now.