The Eddie Aikau Big Wave Invitational is in Jeopardy thanks to a sponsorship disagreement between title sponsor Quicksilver and the Aikau family.  For those that don't know, the Eddie Aikau Big Wave Invitational, also known as "The Eddie," is a big-wave surf contest.  The Eddie requires open ocean swells of 20ft, which translates to 30-40 ft swells near shore, and can only be held between December 1 and the end of February.  Because of the unique requirements for the contest, it's only been held 9 times over the past 31 years.  It was most recently held this past February, with Hawaii local John John Flores taking home the win.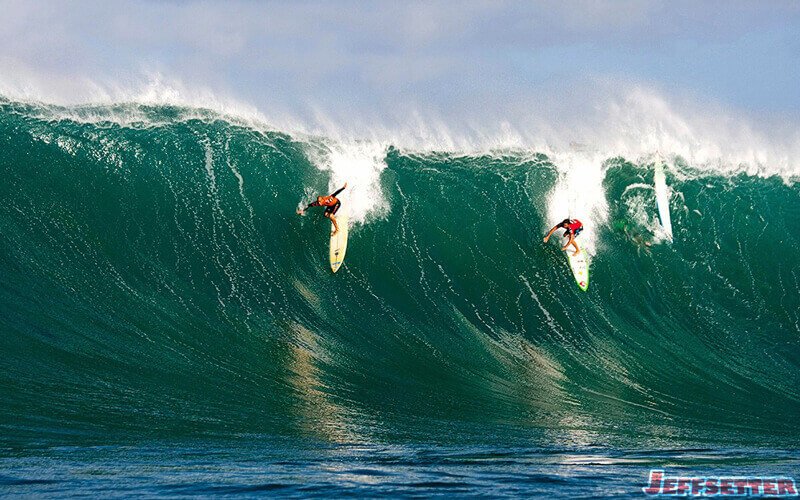 So why is a disagreement between the family and title sponsor jeopardizing this contest?  Because Quicksilver is the holder of the permits needed to operate the contest, and according to City & County of Honolulu laws, they are not transferable.  What the nature of the disagreement is, isn't entirely clear.  Quicksilver simply states that "the family rejected the company's many offers to increase its financial support of future events."
City attorneys, along with Mayor Kirk Caldwell, are trying to see what can be done to ensure the contest continues on.  I'm guessing a change in the law isn't possible or feasible.  Apparently, a compromise between the Aikau family and Quicksilver isn't possible either.
Besides being one of, if not the most prestigious surf contest in the world, The Eddie is also a remembrance for Eddie Aikau.  Eddie was a well-known surfer and lifeguard.  He lost his life in 1978, when, as a member of the Polynesia Voyaging Society's Hokuleia double-hulled canoe.  The Hokuleia had developed a leak 12 miles off the coast of Molokai when Eddie decide to attempt to paddle his surfboard to land to get help.  While the rest of the crew was rescued by the U.S. Coast Guard, Eddie was never seen again.
So  the Eddie isn't just a surf contest, it's a living memorial.  It would be a shame to see  end, even temporarily.  Of course, even if the permitting issue is sorted out, there's no guarantee it'll happen.  Conditions do have to be just right, after all.  And that's happened only a third of the time since the contest's inception.  Either way, it's something most locals would love to see continue.  And if you've never seen it before, I encourage you to check it out.  If not in person, then at least on line.  The surf is truly awe inspiring.