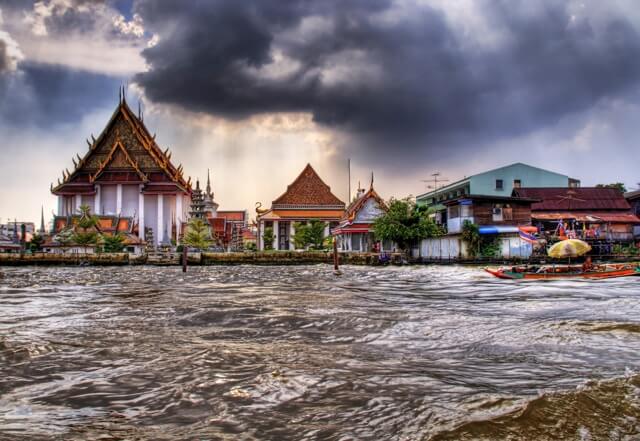 Last night I was one of many to take advantage of the Lufthansa first class award availability from Toronto (YYZ) to Munich (MUC). This morning I woke up and learned that I could add a flight to Asia on my itinerary in first class for only 5,000 extra United Miles. Gary mentioned that this would be a good opportunity to fly Thai Airways in first class because of their availability. After reading reviews from other bloggers, Thai Airways was definitely an airline I was looking forward to flying, and at that price it was a no-brainer to take advantage of the deal. So I set about adding a roundtrip to Bangkok to my itinerary.
First, I checked to see if there were any flights available from Munich to Bangkok in first class. United was showing this flight as being available, so I figured it would be something that could be booked online in addition to the Toronto to Munich segment. I was surprised to see that this flight was 80,000 miles each way in first class. That is more expensive than the North America to Europe flight, even though the flight is 3 hours longer.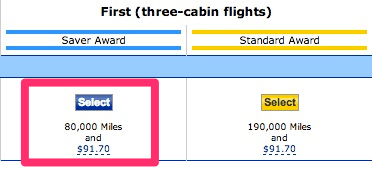 Somehow the price is actually cheaper when you book from North America to Asia on United, even if the flights take significantly more time to complete. In this case, it would only cost 5,000 more miles to fly in Thai first class, saving 155,000 miles over the regular award price if booked separately (not that I would ever spend that many miles, it's just an interesting disparity to me).
Next, I looked into making a fresh booking on United with a flight between Toronto and Munich and then Munich to Bangkok. No matter what combination of dates I tried, I could not get the itinerary to work, so I eventually gave up that pursuit.
Understanding that United is known to be very good at allowing flight changes, I tried another route by clicking on the "Change Flights" button for the itinerary I booked last night. This brought me to a screen where I could elect to change either flight.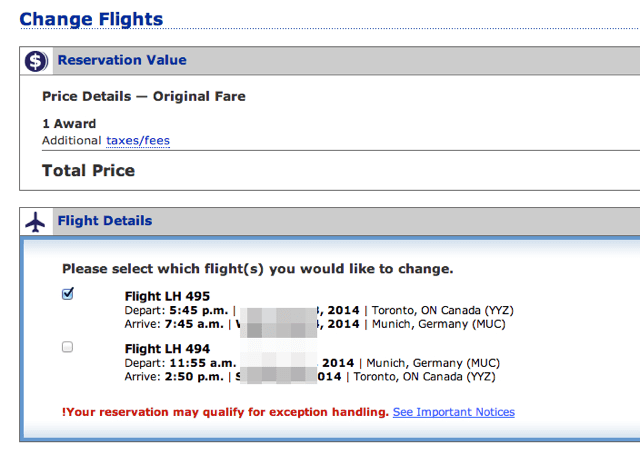 I chose to change the flight from Toronto to Munich and replace it with a multiple destination itinerary that included the original flight booked plus a round trip flight to Bangkok for 2 nights.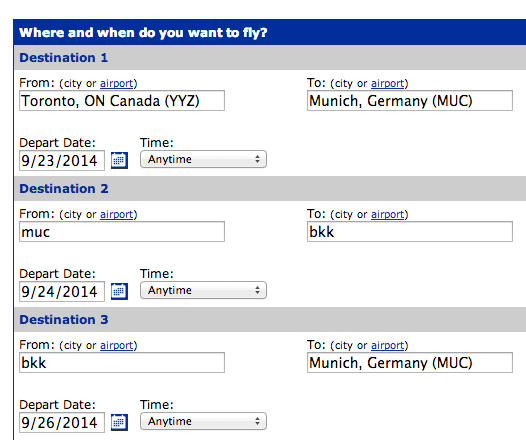 Miraculously, this method worked and I was able to select new segments in first class. Each time I clicked on an additional segment I was amazed that the incremental cost was only 5,000 miles and $52.60!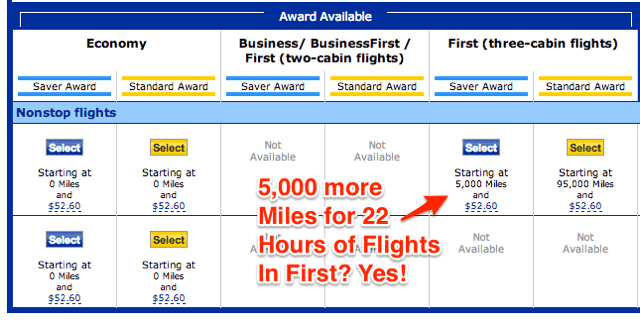 I continued the process and ended up securing a round trip flight to Thailand for that amazing price. All in first class on a 747-400 aircraft.

The combined itinerary looked like a thing of beauty, so I transferred 5,000 Ultimate Rewards points into my account to pay the incremental balance.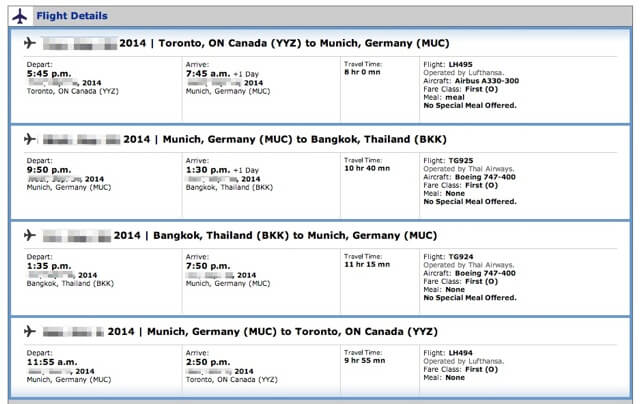 And sure enough, I soon had a confirmation for my itinerary change, which cost me 5,000 miles and $52.60 to get to Bangkok in Thai Airways first class.

More Changes Will Likely Happen
Now that I know how easy it is to make changes to this itinerary, I am already looking at making more changes to get the most out of the experience. This Flyertalk thread shows that many people are actually flying Munich to Frankfurt to Bangkok in order to visit the Lufthansa first class terminal in Frankfurt. This is something I am considering, as well as flying through a different city in Asia. So many options, so much flexibility. How could I ever doubt you United?
Cover Photo Credit: Stuck in Customs via Compfight cc