Last updated on September 30th, 2013 at 07:20 am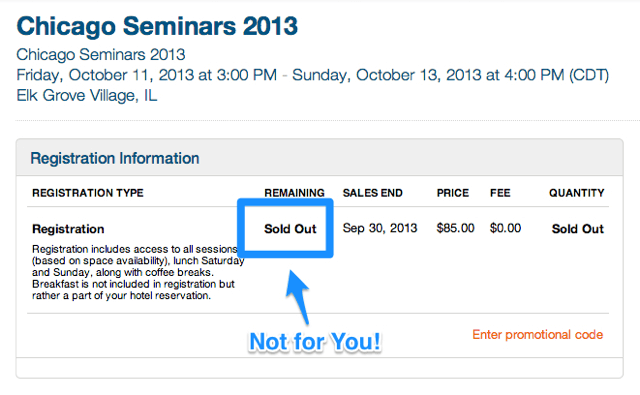 When they first announced tickets for the Chicago Seminars earlier this year I immediately signed up for the October 11-13, 2013 event and planned to attend with a buddy of mine who lives in Chicago. I had every intent on going to the event until I was asked to speak at the Minnesota Blogger Conferencethat same weekend. As much as I love the idea of networking with many great travel, points and miles enthusiasts, I chose the blogger conference in my backyard over an awesome weekend in Chicago.
My Loss is Your Gain
As sad as I am that I can't make it, I don't want to see the ticket go to waste, so I am going to give it away to a reader who is looking to go to the sold out event. Since this is my first giveaway I want to keep things simple: anyone can express their interest in the ticket and I will use a random number generator to decide on the winner. All entries must be received by the end of the day on October 1st, 2013. That gives you a little over a week to get your entry in.
The Prize: 1 Ticket to the Sold Out Chicago Seminars ($105 Value) October 11 – October 13, 2013
While the normal cost of a ticket to the Chicago Seminars is $85, getting a ticket to the sold out event now involves an additional $20 transfer fee (which I will pay). That puts the value of this giveaway over $100. Seems like a pretty decent value for my first giveaway.
How to Enter the Contest
I'm going to try and mimic what others seem to do for these types of contests and allow entries based on various activities related to this blog. Comment, tweet and Facebook me to enter. Each method of entry has an answer criteria, so be sure to pay attention.
Each activity will count as an official entry into the contest, so an individual can get up to 3 entries. I am experimenting with a service called Rafflecopterto manage contest entries. I have heard good things about the service and hope it works well in this case.
1) Leave a Comment on this Post
Express your interest in the Chicago Seminars by leaving a comment on this blog post, answering this question:
Who are you most excited to see at Chicago Seminars?
2) Tweet Your Participation
For a second entry, simply tweet the message embedded below to indicate that you are entering into the contest.
This is an easy one. If you have not liked Jeffsetter's Facebook page yet, you will have the opportunity to like the page for an entry. If you have already liked the page, you get a free entry.
Enter the Giveaway!
Jeffsetter's Chicago Seminars giveaway on Rafflecopter

P.S. If anything isn't working or not clear, please let me know this is my first contest and I'm sure there may be a few unanticipated snags. Thanks in advance.