Last month Google announced on their official travel blog an improved flight search capability that allows you to see flight prices from your origin city to a number of destinations in map form. While I opened the blog post and watched the video right as it was posted, I am just now getting around to writing about this cool new feature for flight searchers. Here is their introduction video:
I haven't seen much posted about this feature since their June blog post, but I did notice that fellow BoardingArea blogger Ric Garrido was talking about this all the way back in April of this year, so this tool may already be well known to some of you.
The rest of this post will walk through a few of the cool features from the new and improved Google Flight Search tool.
Where do you want to go today?
While I often travel with a destination in mind, it is also appealing to try and visit a random city to see what it has to offer. It seems like Google Flight Search may be well served to help choose that random destination.
Let's start with round trip flights out of SFO, my new home airport. Since I am just getting used to the area, I want to see where I can go for a random weekend in the fall. By simply plugging in a few dates and automatically selecting the nearest airport, Google presents me with a wealth of potential destinations.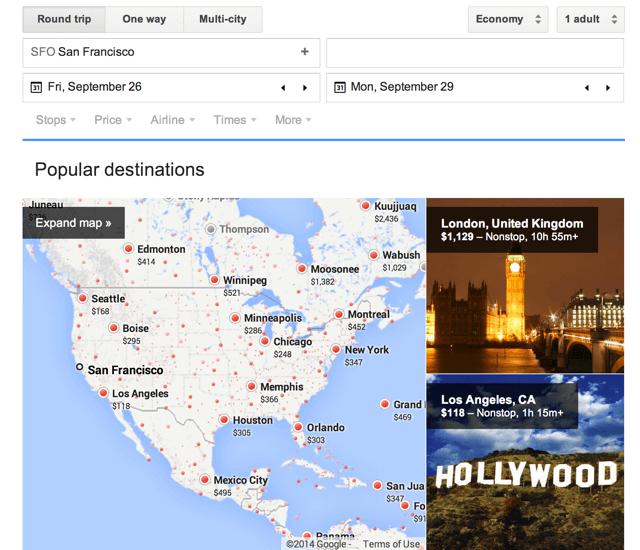 A few interesting options and some pretty decent prices, but nothing to really jump at.
Let's expand the search to see about flying across the pacific. Anything jump out?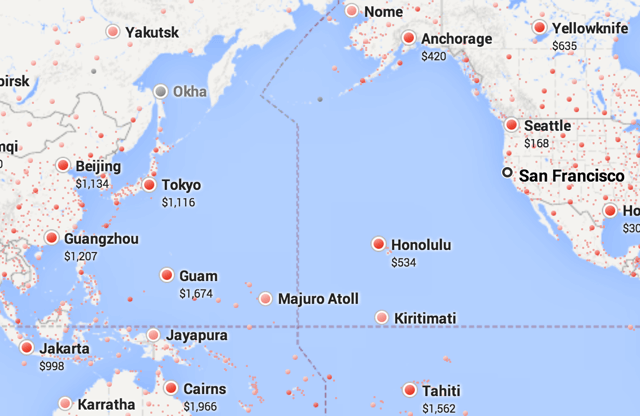 There are a lot of options that I didn't even think about. Not only is it easy and relatively inexpensive to visit Japan and China, but I also didn't realize how inexpensive it was to get to parts of Alaska. Jakarta is less than $1,000 and might represent a good opportunity to earn miles for status re-qualification.
View flight costs over a several month period
Select a destination and look at the calendar options and you can start to see how much your potential flights fluctuate in the upcoming months. In the case of Jakarta, this is pretty much the standard price one would expect to pay to fly to this destination.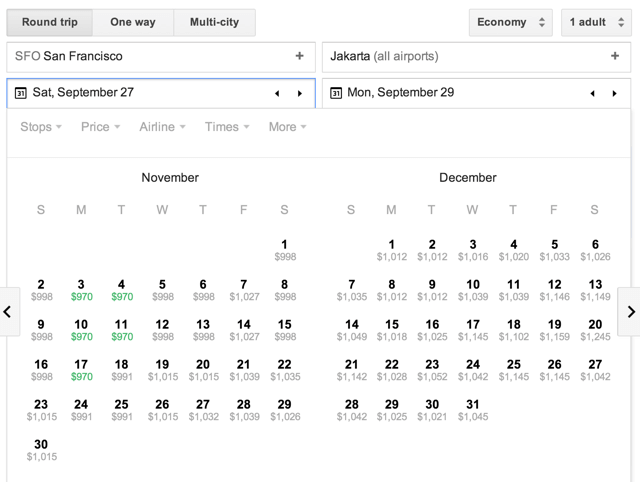 Other destinations may have more fluctuation, and Google Flight search provides a lighting-fast way to search through cost inventory over long periods of time. If only they could do this for award flights too!
By applying the efficiency, speed and scale of Google search to flights, Google has created the fastest flight search tool I have ever used.
Google Flight Search for discovery… ITA Matrix for reality
This flight search tool is awesome for discovery, but it probably won't replace the ITA Matrix (also from Google) when it comes to advanced search and discovery for your upcoming trips. If I need to book a flight to a specific destination, the Matrix simply has too many advanced options and filtering capabilities for flight search to replace its utility.
Maybe over time Google will start to merge these into one product, but for the time being I will probably just use Google Flight Search for ideation.
I'm feeling lucky
A question I am often asked by blog readers is whether or not there is a service that will simply tell you the cheapest flights from your home airport and help you book that ticket. While there are services that do this, I have not found a service that I can consistently recommend. Google Flight Search may become that go-to recommendation moving forward.
Want to get away for a weekend? Go go google.com/flights, hit the I'm Feeling Lucky button and see what happens!