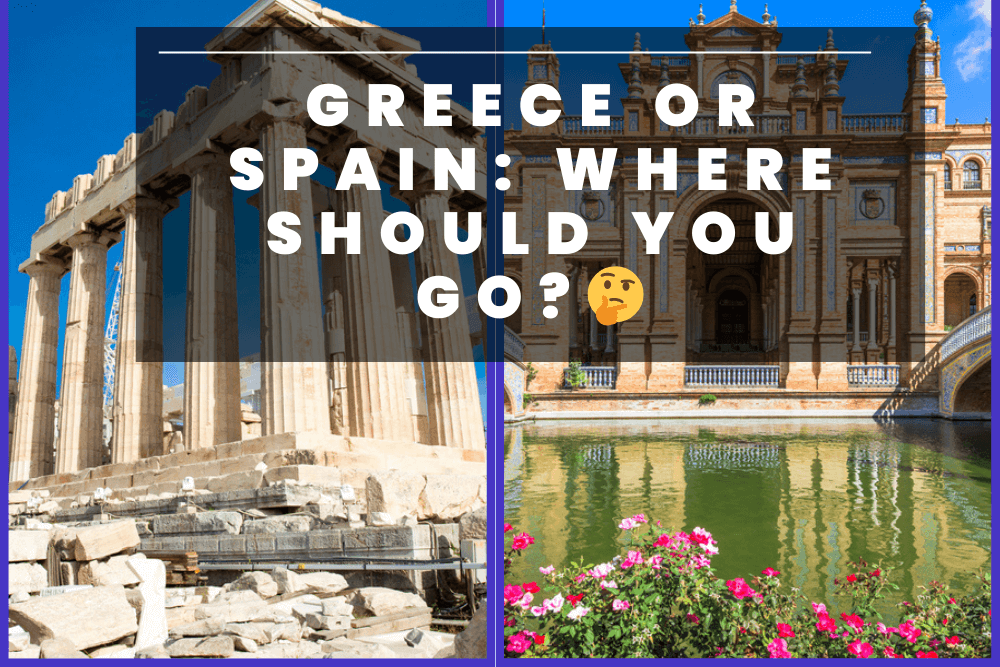 Both countries often stand out as premier European summer destinations. On the one hand, you have Greece a country that presents an interplay of ancient temples like the Acropolis and pristine beaches such as those in Mykonos. Meanwhile, Spain, with its rich tapestry of history, offers the architectural wonders of Gaudí in Barcelona, the haunting Flamenco rhythms in Seville, and the iconic Alhambra in Granada.
But how do you choose between a gastronomic journey through the tavernas of Athens and the tapas bars of Madrid? Or between the thrill of Spain's La Tomatina and the serenity of Greece's lesser-known islands?
Or to put it simply, when it comes to picking just one country for your next holiday, which should it be?
Spain offers more urban activities, and abundant wildlife, perfect for adventure travel. Greece offers a laid-back vacation with most activities centering around island hopping and visiting ancient ruins. If you want to visit islands Greece offers 227 to choose from, while Spain has only 48. Comparable in price Greece is cheaper than Spain.
Whether it's Greece or Spain you go for, I'm sure you want to experience an unforgettable vacation, that's why I created this guide. I'll unpack these two choices, contrasting everything from their vibrant art scenes to their sunniest seasons.
Ready to embark on this Mediterranean exploration?
Snapshot Comparison
Greece:
Explore ancient ruins and museums full of ancient artifacts
Idyllic islands for island hopping, both crowded and secluded
Mediterranean Greek cuisine with

Ottoman, Balkan, and Italian influences

Passionate local music and dance traditions, accompanied by local drinks and food
Diverse and vibrant nightlife that lasts until early morning
During peak season, islands can become quite packed, affecting the tranquil experience.
Some ferry schedules can be irregular, especially during off-peak seasons.
Easy to engage with locals; Greek hospitality is legendary and heartwarming.
Spain:
Vibrant festivals like La Tomatina and Running of the Bulls
Artistic cities like Barcelona and its Gaudi architecture
Scenic coastlines of Costa Brava and Andalusia
Diverse cuisines from paella to tapas

The Canary Islands are famous for their rugged natural landscapes and iconic beaches

Centuries-old architecture in cities like Granada and Seville.
Spain's train network, while efficient, can be on the pricier side for tourists.
Some touristy spots, like Barcelona's Las Ramblas, can get overwhelmingly crowded.
Quick Overview & Comparison Of Greece And Spain
Both Greece and Spain are riddled with must-see spots, each offering a unique adventure. But which country is the best option for you?
If you enjoy a mosaic of architectural wonders, from the towering Gothic cathedrals, such as the renowned Sagrada Familia in Barcelona and the stunning Cathedral of Seville, to the intricately detailed Moorish palaces like the Alhambra in Granada, each structure tells a story of Spain's complex history and cultural influences.
If you want to explore Archaic and Classical architecture then Greece's multitude of ancient sites, from the Acropolis in Athens to the Palace of Knossos in Crete, and the Lion Gate, an example of Cyclopean masonry at Mycenae, offer a tangible link to the past.
If you are the type of traveler seeking a diverse terrain then Spain promises an unparalleled road trip adventure, weaving through landscapes that range from lush green valleys and towering mountain ranges to arid plateaus, dramatic coastlines, and iconic islands.
If you are the type of person who finds solace in pristine beaches and clear waters, the tranquil shores of Greece's mainland as well as the 227 islands offer unparalleled relaxation. Greece is the perfect place for island-hopping adventures with diverse landscapes and cultures in close proximity.
If you enjoy immersing yourself in vibrant festivals, from tomato fights to flamenco dances, Spain's eclectic celebrations will leave you exhilarated. Let's also not forget that Spain is the perfect destination for wine connoisseurs, the rolling vineyards of regions like Rioja and Catalonia in Spain offer tours and tastings that will delight your palate.
If you enjoy the simpler pleasures of life but still want to explore festivities in a foreign country then Greece beckons, from the famous Carnival with its colorful parades and traditional costumes, to local panigiria, where villages come alive with music, dance, and feasting. These festivals provide a unique opportunity to experience Greek hospitality, savor delicious local cuisine, and join in age-old traditions
If you're the type of traveler who revels in artistic masterpieces, Spain offers an unparalleled experience. The country's world-renowned museums and galleries house an extensive collection of works from legendary artists such as Picasso, Dali, and Goya, providing a feast for the senses.
If you're a culinary adventurer, Greek cuisine is a feast for the senses, intricately woven with history and diverse influences from the Ottoman, Italian, and Balkan regions. With dishes of skewered grilled meats, baked eggplants, or dolmades (grape leaves stuffed with rice and herbs). Indulge in pastitsio, a comforting baked pasta dish, and experience the sweet richness of galaktoboureko, a custard-filled pastry.
Which Country Is Cheaper?
For many travelers, the cost of accommodation takes up a significant chunk of the budget. Thankfully both Greece and Spain offer a great array of options. But what about transportation, food, and nightlife, as well as all the activities that make up an unforgettable trip?
Accommodation:
In Greece, there's a beautiful charm in staying in traditional whitewashed houses on islands like Santorini or Mykonos. Off-season, these iconic destinations can surprise you with their affordability.
Instead of hostels, that most locals would avoid, budget travelers often opt for Greek guesthouses and pensions, locally termed as "domatia", which offer basic facilities at very reasonable prices. The island-hopping adventure often comes with lesser-known islands like Paros or Naxos, which promise decent accommodations at lower prices than their more famous counterparts.
On the other hand, Spain comes alive with its modern hostels, paradores "luxury accommodations in historic buildings", and seaside resorts. In bustling cities like Madrid and Barcelona, central accommodation might be a bit pricier, more so than in Athens, but moving slightly outward can fetch you quality stays without denting your pocket.
Spain's rich cultural provinces also have casa rurales "rural houses" that offer rustic experiences at affordable rates. Prices will also depend on whether you're visiting Spain during peak tourist seasons.
Overall, Spain's popular areas can be more expensive than Greece. However, with smart planning and booking in advance, both countries can be navigated on a budget.
Transportation:
Getting around is an integral part of the travel experience. In Greece, the mainland's bus and train system is pretty affordable, though it might not be the swiftest, or as punctual.
Then you also have the metro in Athens which is a great way to travel from one district to another, just don't forget to get the tourist pass for multiple days!
If you're planning on island-hopping in Greece, the prices for the ferries that connect the islands can vary based on the speed and class of the ferry. Taking slower boats or booking in advance can save a good amount.
Spain has an extensive and efficient rail network, connecting major cities at high speeds, especially with the AVE trains. Buses, like the Alsa network, cover wider grounds and are often cheaper. Moreover, Spain's domestic flights are competitively priced, making distant regions accessible.
While the Athens metro is the only metro system in Greece, Spain has five conventional metro networks in Madrid, Barcelona, Valencia, Bilbao, and Palma de Mallorca, and similarly to Greece, the tickets are budget-friendly.
So, while Greece's inter-island ferries can add up, Spain's extensive transportation options give it an edge in terms of convenience and variety, though the costs might be slightly higher.
Activities And Attractions:
From ancient ruins to modern art hubs, both countries are bursting with experiences. Greece lures with its ancient sites like the Acropolis, Delphi, and Olympia. While these have entry fees, their significance and grandeur make them worth every penny.
Beaches, especially on islands, have minimal charges, but if you're planning on visiting secluded beaches then most of them are free. I will never forget the blue waters and rugged scenery of Limnos, a Greek island in the northern Aegean Sea, that I visited a couple of years ago!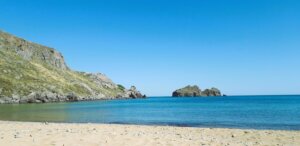 But remember if you decide to visit a secluded beach you will have to bring your own umbrella!
Spain offers a mix of things to do and see like Gaudi's architectural wonders in Barcelona, the Alhambra in Granada, or the Prado Museum in Madrid. Many of Spain's attractions come with entry fees, but cities often have specific days or hours when entry is free or more affordable.
Food And Nightlife:
Greece is a haven for foodies on a budget. Street food like souvlaki, gyros, and spanakopita won't hurt your wallet. Tavernas offer hearty meals at modest prices. Nightlife, especially on islands like Mykonos, can be pricier, but local bars in smaller towns offer a genuine experience at affordable rates.
Spanish tapas bars, especially in the south, serve free tapas with drinks. Nightlife in Spain is legendary. Cities like Madrid and Barcelona have pricier clubs, but the local bar scene, especially in areas like Andalusia, offers authentic flamenco nights without the hefty price tag.
So, What's The Verdict?
Both countries are pretty affordable, with great accommodation on a budget, especially if you avoid traveling during peak season. Similarly, historical sights and activities are similarly priced. Greece and Spain also cater to food lovers of all budgets the same can be said about bars and drinks. However, for free-flowing nightlife with cultural flair, Spain might take the cake.
Which Country Has The Best Food And Restaurants?
When traveling, food often becomes the soul of the journey. Greece and Spain, with their Mediterranean roots, might seem to tread on similar culinary paths, but having tasted both I can definitely pinpoint some of their differences!
I associate Greek cuisine with the intense flavor of olive oil, fresh herbs like oregano, and zesty lemon. Feta cheese accompanies almost every meal, as well as succulent meats, grilled vegetables, and of course, fresh tomatoes in a Greek salad are a must!
When I think of Spain certain flavors come to mind like the smokiness of the paprika, the sweetness of saffron, and the rich and earthy taste of olives and almonds. If you've tasted paella or bitten into a churro dipped in chocolate, you know the thrill.
Whether you pick Greece or Spain as your culinary destination then you don't have to worry about quality. Both countries use fresh, local ingredients.
The quality of produce in Greece, especially on its islands, is top-notch. Fresh-caught fish, sun-ripened tomatoes, and locally produced cheeses like halloumi stand out.
Similarly, Spain's diverse regions ensure a range of high-quality ingredients, from fresh seafood in Galicia to succulent Iberian ham in Andalusia.
Both countries take pride in their gastronomic hubs. From upscale restaurants in Athens and Barcelona offering gourmet experiences to quaint tavernas and tapas bars in smaller towns delivering authentic flavors, there's something for every wallet.
So, What's The Verdict?
When it comes to food, whether you choose Greece or Spain, you can't really lose. Both countries promise a gastronomic journey that's sure to make your trip memorable!
How Do The Culture And History Compare?
Both Greece and Spain are culturally and historically significant places, but how do they differ?
The hospitality of the Greeks, or "philoxenia", is legendary. Whether it's the elderly lady offering you homemade loukoumades in a village or the lively traditional dance in a small Rebetadiko, the Greek way of life is to celebrate. The islands, especially, embody a slow, relaxed pace where siestas, feasts, and festivals are the norm.
Whether you visit the mainland or the islands it will be difficult to miss the influence of the country's ancient history. Greece's historical panorama is vast and influential, from the Athenian golden age all the way to the Byzantine monuments, all waiting to be discovered by you.
Spain, on the other hand, is an explosion of colors, music, and passion. The 'mañana' (tomorrow) attitude speaks volumes about the Spanish relaxed approach to life. From the fiery Flamenco in the south to the human towers or "castells" in Catalonia, Spain's diversity is reflected in its regional customs. And let's not forget the nation's dedication to fiestas and siestas!
Spain has a rich tapestry of its own. From Moorish palaces like the Alhambra to Gothic cathedrals in Toledo, its architecture narrates tales of diverse rulers – Moors, Visigoths, and Romans. Spain's history is also a story of powerful empires, great explorers, and art movements inspired by maestros like Picasso and Gaudí.
So, What's The Verdict?
If ancient myths, epic tales, and classical marvels fascinate you, Greece will feel like stepping into a history book. But if your interests lie in medieval epochs, Islamic artistry juxtaposed with Christian monuments, Spain is your destination.
How Do The Art And Entertainment Compare?
The Mediterranean allure of both Greece and Spain extends far beyond their sun-soaked shores. So, what else is there to discover?
Museums And Historical Monuments:
Both Greece and Spain are living museums, perhaps Greece more so.
Athens' Acropolis, with the iconic Parthenon, stands as a timeless testament to Ancient Greek artistry and architecture. But the city also boasts the state-of-the-art Acropolis Museum, which preserves and presents artifacts from the ancient site.
Venturing beyond the capital, you'll discover places like Delphi, Knossos, and Epidaurus, each echoing tales from different epochs of Greek history. Unfortunately, Greece's mainland is too big to explore on a single trip, and not every city has historical sights and monuments, or appealing architecture.
On the other hand, walking through the streets of most Spanish cities with historical significance you will notice a consistency when it comes to architecture. Spain's art scene is a vivid blend of the past and the present. The Prado Museum in Madrid showcases works from Spain's art triumvirate – Goya, Velázquez, and El Greco.
Meanwhile, Barcelona's Gaudí-inspired modernist landmarks, like the Sagrada Família and Park Güell, offer a dive into the whimsical. The Alhambra in Granada, with its intricate Moorish designs, stands as a monument to a bygone era of splendor.
Festivals:
Festivities in Greece are a vibrant mix of religious reverence and pagan traditions. Easter is celebrated with unmatched fervor – candles, processions, and feasts. Additionally, festivals like the Athens Epidaurus Festival showcase Greek drama in ancient theaters, taking you on a journey back in time.

I also think it's worth mentioning the Tyrnavos carnival, organized annually in the town of Tyrnavos in Thessaly. Its special feature is the worship of the phallus as a symbol of fertility and prosperity. Its origins date back to ancient times!
Spain is almost synonymous with festivals. From the tomato-flinging La Tomatina to the adrenaline-pumping Running of the Bulls in Pamplona, there's a fiesta for every mood. Not to be missed is Seville's Feria de Abril, where flamenco dresses, traditional tents, and dance form a colorful spectacle.
Nightlife:
Greek nights are legendary. The islands, especially Mykonos, have become global nightlife hubs, where beach parties transition seamlessly into dawn. Athens and Thessaloniki, with their eclectic bars and clubs, promise nights filled with music, dance, tsipouro, and ouzo.
Madrid and Barcelona brim with bars, clubs, and tapas joints that remain lively until the early hours of the morning. The concept of 'tapeo', hopping from one tapas bar to another, coupled with Flamenco shows, ensures an unforgettable night.
So, What's The Verdict?
While Greece offers a poignant journey through ancient artistry intertwined with modern merriment, Spain presents a palette of artistic grandeur, regional festivities, and vibrant nightlife. If you're inclined towards classical art and monuments, alongside traditional taverns with lively music, Greece is the perfect destination. But if diverse art movements, legendary festivals, and buzzing nights call out to you, Spain might just be your scene!
How Do The Beaches And Natural Beauty Of Greece And Spain Compare?
Greece and Spain can offer you sun, sand, and the sparkling sea, but what sets their beaches apart?
From the iconic white sands and azure waters of Navagio Beach in Zakynthos to the volcanic black sands of Santorini, all 227 Greek islands are synonymous with postcard-perfect beaches.
Mykonos buzzes with beach parties, while secluded coves in islands like Milos offer tranquil escapes. The beauty of Greece is that each island offers a unique beach experience, with turquoise waters being the constant.
While Spain doesn't have as many islands, doesn't mean they can't compete! The Balearic Islands, especially Ibiza and Mallorca, are a blend of vibrant beach scenes and serene coves.
Similarly to Greece, Spain's coastline is a tapestry of diverse beaches. The sun-kissed Costa del Sol boasts golden sands and vibrant beach life, while the northern coasts, like the Playa de las Catedrales in Galicia, impress with dramatic cliffs and natural arches.
When it comes to the mainland coastline of Greece and Spain, it's truly difficult for me to choose a winner, but I must admit that Spain offers more diverse landscapes.
Of course, Greece is worth visiting for its majestic mountains like Olympus, or the Meteora monasteries perched atop vertical cliffs, as well as the Samaria Gorge in Crete, one of Europe's longest canyons.
Even a short trip from Athens all the way to Sounion will bring you to the temple of Poseidon.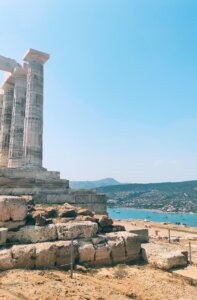 As you can see in the photograph I took one very hot morning, the ancient ruins, sunkissed sand, and blue waters create an unforgettable view.
However, there's something even more alluring in Spain's diversity, from the snow-capped Sierra Nevada to the arid beauty of Almeria's deserts, there's a natural spectacle for every enthusiast. The Pyrenees stand tall as nature's formidable fortress, and the volcanic landscapes of the Canary Islands, especially Teide National Park in Tenerife, transport visitors to another world.
So, What's The Verdict?
Both Greece and Spain promise coastal wonders that can take your breath away. If island-hopping and discovering unique beaches appeal to you, Greece might have the edge. On the other hand, if you crave variety, be it golden, rocky, or secluded beaches, interspersed with diverse landscapes from deserts to mountains, Spain is the ultimate choice!
Which Country Is The Best For Trips And Excursions?
Both Greece and Spain are great countries for road trips, but it all depends on the type of trip you're actually looking forward to and how much time you have on your hands.
Scenic Island Hops In Greece
Greece's unique proposition is its ability to combine road trips with ferries, allowing travelers to drive through multiple islands. This creates a combination of coastal drives with the thrill of island-hopping.
Cyclades Circuit: Starting from Athens, you can take a ferry to Mykonos, and explore the island's vibrant nightlife and beaches. From Mykonos, you can hop onto another ferry to Naxos, famed for its historical sites and charming villages.
Next, you can move on to Santorini, where you can drive along the caldera and enjoy the world-famous sunset. From Santorini, a short ferry ride can take you to lesser-known gems like Paros and Milos before heading back to Athens.
Ionian Exploration: If you're looking for a more unique island hopping experience then you can begin your journey through the mainland, driving to Igoumenitsa, and taking a ferry to Corfu. There you can spend your time exploring Corfu's Venetian architecture and lush landscapes while enjoying the cool Ionian waters.
Next, you can head south to Paxos, and then onto Lefkada, which is accessible by a causeway. Continue to Kefalonia and Zakynthos, both islands offer stunning beaches and serene villages.
The Diverse Landscapes Of Spain
Spain's vastness and variety are what make it a road-tripper's dream. But what exactly can you expect if you only have a week to explore this beautiful country?
You can start your journey in the heart of Spain, Madrid where you can visit the Royal Palace and the Prado Museum and spend a whole day wandering around the lively streets of Malasaña or the elegant boulevards of Salamanca.
Next, you can drive to the ancient city of Toledo, a UNESCO World Heritage site known for its rich tapestry of Christian, Jewish, and Muslim history. Explore its Alcazar and the stunning Cathedral.
Then you could move on to Seville, the heart of Andalusia. Visit the Alcazar, Seville Cathedral, and the Giralda Tower. Later, roam the vibrant streets of Barrio Santa Cruz.
After a day or two you can drive to Granada, with the majestic Alhambra awaiting you. But remember to book your tickets in advance! There you can explore the Albayzin, the old Moorish quarter. Don't forget to dine in one of the city's cave restaurants in Sacromonte with views of the Alhambra.
If you want to enjoy beautiful beaches while in Spain then Head to Malaga, the birthplace of Picasso. Not only should you visit the Picasso Museum and the Alcazaba fortress, but you should also make some time to relax on the beaches of Costa del Sol. Nerja and Marbella are great choices.
For a change of scenery and more beaches, you can make your way to Almería. There visit the Alcazaba of Almería, a fortified complex, and later wander through the historic streets. Relax on the virgin beaches of Cabo de Gata-Níjar Natural Park, a protected area with some of the most untouched coastlines in Spain.
Finally, you can drive back to Madrid and spend your last day exploring the city some more.
So, What's The Verdict?
If island hopping doesn't appeal to you, especially if you're short on time, then for a week-long road trip with diverse experiences in close proximity and excellent road conditions, Spain edges out slightly, being the more practical choice compared to Greece, especially in contrast to Greece's mainland.
Which Country Has Better Weather?
Spain and Greece both boast similar Mediterranean climates that promise sun-kissed days and mild evenings. However, when dissecting the nuances, Spain generally has a more varied climate due to its larger size and topography, offering everything from cooler northern regions to warmer southern coastlines.
However, here's a general breakdown to provide an idea for travelers looking for the best time to visit either country.
Spring:
Greece: Spring is one of the most pleasant times to visit Greece, especially between April and June. The temperatures are mild, wildflowers bloom in abundance, and popular destinations aren't as crowded.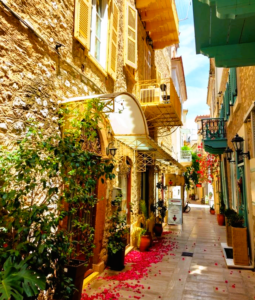 Nafplion in the Peloponnese, was especially colorful, during late spring!
Spain: Spain in spring is a treat, especially from mid-April to early June. Regions like Andalusia are bathed in colorful blooms. In Valencia, the orange blossoms infuse the air with a sweet aroma. However, northern areas, such as the Basque Country, can be unpredictable with occasional showers.
Summer:
Greece: The summer, especially July and August, can get intensely hot, especially on the mainland. The islands, due to the sea breeze, can be more bearable but daytime can be quite uncomfortable for those who can't tolerate hot weather. It's the peak tourist season, so expect crowded destinations and higher prices.
Spain: Spanish summers, particularly in the inland regions, can be scorching. Coastal areas like Costa del Sol are more temperate and attract sun-seekers. Northern regions such as Galicia offer milder temperatures, making it ideal for those wanting to escape the heat.
Autumn:
Greece: Greece in autumn witnesses a gradual cool-down. September is still warm enough for beach activities, but by October and November, there's a nip in the air, and rainfall begins in some parts.
Spain: Spain's autumn is colorful and diverse. While the Mediterranean coast still enjoys a warm September, regions like La Rioja display a burst of fall colors. Rainfall can be expected in northern parts, but the south remains relatively dry.
Winter:
Greece: Winters in Greece are mild along the coast but can be cold and snowy inland, especially in the mountainous regions. Popular islands like Santorini and Mykonos are quiet, offering a different charm.
Spain: Spain offers varied winter experiences. The Sierra Nevada Mountains lure skiers, while regions like Andalusia have mild winters ideal for sightseeing. However, northern parts can get chilly with considerable rainfall.
Which Country Is The Safest?
Both Greece and Spain are considered safe countries to visit. Petty thefts like pickpocketing can occur in tourist-heavy areas of both Greece and Spain, especially in crowded tourist spots, but violent crimes against tourists are rare.
When it comes to natural risks, Greece can experience earthquakes, but forest fires during the dry summer months are a bigger concern.
Similarly, Spain is also susceptible to natural calamities, such as forest fires in summer and occasional flooding in certain regions. Earthquakes are less common than in Greece.
So, make sure you keep your belongings safe and stay informed about any natural disasters during your travels!
So, What Is The Best Season To Visit Greece And Spain?
When choosing the best season to visit Greece and Spain, several factors come into play: weather, prices, crowds, and entertainment.
Spain and Greece offer delightful spring weather, but if you prefer slightly warmer temperatures and lesser rainfall, Greece might have a slight edge. Then again if you prefer hot, dry weather and beach activities, both countries are suitable. However, for slightly milder summers, Spain's northern regions are preferable.
Greek autumn also offers warm seas, ideal for swimming, prices drop, and popular spots are less congested. Similarly, in Spain, it's grape harvest time during autumn, especially in regions like La Rioja. Mild weather, fewer tourists, and off-season prices make it attractive.
So, for a balanced experience of good weather, reasonable prices, fewer crowds, and decent entertainment, spring and autumn stand out for both Greece and Spain. However, for those looking for high energy, summer festivals, and bustling beaches, summer is the go-to, if your budget permits it.
Closing Thoughts
Whether you're drawn to the ancient ruins and azure waters of Greece or the vibrant culture and diverse landscapes of Spain, both destinations promise unforgettable experiences.
While their offerings diverge in areas like cuisine, art, and natural beauty, they converge in their warm hospitality and rich histories.
Deciding the best time to visit hinges on personal preferences, be it the allure of spring blossoms, sun-soaked summers, or serene autumns.And if you want something with more green, consider one of my other favorite spots.
Whatever you seek, remember that the magic lies not just in the destination, but in the journey and the stories you'll collect along the way. Happy travels!