The other day, Governor David Ige announced the ending of inter-island travel quarantines. That same day we got a look at what travel will look like as Hawaiian Air demonstrates its new safety measures.
When I discussed the reopening of intra-Hawaii travel the other day, I speculated what things would be like. At the time of that post's writing, very little information was available. But, yesterday, local media outlets began publishing stories about Hawaiian Air's efforts to demonstrate their new safety measures.
Masks Required
Before we start getting into specifics, the single most important thing to remember now is that masks are required to board the aircraft. No mask, no flight.
Check-In
Changes abound from the moment you arrive at the airport. To allow for social distancing, Hawaiian Airlines has removed a third of their check-in kiosks. The remaining kiosks have then been set further apart.
Something we've all become accustomed to by now is the use of social distancing wayfinding decals. These are especially prominent in the bag drop queuing area.
Sneeze guards have also been installed in certain areas of the check-in lobby.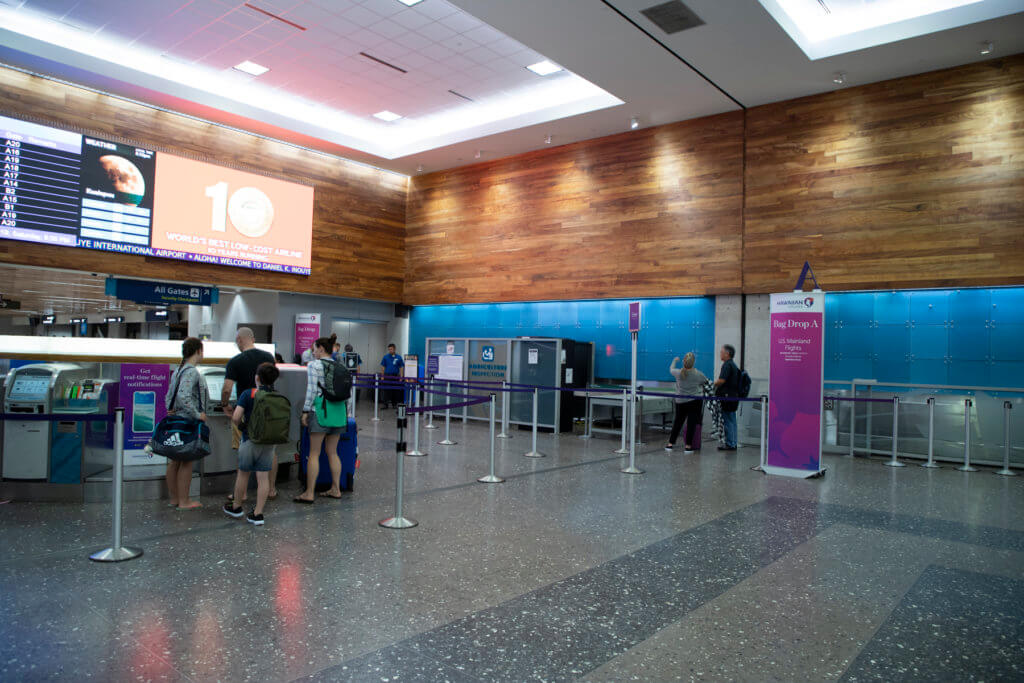 Lounges
Both the Premier Club Lounges and Plumeria lounge remains closed until further notice. And, that's probably for the better. The few times I've been in the Premier Club Lounge, it's always been a circus. Not Amex Centurion Lounge bad, but close enough.
Boarding
The most significant change at boarding is the change in boarding procedures. Boarding priority is no longer given to passengers flying in first or that have status. Instead, boarding will proceed from back to front, in an effort to minimize unnecessary interactions. Further, once seated, you will not be allowed to stand up again during the boarding process. So, make sure you have what you need on you before you get onboard, and that you use the restroom before your flight. Most inter-island flights are under 30 minutes anyway, so it shouldn't be that big a deal.
Passengers waiting to board will need to remain in their seats until their row is called to help further mitigate unnecessary interactions. Will this work? I highly doubt it. Have you seen the amount of gate lice Hawaiian flights usually have?
Once your row is called, all passengers are now responsible for scanning their own boarding pass or phone.
Oh, and for those of you that want a copy of Hawaiian's Hana Hou! in-flight magazine, you'll need to pick it up at the gate.
Onboard
Despite the confusing statement released the other day regarding aircraft capacities, Hawaiian is not advocating for packing its flights. Rather, Hawaiian is limiting its maximum capacity to 70%. That means a maximum of 90 passengers on its 128-passenger Boeing 717s. Sure, there's still no way to maintain the CDC-recommended 6 feet of social distancing, but it's something.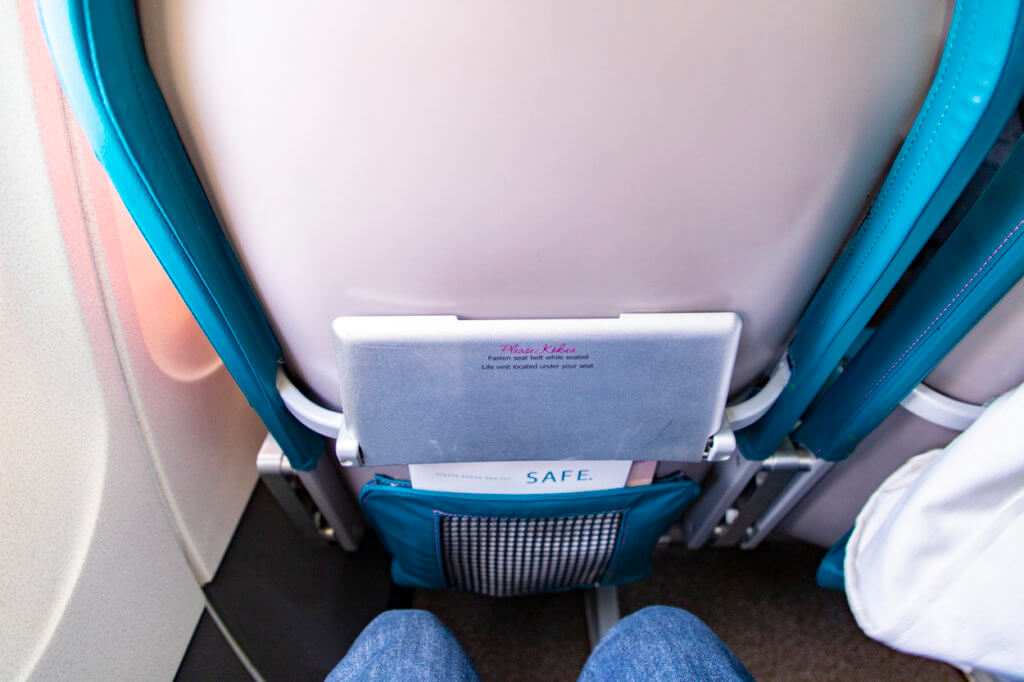 Though no specifics are given, Hawaii states that they are limiting in-flight offerings too. Further, sales of alcoholic beverages remain unavailable until further notice.
Cleaning
Hawaiian says they are ramping up their cleaning efforts. For example, they're employing electrostatic sprayers to disinfect their aircraft. This occurs nightly, with less intensive cleaning happening during Honolulu turns. And, hopefully, with lower frequencies, the cleaning is better. In the past, I've often found trash at my seats on Hawaiian's inter-island flights. By the way, I'm not talking about small wrappers and things like that. I've frequently found empty grande-size Starbucks cups, crushed bottles of water, etc.
Hawaiian Air Demonstrates New Safety Measures, Final Thoughts
It's great to see Hawaii's hometown airline stepping things up. Some of these practices, though, may not work so well at no fault of the airline. What's more, there's still no conclusive evidence that any of these initiatives help in preventing transmission once onboard the aircraft. And, yes, that's even with temperature screenings since an estimated 35% of those infected are asymptomatic, while 40% of infections occur before the infected person begins feeling ill. As a result, I'm still going to avoid traveling for the time being.
You guys may recall, I have plans to travel to Maui in August. Well, those plans are still on a the moment. I plan on monitoring the situation over the next two months and will make a final call in early August. After all, I'm flying Southwest, so I can.
Anyway, you can preview Hawaiian's new inter-island flight experience in the Star-Advertiser video below.