Last week Hawaiian Airlines made an announcement.  The announcement was for a new route, sort of.  Hawaiian is resuming service to Kapalua Airport on Maui.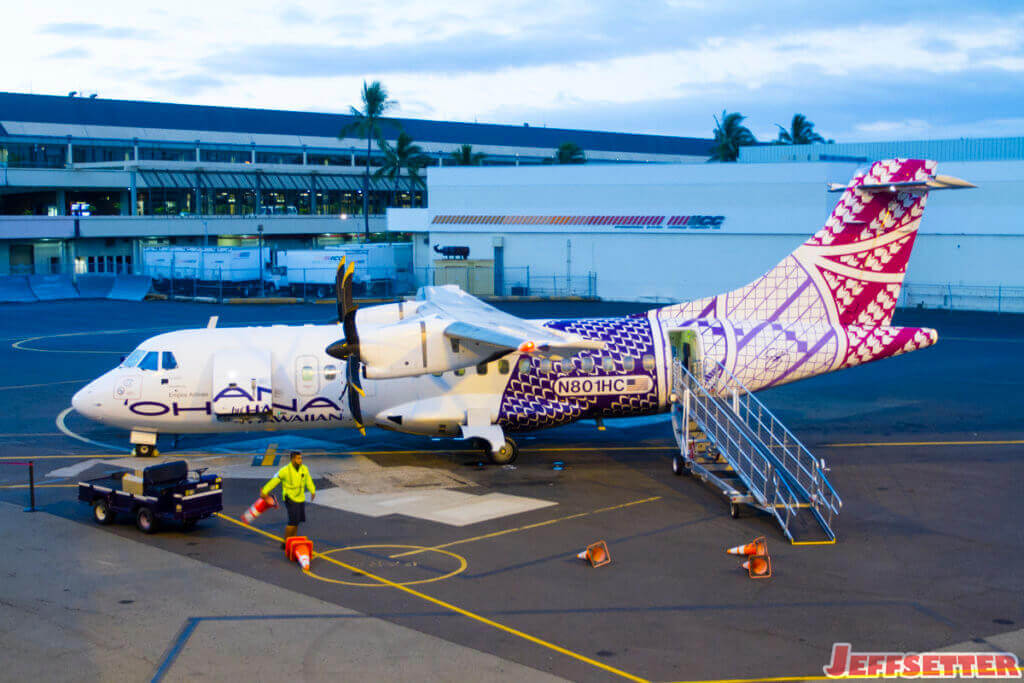 Hawaiian's Kapalua service will be operated by its commuter airline subsidiary, Ohana by Hawaiian.  Flights are scheduled to begin on January 18, 2017, and will be operated by the airline's 48-seat ATR 42-500s.  Currently, the only scheduled service to Kapalua is flown by Mokulele Airlines.  Mokulele flies its fleet of Cessna Grand Caravans from Honolulu and Kona to Kapalua.  Island Air discontinued service to Kapalua on May 31, 2013, as they phased out their fleet of Dash 8-100s.  The Airline's new fleet of ATR 72-212 are too large to serve the airport.
History
Hawaiian Airlines has an interesting history with Kapalua Airport.  The Airline had built the airport in 1987 to replace the old Kaanapali Airport.  In fact, the airport's IATA code JHM stands for John Henry Magoon, former CEO of Hawaiian Airlines.  Hawaiian served Kapalua from 1987 to 1993 with it's fleet of 50-seat de Havilland Dash 7s.  The airport was later sold to the State of Hawaii Department of Transportation.
After Hawaiian's departure from JHM, Island Air continued its service and was joined by Mahalo Air.  Mahalo entered into bankruptcy and ceased operations in 1997.
Location
Kapalua Airport, as its name suggests, the Airport is located in West Maui near the Kapalua Resort.  JHM is located 4.2 miles away from the Kapalua Resort, and just over 3 miles away from the Kaanapali Resort.  This makes it a very convenient option for those island-hopping, and staying in West Maui.  The drive from Kahului Airport to the resorts in West Maui does take around an hour after all.  Of course, there are a few cons when flying into Kapalua Airport.  First is the limited flight availability.  With only two airlines operating in and out of the airport from two destinations, there really won't be a ton of options.
The other con with traveling in and out of Kapalua Airport is transportation.  Because the airport is so tiny, there aren't really any facilities there.  There are car rental agencies nearby, but most are located in Kaanapali Resort.  Most will provide shuttle service or car pickup directly from the airport, though.  Still, if you want to avoid the long drive from Kahului, then flying into Kapalua is a great option.  You do need to be ok with flying on turboprop aircraft, too though.
Partners
In-all, Hawaiian resuming service to Kapalua Airport is a good thing.  Increased competition and options are always welcomed.  And while HawaiianMiles isn't my favorite program, having more HawaiianMiles flight options is welcome, too.  Hawaiian Airlines does have a decent number of partner airlines.  You can earn miles with the following airlines for flights on Hawaiian:
American Airlines
Delta
Jetblue
Korean Air
United
Virgin Atlantic
Virgin Australia
That makes Hawaiian a great option for inter-island travel in Hawaii.  Even if you don't like to collect HawaiianMiles.