Founded on Kauai in 2018, Holey Grail Donuts specializes in a new breed of donuts – farm-to-table donuts. They've been on my list of places to try since 2019, and I was looking forward to visiting them in 2020 – but COVID happened. But, lucky me, they opened a location here in Oahu, so I got to try them anyway.
Actually, Holey Grail Donuts has two locations on Oahu now – one brick-and-mortar shop and one truck. The truck was their original Oahu location, but the challenges created by the pandemic allowed them to open a real store – albeit a temporary one, for now, anyway.
Holey Grail Donuts Oahu Locations
When Holey Grail Donuts arrived on Oahu, it was in the form of a truck parked at Ward Center in Kaka'ako. But, they eventually transitioned into a vacant spot right next to their truck location. The location is a "pop-up" right now, but with any luck, it'll become a permanent location. Even if the location doesn't stick, though, they've still got the truck, which is currently in Waikiki. Specifically, you can find the truck at 325 Seaside Avenue across the street from Waikiki Yokocho and down the street from the Hyatt Centric Waikiki Beach.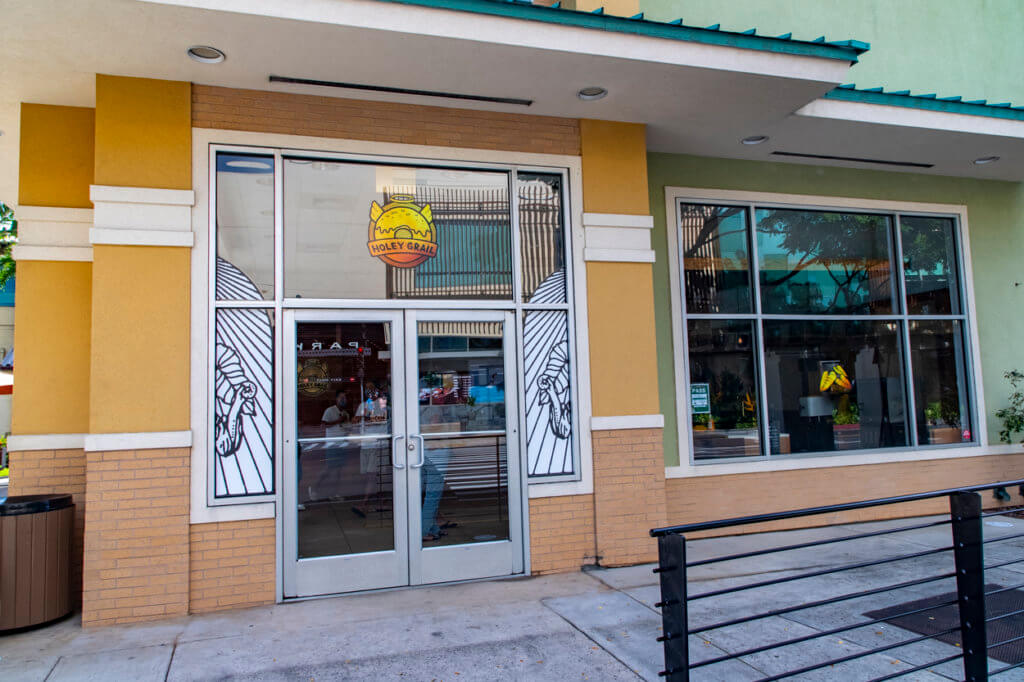 The Ward shop is open Tuesday – Thursday from 7 am to 5 pm, and Friday – Sunday from 7 am to 9 pm. The Waikiki truck is open Wednesday & Thursday from 8 am to 3 pm and Friday – Sunday from 8 am to 5 pm.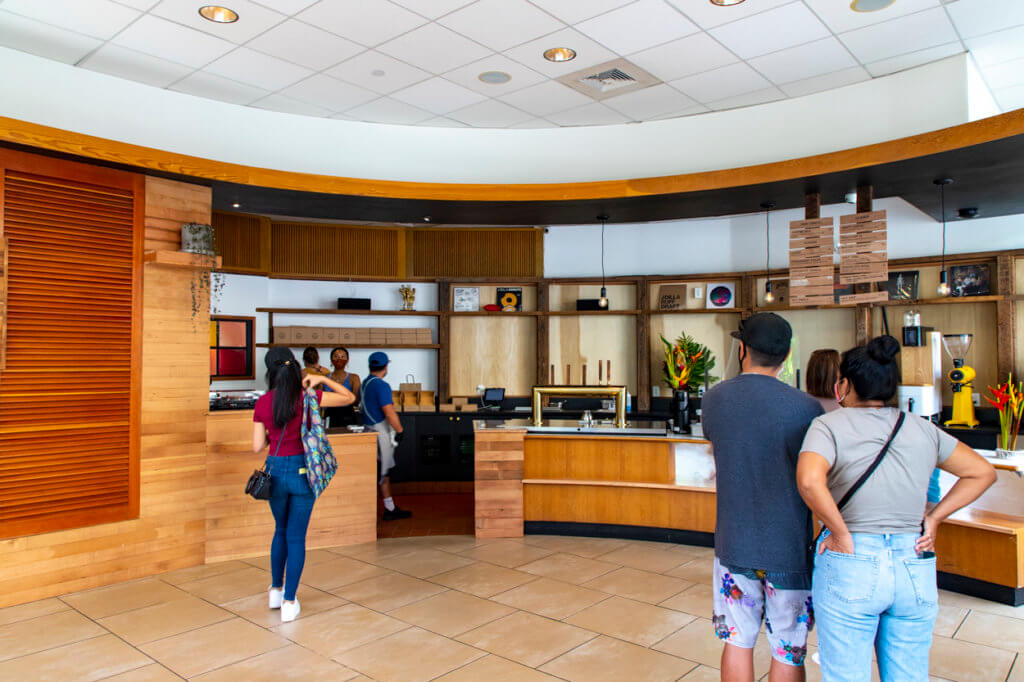 Holey Grail Donuts Kauai Location
If you're on Holey Grail Donut's home island, Kauai, you can find them out in Hanalei. They're open Thursdays from 7:30 am to 2 pm, and Friday – Sunday from 7:30 am to 4:30 pm.
Menu
Holey Grail Donuts keeps its menu simple. Their menu is comprised of five different donuts – one "original" Hot Single that's glazed in local honey and sea salt along with a rotating selection of seasonal flavors. The Hanalei location, however, always has one more permanent flavor – the Island Chocolate. That flavor sounds like my kind of thing since it's made from 70% dark single-origin chocolate from Lydgate Farms in Kapa'a.
It's worth noting that you can choose to order your donuts ala carte or in a Tasting Box. However, only the seasonal flavors are available in the Tasting Box. The Hot Single and the Kauai-exclusive Island Chocolate flavors cannot be included in the Tasting Box. You can only order these flavors ala carte.
Donuts aside, Holey Grail Donuts has a selection of coffee and tea drinks. And as is the case with their donuts, all of the drinks are vegan. Here, though, the dairy replacement in their lattes, etc., is housemade nut milk.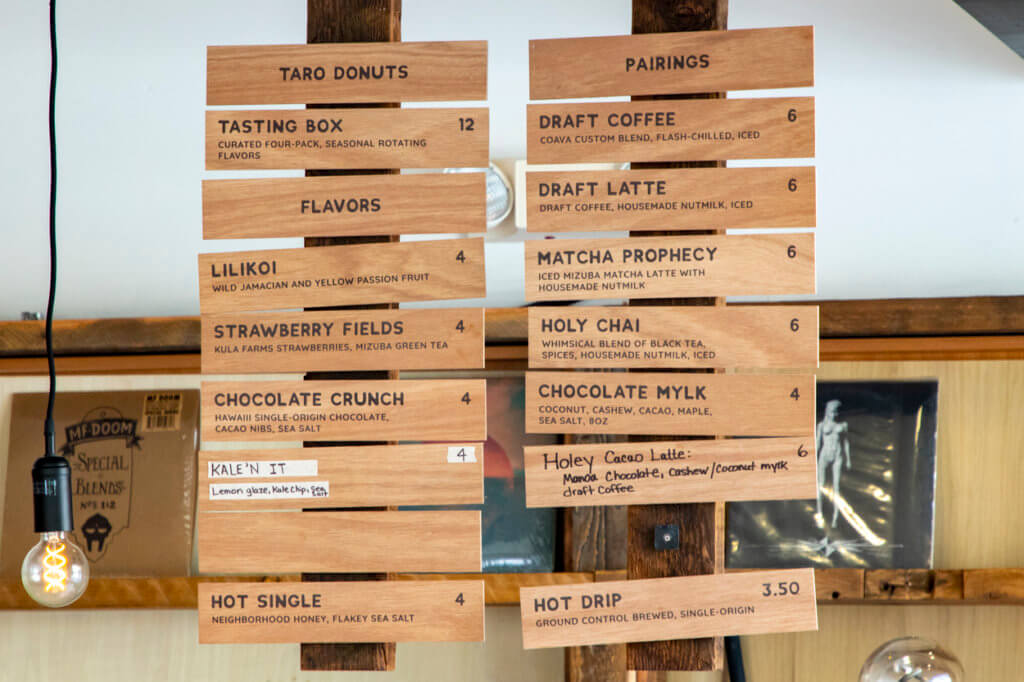 What We Ordered – Visit 1
During our first visit, we eased into things and got a Tasting Box ($12). At the time, the following flavors were included:
Lilikoi – Wild Jamaican and yellow passion fruit
Strawberry Fields – Kula Farms Strawberries and Mizuba Farms green tea
Chocolate Crunch – Hawaiian Single-Origin Chocolate from Lydgate Farms, cacao nibs, and sea salt
Kale'n It – Lemon Glaze, Kale Chip, and sea salt
Before we get into the flavors, let's talk about the donuts. These bad boys are fried to order and have a wonderfully crisp exterior and fluffy, yet chewy interior. They're a little oily for my liking, but not so much to be off-putting. And they're definitely not as bad as Kamehameha Bakery's make-the-box-translucent donuts 😂.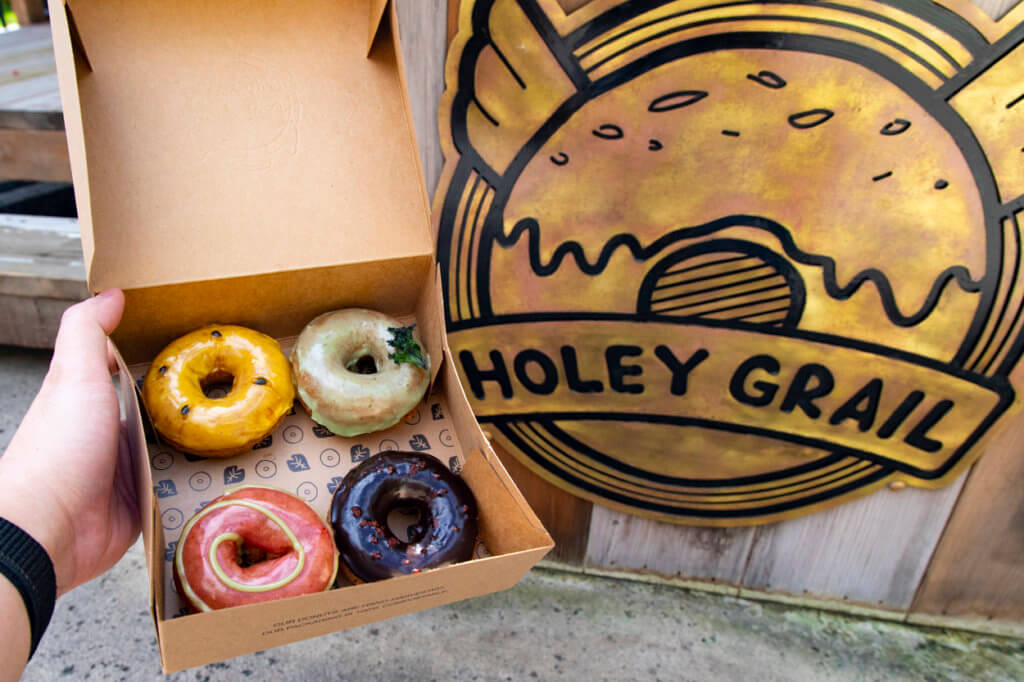 As far as flavors go, all flavors at Holey Grail Donuts are on the lighter side. I'd say the most assertive one that I've tried is the Lilikoi. I love lilikoi, so this one is right up my alley – tart, sweet, fruit. Delicious. What surprised me, though, is what donut ended up being my second favorite – the Kale'n it. You see, I don't like kale. So, thankfully, you can't really taste it with this donut. The predominant flavor here is definitely the lemon.
The Strawberry Field donut was as expected. However, the flavor was just barely hanging on there – it was more like a hint of strawberry than a strawberry glaze. Unfortunately, that was also the case with the Chocolate Crunch donut, which had almost no chocolate flavor at all. That totally bummed me out because Lydgate chocolate is among my favorite chocolates.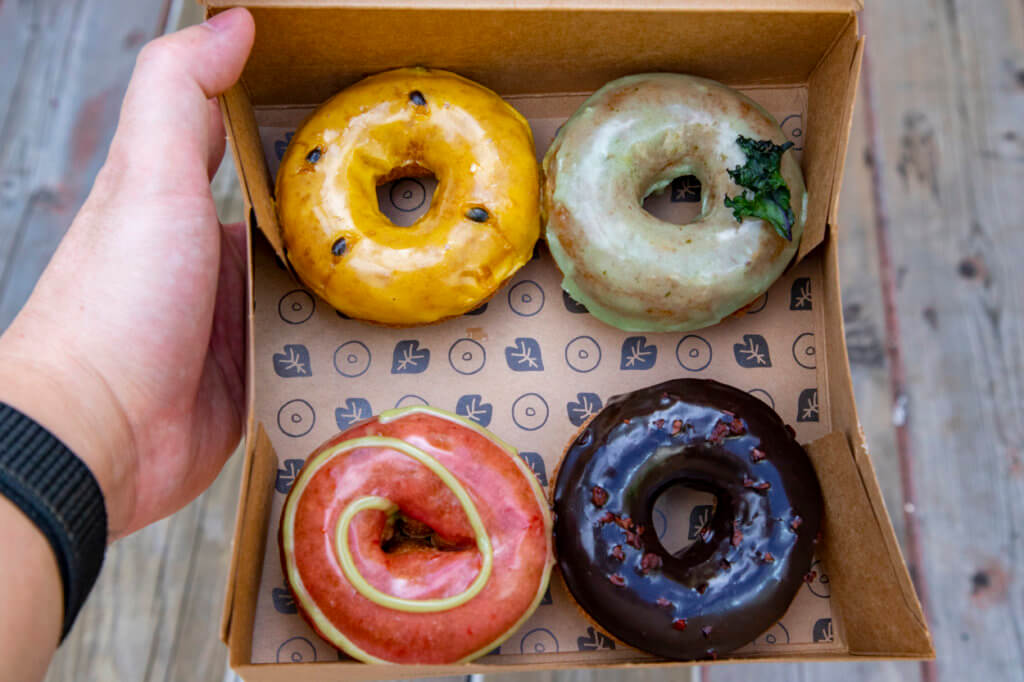 What We Order – Visit 2
During visit 2, we ordered the Tasting Box once again as well as a drink. Since the menu seems to change quite often, though, we got all different donuts this time around. Our visit 2 Tasting Box included:
POG: passion, orange, guava
Reincarnated: maple, smoked coconut, sea salt
Theobroma: Lydgate Farms cacao nib sugar
Hail Mary: stone-ground cardamom and rose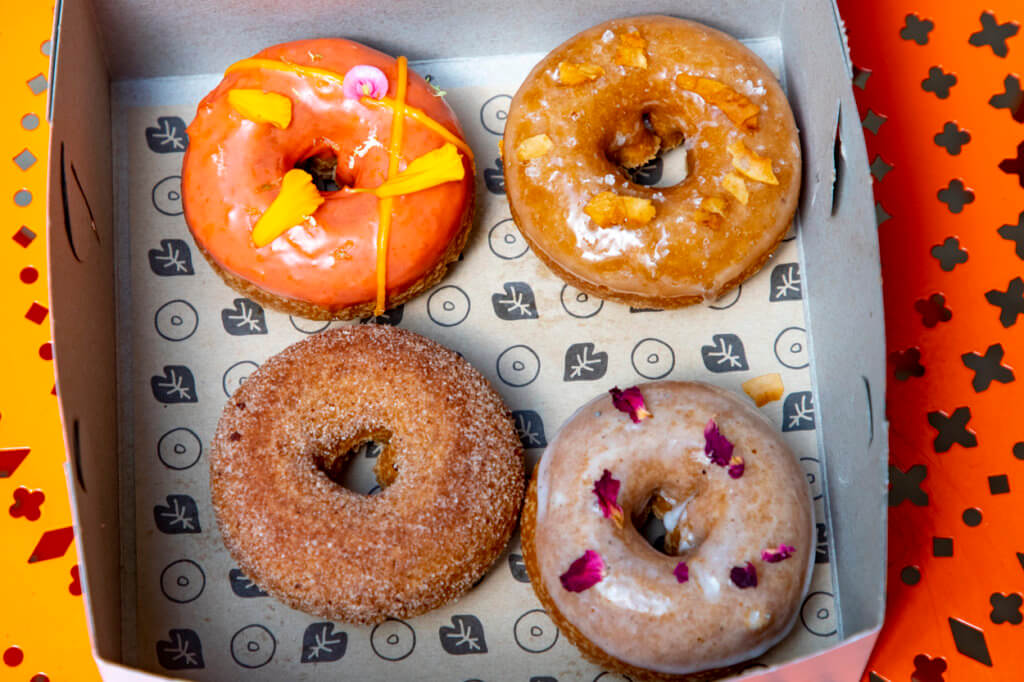 The whole reason I wanted to go back was to give the POG and the Reincarnated a try. I figure, if the Lilikoi was good during our first visit, thee POG should be too, right? And it was, though the flavor was far less assertive. In fact, I found the POG donut's flavor to be a little too faint and ended up being the blandest of the bunch. The Reincarnated, on the other hand, was wonderful! Those large grains of sea salt, the faint smokiness of the coconut, and the maple glaze didn't quite remind me of a maple bacon donut, but it was delicious in its own way. Likewise, cardamom lovers will love the Hail Mary, as that was the dominant flavor of that donut. The Theobrama was, unfortunately, lacking chocolate flavors again. There was a very faint hint of bitter cacao that blended nicely with the sugar and some salt, though I wish there were more. Luckily, I've got a back of Manoa Chocolate cacao nibs at home that I used to augment this donut with.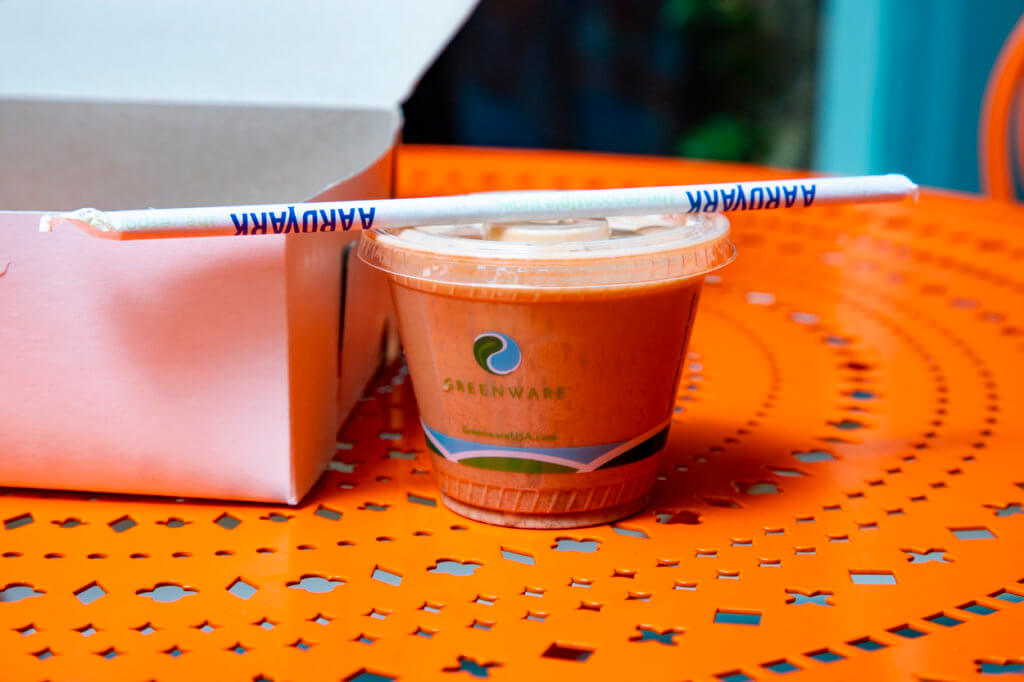 During this visit, Mrs. Island Miler also ordered a cup of Chocolate Mylk. Made from coconut and cashew milk, cacao, maple, and sea salt, it was interesting. Actually, it tastes like it has cinnamon in it, giving it a not spicy Mexican hot chocolate vibe. So if you like that kind of flavor, you'll likely enjoy this drink. But, if you're for a traditional chocolate milk flavor, this may not be for you.
Holey Grail Donuts – Farm-to-Table Donuts, Final Thoughts
Vegan, farm-to-table donuts. I was quite skeptical going in. But, to my surprise, I liked what I tried. The texture is what I like the best, while the Lilikoi has really great flavor too. I only wish their flavors had more oomph. That said, I'll definitely be back. There are a bunch of flavors – especially on Kauai – that I still want to try. And while these little pastry jewels aren't any healthier than regular old donuts, I do like that Holey Grail Donuts tries to source as much of their ingredients locally as they can.