It's no secret that everything is getting more expensive for everyone. Prices for labor, fuel – everything is increasing rapidly. To offset these increases, Honolulu's TheBus is increasing fares.
Inflation is making life harder for all of us. Ironically, the City & County of Honolulu approved the latest price increase for TheBus back in March 2021 – before things really began taking off. So I doubt this increase will cover costs that continue to rise as I write this post. It's worth noting that this is the first increase we've seen since 2018, when prices went up by $0.25 across the board.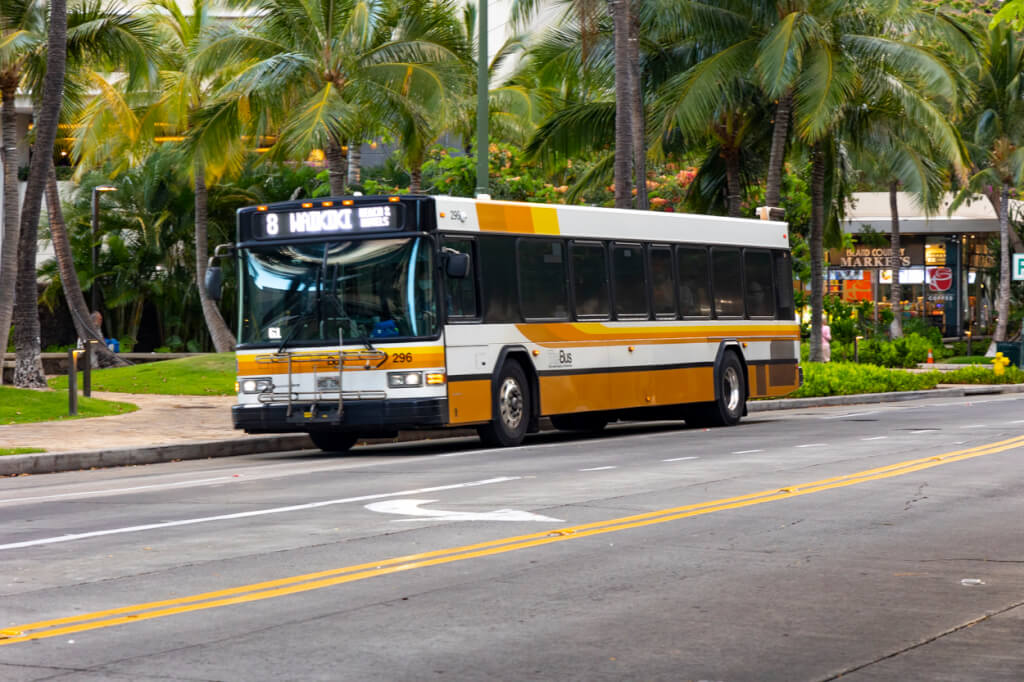 Honolulu's TheBus is Increasing Fares
Like last time, a standard adult fare on Honolulu's TheBus is increasing by $0.25. That means a single-ride adult fare is going from $2.75 to $3, while the child fare goes from $1.25 to $1.50. However, other fares are increasing by more. For example, the maximum daily fare for adults is going from $5.50 to $7.50, while the maximum daily fare for children goes from $2.50 to $3.75. Adult monthly fares get a $10 bump to $80, while the child equivalent is going up to $5 to $40. Finally, the adult annual pass is going from $770 to $880, while the yearly child pass goes from $375 to $440.
Seniors 65 and older are seeing similar increases as children, with a single ride fare increasing from $1.25 to $1.50. Their daily maximum increases to $3 from $2, while the monthly cost soars to $20 from $6. The yearly pass jumps to $45 from $35.
Fares for those with disabilities or who are on Medicare are seeing a substantial increase, too, going from $6 to $20, matching the senior monthly fare.
Children under 5 remain free.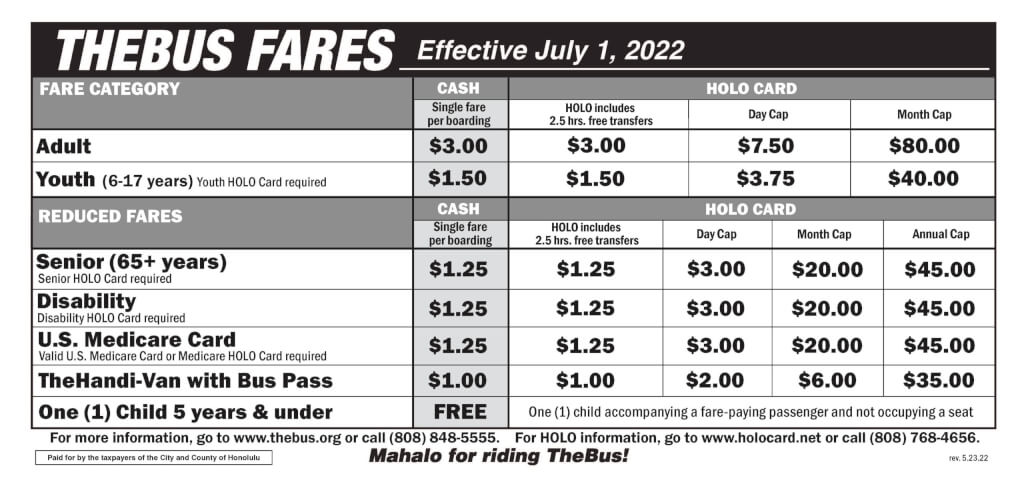 Final Thoughts
No one likes paying more. This is especially true for lower-income residents, which are often the ones that rely on mass transit the most. However, there's no denying that the current economic situation is having significant impacts on TheBus. Unforutnately, that means Honolulu's TheBus is increasing fares to cope with those impacts. These increases, by the way, go into effect on July 1, 2022.
It's worth reminding that TheBus no longer sales paper passes. In fact, passholders must now use TheBus's HOLO Card system. Want to learn more about HOLO Card? Check out my coverage of the program's launch.