The other day, a fellow blogger wrote about the Maldives reopening, as well as the state of their medical system. So, that got me wondering how hospitals in Hawaii stack up? After all, we're in a similar predicament.
The Maldives
A couple of days ago, Gary Leff proclaimed the Maldives insane for allowing the resumption of virtually unrestricted travel to the island nation. The reason for this proclamation is because, like Hawaii, they've managed to contain the virus and have avoided high levels of fatalities. However, the also states its insane for them to remain closed, as 30% of their GDP comes from tourism. He further goes on to give reasons why you and I may not want to go there, including the fact that the main hospital in Male has only six ICU beds, serving a population of about 216,000 with Male itself. That translates to a ratio of 36,000 to 1.
It's also worth noting that just 4.1% of the island nation's residents are 65 or older.
Given how rural counties other than Honolulu are in Hawaii, Gary's post got me thinking – how well-equipped (or not) is Hawaii's hospitals?
Hawaii's Economy
Hawaii isn't quite as reliant on tourism as the Maldives. According to the State's chief economist, tourism made up 16.2% of Hawaii's GDP. Federal spending, which is largely made up of military spending, accounts for a further 10.6%. Interestingly, despite what most people believe, though, tourism isn't Hawaii's largest industry as a percentage of GDP. Instead, that title goes to real estate, which has remained relatively healthy throughout the pandemic.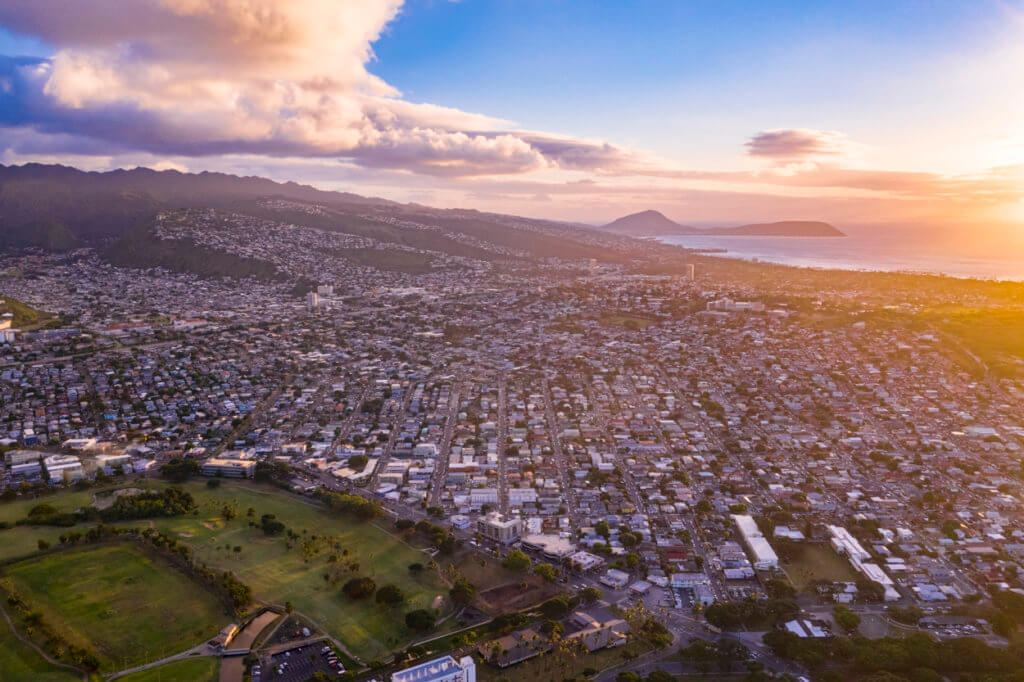 Hawaii's Hospitals
Being home to a major American city, it's no surprise that Oahu has better healthcare facilities than Male. There are 278 ICU beds on the island serving a population of about 975,000 people. That gives us a ratio of one bed for every 3,507 residents. But, not all of the ICU beds on Oahu serve all residents. Some are reserved strictly for military personnel.
The island with the second most ICU beds is Maui at 29. About 167,000 residents call the island home, giving us a ratio of 5,759 to 1.
Hawaii County, home to about 202,000 residents comes in third place with just 24 ICU beds, giving us a ratio of 8,417 to 1.
Kauai, the smallest county by far, is home to only about 72,000 residents. And, with just nine ICU beds, it also has the smallest critical care capacity. The ratio, though, stands at 8,000 to 1, giving Kauai a better ratio than Hawaii County.
It's worth noting, by the way, that 20.2% of Kauai's population is age 65 or older. In Hawaii County, that figure rises to 20.8%. That's quite a bit higher than the national average.
Other Hospital Comparisons
Let's look at the ICU bed statistics another way. Hawaii has 1.6 ICU beds per 10,000 residents – the second-lowest rate in the nation. The ratio likely gets far worse when you account for the 30,000 visitors that made their way to the islands each day last year. The national average is 2.7 per 10,000.
And, remember, Hawaii, being an island state, means that if hospitals on Maui, Kauai, or Hawaii fill-up, the only way to get to a hospital on Oahu is by air. Further, it's at least a five-hour flight from Hawaii to California if we need to medivac someone out of state, while it would take a ship like the Mercy almost a week to get here from the West Coast.
How Hospitals in Hawaii Stack Up, Final Thoughts
Sure, Hawaii isn't as bad as the Maldives in terms of reliance on tourism or its hospital capacities. But, guess what? We're among the worst in the US for both of those metrics. Plus, we have a fairly old population to boot among other unique challenges. So, it's easy to see why we'd want to control COVID-19 as much as we can here – especially as we head into hurricane season. Could you imagine a surge in cases coinciding with a hurricane and all the issues it brings with it? That's nightmarish stuff right there.