Last updated on June 5th, 2023 at 12:19 pm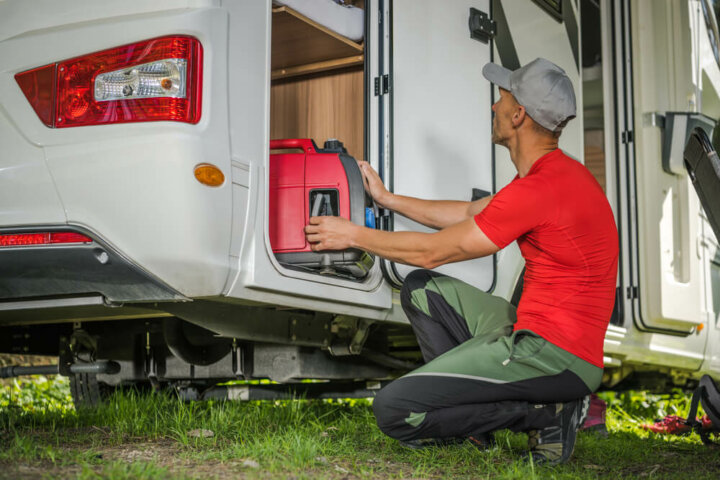 All of our reviews are based on exhaustive research, industry experience and whenever possible, hands-on testing. When you make a purchase using one of our chosen links we'll get a small percentage of the proceeds. This supports the site and keeps Jeffsetter running. You can read more here.
RVs are versatile rigs that allow you to sleep, cook, clean, and relax all in one space, but to do most things in an RV, electricity is required. Using a generator is an effective way of getting power, but generators are usually loud, bulky, and not the most eco-friendly way of charging up your RV.
More and more people are turning to sustainable ways of producing power, and with so many eco-friendly options to power your RV, you can lower your impact on the environment whilst being able to stay charged up in your camper.
So, let's find out how to power an RV without a generator.
There are a few different ways to power an RV without a generator effectively. Portable power stations can be used and charged up whilst you're driving, solar panels can be fitted to your RV's roof, and even a wind turbine can be wired up to your camper to charge up your battery.
Generators are a great fall-back option for charging your RV, but as they generally take up a substantial amount of room and can be expensive, it's good to have some other methods of powering your RV.
Knowing how to charge your RV batteries is essential for staying powered up on the road. So, let's take a look at your options, as well as your power options if you're traveling off-grid!
How to Power an RV Without a Generator
RVs rely on electricity to function and without it, you won't be able to use the lights throughout your RV, watch TV, or charge up electrical gadgets. There are a few alternative ways of powering your RV without a generator and they are all kinder to the planet too.
1. Portable Power Stations
Portable power stations are very similar to power banks but they have much bigger capacity and power output, allowing them to charge a range of electrical items. As they are usually not too big or heavy, portable power stations are user-friendly and have rechargeable batteries, an inverter, and a charge controller inside, allowing them to function similarly to a wall outlet in a house.
A portable power station will need to be charged up to work efficiently, and the easiest way to do this is by charging it whilst you're driving. The length of time it takes for the power station to charge will depend on its size, but once they are charged up, you can go ahead and plug in your phone, laptop, or even a blender!
2. Solar Power
Powering an RV with solar power is becoming increasingly popular, and if you regularly need power in your RV and don't want to rely on plugging in at campgrounds, installing solar power in your camper might be a good idea.
The number of solar panels you'll need to install on the roof of your RV will depend on how much power you require day-to-day, and how much usable space there is on your roof.
Along with solar panels, you'll also need a charge controller and a battery to use any power the panels have harnessed from the sun. The solar setup in our camper is 420W, which allows my partner and I to charge our computers and phones, along with using our blender which needs to run through the inverter.
Solar panels are reliable during summer and spring, but over autumn and winter when the sun doesn't rise as high in the sky, you may need to tilt your panels to angle them in the direction of the sun. It's not too difficult to fit tilting brackets to the solar panels, or if you'd rather not put panels on the roof at all, you can simply use an unmounted panel on the ground.
3. Wind Turbine
Although not as common as solar power, it is possible to power your RV without a generator using wind power. A removable wind turbine can be fixed to your RV roof or ladder when stationary and works by harnessing power from the wind.
The wind blowing through the blades of the turbine causes them to spin, and the turbine takes the kinetic energy from the spinning blades and pushes the energy into a generator which results in power in your RV.
It's essential to not use a wind turbine during stormy weather, as it could be ripped off your RV and become a hazard. Wind power may not be the most efficient way of sourcing power, as a turbine requires wind for the blades to spin and electricity to be produced.
Having a backup way of powering your RV might be useful for particularly non-windy days to ensure you can still use everything inside your RV and keep topped up with power.
How to Power a Camper Off-grid?
The ability to power a camper off-grid allows you to head into the hidden depths of nature and still be able to charge devices and use electrical features in your RV.
It can be frustrating having to head to a campground for electricity every few days, but having an off-grid power method means you can stay out in the wilderness for longer whilst remaining charged up with power.
1. Install a Solar System
Arguably one of the most popular methods of powering an off-grid camper is by installing a solar system. I have relied on solar power in my camper for around 3 years now and the only downside I have found is that if your panels are dirty, they won't bring in as much solar as they should.
Simple maintenance like cleaning the panels every once in a while will ensure they keep in the best shape possible and bring in as much solar as possible. Installing a solar system on your RV can be an initial investment, however, as soon as the system is fitted and the panels are on the roof, you have free electricity for the foreseeable future!
Understanding how a solar system will work in your RV can be confusing, but the video below shows a great breakdown of everything involved in an RV solar setup. Understanding how a solar system will operate in your RV is important, as you may need to tighten connections or check the system over time.
Powering a camper off-grid with solar is an awesome way to keep charged up in your RV, but be wary of parking in direct sunlight during the summer, as although this will be good for your panels, the inside of the RV could become an oven!
2. Solar Powered Generator
Generators work by converting mechanical energy into electrical energy, but they tend to be loud and big, so they can be difficult to store in your RV. Solar-powered generators, however, work by harnessing the sun's energy with solar panels and storing the subsequent energy into a battery that's built-in to the system.
There is an inverter that then takes the energy and converts it ready to be used in regular appliances and to charge up devices. Solar-powered generators usually have portable solar panels that can be moved and positioned optimally for sun exposure.
3. B2B Charger
When you drive your RV, the alternator charges the starter battery, and this in turn powers the vehicle. A battery to battery charger, or B2B charger, works by taking a safe amount of power from the alternator and charging up the RV's leisure battery. This allows your leisure battery to get charged up while you're heading to your next location.
It's crucial to install a B2B charger that doesn't draw too much power from the alternator, as this can damage the alternator, and eventually, it will need to be replaced. Every alternator has a rating for how much power can be drawn from it, and it's best to stay below this number.
To find out how much power can be drawn from your RV's alternator, have a look in the owner's manual, and contact a dealership if you're still not sure. To fit the B2B charger, it's best to contact a specialist who has fitted one before, as it's essential for electrics to be done by a professional, especially when it comes to RVs.
How Many Watts of Solar Do You Need For an Off-Grid Camper?
The number of watts you'll need to power an off-grid camper will depend on how you plan to use the power and the wattage of your devices and appliances. If you're planning on having a remote job on the road, you may need substantial power to charge a laptop and other devices.
It's also worth considering whether you will want to use kitchen items like a blender, coffee machine, or refrigerator as these often draw a lot of power and you will need substantial solar to use them. To run devices like these, you will likely need to have upwards of 600W on the roof of your RV, and if you're traveling as a family with many devices, you may need a bit more power.
Many RVers prefer to keep things simple and not have too many gadgets or devices, and if this is the case for you, it may not be so useful to install several panels on your roof. If your power draw will consistently be quite low, a 100W or 150W solar panel may be an ample amount to meet your needs.
Solar panels are fantastic during spring and summer, but it may be worth installing the solar on tilted brackets so you can angle the panels for winter sun. Solar panels also require simple maintenance such as checking the panels are clean, as any dirt or dust build-up can prevent the panels from working optimally.
Closing Thoughts
Powering an RV without a generator is easy, thanks to the several other methods available. Using solar power, wind power, or a portable power station to keep your RV charged up are all efficient ways of creating electricity and have a low environmental impact too.
It's important to consider the option that will work best for you, as if you have a few vents on the roof of your RV, you may not be able to fit solar panels on there too.
If you don't have space on your roof and would rather not rely on wind power, a portable power station should do the job and keep you topped up on power. Just remember to also charge the power station as nothing is more frustrating than plugging something in to charge and the power station is flat!