Last updated on March 25th, 2023 at 08:29 am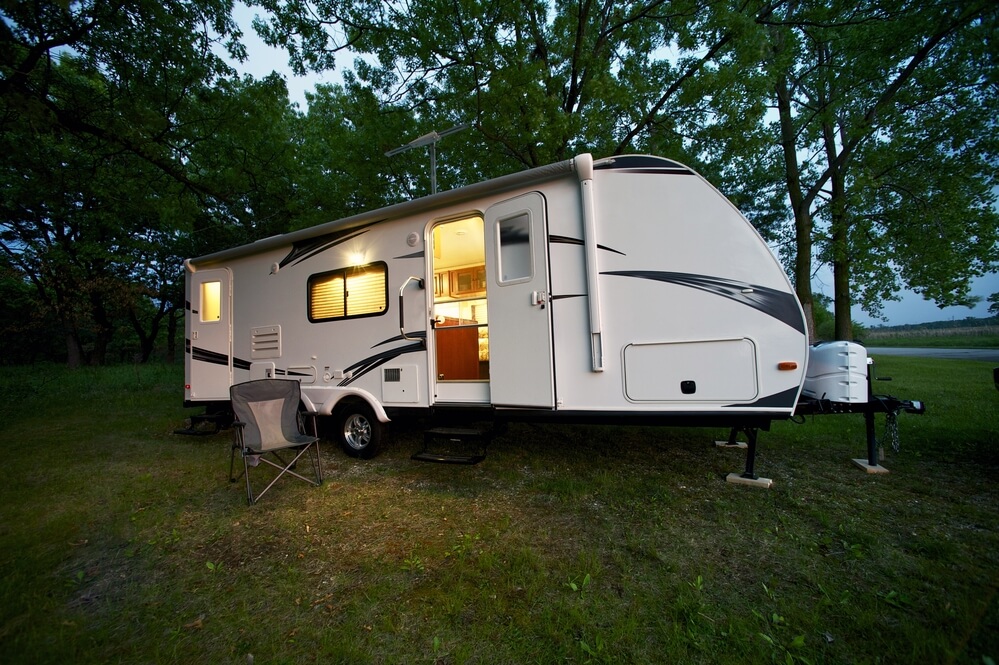 All of our reviews are based on exhaustive research, industry experience and whenever possible, hands-on testing. When you make a purchase using one of our chosen links we'll a small percentage of the proceeds. This supports the site and keeps Jeffsetter running. You can read more here.
Your RV has a complex power system to keep everything in it running at full capacity. An RV is for many a home on wheels and as such, it is equipped with a wide array of tools and appliances. Gas, propane, and electricity are all used in your rig from a variety of sources and in many different ways.
One of the most important power sources for your rig is the battery. When camping, your rig will often be hooked up to an external electrical power source. However, if a problem arises or you simply don't have access to external power, your battery can then be used to supply electricity to your RV. Your battery has its limitations though, and as such will need to be recharged if you are using it often.
So, how do you charge RV batteries?
There are many ways you can charge an RV battery depending on the type of battery your rig has. Generators, your electrical hookups, battery chargers, and even solar power are all among the various options that you can use.
Let's explore the different types of RV batteries out there and how to charge each one of them.
Different Types of RV Batteries
RV batteries are quite varied and come in many different types. Knowing which one your rig has is essential in knowing how to charge it for future use.
Starter and House Batteries
The first thing you need to be aware of is how an RV's electrical system is structured. Rather than having one main electrical system, RVs have two. A 120 Volt AC system and a 12 Volt DC system. As you can probably imagine, the 120 Volt system is the more powerful of the two. When your refrigerator switches to electricity rather than propane, it is tapping into the 120-volt system. Your AC units, washing machines, and other large-scale appliances all run on the 120-volt system as well.
When your RV runs on battery power, the 120-volt system runs on your rig's house battery. This battery is what is actually responsible for the power in your RV's living spaces. Your appliances and lights all run on this battery.
So with that being the case, what is the role of the starter battery? Well, just as your car engine has a battery that helps it to start, your RV's engine has one as well. This starter batter serves to help the engine run and has no other role in powering the inside of your rig. As such, the starter battery works alongside your 12-volt system which can also power smaller appliances like roof vents and some lights.
Now that you are aware of the starter and house categories for batteries, let's explore the different types you may have.
Lead Acid Batteries
Lead-acid batteries feature the standard technology by which most batteries are powered. The batteries use a piece of lead placed within liquid electrolytes to store power. There are a few variations of lead-acid batteries such as the flooded versions which completely submerge the lead in electrolytes.
Other variations include the gel battery and the absorbed glass mat battery. The gel battery uses electrolytes in a gel form instead of a liquid form and the absorbed glass mat battery uses fiberglass mats to absorb any excess electrolyte fluid.
These variations were developed to counter certain safety and operational issues that were common with lead-acid batteries. For example, the batteries that use liquid electrolytes are susceptible to frozen temperatures and are prone to spills.
These spills can pose health risks as the battery can emit toxic material. The gel form removes the risk of freezing and the absorbent mats quickly deal with any potential spills. With these variations, lead-acid batteries are still a solid option for many RVs and may be the type that you have in your rig.
Lithium Batteries
The alternative to lead-acid batteries is lithium batteries. They are a newer and in most ways, more efficient battery type than their lead-acid counterparts. Instead of using lead, lithium batteries use metal lithium to store energy. Lithium is far more energy-dense than lead, allowing it to retain more energy with less space. Additionally, Lithium doesn't just retain more energy, but it holds onto it for longer. Lead-acid batteries over time can drain power when not in use.
Lithium batteries, on the other hand, can sit without use for a long time and still retain a charge.
How do RV Batteries Charge
When charing lead-acid and lithium batteries, there are 3 main options you'll want to be aware of. Soft start charging, bulk charging, and absorption charging. Soft start charging refers to applying a slow and consistent surge of power to your battery when charging it until it reaches capacity.
Bulk charging refers to the option of using high voltage to quickly fully charge the battery, yet this method's effectiveness changes based on if you are using a lead or lithium battery. Lastly is absorption charging, which refers to when the battery reaches around 80% capacity, the last 20% are added slowly as the voltage is lowered.
If using a lead-acid battery, then you can only bulk charge up to 80% and then must slowly complete the charge. A lithium battery, however, can withstand bulk charging to full capacity. Knowing this small distinction is super important in ensuring you properly charge your batteries. Incorrect charging techniques can result in damage to the battery which could pose lots of problems when trying to power it in the future.
Let's explore the various methods by which you can charge your rig's batteries.
Different Ways to Charge RV Batteries
Many different charging methods work best for RV batteries and some that work best for a specific one. Let's explore them below.
Generators
Your generator, be it the one installed in your rig or a portable one, can be used to charge either battery type you may have. Most generators automatically produce DC power making it great for charging your RV's starter battery. However, for your primary batteries, your generator should have inverter outputs that you can use to then charge it. Be it lead acid or lithium, simply connect your battery to your generator's AC output system and let it charge.
RV Engine
Your generator is not the only way your RV can charge the battery for you. Specifically for your 12-volt starter battery, your rig may be already equipped with a feature that allows the engine to automatically charge the battery whenever it is running. If your rig has this capability, then every time you drive your engine's battery is being charged and you have nothing to worry about.
Electrical Hookup
When camping at a site with full hookups, your electrical station or shore power connection can be used to charge your RV's batteries. No matter the type, they can be charged using this method, however, to charge both your starter and house batteries, you'll need a converter, This is because most shore power connections are set to provide power to a 12-volt system. With a converter, you'll be able to charge your 120-volt batteries after using the 12-volt connections.
Solar Power
Solar energy can be used to power both lead-acid and lithium batteries, however, it is usually most effective with lithium. This is because the vast majority of RVs are not equipped with solar panels already installed. The process of using solar energy in your rig is an expensive one. Lithium batteries are a more efficient vessel for that energy than lead which makes them more worthwhile for your investment. It is perhaps best not to spend a ton of money investing in a solar system if your rig is equipped with lead-acid batteries. While still effective, it won't compare to the pure energy efficiency provided by lithium.
Considering all these different methods for charging your batteries, you may be wondering what's the best one to use while camping.
Best Ways To Charge RV Batteries While Camping
While camping is most likely the time when you'll need to charge your batteries the most. While it may seem obvious to use your rig's generator for this task while camping, that's not always best. Depending on the rules, size, and space between rigs at the place you are camped, running your generator may cause problems.
Generators are notoriously loud which can disturb neighbors especially late at night. Furthermore, some campgrounds even have strict rules regarding generator noise so you may not even be allowed to run it often.
If other RVs are parked super close to your rig, then running the generator poses safety concerns as well. Your generator blows the exhaust outside while in use. This exhaust contains, among other gases, carbon monoxide.
Since it is both poisonous while being virtually undetectable to human senses, carbon monoxide is extremely dangerous. Exhaust can send the gas into nearby RVs and expose other travelers, putting them at risk of sickness and in severe cases, even death. While this is not a super common or likely scenario, it is not worth the risk.
Electrical Hookups
With that in mind, the best way to charge your RV batteries while camping is your electrical station instead. Your campsite's electrical hookups allow you, with the use of a converter, to charge all your rig's batteries. There is no terribly loud noise, and certainly no risk of carbon monoxide exposure.
However, this only works if the spot you are camping at has electrical hookups. Chances are, if you are camping and relying on your battery for power, you don't have access to a power station. While you have your generator, as we established there are limitations you may encounter. So, if you can't use your generator and don't have an electrical hookup, what can you do?
Vehicle Alternator
This is certainly more of a last resort, but in a pinch, it can be effective. This method works best with travel trailers or tow vehicles as then you already have access to a tow vehicle. If your rig is accompanied by one as well, you can use the vehicle's alternator on your rig by connecting it to a travel plug.
This way, you can run the engines and charge the batteries in your RV and even your vehicle as well. However, this method is also painfully slow as your rig's batteries were not designed to be charged this way. This really is a last resort and not a viable plan to rely upon. If you meet the conditions, however, and have no other option, then go for it.
Considering how slow charging with an alternator is, it is important to know the fastest ways to charge an RV battery.
Fastest Way To Charge RV Batteries
The fastest way to charge your RV batteries is to use a charger that aligns with your battery's AMP per hour (AH) rating. When plugging your batteries into a generator, electrical hookup, or even alternator, you can use a multi-stage charger as well. This is the best way to charge your batteries if in a time crunch. Multi-stage batteries come in two types, lead-based and lithium-based. Either one can be used for either battery type, but for increased speed, it's best to match the two with their corresponding type.
Your RV batteries will have an AH rating. This combined with the AMPS provided by a power source will determine the rate of charge. For example, if your battery has an AH rating of 100 and your charger has an AMP speed of around 15, your battery will charge in 5-6 hours. If the AMP speed is 10, your battery will take 10 hours to charge, and so on so forth. Finding a charger that has the highest AMP speed that corresponds with your battery's AH rating is by far the fastest way to charge it.
Closing Thoughts
The greatest asset of your RV's batteries is their role as a backup power source. Even as a primary source, they are very effective in keeping you comfortable as you travel. That's why knowing how to charge them, and the various ways you can do so, is super important. You never know what could happen when you're on a trip and being stranded without power is a horrible feeling. Now that you know exactly how to keep your batteries fully charged, you can enjoy your travels knowing your rig will always have power.