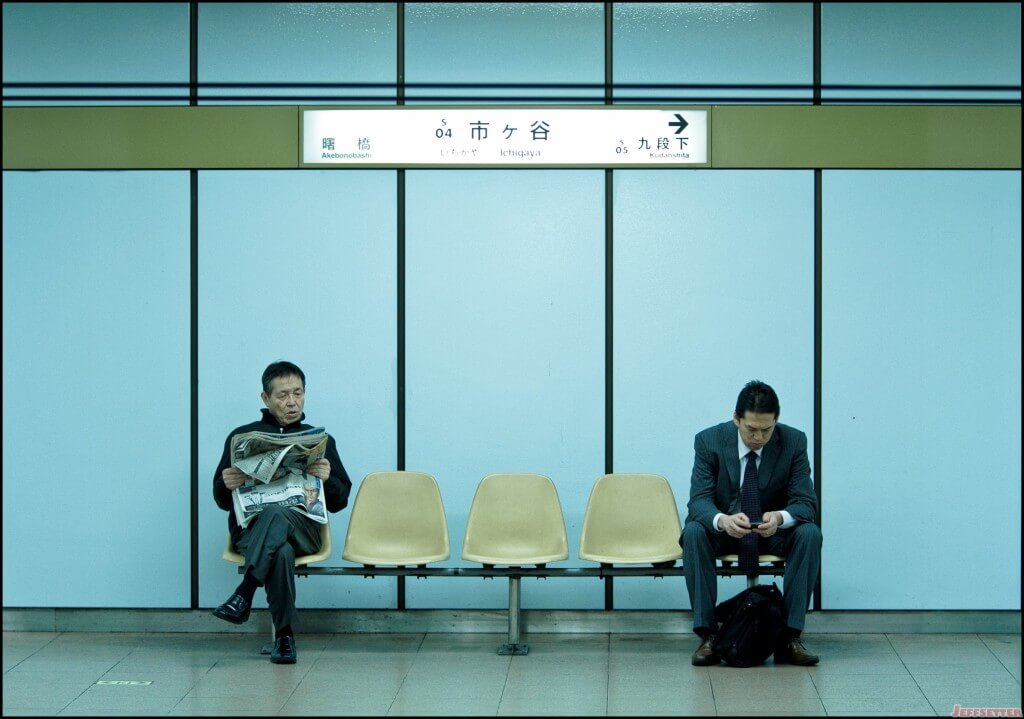 Last week I published a post on International Business class and there were some good comments and discussions on that post. One camp fell into the boat of that it's absolutely "worth it" to go business class every time and the others were saying that it's not always practical to fly business class.
Since the discussion was so lively I figured it would be a great source for the next poll. What are your thoughts on flying internationally – do you go with the cheapest ticket or hold out for a great flight in business class?
One thing that I should clear up is the flaw in my post which said "it's totally worth it" – it is such a subjective word that everyone has a different interpretation. What I should have written was "International business class is totally worth the wait" – because that is what I meant in this case.
What do we have to wait for, you might ask? First of all, we must often wait until international business class tickets become available on a flight before we can book it. That means that we often have to alter our travel plans in order to find a flight that has a seat available. This can mean leaving and returning several days before/after our ideal travel dates, routing through different cities and countries than our ideal plans and even flying different airlines within an alliance.
For international luxury travel using award tickets, the upgraded accommodations are definitely worth the wait, especially since the number of incremental miles required is often double the cost.  For international travel with family members, children, etc. it may not be worth the wait. Or, you may simply not have enough miles in the bank to take advantage of an upgraded experience. These are often cases where it is not "worth it" to take these types of trips. Personally, I draw the line in the sand and say it's worth it if I can book a vacation to a destination I want to visit and getting there doesn't add or subtract too much time from the trip.
Previous Poll Results
Two weeks ago I posted a poll on the site that asked "What is the Single Most Important Factor to You in Choosing an International Flight?" and we received 72 responses. I know that means the two most recent polls are about international flights, but in my defense I'm about to go on a two week trip in International Business class so it's been on my mind! I like to write about what's going on in my travel life, so these topics seem appropriate.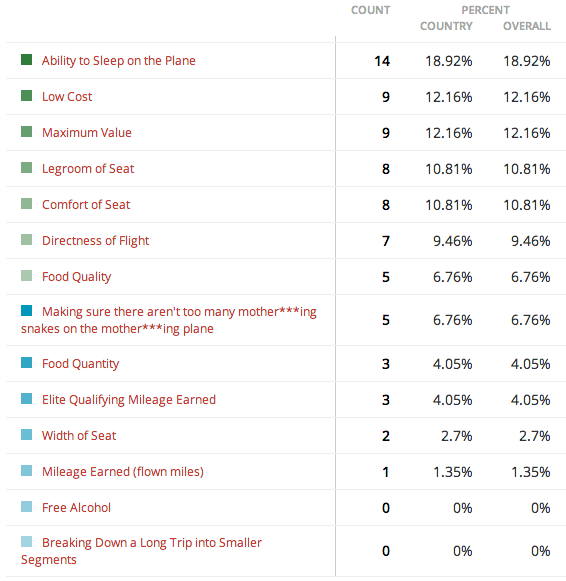 The most important factor for readers was the ability to sleep on the plane, which is not surprising. An international flight where you can get some sleep makes time go by a lot faster and also helps you land feeling refreshed. This is among my most important factors as well.
The next most important factors are a tie with Low Cost and Maximum Value each receiving 9 votes. In seeing them side by side, I might even say that they are almost saying that same thing, with the difference being that maximum value may not always be the cheapest flight (for example, a cheap business class fair to Easter Island). That may cost more than a coach ticket, but represents a maximum value.
Seat comfort and legroom take up spots 4 and 5 and are again similar with a slight difference between the definitions. They are definitely important to me as well!
I must also give honorable mention to my favorite answer to the question: Making sure there aren't too many mother***ing snakes on the mother***ing plane, which is obviously a reference to the 2006 movie Snakes on a Plane. Glad to see that 4 of you had a sense of humor, too (I voted for this myself)!
Last, I modified the poll in order to allow people to enter more than one vote, since it's hard to choose just one factor. I figured that would increase poll engagement, but this poll only had 72 votes in two weeks whereas my first poll had around the same number of votes in one week. Time will tell if that is normal or if I was just riding the honeymoon from my interview with Daraius in the first poll.
Photo Credit: zilverbat. via Compfight cc