During our Labor Day PNW Adventure, we were fortunate enough to score a table at one of the hottest restaurants in Seattle – TOMO Seattle. Here, Chef-Owner Brady Ishiwata Williams and his team fuse Japanese cuisine with local ingredients and Hispanic influences.
Booking TOMO Seattle
TOMO Seattle is one of the most sought-after reservations in Seattle right now. Booking our table needed to happen QUICK. The restaurant uses Tock as its booking platform. Reservations open on the first of the month before at 10 am PST. I jumped on at the scheduled time and immediately saw that some of my desired times were already gone. Luckily, I was able to snag a reservation on our second-to-last night in Seattle. Unfortunately, we almost didn't make it since the Westin Seattle got us into our room so late.
As is often the case with Tock reservations, you do need to pre-pay for your dinner. Reservations are non-refundable but are transferrable. Drinks and the restaurant's signature kakigori are extra. Luckily, these guys do accommodate dietary restrictions.
TOMO Seattle Location
Located in the White Center region of Seattle, TOMO Seattle is in a non-descript space next to a pizza shop. Free parking is available out front in reverse-angled parking stalls. Given how many shops and restaurants are in the area, though, parking can be hard to find. I recommend heading out early, so you have time to circle around if you need to. Of course, you could also catch a ride-share.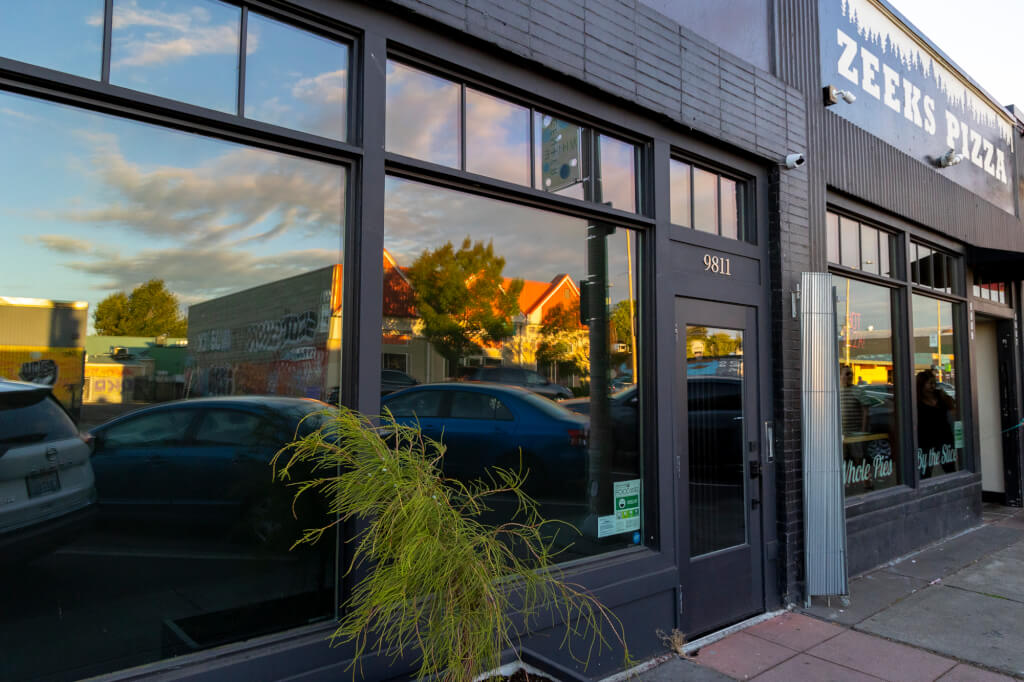 Atmosphere & Service
TOMO Seattle is a sleek, modern space that's both casual and elegant all at once. In fact, it's worth noting that the restaurant has no dress code – you'll see people in eveningwear and in t-shirts and jeans. So dress as you want! No matter how you dress, the service at TOMO Seattle is fantastic. Everyone we interacted with was professional, friendly, and personable. Our waiter even took time to chat with us between courses while maintaining a high level of service for everyone. Oh, and Chef even served us our dessert course.
The atmosphere at TOMO Seattle is definitely nice. However, while it's a great date night spot, don't expect a tranquil setting. It can be a tad loud in there, but not enough to interfere with our discussions or interactions with our waiter.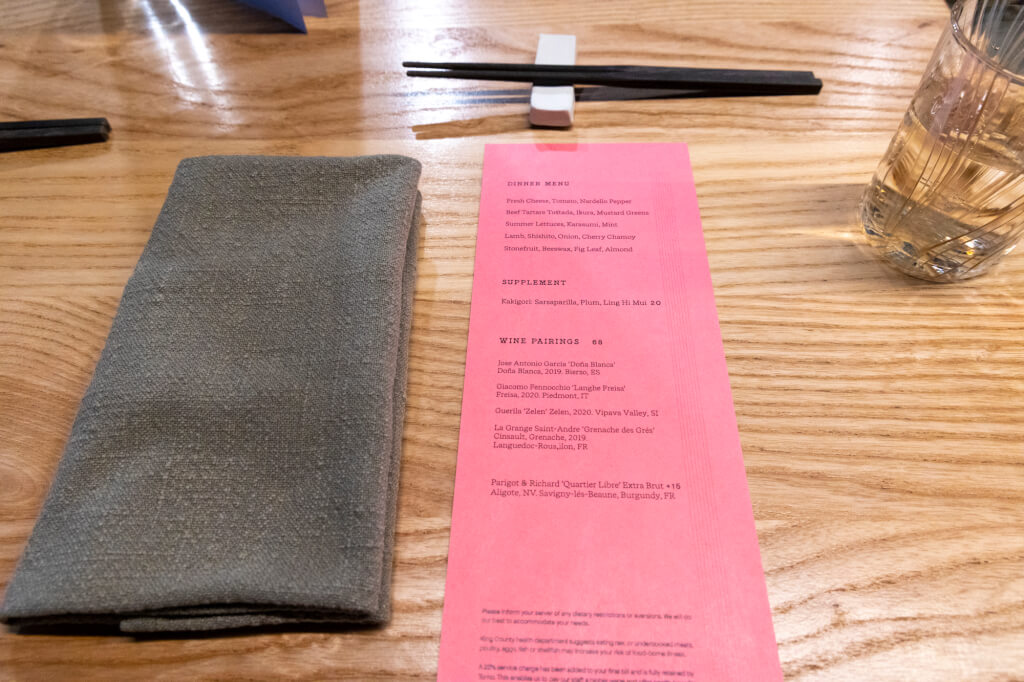 TOMO Seattle Food
The menu at TOMO Seattle changes seasonally and often just names the primary ingredients used in each dish. But, first, an amuse bouche. That night, it was a Squash Cracker and squash blossom. It was crispy, savory, and oniony. A perfect little bite to whet the appetite.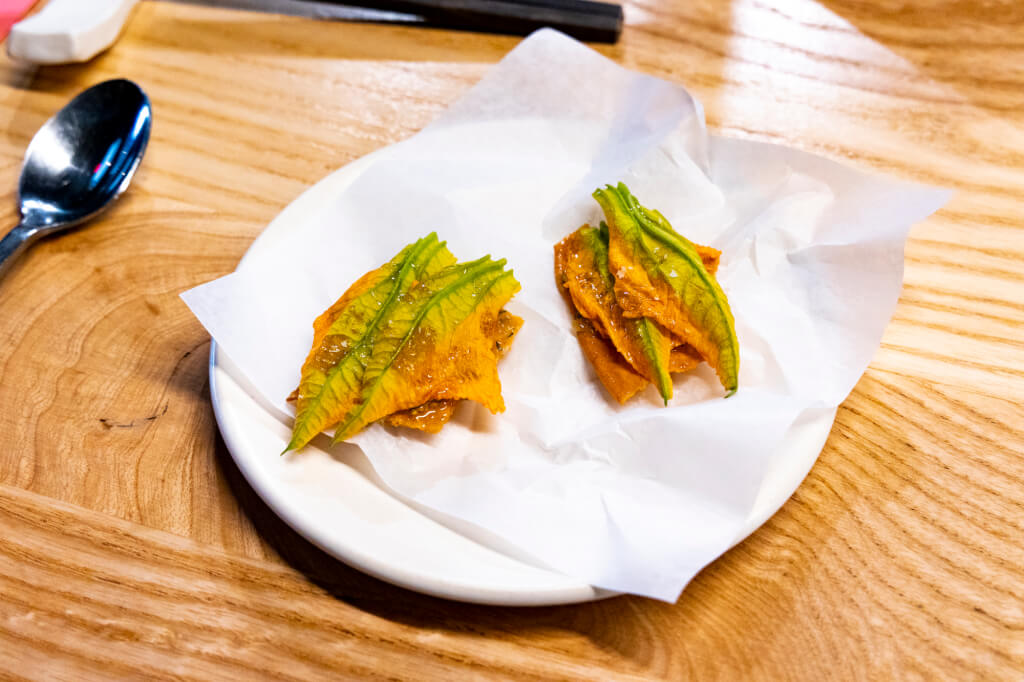 Our first official dish of the night was Fresh Cheese, Tomato, and Nardello Pepper. Here, we enjoyed a creamy, cool fresh cheese with fresh cherry tomatoes in a deeply savory, smokey, citrusy sauce. The balance was just fantastic!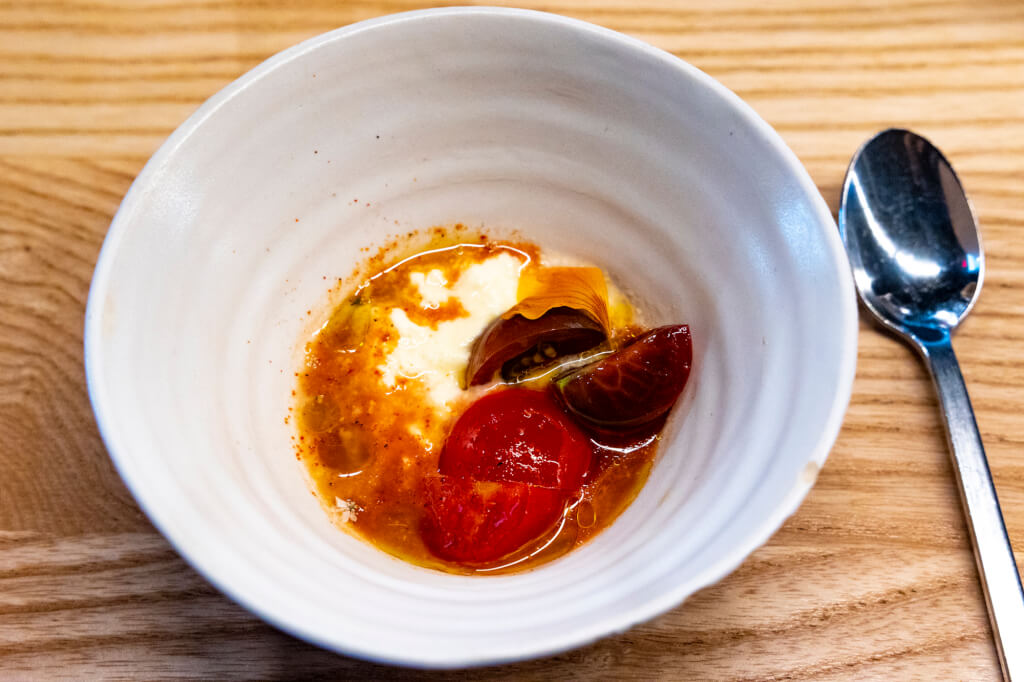 Second up is a Beef Tartare Tostada with Ikura and Mustard Greens. This looks Mexican but is totally Asian in flavor, with the tender, almost creamy beef shining with a meaty, sweet-savory, citrusy flavor that has a bit of a miso hit on the finish. The super-crunchy tostada has a beautiful corn flavor and is an excellent accompaniment to the beef. The lightly dressed mustard greens help to tie everything together.
Our third course was a salad. Listed on the menu as Summer Lettuces, Karasumi, and Mint, this dish was more than just the sum of its individual ingredients. One of the surprising elements of the dish is that some of the lettuce is lightly grilled, producing lightly smokey and charred flavors. A light, bright, citrusy dressing combines with the Karasumi – Japanese bottarga – and breadcrumbs to provide a balanced, umami punch. Mint and dill add a cool, herbaceous note to the salad that kept me wanting more! And I'm not a salad person at all.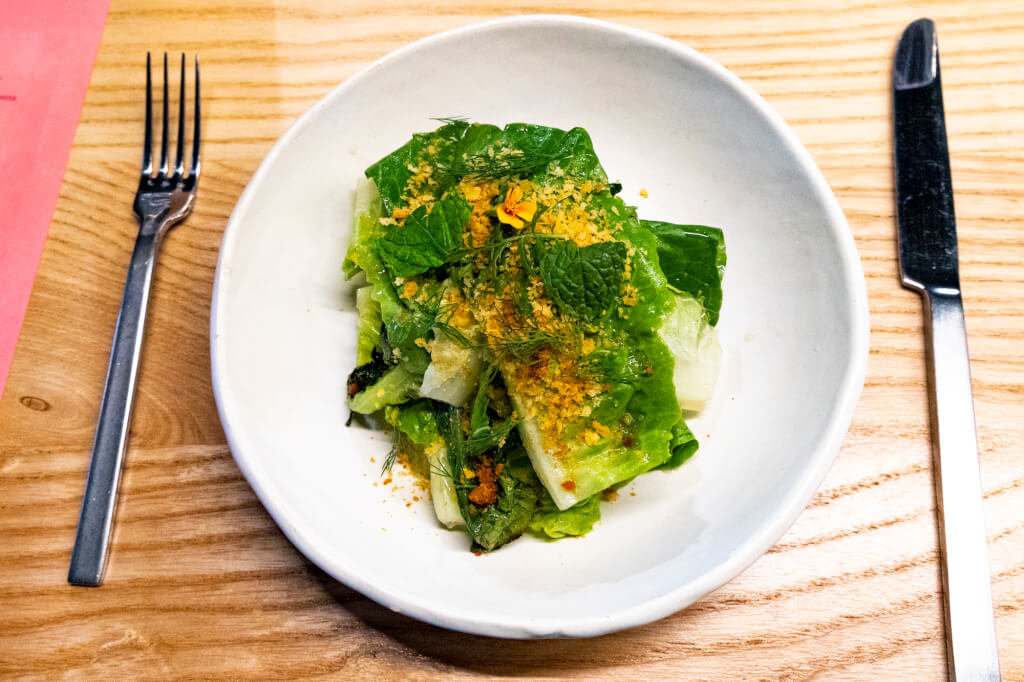 Our final savory dish of the night was listed on the menu as Lamb, Shishito, Onion, and Cherry Chamoy. Here, perfectly cooked lamb glazed in a deep cherry chamoy came atop charred shishito peppers in a intensely savory onion broth. There was absolutely no gaminess to the lamb at all, the richness of which is perfectly cut with the sweet-tangy-savory chamoy, and the sweet-vegetal flavors of the shishito. As for the broth, I could've drank it all straight from the bowl. Superb!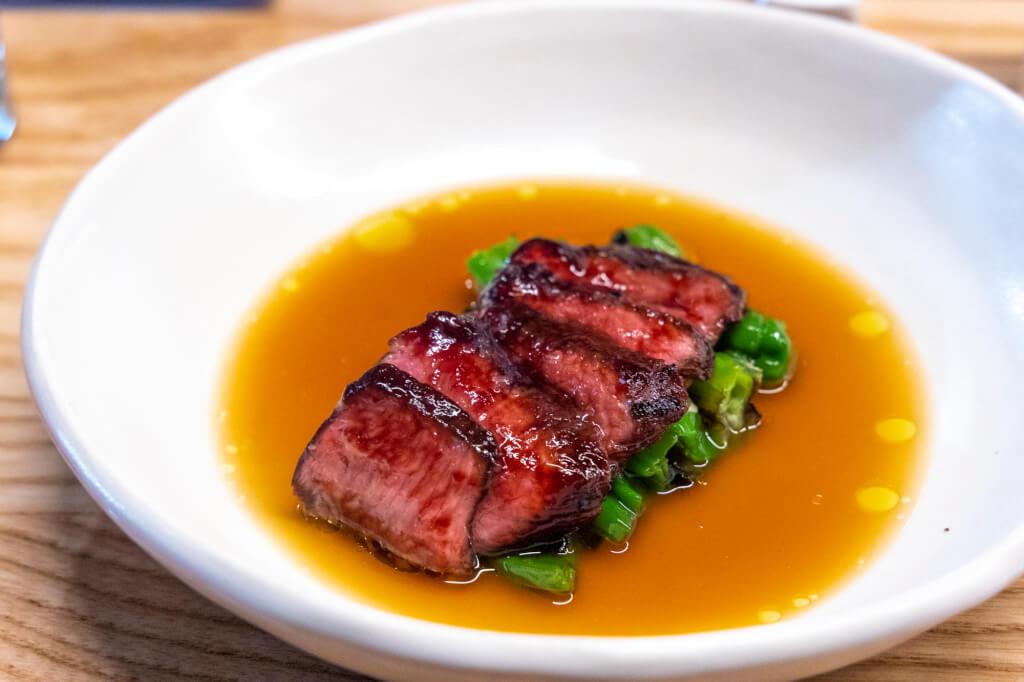 The dessert that night read Stonefruit, Beeswax, Fig Leaf, and Almond. I honestly didn't know what to expect from this one, but it was delicious. Sweet-tart peaches paired beautifully with the light, mildly sweet, creamy beeswax. Almonds added a slight crunch and nutiness to the dish. This really was a delightful way to end the meal, though we didn't stop there.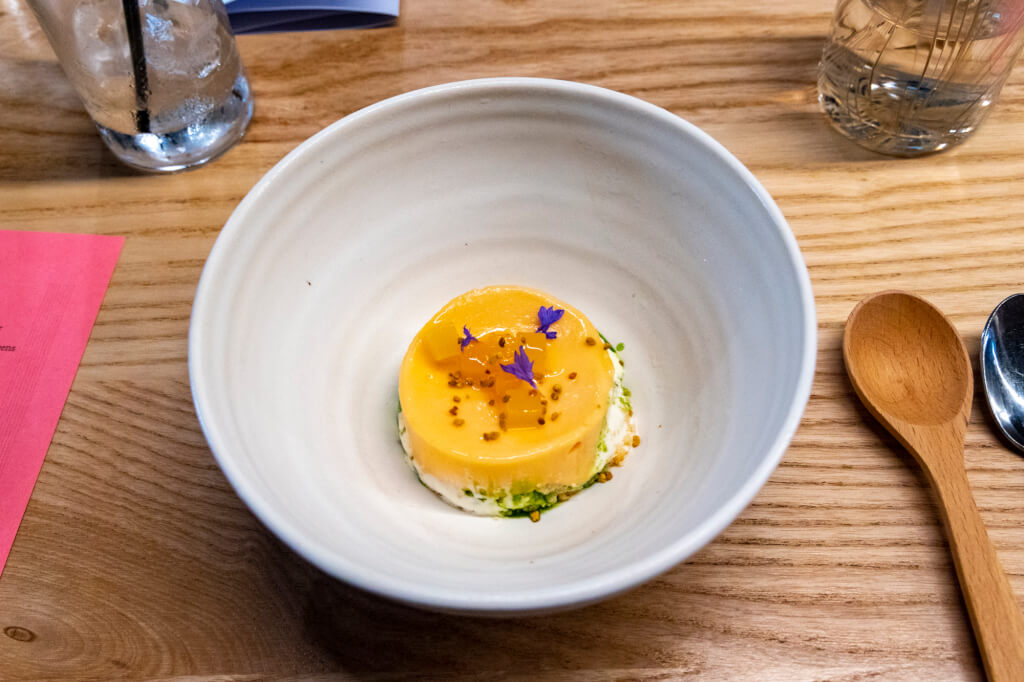 Since the Kakigori is the signature item here at TOMO Seattle, we couldn't leave without trying it. At $20, this isn't a cheap supplement, but is quite large – one is big enough for two. That night, the Kakigori was listed at Sarsaparilla, Plum, and Li Hing Mui. Honestly, I was slightly disappointed by the inclusion of Li Hing Mui, as this isn't anything out of the ordinary for us in Hawaii. However, the Kakigori ended up being very interesting and delicious.
Unlike shave ice in Hawaii, TOMO Seattle's Kakigori have the sarsaparilla flavor infused directly into the ice. Speaking of which, the ice here has a perfect, fluffy texture to it. The ice is then studded with thin slices of tart plum and miniature marshmallows, all of which is coated in an ume-Li Hing Mui sauce with mint. Root beer with ume, Li Hing Mui, plums, and mashmallows sounds odd, but it works really well. I can't explain how or why, but the herbal note of the sarsaparilla marries gorgeously with the tart ume and Li Hing Mui, the sweet-tart plum, and the cooling mint.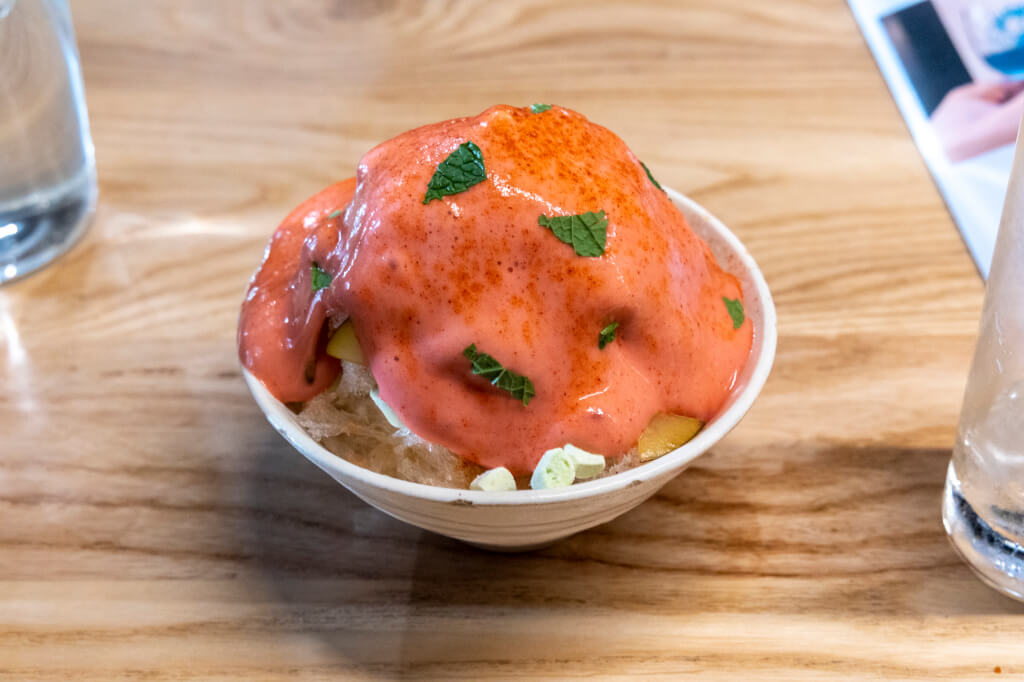 Final Thoughts
TOMO Seattle is an outstanding restaurant run by an incredible team of talented people. Every bite was delicious and well-executed. That the place is always packed comes as no surprise to me. Do I wish the Kakigori flavor was one of their stranger flavors during our visit? Yes. But what we got was still awesome. I will say, though, coming from Hawaii, the flavor combinations here aren't as out there as the local media makes it out to be. Again, the flavors here are great, and I had some dishes I haven't experienced elsewhere, but it all felt a little familiar to me.
So for all my Hawaii readers, keep that in mind if you're thinking of checking them out. Either way, I highly recommend TOMO Seattle and would definitely go back myself.