Jetsetter Tonight Hotel Discounts May Be Your Best Friend if You Are Hotel-Less in the Big City

Aspirational travel service Jetsetter just become more functional for travelers looking for last minute hotel rooms in major US cities. In addition to their weekly deals on travel to exotic destinations, you can now use Jetsetter Tonight Hotel Discounts to book last minute hotel rooms in New York, Las Vegas, Chicago, Miami, Los Angeles, Boston and San Francisco.
How is this different from their current offering?
It's actually quite different from what Jetsetter currently offers users. Rather than booking aspirational travel to exotic destinations around the world within a 3 month window, which is generally not the best timeframe for booking hotels for many of us looking for certainty of booking 6-12 months out, you are booking a hotel room for TONIGHT.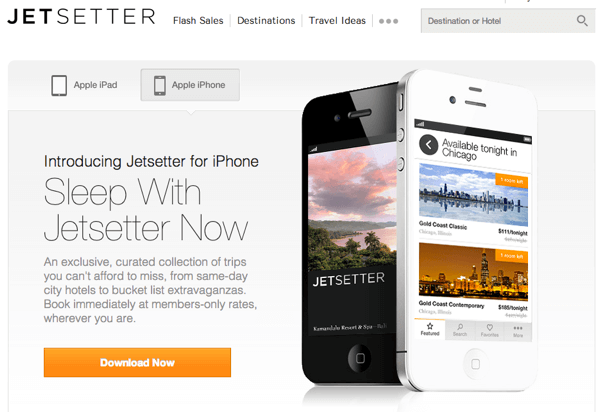 Maybe the same day hotels they are offering aren't as sexy as what you may be able to find internationally, but they are much more practical. Even though I am a big fan of Jetsetter's emails and their iPad app, I have really only been able to use their service 2-3 times in the past 18 months, and each time it was for a domestic hotel in the US.
Now their product is offering last minute deals for hotels in select US cities, which is not only more practical, but could be a great revenue generator.
My guess is that this type of service has the potential to generate more revenue for Jetsetter than their entire aspirational travel business, but I don't have any knowledge of the profitability offerings beyond my own personal travel habits.
For a frequent traveler who finds themselves in a strange land without a hotel room, this could be a godsend. I just can't wait until they expand to cities I actually want to visit.
Is this a good deal?
Absolutely – if you can land a good hotel using the same day service from Jetsetter, you can all but guarantee yourself a great rate. This has to do with the expendable nature of hotel room inventory. If they do not sell a room tonight, they will not make that money. As a result, hotels are willing to give away their inventory at significant discounts in order to make a little coin on an unfilled room.
Should you wait until the last minute to book? It all depends on your risk tolerance. Personally, I get very uneasy when I am traveling and I don't know where I will be sleeping that night. I also am very particular with the hotels I visit and like to read reviews and do research before making a hotel commitment. Last minute deals like this don't really lend themselves to proper due diligence.
For those of you looking to try the new product, here are screen shots of what you can expect.