ANA is celebrating 25 years flying to Hawaii! To mark this milestone, which just so happens to coincide with their full A380 fleet finally being deployed, they're giving us a chance to win free travel to Japan with the Journey with Flying Honu Sweepstakes!
Star Alliance member, All Nippon Airways, is celebrating its 25th anniversary in the islands. Admittedly, that's not that long a tenure, especially when you consider that rival – Oneworld member, Japan Airlines – has been serving Hawaii in 1967 (56 years), though they've been making refueling stops in Honolulu since 1954. Nevertheless, despite the shorter timespan, ANA's anniversary is still worth celebrating, especially when you consider just how much they've grown their presence here in that time.
That growth is likely another reason why ANA is celebrating. That's because, earlier this month, A380 JA383A "Ka La" finally joined JA381A "Lani" and JA382A "Kai" in flying between Tokyo Narita and Honolulu. It's the first time that all three of the former Skymark A380s have been in revenue service together, giving the airline the ability to operate their full schedule for the type of 14 flights per week. Hence, the theme of the anniversary giveaway: Journey with Flying Honu.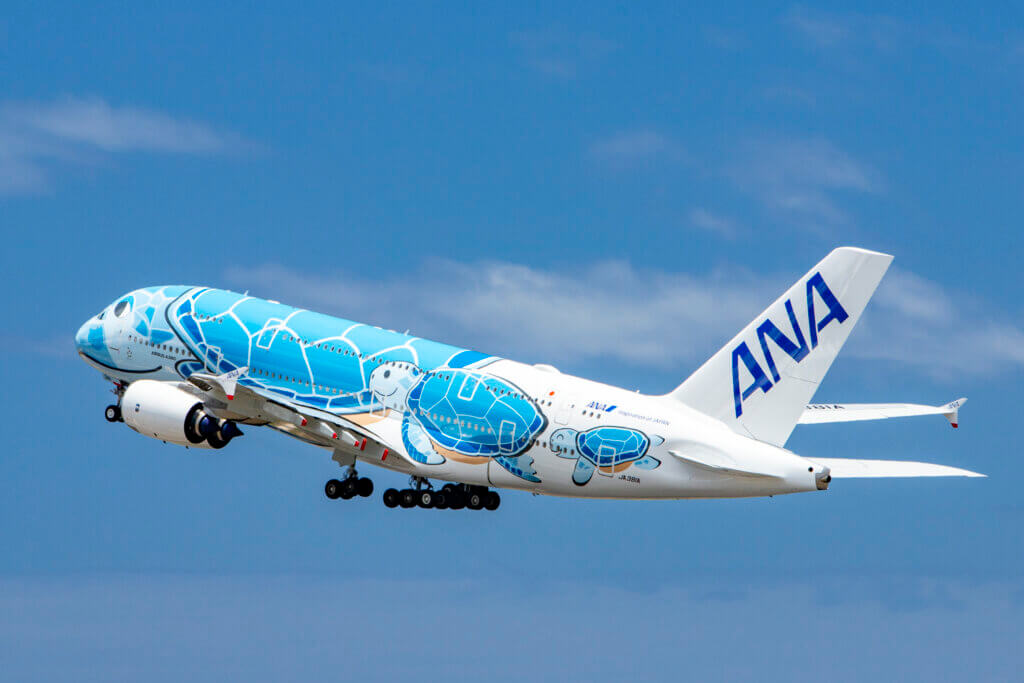 Journey with Flying Honu Sweepstakes
ANA's silvery anniversary in Hawaii sweepstakes opened on October 18, 2023, and will accept entries until 6:00 pm HST on November 19, 2023. The Journey with Flying Honu Sweepstakes is open to all U.S. residents ages 18 and older, and requires you to submit an online entry form with the following information:
Name
Email Address
Date of Birth
State of Legal Residence
They also ask you to optionally select a reason for your desire to travel to Japan and to (optionally) name the activities you'd like to do there. There is no alternate entry method available for this sweepstakes.
Of course, the big question is, what are the prizes for the Journey with Flying Honu Sweepstakes? And, yes, there are prizes!
Grand Prize: one winner will receive two roundtrip Business Class tickets for travel between Honolulu and Tokyo
Second Prize: one winner will receive three roundtrip Economy Class tickets for travel between Honolulu and Tokyo
Bonus Prize A: three winners will receive a 1:200 scale model of an ANA Flying Honu A380, though I don't think you can pick the color
Bonus Prize B: one winner will receive a set of three plush toys in the shape of the ANA A380 Flying Honu
It's worth noting that the official rules don't specify which Tokyo area airport you'll fly to, which leads me to believe that you can fly the A380 to Narita if you like, or hop on a 787 to Haneda. That said, it's worth noting that, if you win one of the travel prizes, you must complete your travel by November 19, 2024. Further, your travel must be booked 14 days prior to departure, and, naturally, the tickets are only good for travel between Honolulu and Tokyo. If you live somewhere else in the U.S. and win, you're responsible for getting yourself to Honolulu on your own dime.
Oh, and, the flight prizes come with a three-night stay minimum, along with a one-month maximum. Bear in mind, if you stay for a month, you have to return to Honolulu by November 19, 2024.
Final Thoughts
For my Hawaii readers, this contest is a no-brainer. Well, you're gonna need someplace to stay in Japan, money for food, shopping, and transit, but still. If you're not a Hawaii resident, well… You might want to think about this one. You'll need flights to and from Honolulu, and (potentially) accommodations in Honolulu, depending how risk you want to be with your connection.