For the second time in the past few years, an endangered Hawaiian monk seal has given birth on busy Waikiki Beach. The rarity of these events means they draw a lot of people. But, even if you aren't interested in the seals, you should keep your distance from Hawaiian monk seals on Waikiki beach.
Back in 2017, a monk seal named Rocky made headlines when she gave birth to a female pup on the Kaimana Beach portion of Waikiki. The pup, later named Kaimana, was the first pup in recent history born on bustling Waikiki Beach. At the time, Kaimana and Rocky drew large crowds of onlookers. But, as Kaimana got older, things got a bit hairier. Rocky even attacked an errant beach ball at one point, which goes to show how risky approaching a mother and pup can be. And, now, we find ourselves in a similar situation yet again.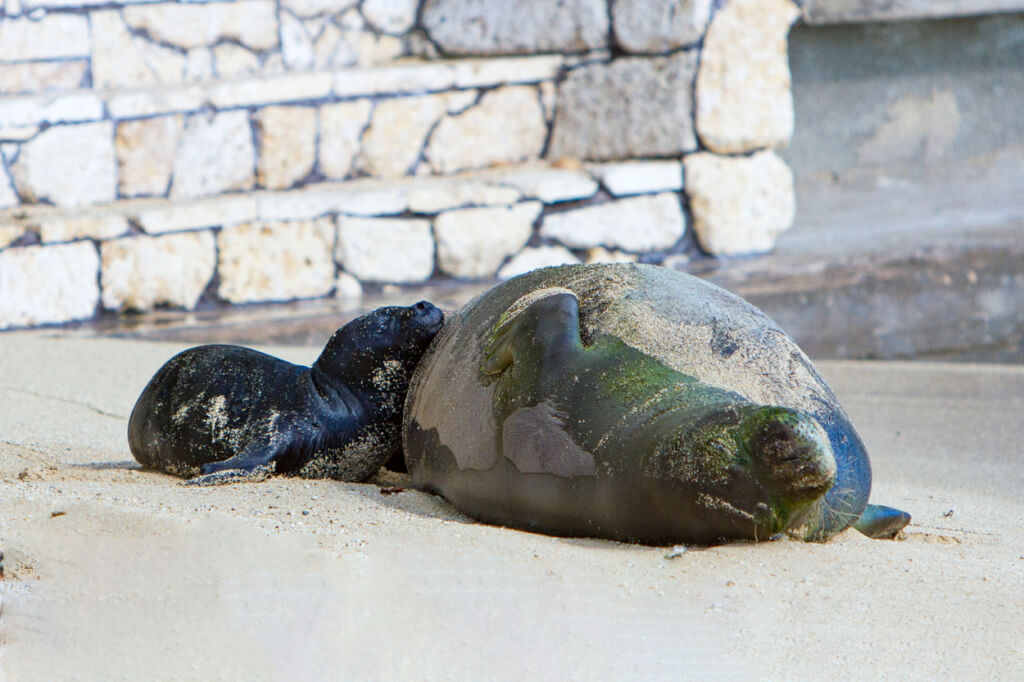 Keep Your Distance From Hawaiian Monk Seals
This time, it isn't Rocky that gave birth to yet another pup on Kaimana Beach. Rather, it's a monk seal named Kaiwi that birthed a pup that's currently known as PO2. As of this writing, PO2 is already about three weeks old and is beginning to get curious. And as PO2 begins venturing out more, the risk level goes up.
Given PO2's increasing activity, Hawaii Department of Land and Natural Resources officials are recommending people keep their distance. Typically, you'd think that means to keep your distance from the resting seals on the beach. However, this recommendation extends to those in the water too. In fact, officials are recommending the public stay completely out of the water at Kaimana Beach. Why? Because it's difficult to tell when PO2 will go for a swim, and when he does, where he'll go. The problem with that, of course, is if he ventures too close to a person, Kaiwi may become defensive and attack the unassuming person. And when these attacks happen, they happen fast. Seals are lighting quick in the water and you will have no chance to get away.
Final Thoughts
Hawaiian monk seals are an endangered species. Just 1,400 of the seals exist today, most of which are in the Northwest Hawaiian Islands. And while they've become more common in the main Hawaiian Islands, we need to continue to be respectful and keep our distance. Not only is keeping your distance the law, but it's for your safety as well. This is especially true when a mother and pup are involved. For those that regularly use the beach or are staying at the Kaimana Beach Hotel, that might be a pain. But, monk seals usually wean their pups in six to eight weeks. So, we're nearly halfway there.
Have you seen Kaiwi and PO2?