Last updated on November 20th, 2017 at 01:35 am
My New Years resolution is/was to help Mr. J with the blog in a more timely fashion. Obviously many days into the New Year and a newspaper article drawing attention to my lack of posting, Mr. J passive aggressively suggested I write a post.
Ugh… Mr. J should know creative writing takes time and patience. I cannot be rushed into writing posts.
Ergo, I am writing another lodging review, rather than anything creative. Hey, I am a trained tax consultant, what do you expect.
To Mr. J : Luv you! (finger twinkle in the face)
Now that I have managed expectations, on to the review of our Kihei vacation rental.
First Airbnb Stay
The majority of our time spent in Hawaii was on Maui. We were on the island for a total of four weeks. Thus, a month stay at a hotel was not fiscally feasible (unless we were the US government, oooo no I didn't).
This brings us to our first stay with Airbnb.
Quick side note: Prior to our departure, a friend of mine returned from a holiday vacation to Maui. He attempted to use Airbnb, as well. The first place they booked in Kihei was flithy, and the second place, also in Kihei, had a severe ant problem. We are not talking a few ants which is common in tropical locations. This place needed a fumigation. He ended up staying in a hotel in Kaanalpali, and loved it. This is a risk you take when not using corporate world.
The Jeffsetters chose to stay at the Premiere top-floor condo with a view in Kihei. I sent the link to my friend with the bad Airbnb experience, and he said that our place looked much nicer than what they had reserved. Since I had his approval, we were set to go. And, I can say our experience was nothing like my friend's.
Location
The condo is located in Kihei.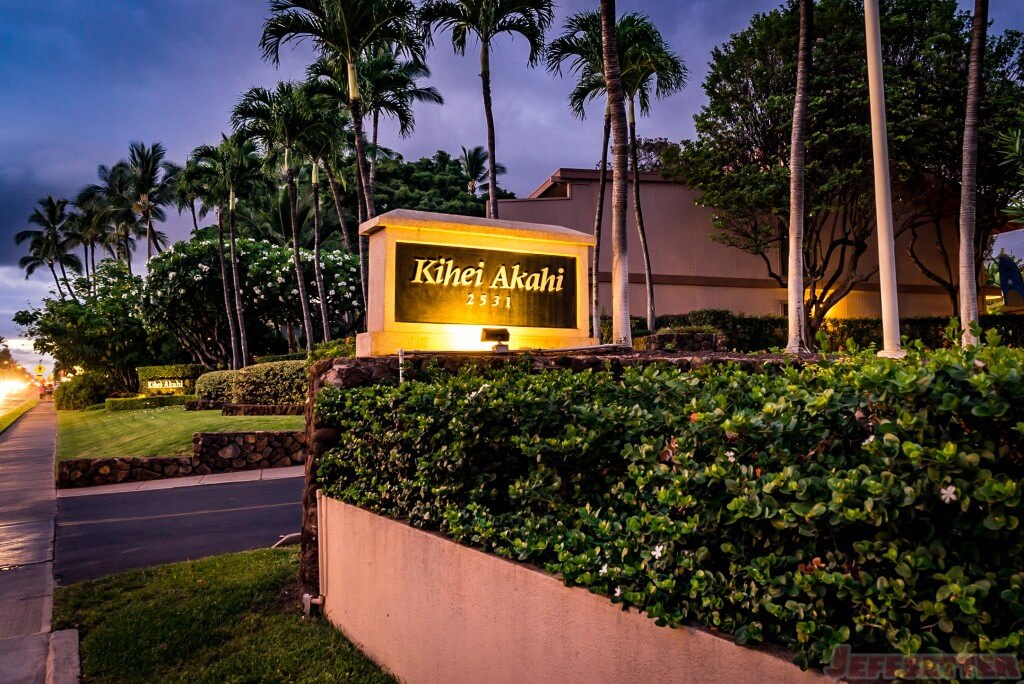 And, is right across the street from Kamaole II beach.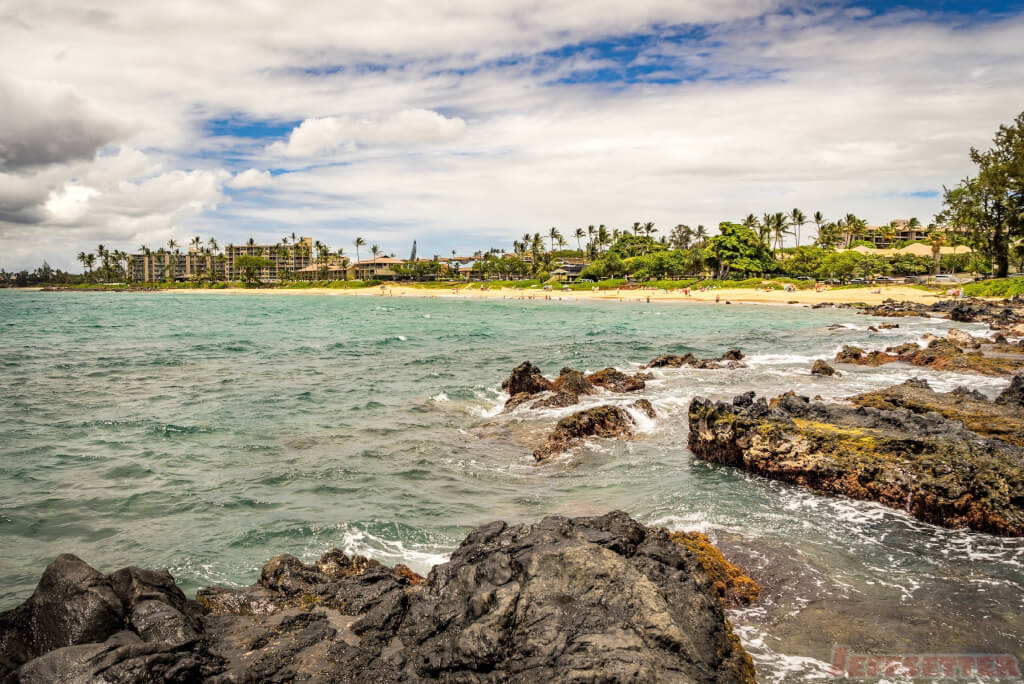 This is really a great beach. You can walk along a path to get to the other Kamaole beaches, sunbath on the white sand, snorkel along the rocks, boogie board (Mr. J would not let me add the video, but it is on my Instagram feed), and even swim with sea turtles.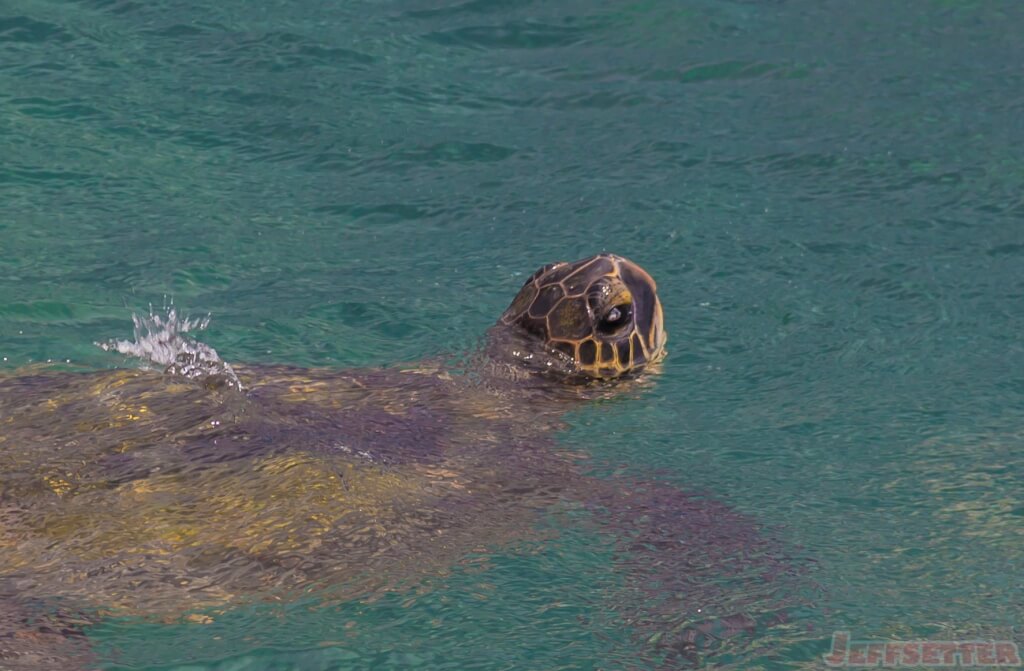 The Kam II beach is a great place to watch the sunset with your favorite person and beverage.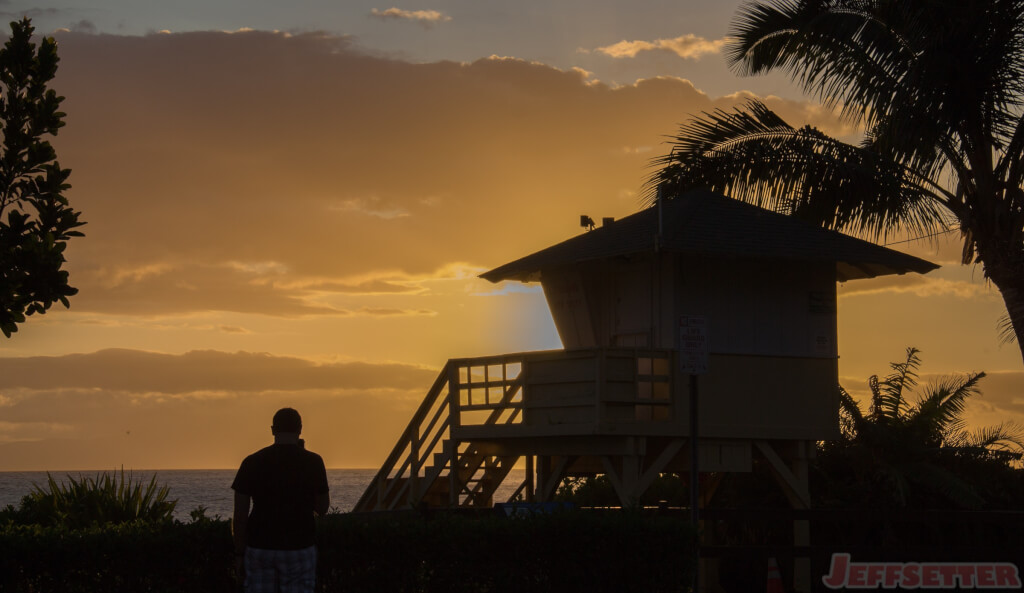 There is also a nature trail on the development itself.
The location is really great, but hot during the day. We did not have a car for the first 10 days of our stay. However, I really recommend hiring a rental car.
Maui is much bigger than it seems. The closest grocery store is about a mile and a half away. Fine for exercise, but bringing groceries back in 90 degree F, not so much fun. (We tried and finally called an Uber to return us to the Kihei condo.)
The Condo
The development is older, but very well maintained. Parking spots are assigned, and there is guest parking available.
A pool with two grills (cleaned daily) is located right next to the condo building. A second pool and large picnic area (with more grills) are available for use, but is a little bit further away.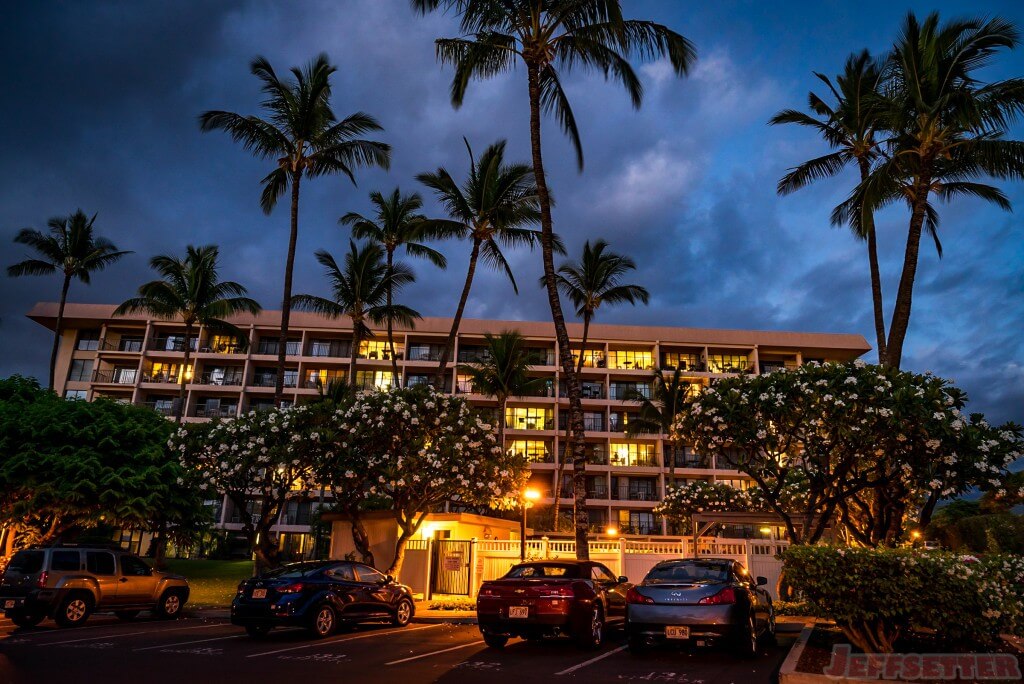 We heard some noise from the pool due to children and adults having a good time. However, the pool closes at a reasonable hour.  Sleep is not disturbed, but a romantic dinner on the deck could be hindered.
The bedroom
Nice queen size bed (although it looks small in this photo), plenty of quality sheets.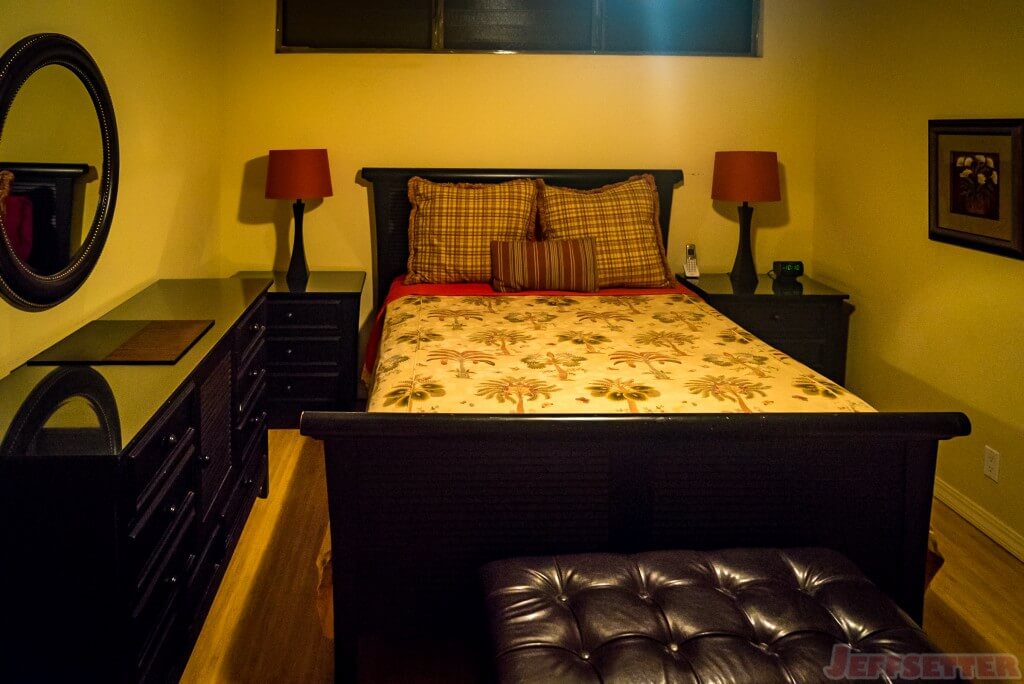 There was ample storage, including a foot trunk and a closet with a TV.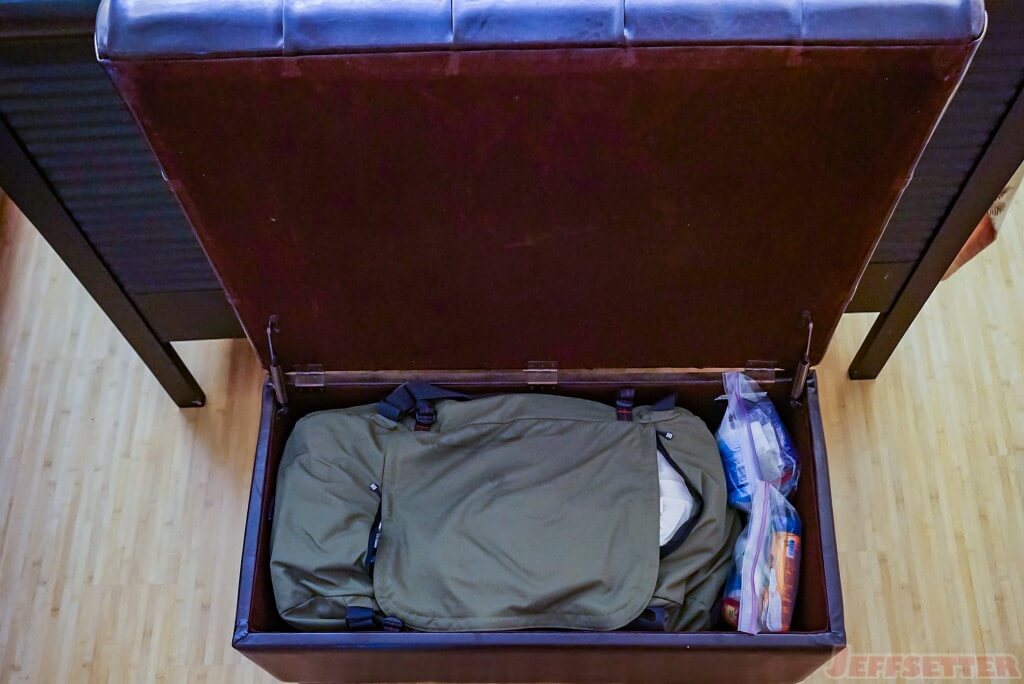 Quick side note: The host also let us store our large suitcases at the condo, while we did a week stay on the Big Island.I had no concerns about the safety of our stuff (we did have locks on the cases), and nothing was bothered. Another couple rented the condo during this period. We met them before for we left, when they dropped off groceries for their stay.  The couple even left us unused groceries (and beer) for our return to the condo.
I just have to say that this is the point of  Airbnb – to restore faith in people, build trust and create a community. Not to be completely cheesy, but this is one of the reasons I really like using Airbnb.
The Bathroom
Small but functional.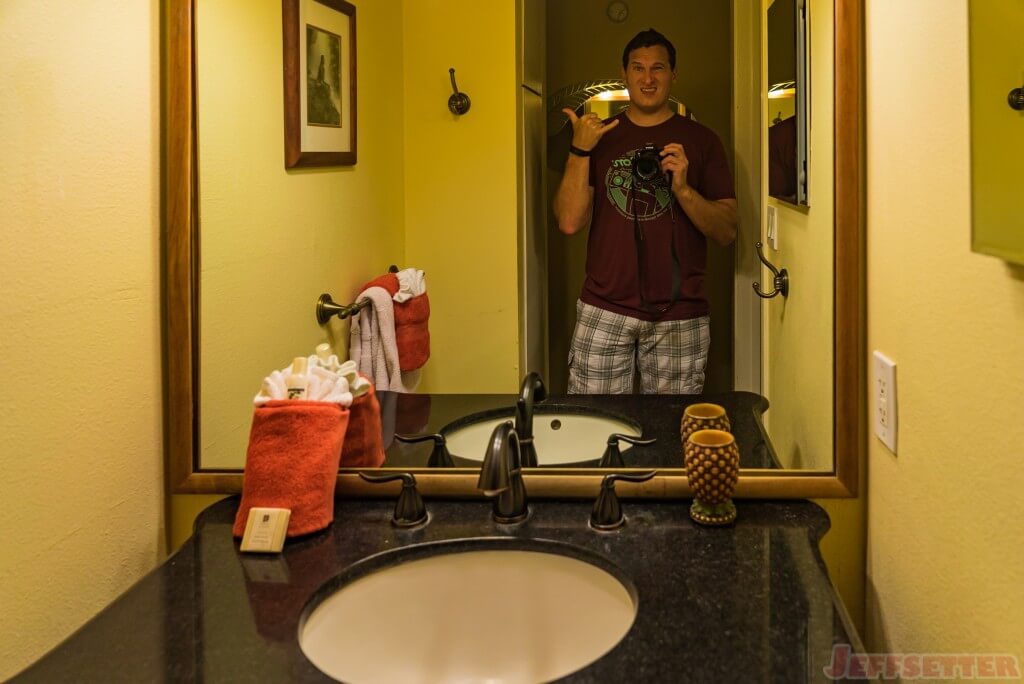 The sink was outside the shower and toilet room, which was nice for primping.   Shower photo omitted because people don't like looking at toilets (even high-tech ones). See, I listen.
The Kitchen
Well stocked and my second favorite Airbnb kitchen so far (my favorite was in New Zealand).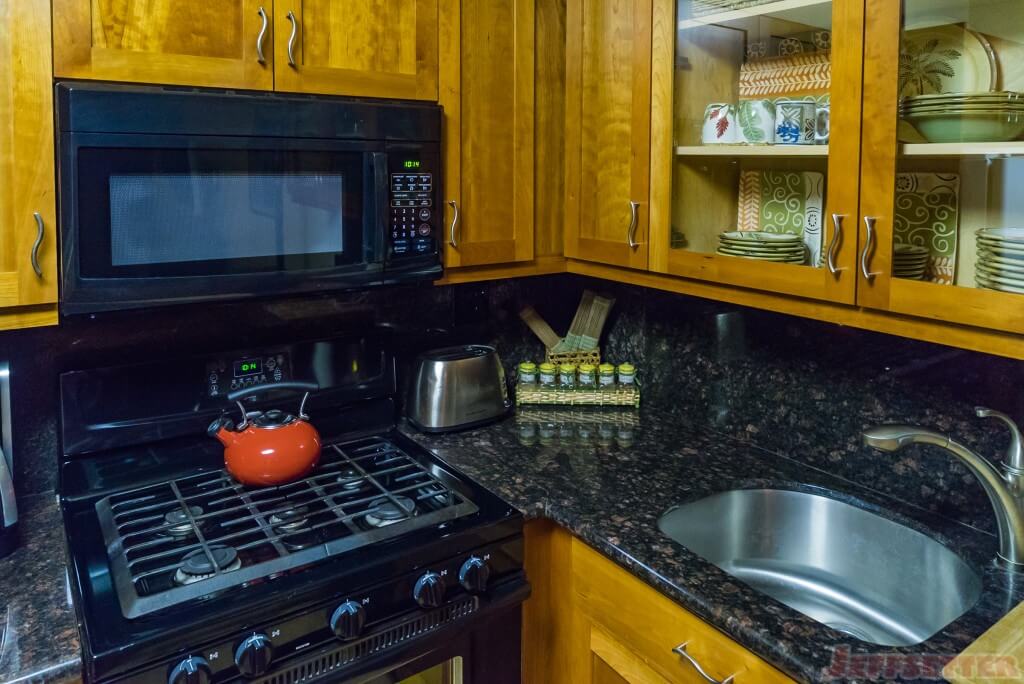 The knives were quite dull (a pet peeve of mine), and there was not a rubber spatula. We bought a set a Costco, and the host reimbursed us. Our host was amazing!
I was able to make several great meals during our stay utilizing this great kitchen.
Also, these pictures show you some views from the deck. A nice evening breeze created a great atmosphere for dinner and cooling down after a long day at the beach (or cooking).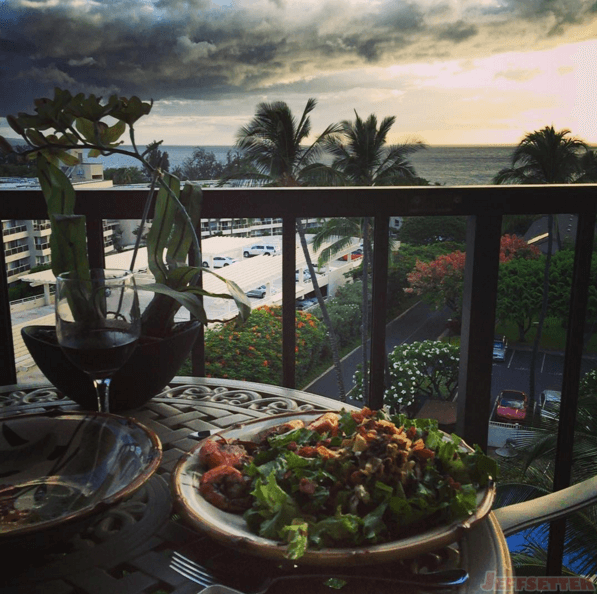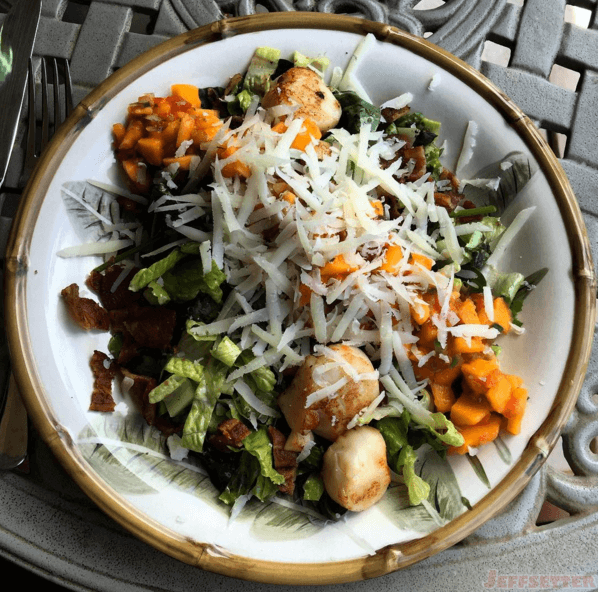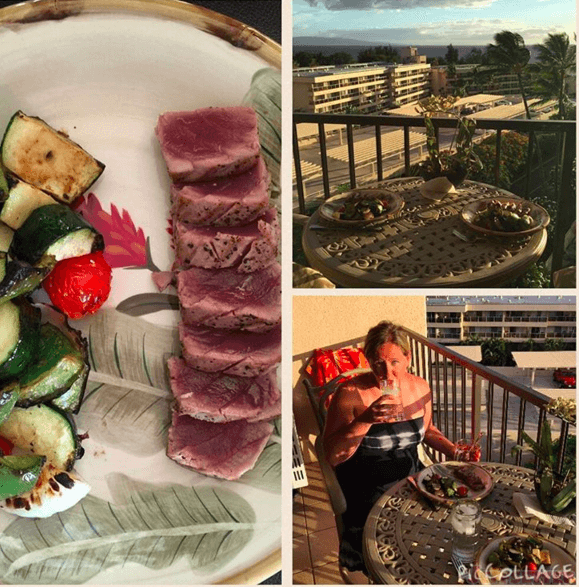 The Living Room
Right next to the kitchen, and small but comfortable with a lounge chair, a small desk and a couch.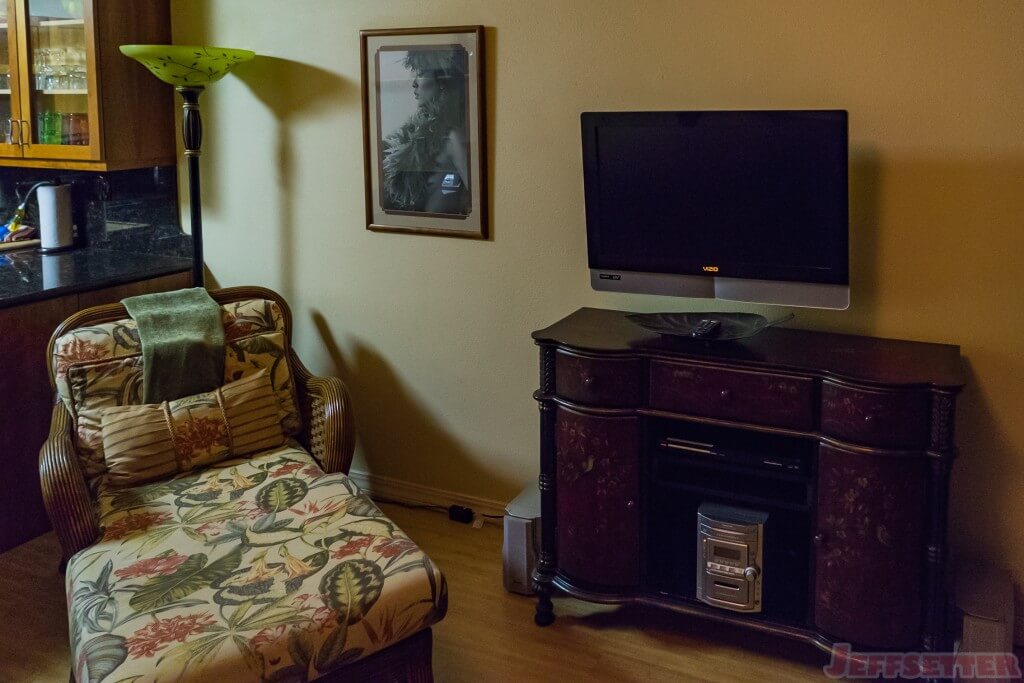 I guess we didn't take any more pictures of the living room or the deck with a two chair garden dining set.
Well, you can check out the Airbnb link to see more. The pictures are accurate on the listing along with all the amenities.
Other Points of Interest
The wi-fi is speedy. We were even streaming on multiple devices at times.
The air conditioning is in the living room, and doesn't really reach the bedroom. However, having the windows open at night with the fans on worked well enough.
The unit has a washer and dryer, but the washer smells a little mildewy.
The closet is full of beach goodies – boogie boards, chairs, towels, snorkel gear, coolers, yoga mat, etc. All in good shape when we were there.
The host told us to let her know if anything was worn or needing work, and she addressed immediately.
Airbnb allows the host to review you as a guest (similar to Uber). Reviews are added to profiles when both the host and guest complete a review. Here is our review from this host:
What a GREAT guest! So nice and easy to communicate with….he stayed twice and was just wonderful. He even went out and bought some new knives for us for the kitchen…super people. Just sorry we couldn't meet him and his lovely wife in person. Maybe some day!
Recommendation
If you are looking for an affordable condo in Hawaii with a great central location, we cannot recommend this place enough.
Our first experience with Airbnb was also great.  The site offers ease in communication, payment and viewing property descriptions. As I am sure we have noted before, watch the additional fees (cleaning and processing) when using Airbnb. The site has improved since our first booking, and clearly identifies the fees, so nothing is a surprise.