After three months of silence, Hawaii's most active volcano is back at it again with the commencement of the Kilauea June 2023 eruption. As is always the case, the only thing we know at this point is that eruptions are predictably unpredictable.
Kilauea's last eruption began on January 5, 2023, and just over three months later, ended on March 7. Of course, this eruption followed the spectacular side-by-side Mauna Loa and Kilauea eruption just a month prior. And while there are no indications that Mauna Loa will erupt again any time soon, it's great to see Kilauea back at it again, even though it's about two weeks too late for me. 😐
Kilauea June 2023 Eruption
On Wednesday, June 7, 2023, at 4:44 am HST, the USGS Hawaiian Volcano Observatory noticed a glow in their Halemaumau Crater webcam. This glow marked the beginning of the Kilauea June 2023 eruption. Signs of this eruption have actually been brewing for quite some time now. Inflationary activity has been ongoing at the summit area, while seismic activity was above normal background levels and even levels leading up to the January 2023 eruption. However, over the past several weeks, elevated activity at Kilauea remained steady, showing no indications that an eruption was imminent.
The above observations and Kilauea's quiet start to its eruption perfectly exemplifies how difficult it is to predict when volcanoes will erupt. Sure, we knew something could be happening because of the seismic activity and ground deformation for the past several weeks. But there was no strong indicator that an eruption was imminent until about 65 minutes before when ground deformation and seismic activity quickly ramped up.
Volcanoes National Park Status & Viewing Tips
Due to the calm nature of this eruption – which is usually the case in Hawaii – the Kilauea June 2023 eruption isn't expected to have significant impacts on park operations. Well, aside from crowds. Visitors began flowing into the park at ever-increasing numbers since early this morning, and park officials are warning that heavy congestion is expected as crowds continue to increase.
As for where to see the eruption, there are three vantage points: Kupina'i Pali, Uekahuna, and Keanakako'i. Of these, Kupina'i offers the best vantage point, as you can see most of the crater from there, but it's also quite far from the activity – it's two miles away! But this area is right next to the Kilauea Visitor Center, which has 125 parking spaces, picnic facilities, and restrooms. It's worth noting that you have to walk about a mile from the parking area to the viewing area, though this follows the paved Crater Rim Trail, so it's easy to walk and wheelchair accessible!
Uekahuna is your second-best option. This option actually has two vantage points with the parking area at the abandoned Jagger Museum. There are 105 stalls here, plus the restrooms at the museum are still open. However, the short hike to Uekahuna isn't improved, so it isn't quite handicap-friendly. Alternatively, you could 1,000 feet over mostly paved terrain to Kilauea Overlook. These vantage points are about a mile from the eruption, but a large portion of the crater is obstructed.
The final viewing area is the Keanako'i Crater Overlook on the opposite side of Halema'uma'u from Uekahuna. Parking here is very limited at 58 stalls, though there are restrooms. This one also has the farthest walk, being one mile in each direction, most of which is over Devastation Trail. However, the final section is over unimproved cinder terrain. This is the closest vantage point to the eruption at just a half mile away and has some of the best unobstructed views of the eruption.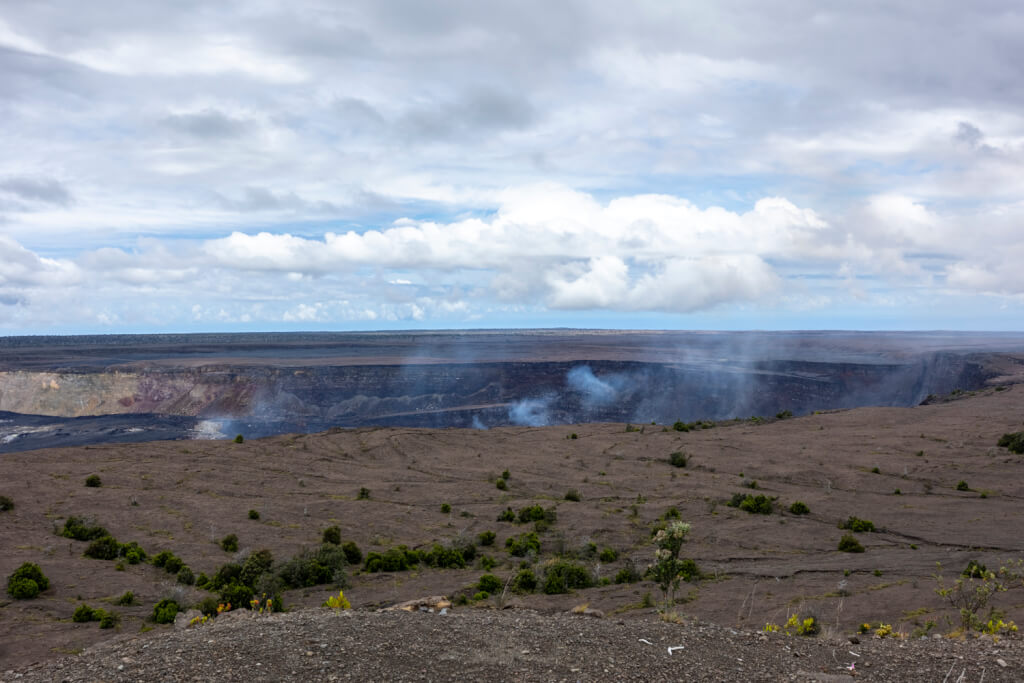 Given the throngs of people that will be filling the park to catch a glimpse of the Kilauea June 2023 eruption, your best strategy to save your sanity is to avoid visiting during peak hours. That means absolutely avoiding going to the park between 5 pm and 9 pm. In fact, it's probably best to arrive sometime after midnight to just before sunrise. But be sure to bring something warm if you do this, as temperatures can dip to the 40s and 50s at night. Also, be sure to pack a flashlight or headlamp to help light your way.
Kilauea June 2023 Eruption, Final Thoughts
I'm not going to lie; I'm a little irked that the Kilauea June 2023 eruption began just 10 days after my visit. With inflation and seismic activity ramping up before I went over Memorial Day, I was hoping to see some action. Alas, it wasn't meant to be. At any rate, if you do go to check out the eruption, remember to be a responsible and respectful visitor. Follow all rules and regulations, pack out what you bring in, be courteous to others, and be mindful of the delicate ecosystem you're visiting.
For the latest eruption-viewing tips, visit the National Park Services website.