Yesterday I discussed my favorite Oahu hike, the Makapuu Point Lighthouse Trail.  So today I'll be going over another great Oahu hike: the Lanikai Pillbox Hike.
An excellent way to experience Hawaii is to get out and go hiking.  But if you're like me, you probably don't want to spend a whole day hiking.  And you might, you know, be afraid of heights!  That's why the Makapuu Point Lighthouse Trail is so great because it's not so scary, it's easy, and and the views are phenomenal.  If you're looking for a little more adventure, though, then the Lanikai Pillbox Hike is a great option too.
Location
The Lanikai Pillbox Hike is located in, as its name suggests, the windward Oahu community of Lanikai.  This area is a residential neighborhood, and parking is all street parking.  And while the trailhead is easy to identify, it's important to note that the area immediately surrounding the trail is private property.  So please be respectful when hiking; it only takes a few bad eggs to ruin it for us all.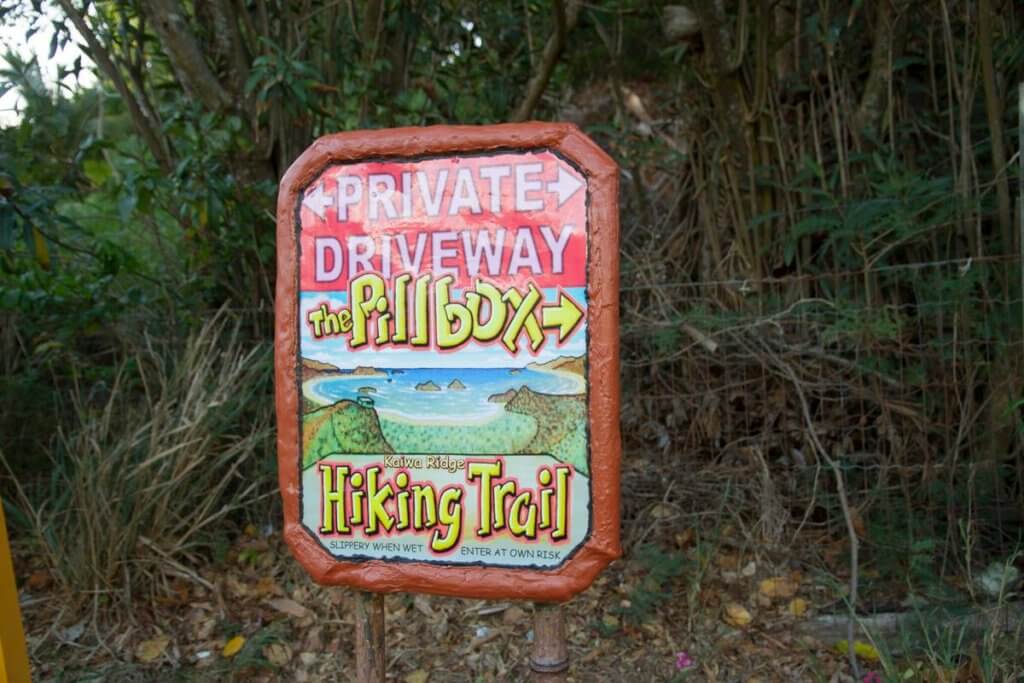 And as was the case with the Makapuu Point Lighthouse Trail, there are no facilities here.  So bring your own water and use the restroom before you arrive.  It's also worth noting that Lanikai Beach and the hike is very popular with both visitors and locals, so crowding is a big issue.  It's best to avoid hiking here on weekends and don't think about coming on three-day weekends at all.  I'd also recommend coming as early as possible.  Or heck, just do a sunrise hike as we did!
The Hike
The Lanikai Pillbow Hike is nothing like the Makapuu Lighthouse Trail.  This trail is not improved at all, and the trailhead is so eroded, you'll definitely need to use the provided rope to help yourself up.  But that portion is the worst part of the trail.  Once past the initial slope, the rest of the trail is relatively easy.  Here's what parts of the upper trail look like heading back down.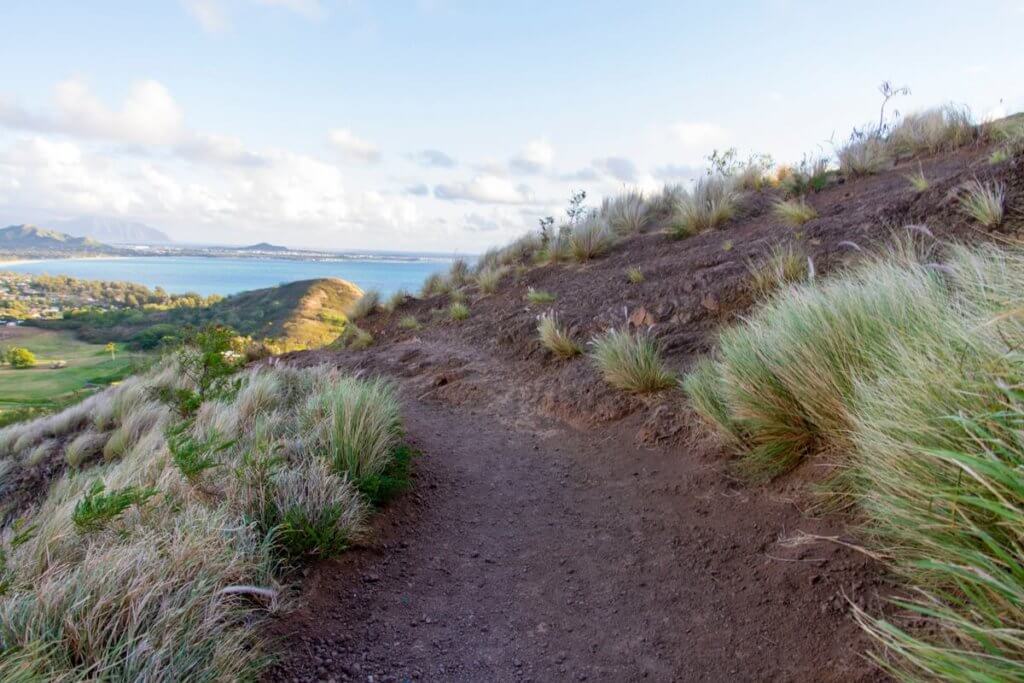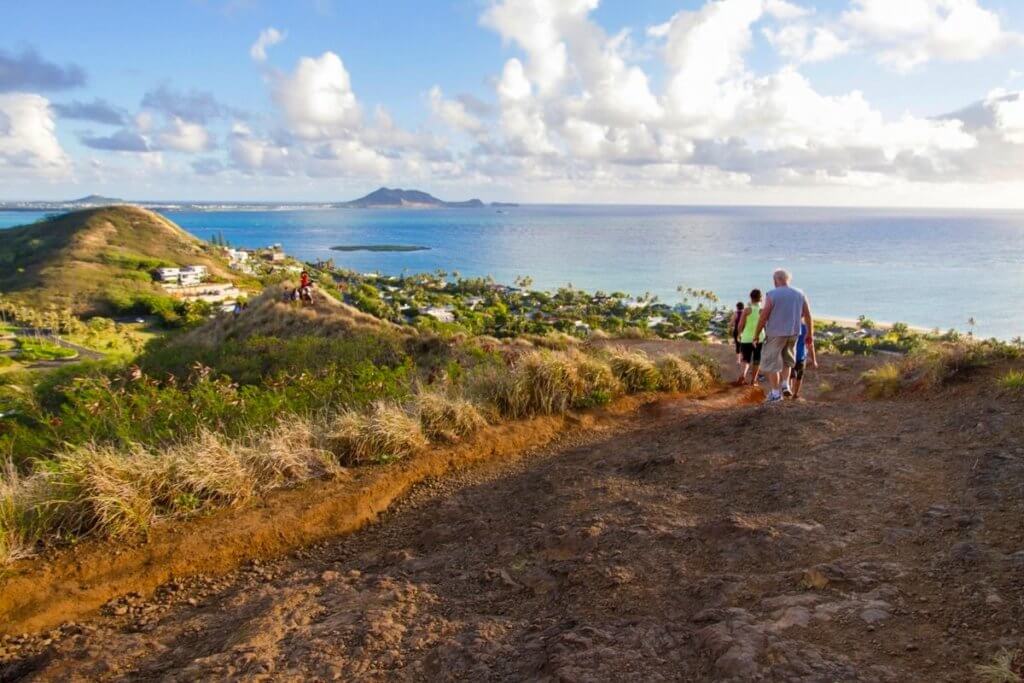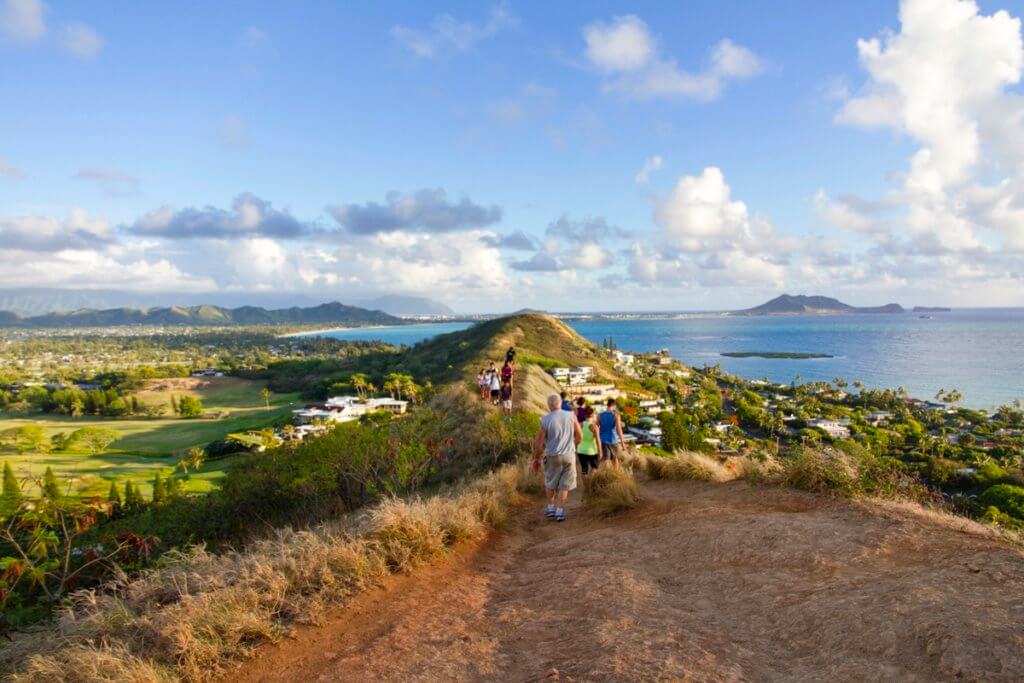 Admittedly, I don't remember a whole lot of the hike.  When Mrs. Island Miler and I did it, it was at 4 am and was still pitch-black.  This made finding our way quite difficult, especially since we were ill-prepared and did not have any type of lighting.  A word of advice: if you're going to do a sunrise hike, but a headlamp.  I REALLY wish we had at least one instead of trying to use our phone flashlights.
And while the hike is called the Lanikai Pillbox Hike, there are actually a couple pillboxes on this hike.  The one and only time we've done it thus far, we stopped at the first pillbox.
Part of the reason we stopped at the first pillboxes was because the dark sky began lightening a little.  I wanted to take some predawn photos, so that seemed like a good time to begin snapping away.  The other reason?  I could kind of make out when looked like a rather narrow ridge line to the upper pillbox.  And, of course, that made me nervous.  So, yeah.  Part of the reason why we stopped is because my fear of heights got the best of me.
The View
As you can already see, the views from the Lanikai Pillbox Hike are breathtaking.  The draw is definitely the beautiful Pacific Ocean, the Moke's right offshore, and Oahu's windward coast.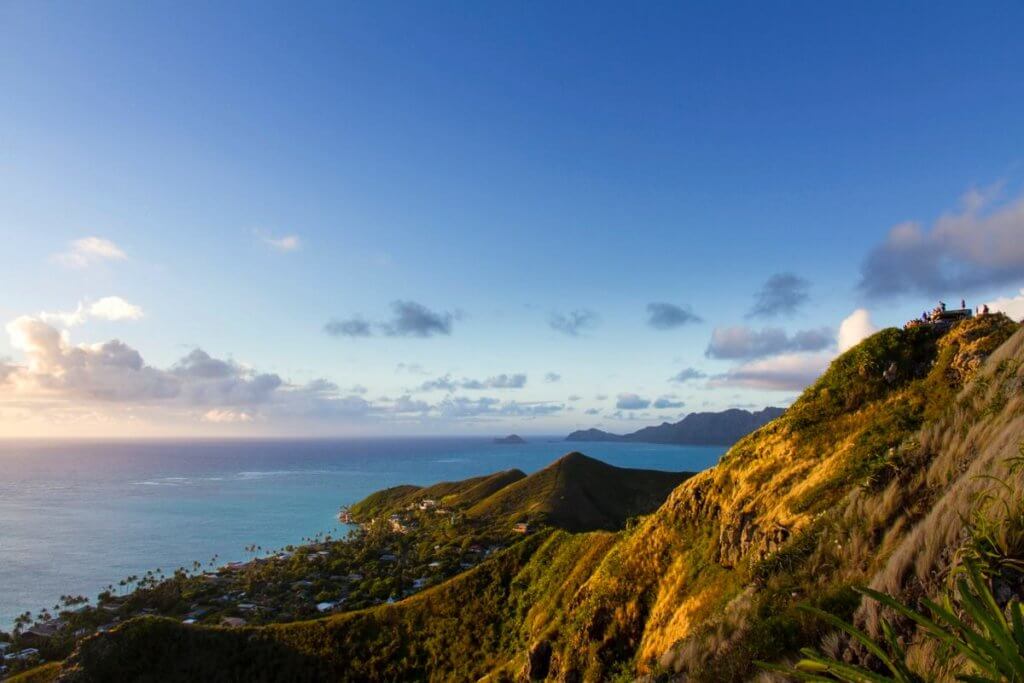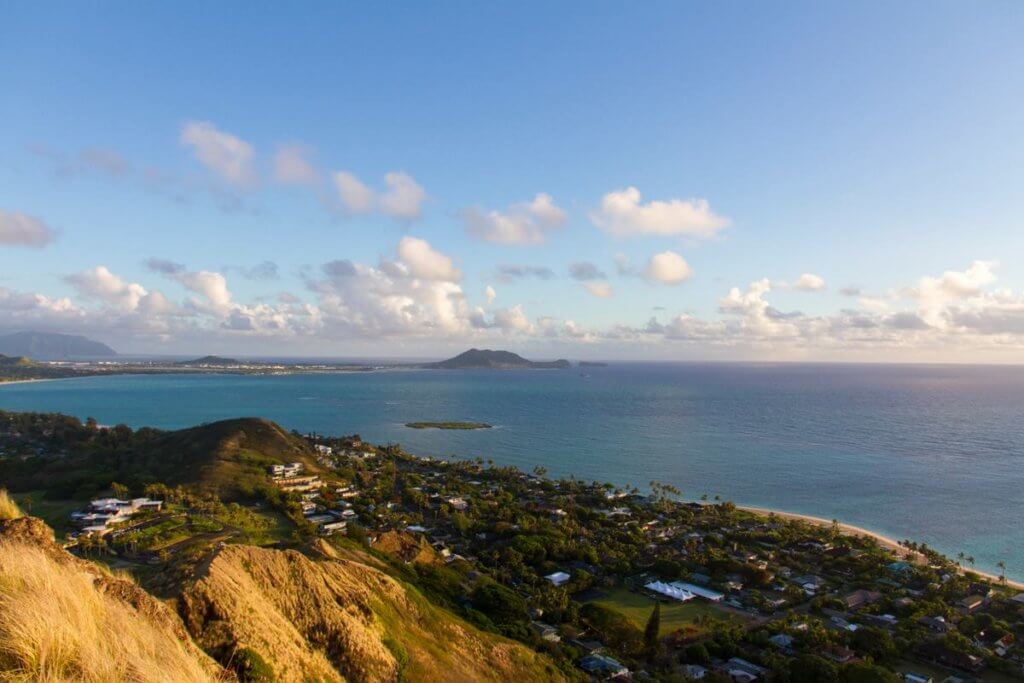 But we went during sunrise, which is even more spectacular.  The sun peaking through the Moke's is definitely a stunning site.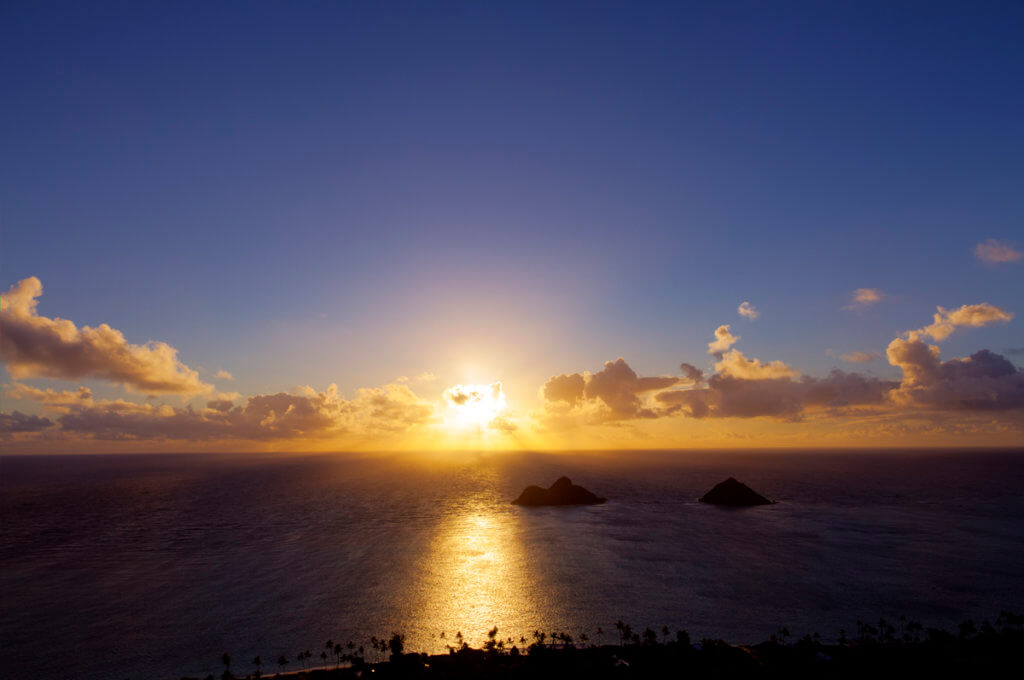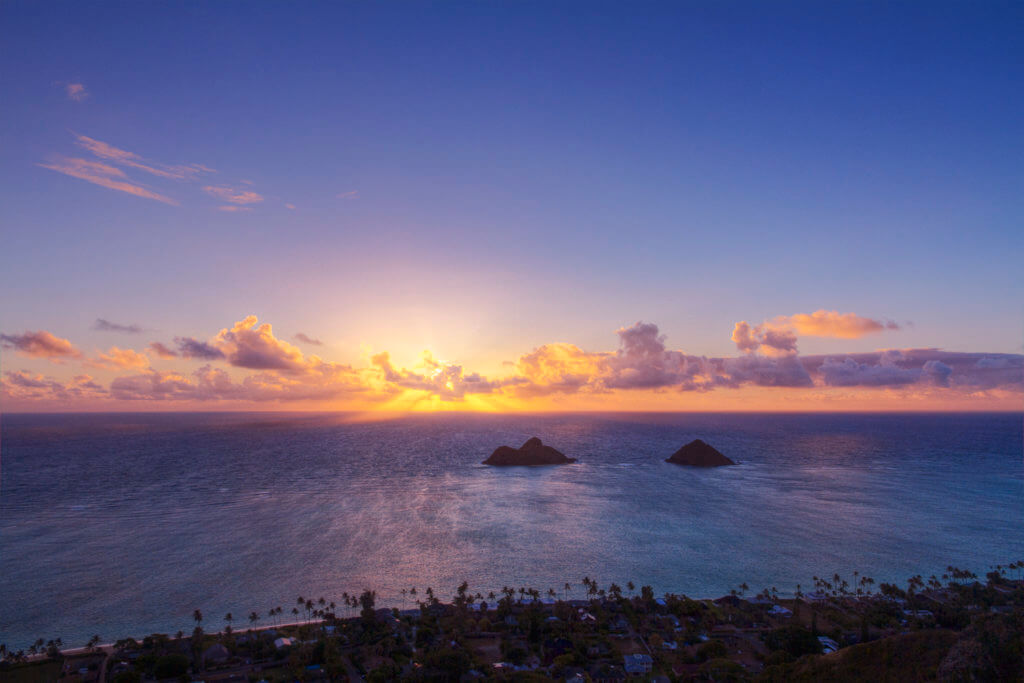 The predawn view are great too.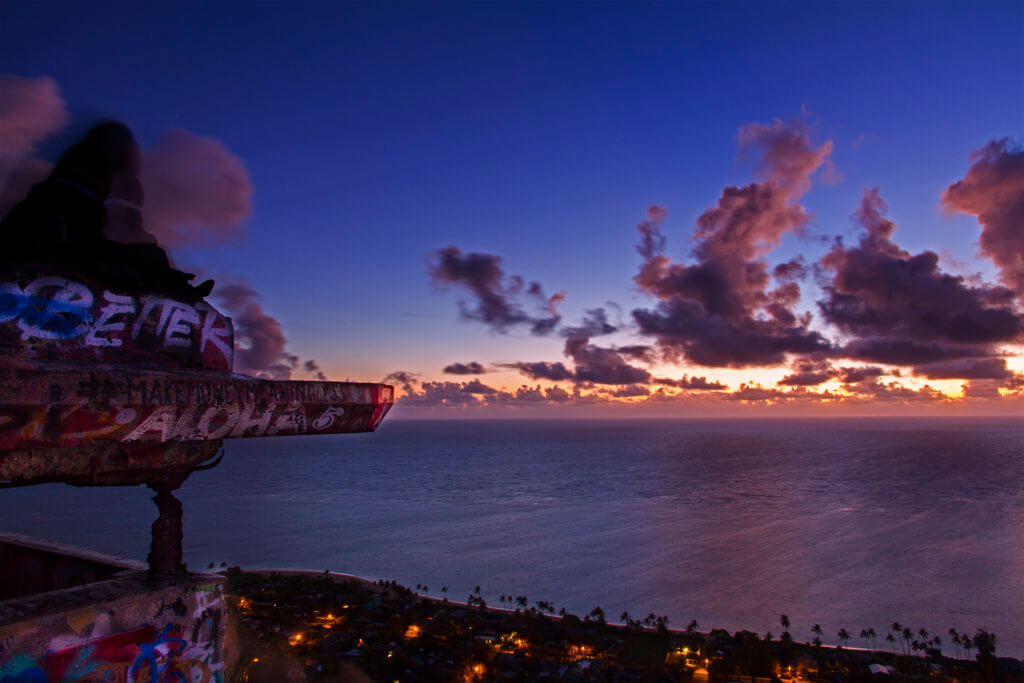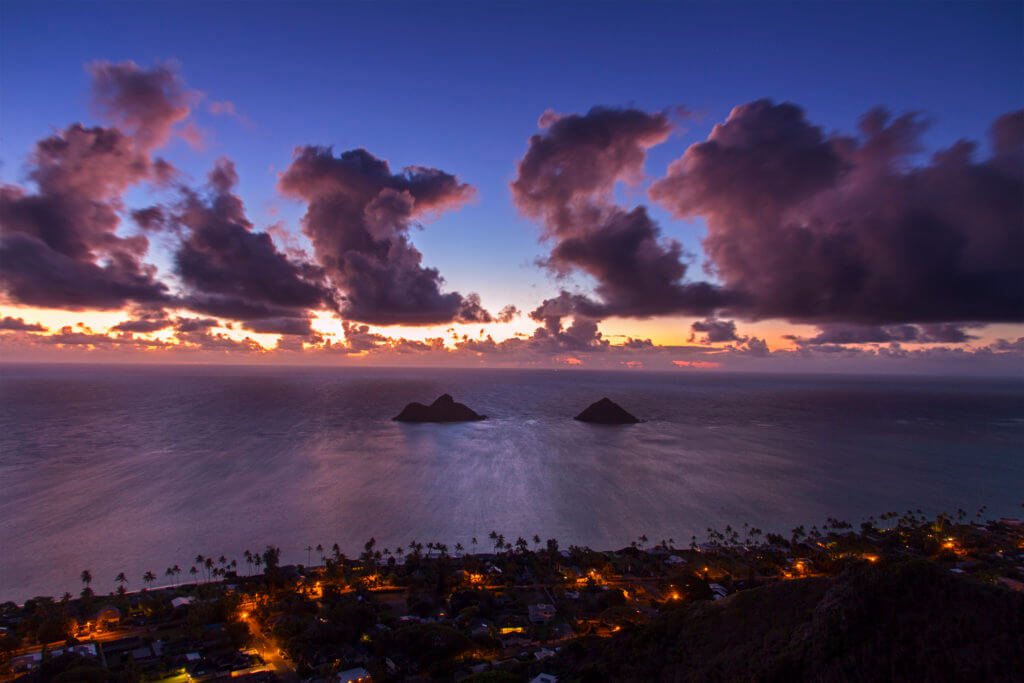 And here's a poor quality time-lapse video I made using my iPhone.  The quality is awful because I handheld my phone; didn't have a stand for it.
Lanikai Pillbox Hike Final Thoughts
The Lanikai Pillbox Hike is a great hike, and is another I often recommend to friends visiting Oahu.  As I've said earlier, it is a bit more challenging than the Makapuu Point Lighthouse Trail, but it still isn't all that difficult.  The views, though, are just as spectacular as Makapuu while also providing a more natural experience.  If you do decide to tackle this hike, though, just remember my advice:
bring a headlamp (for sunrise hikes)
arrive EARLY to avoid crowds
be respectful to area residents (no loud talking, littering, or blocking driveways)
avoid weekends, especially three-day weekends
And for a little more info on the trail itself, including some helpful tips, check out this website made by the residents of Lanikai: lanikaipillbox.com