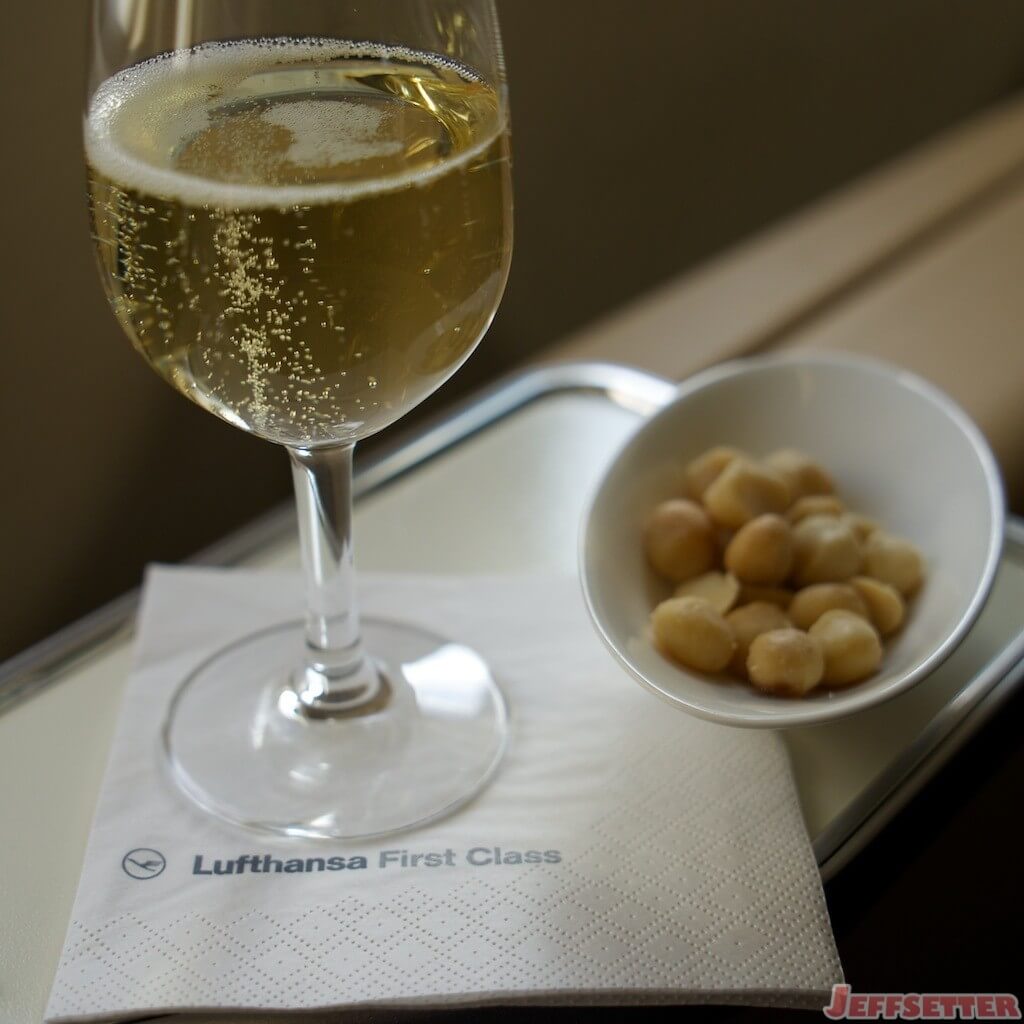 Champagne, caviar, roses, a comfortable bed, soft edges and spectacular service, flying first class on Lufthansa is like the make-a-wish foundation for weary travelers.
It made me both humble and pretentious at the same time.
It was a sanctuary for my weary mind… and it left me wanting more.
But it didn't always start that way.
All travel and no play much travel makes Jeffsetter a dull boy
Slogging on as an international traveler will leave you poor, tired and hungry if you are not careful. Put on enough miles and you will find yourself looking forward to the journey home, rather than the journey ahead.
Such was the case when I found myself emptying my carry-on suitcase on a Sunday night, washing clothes, recharging the batteries (both literally and figuratively) and mentally preparing myself for the journey that would less than 24 hours later.
For some crazy reason I thought it was a good idea to follow up my west coast to Europe trip with another trip – this time around the world in a few short days.
But this journey was different. So different that I can't help but tell you the story of riding that luxury german automobile in the sky: Lufthansa First Class.
First class on Lufthansa is a sanctuary
If you are expecting an objective review of Lufthansa first class, I'm afraid you may need to look elsewhere.
This is a love song.
From checking in at the airport to enjoying the first class lounge, Lufthansa got all of the details right.
They had me wishing for a longer flight (who would ever want a longer flight?).
They found me conjuring up new opportunities to fly their airline, signing up for their co-branded credit card, and reviewing for points transfer partners so I can get my next fix.
It started with the checkin experience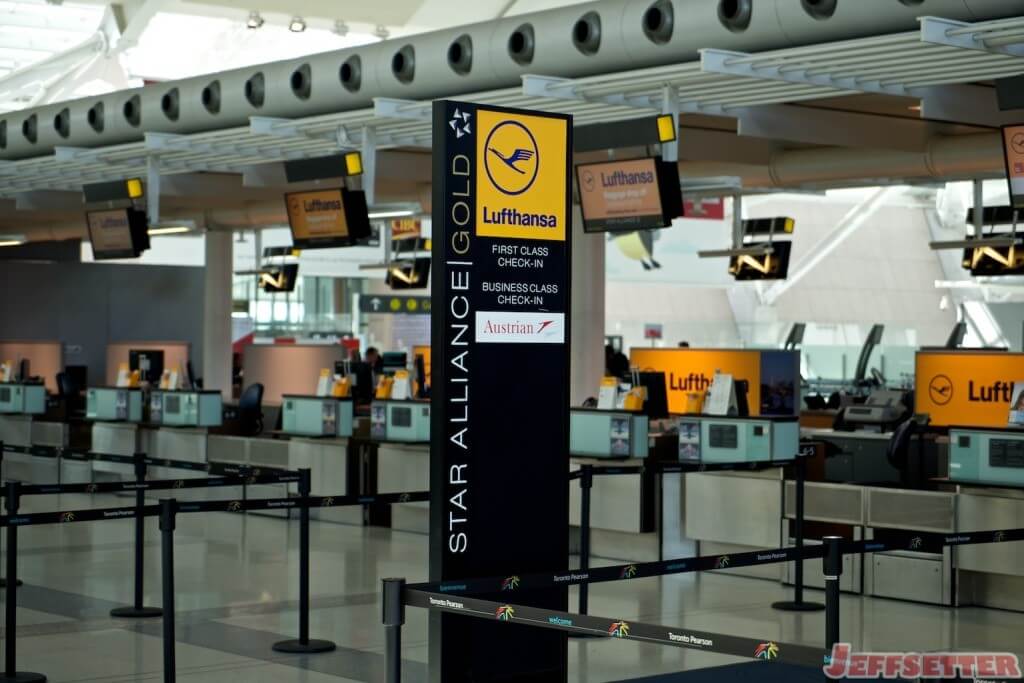 Call me eager, but I arrived at the airport before Lufthansa had even turned on their computers to check passengers in for their flight. I didn't want to miss a minute of the ground to flight experience, and I had a brand-new camera that I was dying to learn as part of the journey.
After snapping some test shots and stalking the ticket counter like a pack of Lions stalking a gazelle on the Serengeti, I noticed movement at the ticket counter and quickly bolted along the red carpet to the counter.
"Just one minute sir while we turn on our computers"
Technology eventually gave way to ticketing and I soon had paper validating what I had long sought: that for today I was a first class traveler.
"Would you like an escort to the plane for boarding Mr. Jeffsetter?"
Ab-so-freaking-lutely
The waiting game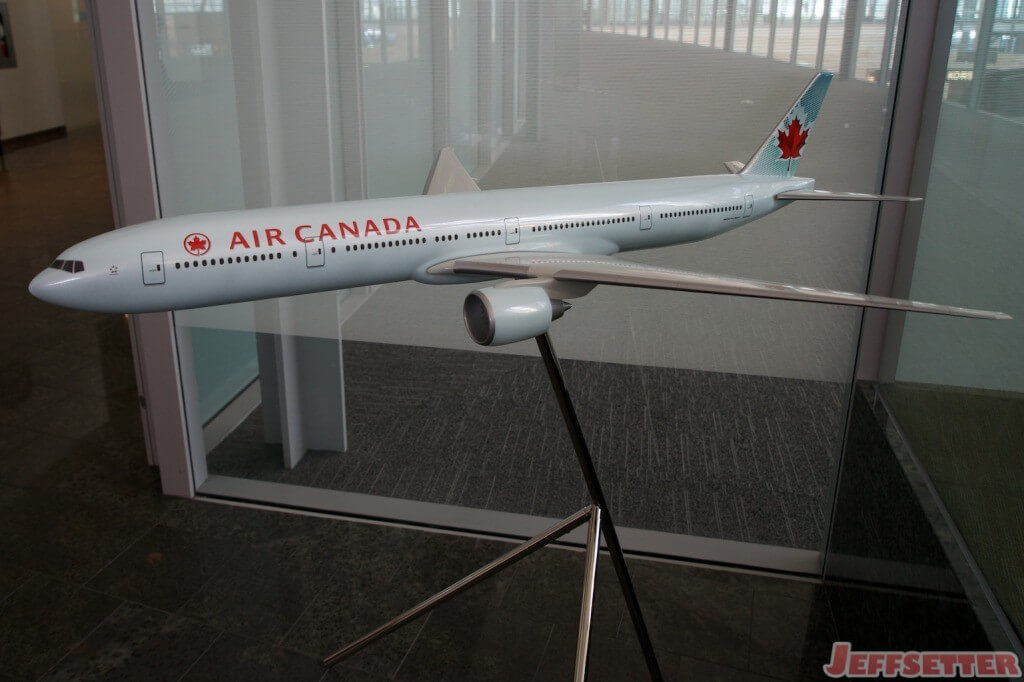 When you show up for a Lufthansa flight hours early in Toronto, you are invited spend some time relaxing in the Air Canada Maple Leaf lounge. You are pretty much given the whole place to yourself if you show up early.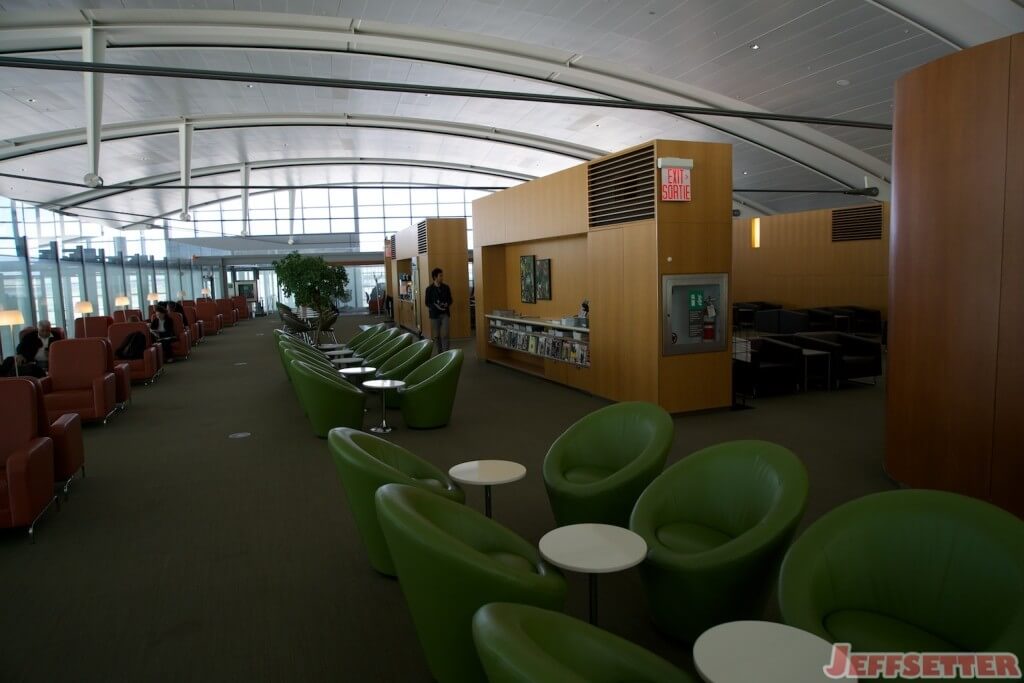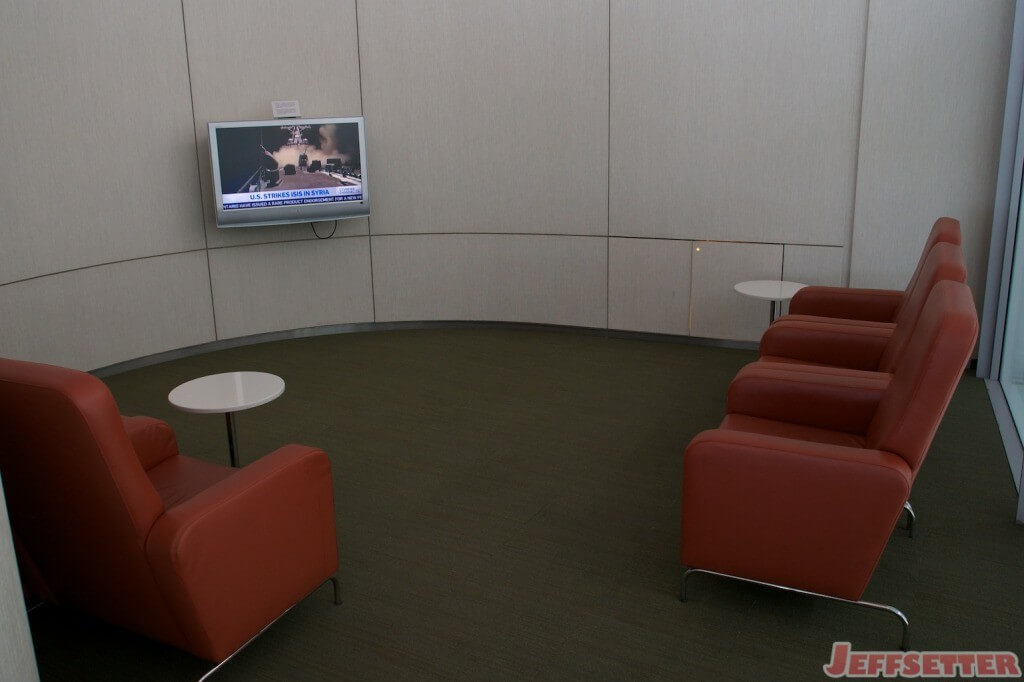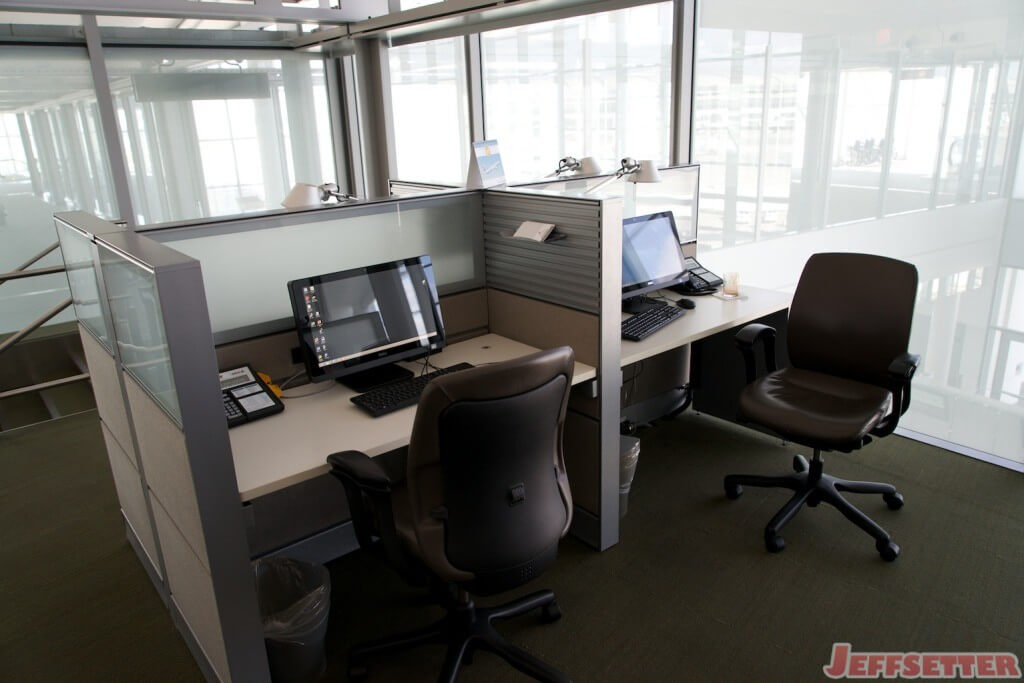 Depending on your poison, you can eat, drink or caffeinate yourself to satisfaction while you enjoy free Internet and somewhat comfortable seating.
Over the course of several hours of eating and drinking, you'll soon find that the once-empty lounge has come to life, with not a single seat to be found and kegs of Molson being cashed like the Maple Leafs just won Lord Stanley's cup.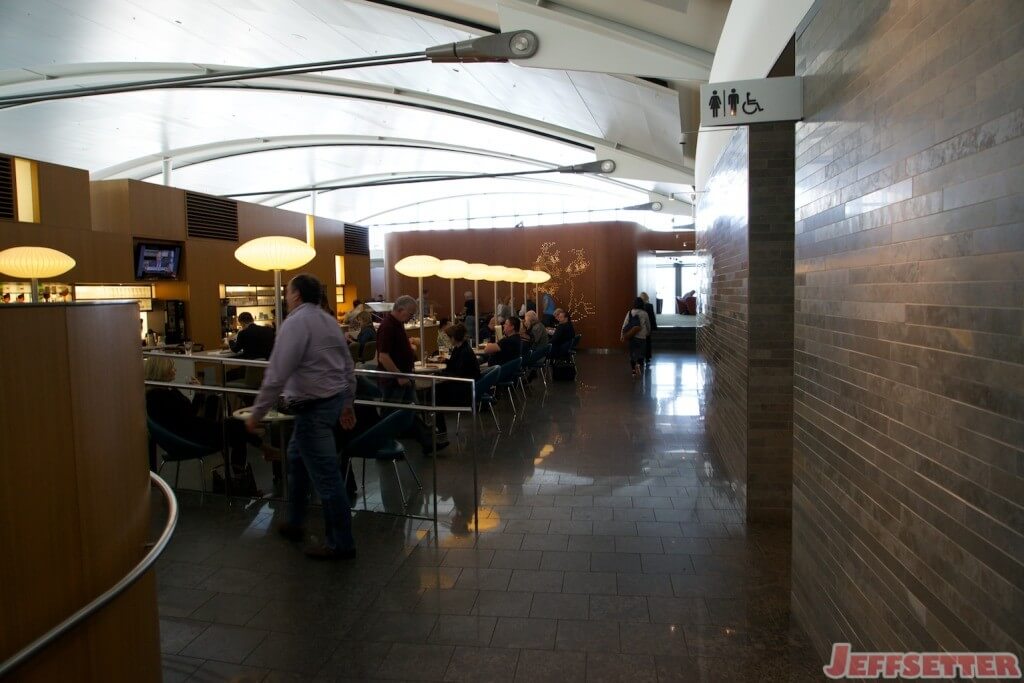 Escorting to the plane
Embarrassing as it was, I only once inquired "is my escort here yet?" to the nice ladies working the front desk in the Maple Leaf Lounge. Of course, they already had that covered.
"We will call your name when they have arrived for you Mr. Jeffsetter"
No details left to chance.
When my name was called, I ran with my hands in the air like a contestant on the price-is-right, ready to bid $1 on whatever they had to offer next.
My escort was exactly what I would come to expect from Lufthansa: a gorgeous multilingual blonde woman who seemed to be very good at her job.
Just how good? Well, she waded me through hundreds of people crowded at the gate to the front of the line, scanned my ticket at the counter and then brought me all the way down the jet bridge to my seat in first class. Talk about door to door service!
Naturally, I had to ask her a question that was on my mind:
"Have you ever accidentally gotten stuck on an airplane while escorting a passenger?"
Almost, she said.
Unfortunately for her, almost only counts in horseshoes and hand grenades… not in getting the first class treatment.
Before we depart, please soak in all of the awesome
First person in first class, new camera at my shoulder, I naturally did what any good travel blogger must do in this situation: ask the flight attendant if it was OK to take photos, and snap as many photos of the empty cabin as possible before the other passengers arrived.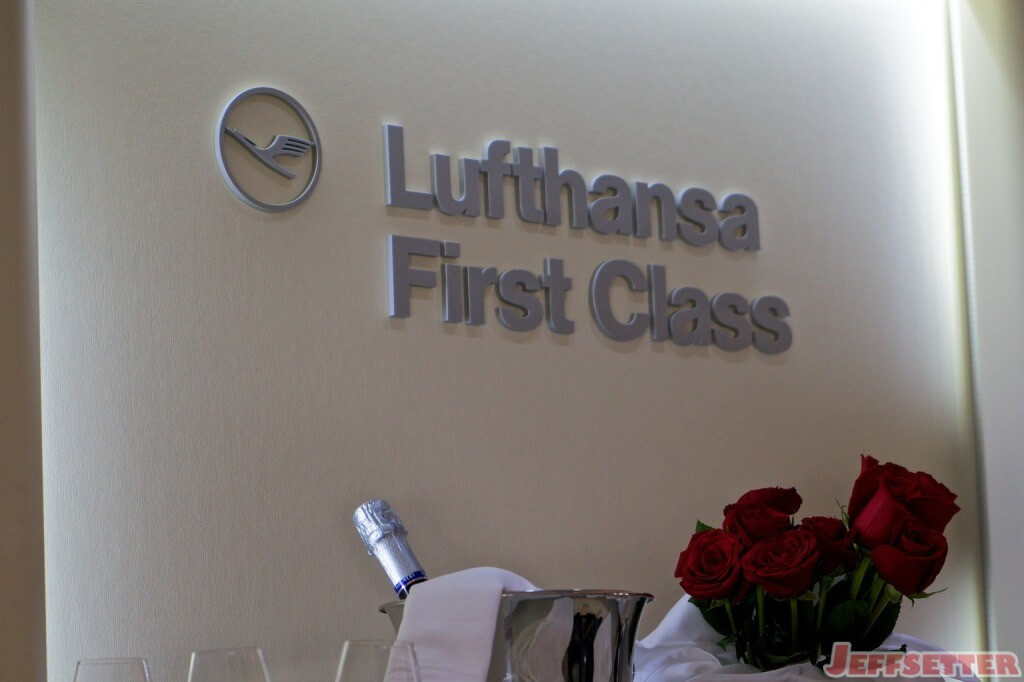 There was the leather ottoman/storage/footrest thingy.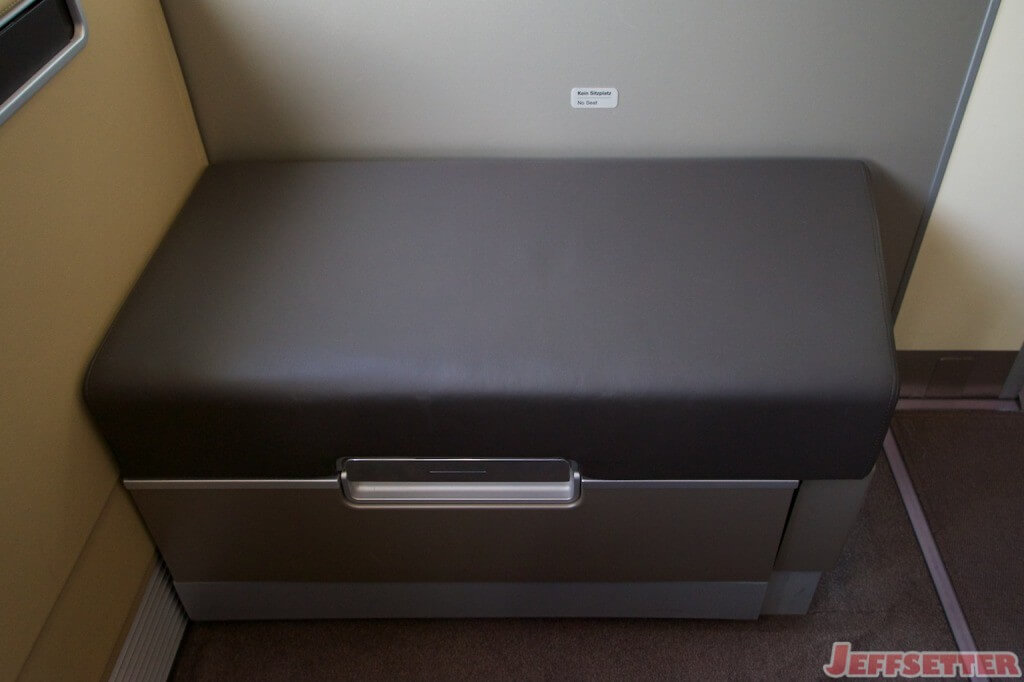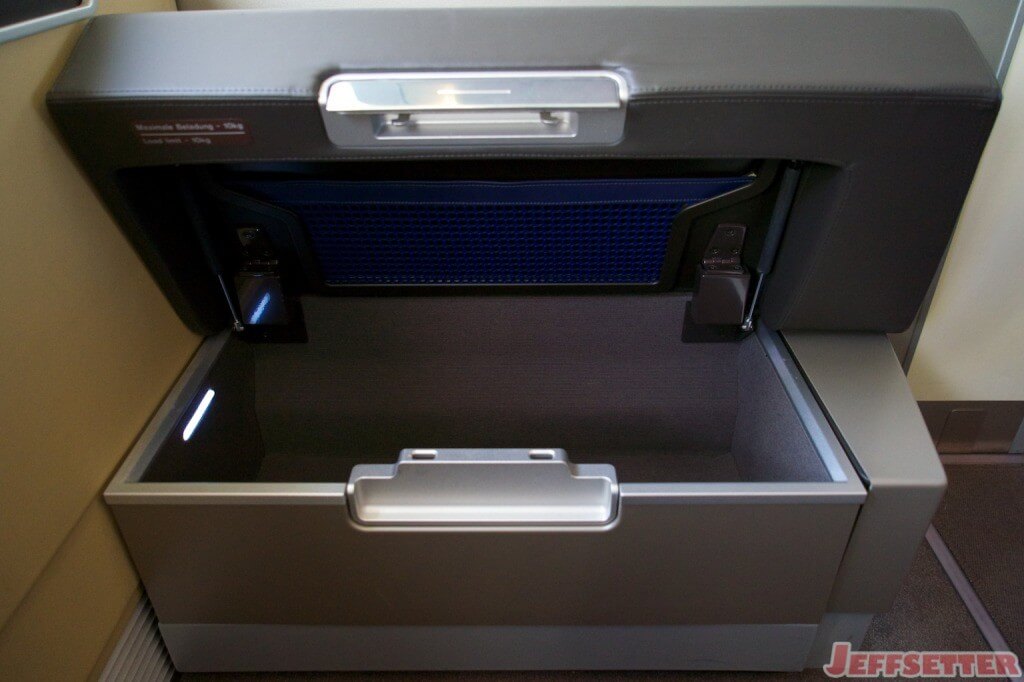 And the controls for the massive in flight entertainment screen.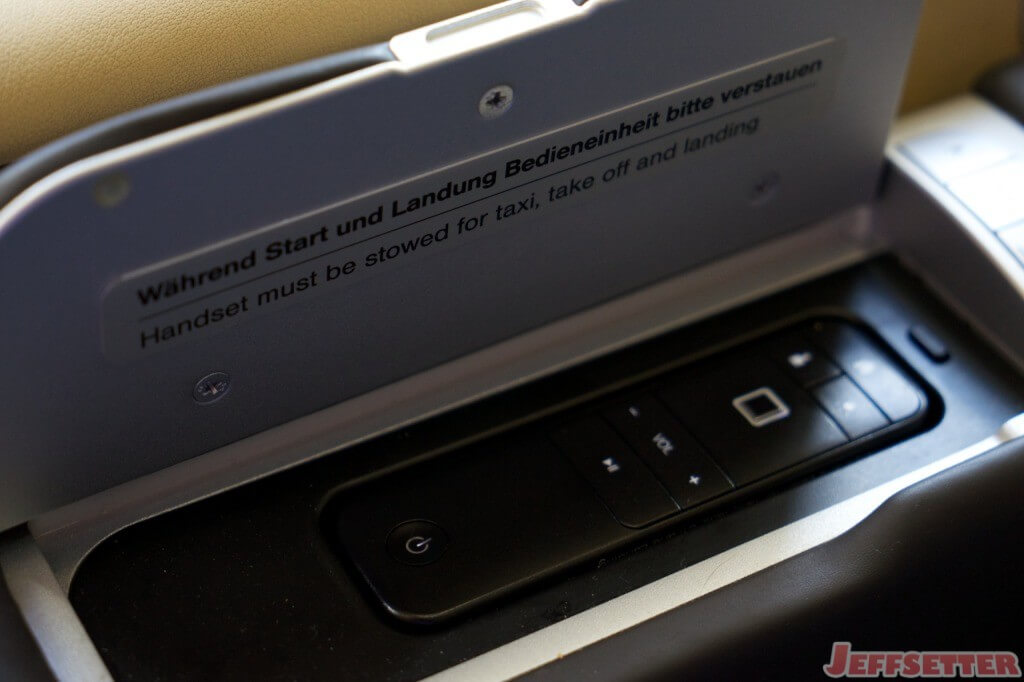 As well as controls for the seat to go from upright to lay-flat bed. Notice the rounded edges and plush leather everywhere? More on this later.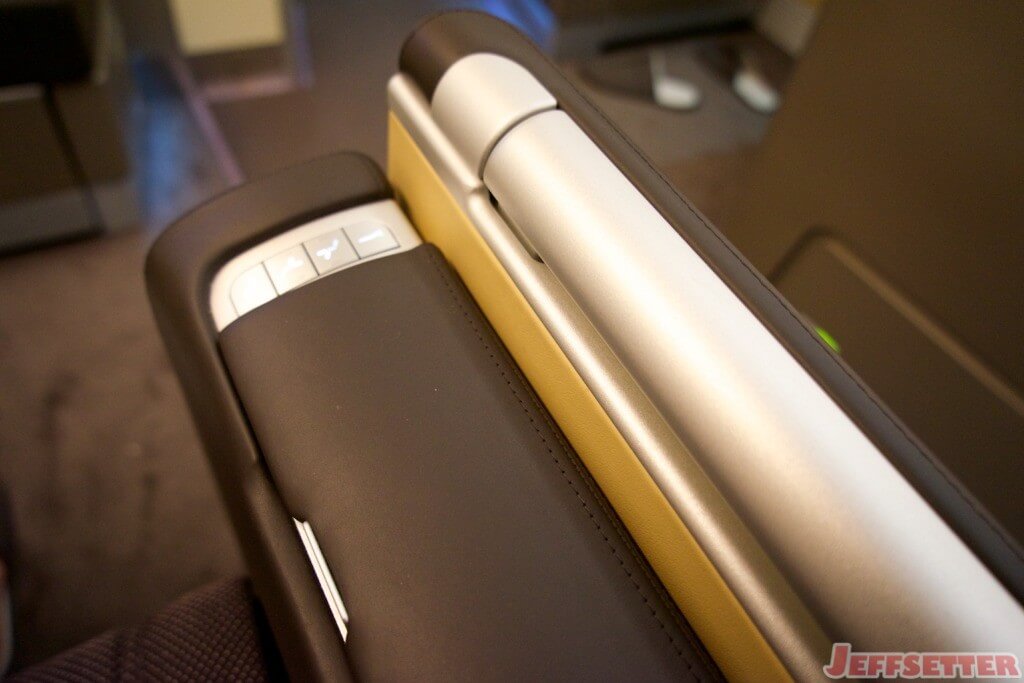 Next, I demanded champagne*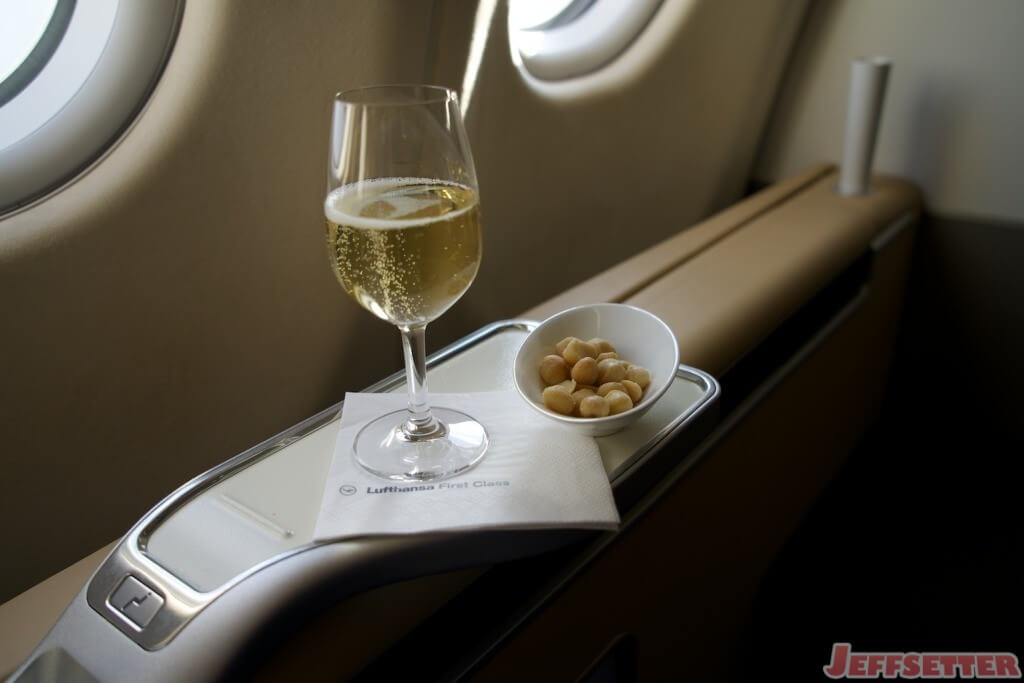 *Authors note: My way of demanding champagne is to say "yes please" when offered. No flight attendants were harmed by my demanding nature.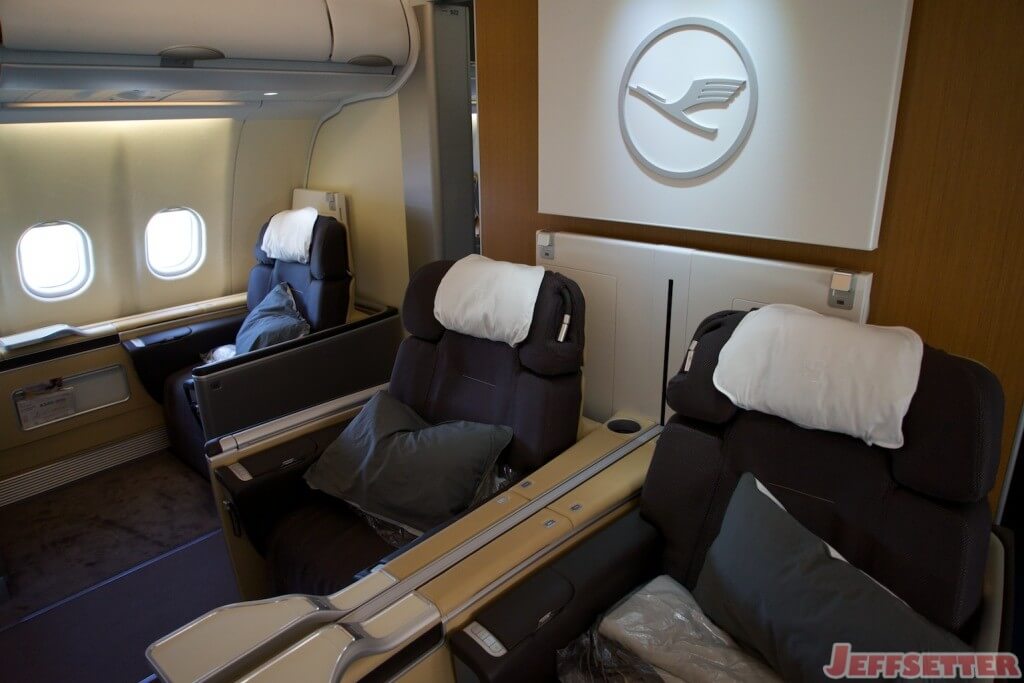 I also demanded that they take a picture of me in my seat*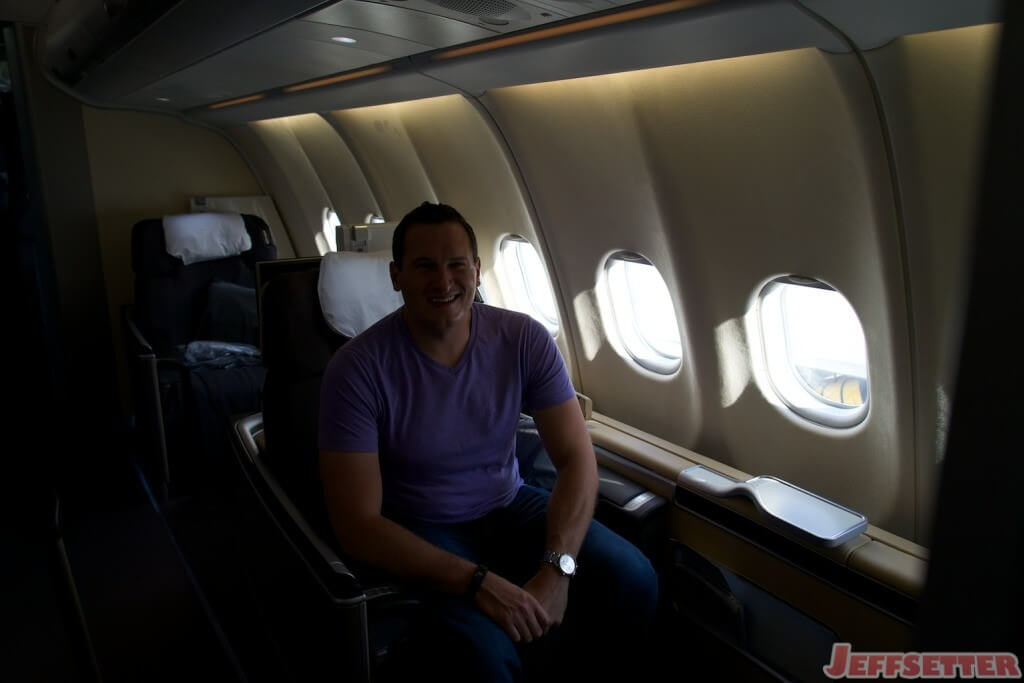 *Authors note: They actually insisted on taking my picture right away without my prompting. Might need to work on the lighting next time, though.
Comfort and convenience for the weary
For the next ~8 hours, seat 1A would be my home in the sky. The seat was even more comfortable than it looks in photos, with all rough edges covered up with leather and rounded corners.
While I was taking photos of the cabin, the flight attendants were hard at work ensuring that all of the pre-flight needs were taken care of for each of the passengers on board. Soon I was given a high quality amenity kit with toiletries, followed up by pajamas and slippers to make flying the ultimate comfort experience™ (ok, I made that part up too).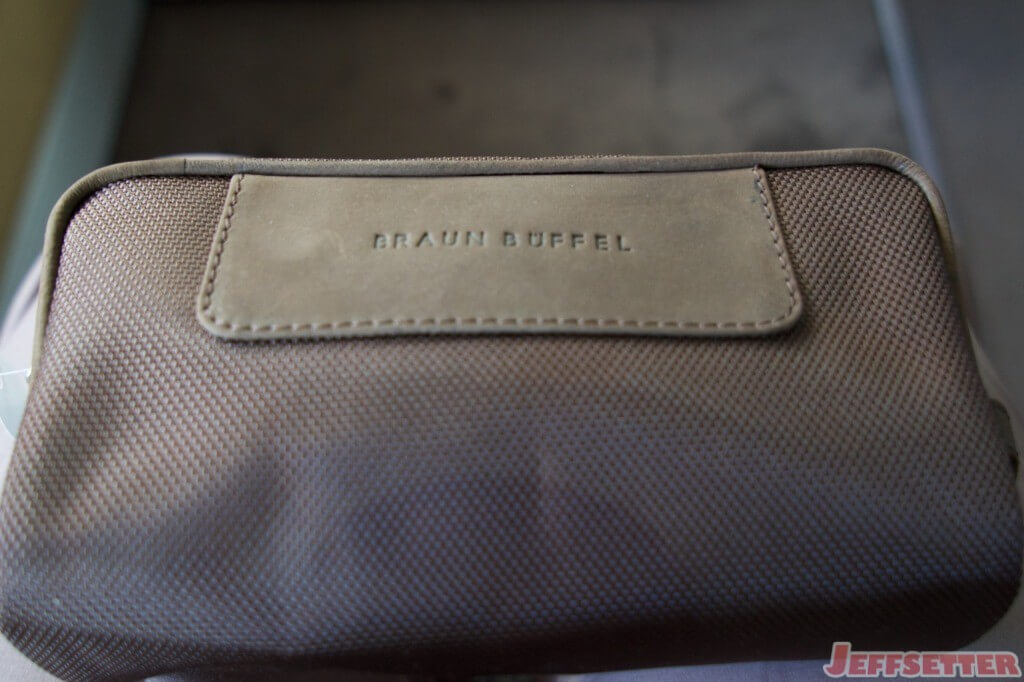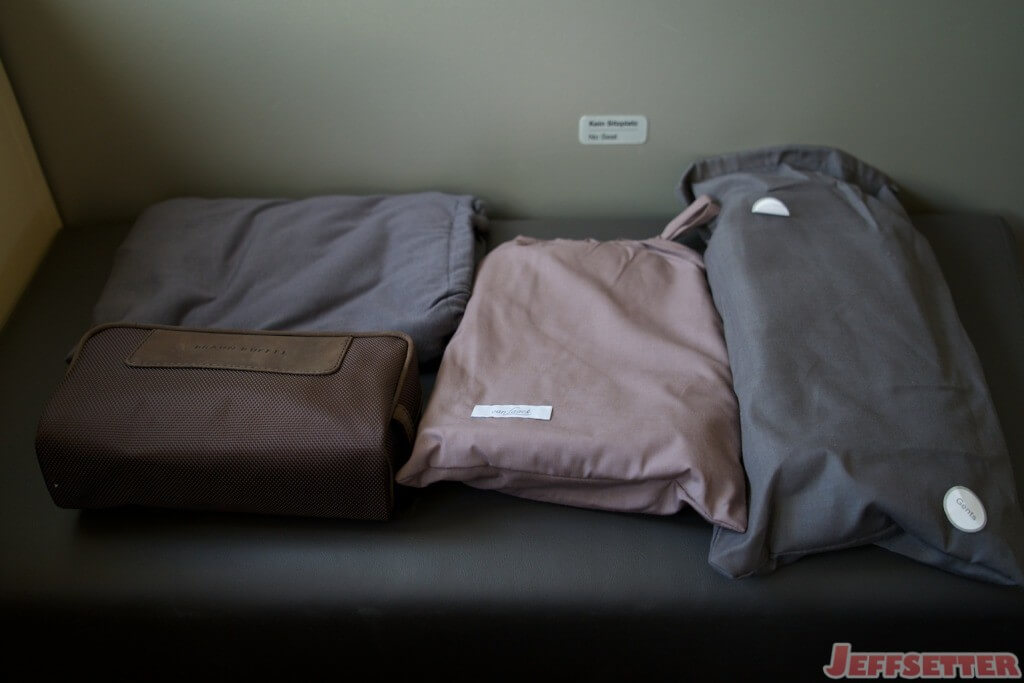 How else could a weary traveler expect to be made comfortable before taking off on the flight? More Champagne of course.
During my second champagne course, I sparked a conversation with my fellow cabin-mates for the flight. There was something about hearing an American accent on a trip from Toronto to Munich that had me wondering if they were also using United Miles to try Lufthansa first class. Not only were we all avid points and miles game players, but it turns out that they were also Jeffsetter readers. Small world!
It didn't take long before our festivities became one great big first class happy hour in the sky.
Taking off over Toronto
Our happy hour continued throughout the runway taxiing process, only coming to end a few minutes prior to the plane taking off. That momentary pause in the party allowed me to snap some photos of the Toronto area from my airplane window.
As we made our way above the clouds, I couldn't help but notice that the clouds themselves looked like pillows in the sky. No word on whether Lufthansa special ordered these clouds for first class passengers, though.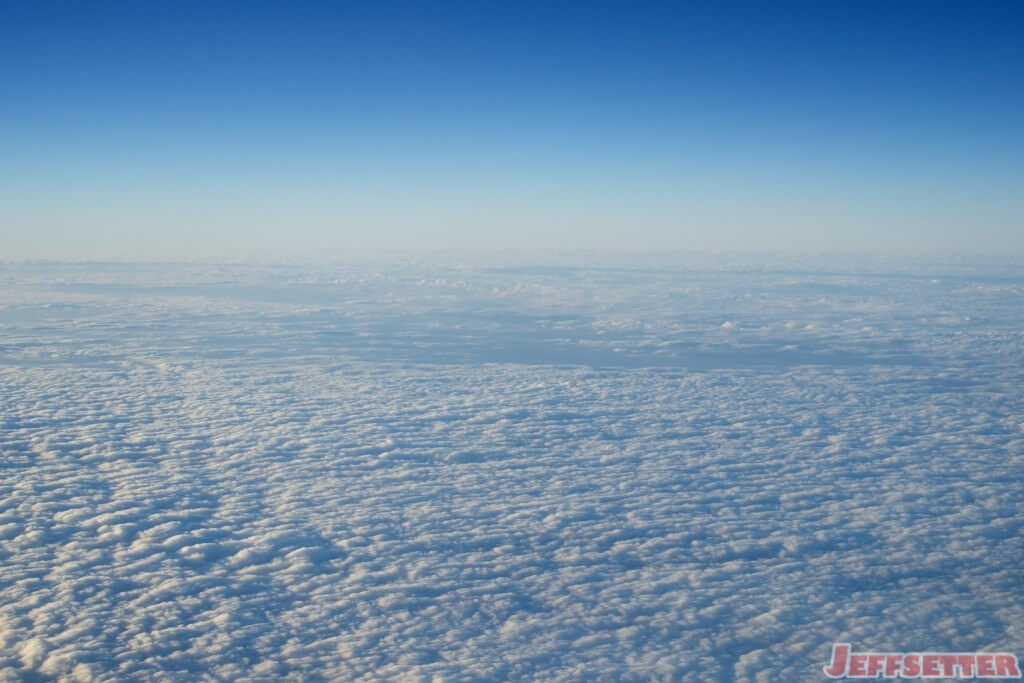 During my few minutes of down time between champagne on the ground and caviar in my belly, I decided to check out the in flight entertainment options available on the massive television in front of me.
I pressed a button that selected my language of choice as Deutsche and didn't bother to learn how to switch over to English until much later in the flight. We were having too much fun.
As the plane reached cruising altitude, we were handed menus featuring our dining options for our dinner course.
The menu also touted a selection of sparkling, white and red wines, which we tried our best to objectively review.
Fine dining in the sky
All of that socializing was making the cabin hungry, so we took another pause to enjoy the meal choices.
Dinner started with an amuse bouche of crab and other seafood.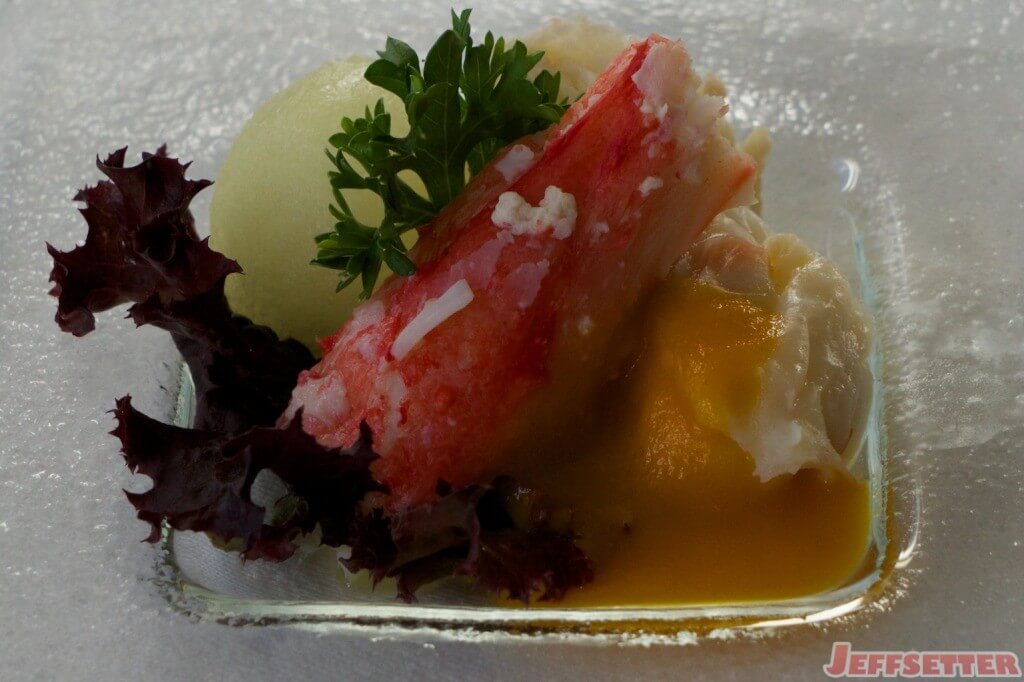 Next was caviar course, complete with all of the accoutrements.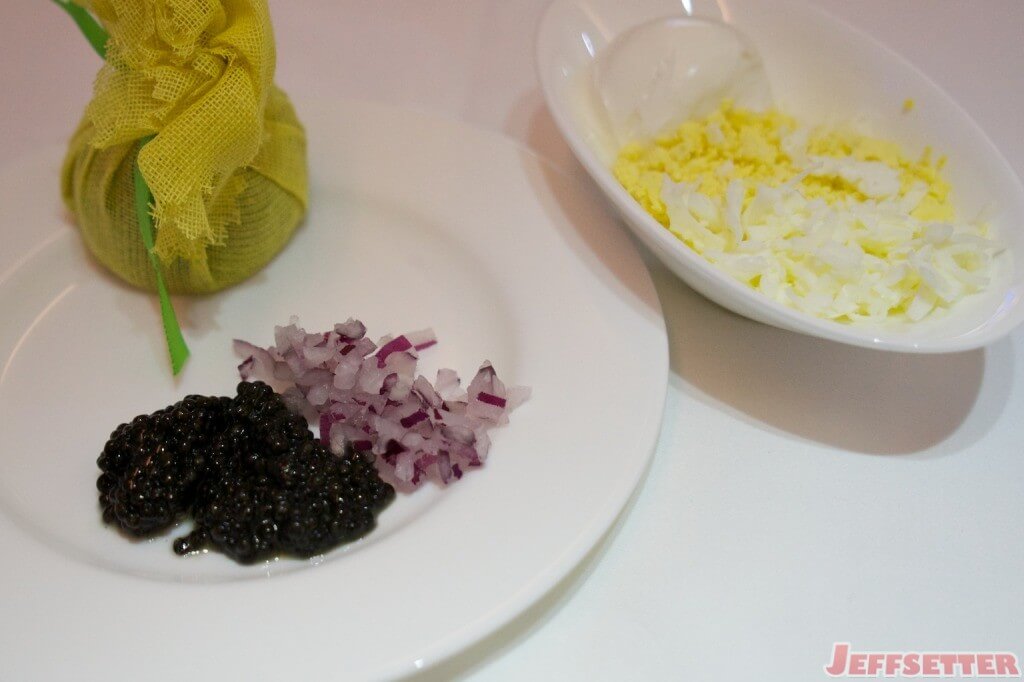 After my champagne wishes and caviar dreams, it was time to switch over to some of the red wine selections.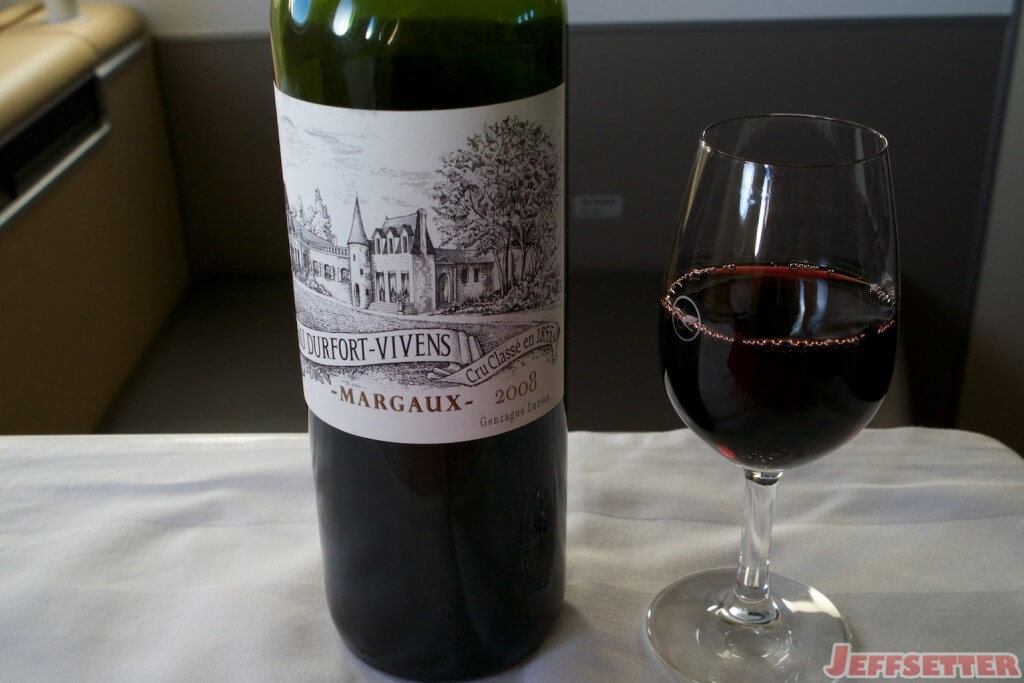 And then the table was set for the main service.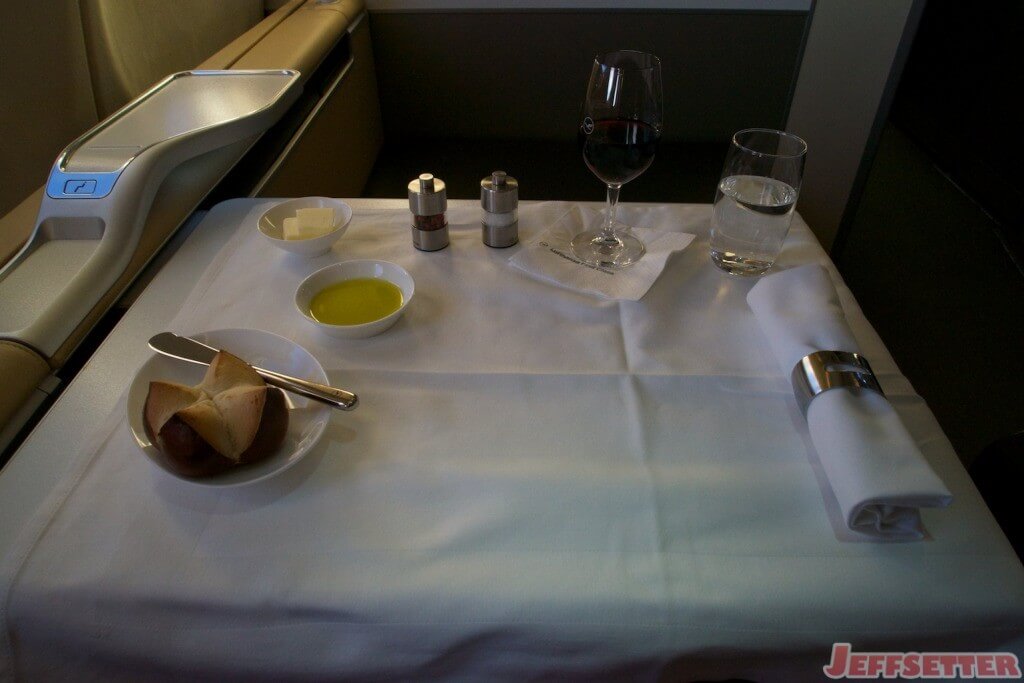 I chose a salad as an appetizer, and the flight attendant quickly corrected my selection by saying "you can have more than one sir!"
Fine by me, I'll take all three!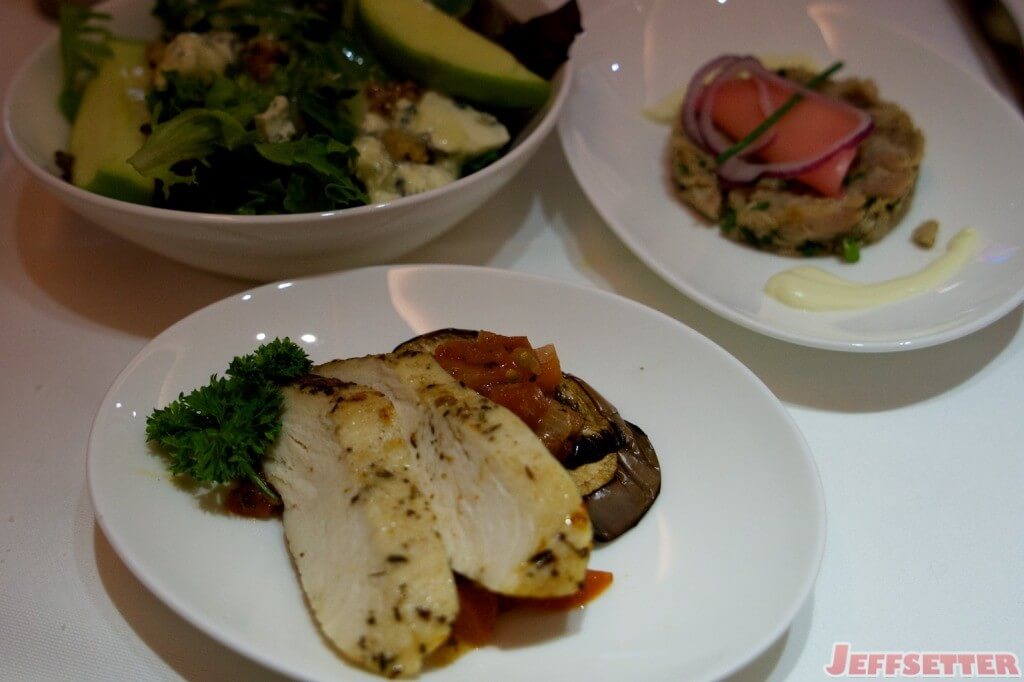 The salad was the best tasting of the options, with the Tuna tartare being the least edible. Knowing that more was to come, I saved my room for the main course.
For my main course I had the beef tenderloin with asparagus, a pesto filled tomato and Spaetzle. It tasted as good as it looks.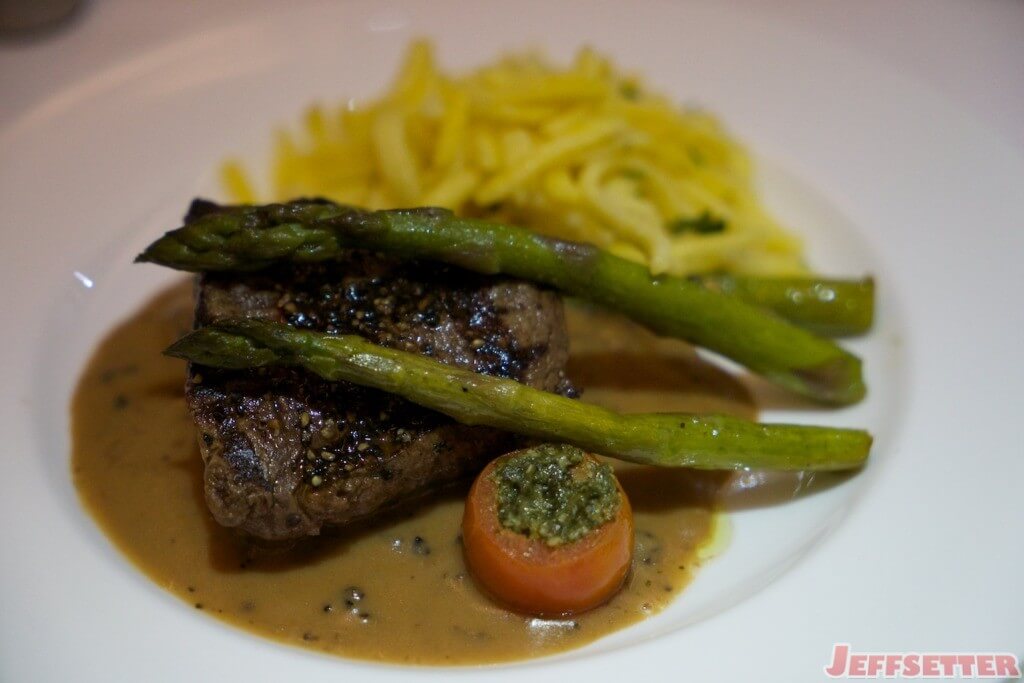 For dessert, I could not resist the Creme Brûlée. I can never resist the Creme Brûlée!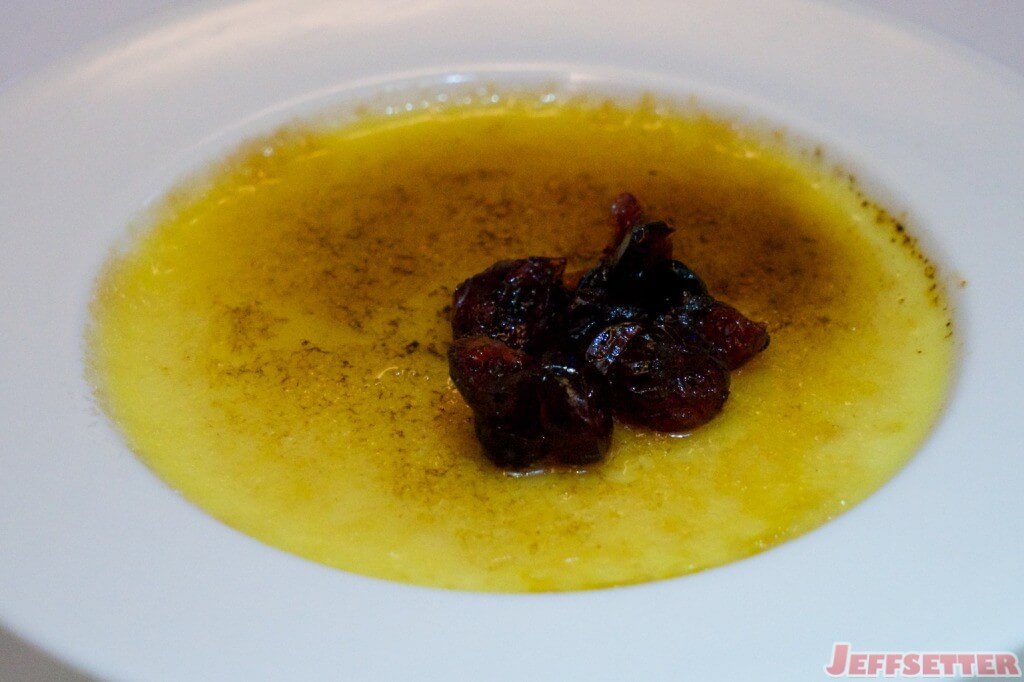 Sunset and Aperitifs
As dinner service wound down, the sun was also setting on the night. I took advantage of the pause in the action to take a few photos of the beautiful sunset on the wing. The photos did not do the sunset justice, but here are a few that turned out better than the rest.
Then it was time for the knockout punch – an after dinner drink/sleep aid in the form of champagne cognac.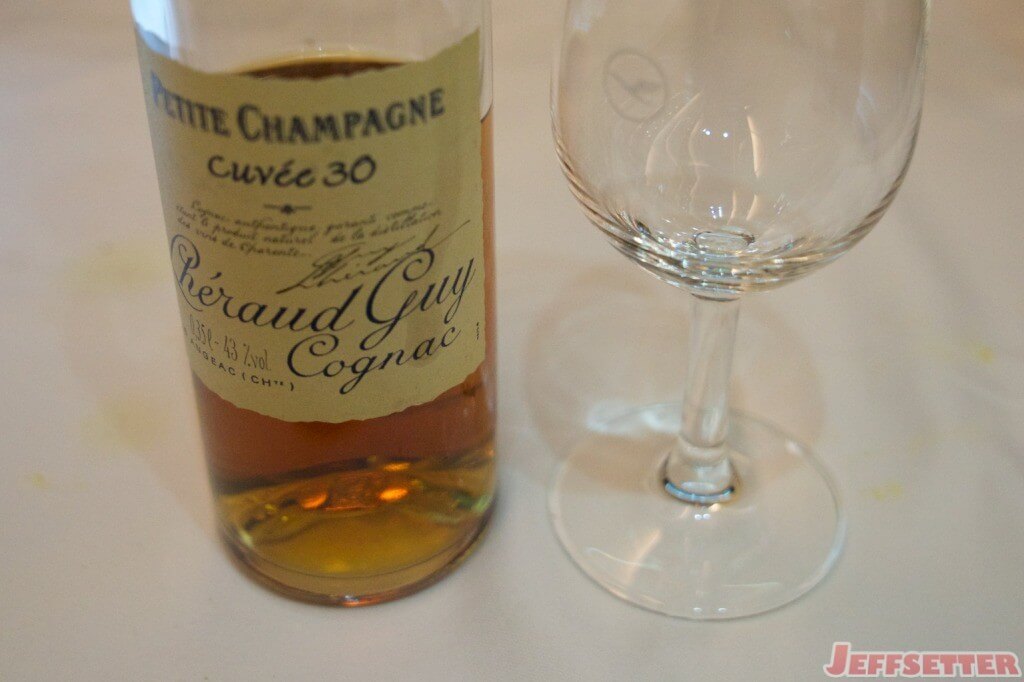 And some chocolate. I initially resisted the chocolate course, but the flight attendants would not accept no for an answer. I begrudgingly accepted a square with cayenne pepper, and it was predictably fantastic.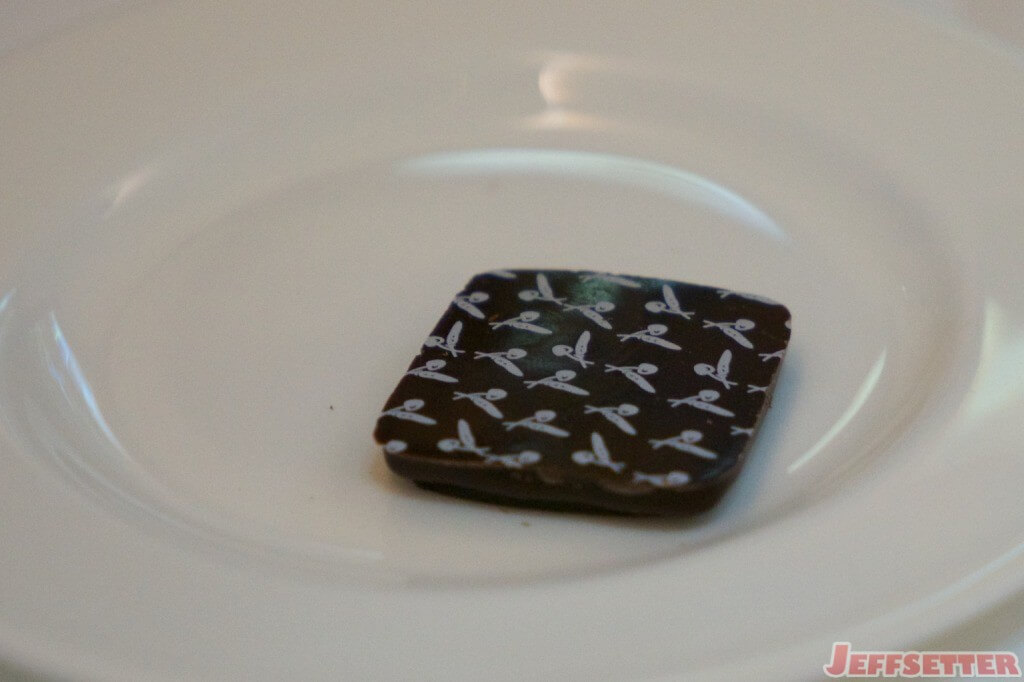 Sleeping on a plane
After the service was complete, about 2.5 hours into the flight, it was time to attempt to get some sleep.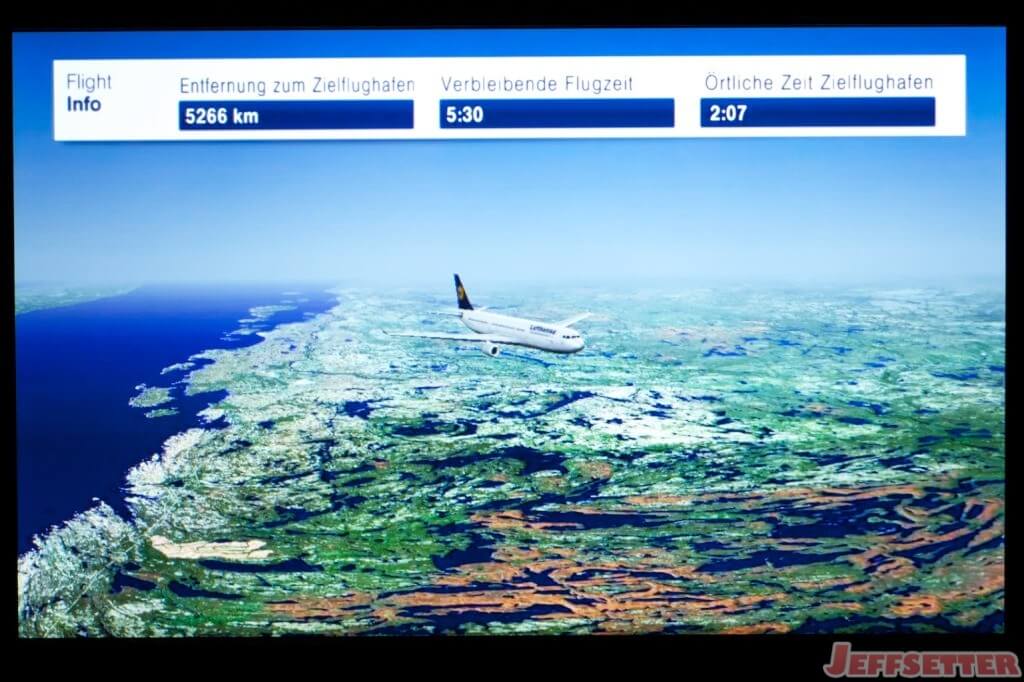 I went to the bathroom to get ready for sleeping, while the flight attendants turned my seat into a lie-flat bed. The first class bathroom is spacious, plush, and comfortable.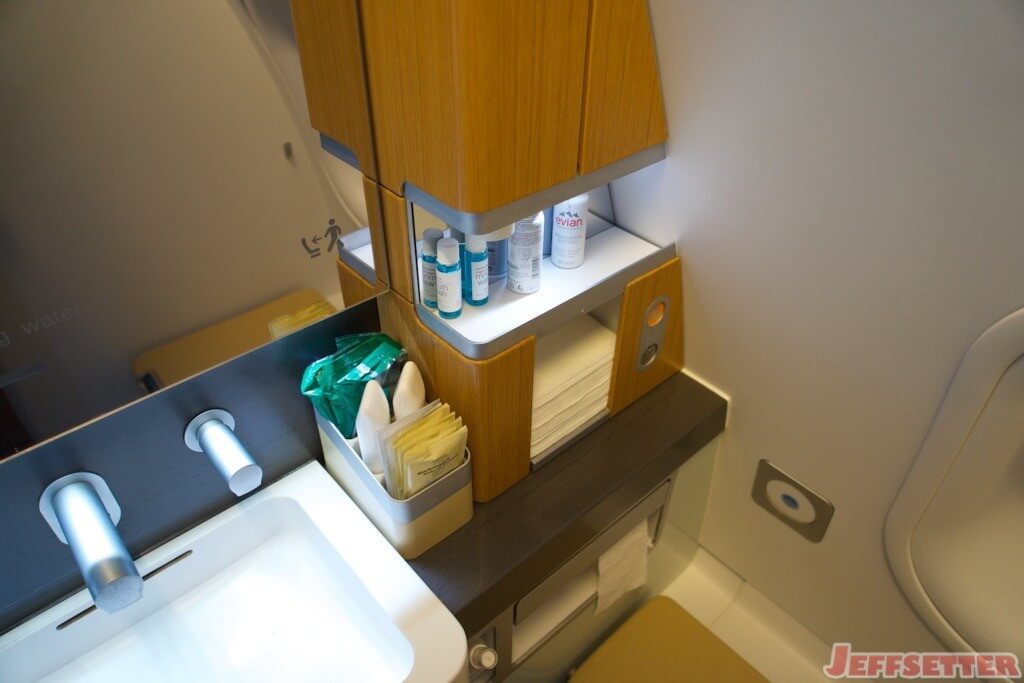 There are roses here as well and toiletries galore.
I couldn't help but take a selfie in my pajamas. Here's what a happy Jeffsetter looks like.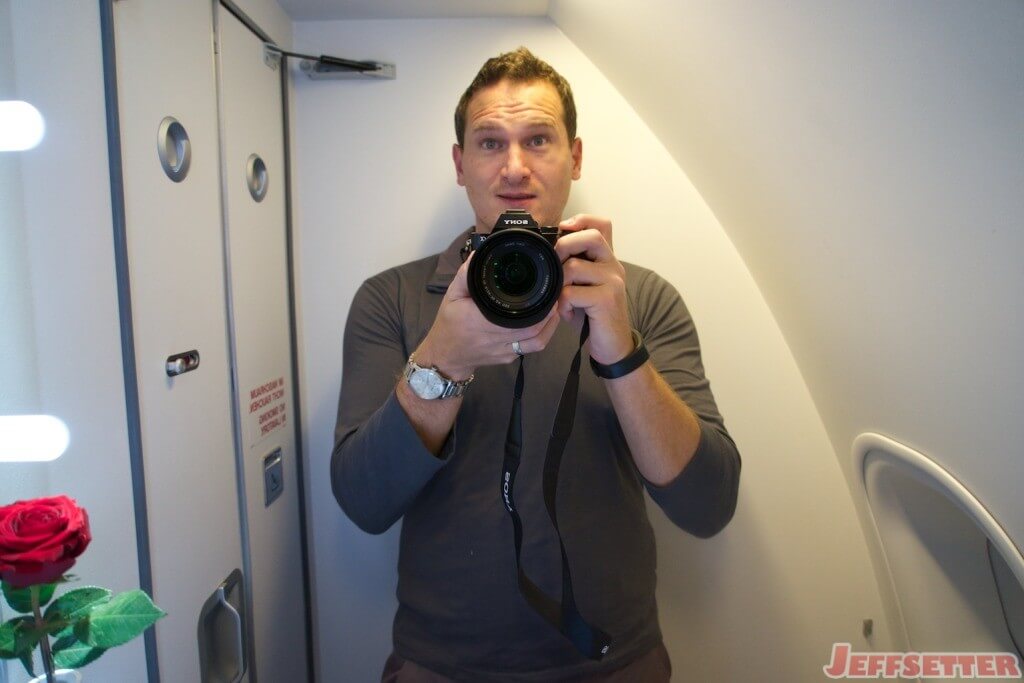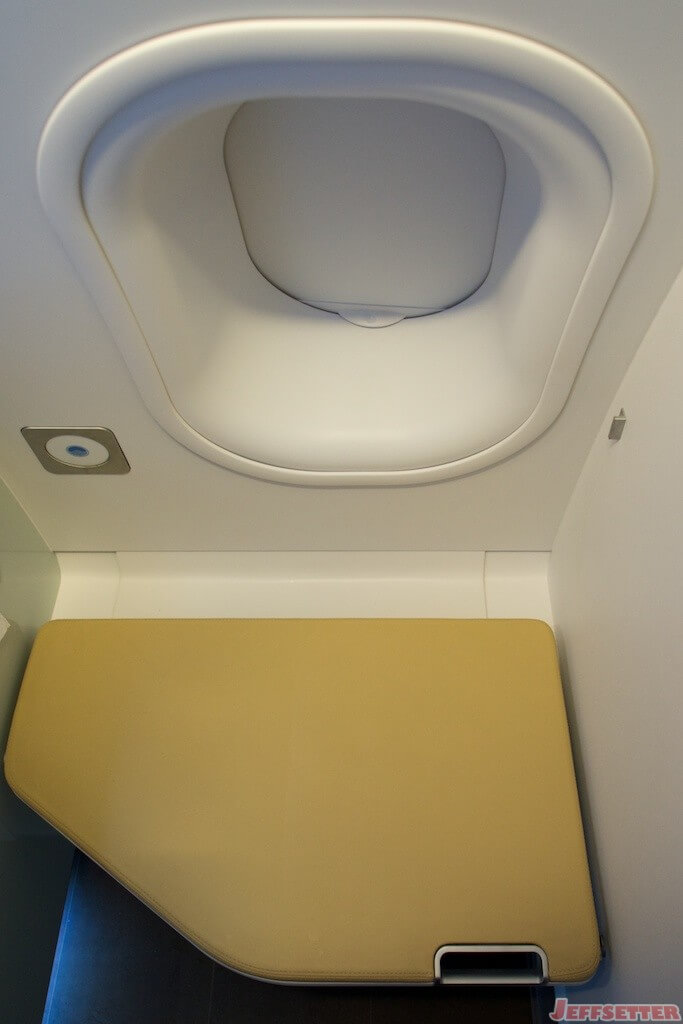 By the time I was back my bed was made. With a comfortable blanket and ample room for my 6'2" frame, I was ready to get some well deserved sleep by this point.
Breakfast and coffee wakeup call
While I fell asleep immediately after my head hitting the pillow, I was only able to sleep a few hours before it was time for the breakfast service. This is the biggest issue with an 8 hour overnight flight – it's not long enough to get a full night of sleep.
I took some Espresso to start the wakeup process and then moved on to the breakfast offering.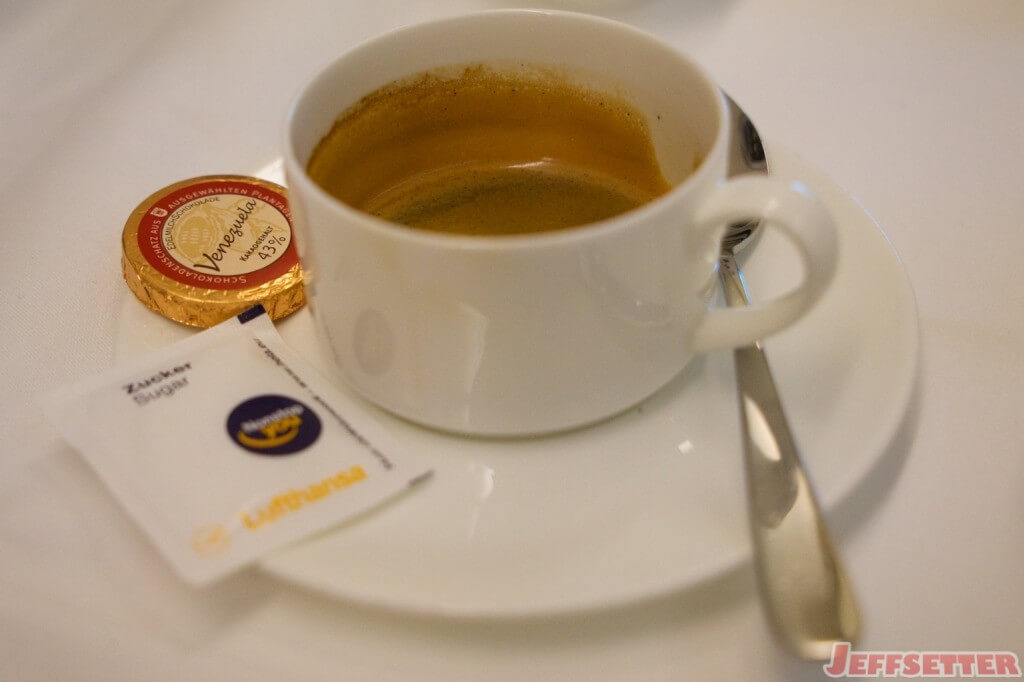 While I was not hungry, I must say that this airplane breakfast of scrambled eggs, bacon, potatoes and mushrooms was the best airline breakfast I have ever had. The eggs were perfectly cooked and filled with cream cheese (it's like they unlocked the cheat code to amazing eggs), and the rest was excellent as well. I don't even know if I touched the yogurt, but I probably did. Because gluttony.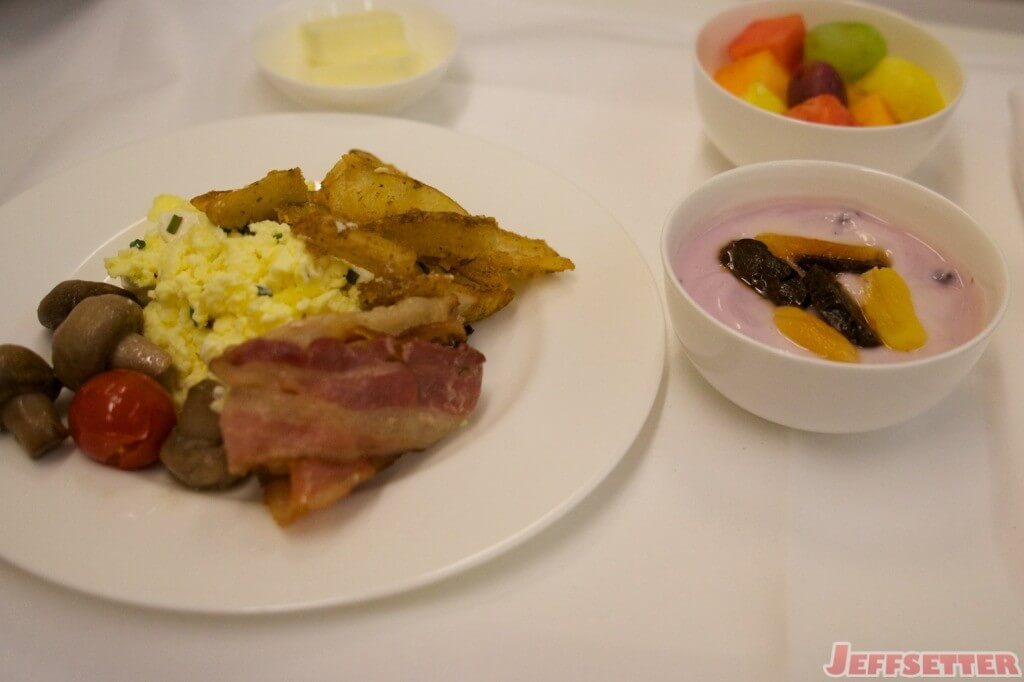 When breakfast was done we were less than an hour before arrival in Munich. My screen was still Sprechen Sie Deutsch, so I figured it was about time to solve that problem as well.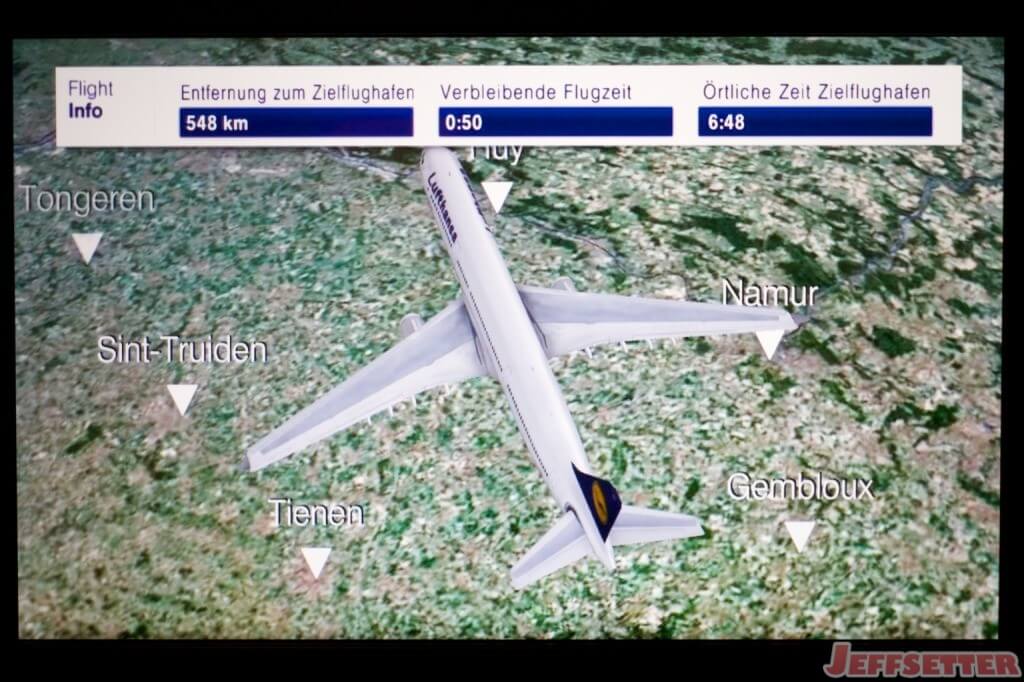 Approaching Munich far too soon
With 30 minutes to go, I finally was able to successfully change my language from Deutsch to English. Too late to take advantage of in flight entertainment, too soon for the flight to end, if you ask me.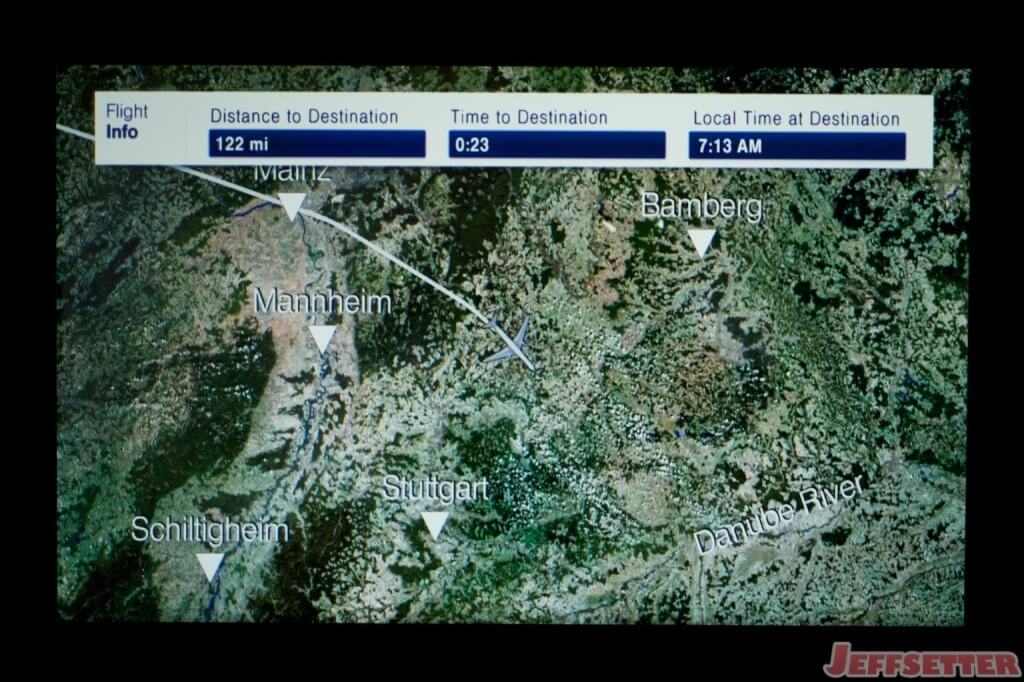 On approach we were treated to a beautiful sunrise over Bavaria, with the sun shining through the clouds to begin a new day.
The fog was rolling through the Bavarian farmland on our airport approach, a beautiful reminder that this most excellent journey was leading me to one of my favorite places in the world.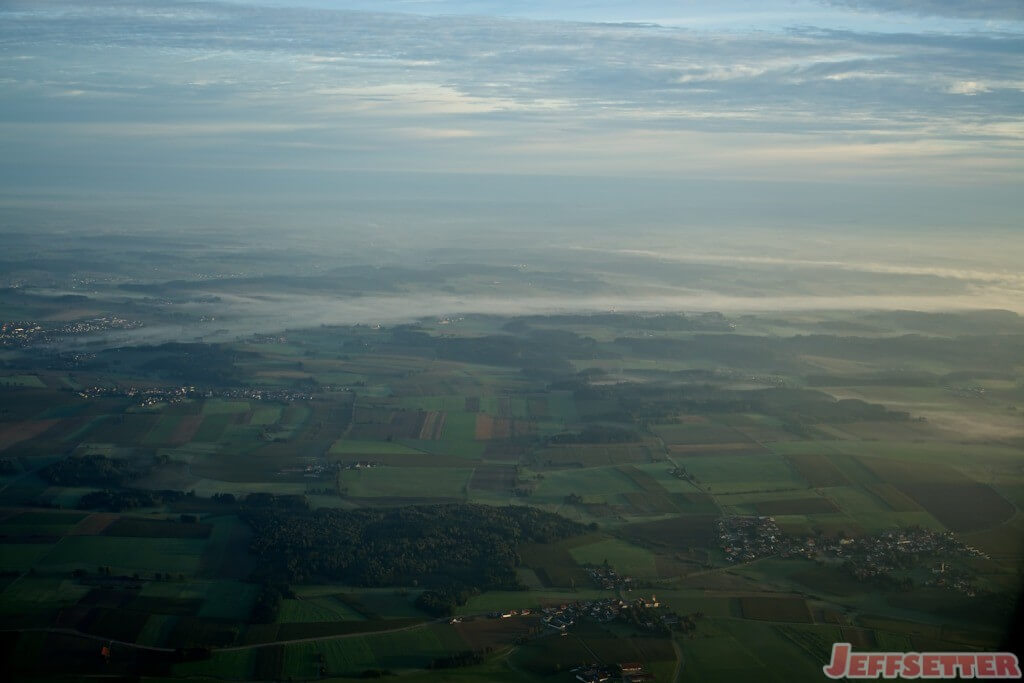 The Tangible and Intangibles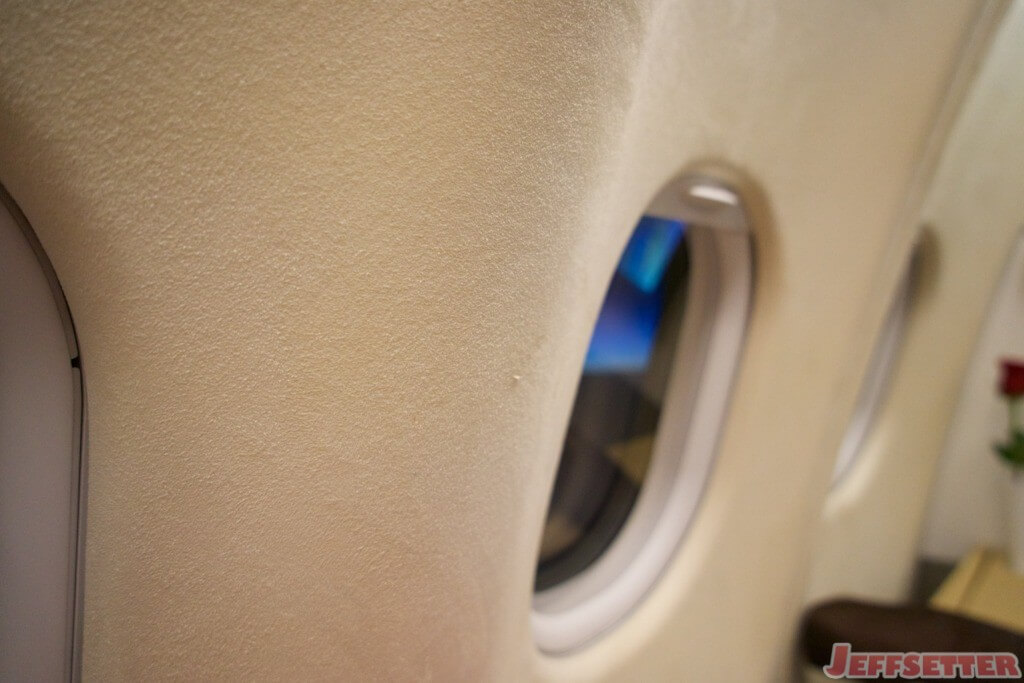 Do you ever notice the wall coverings on an airplane? On most planes they are unremarkable, generic in every way.
In Lufthansa first class, the wall coverings are incredibly soft, inviting to the touch.
Wall coverings are a small detail that represent the first class experience as a whole.
Much like how Steve Jobs was notorious for his attention to detail at Apple, Lufthansa pays incredible attention to detail in their first class product. The roses had no visible thorns, but smelled of sophistication.
I am not sure it is possible to have a more pleasant experience in the sky. Perhaps the experience could be more over-the-top, but probably not as well balanced.
Flying Lufthansa first class is like driving a brand new Mercedes. The only thing it was missing was that new car smell.
It would also cost as much as a Mercedes-Benz if you wanted to make it a regular habit to fly this way. A one-way flight in first class will cost you at least $5,000 if you are paying retail prices.
The friendships
Saving the best for last, I wanted to mention the best part of the flight; my companions. Anyone who has been part of the points and miles game for a long time understands that it can be a lonely game of collecting miles, researching flights on your computer, and jaunting to far away destinations that most people only dream of visiting.
The reality is that very few of the people we know in real life (IRL) really care about the miles and points game, and even fewer will take the time to make this type of travel a reality. Sure you might be able to convince a spouse, significant other or good friend to join you on a crazy trip, but talking points and miles is hardly an everyday conversation.
That is why it was so magical to run into fellow points and miles enthusiasts on this flight! We were all enjoying the fruits of our hard work, research and diligence that allowed us to take a dream vacation for around 140,000 United Miles and less than $200 per person. This is the type of travel that makes the game we play worthwhile.
Our conversations about points and miles, sharing experiences from around the world and the never-ending supply of food and beverage made this the best flight of my life to date. I only wish Mrs. Jeffsetter was able to join us this time around. The good news for her is that we are already working on a similar trip for March.
And of course, we had to get a picture of the group after dinner and before landing. I even gave the patented Randy Petersen finger point as a shout out to the Boarding Area crew.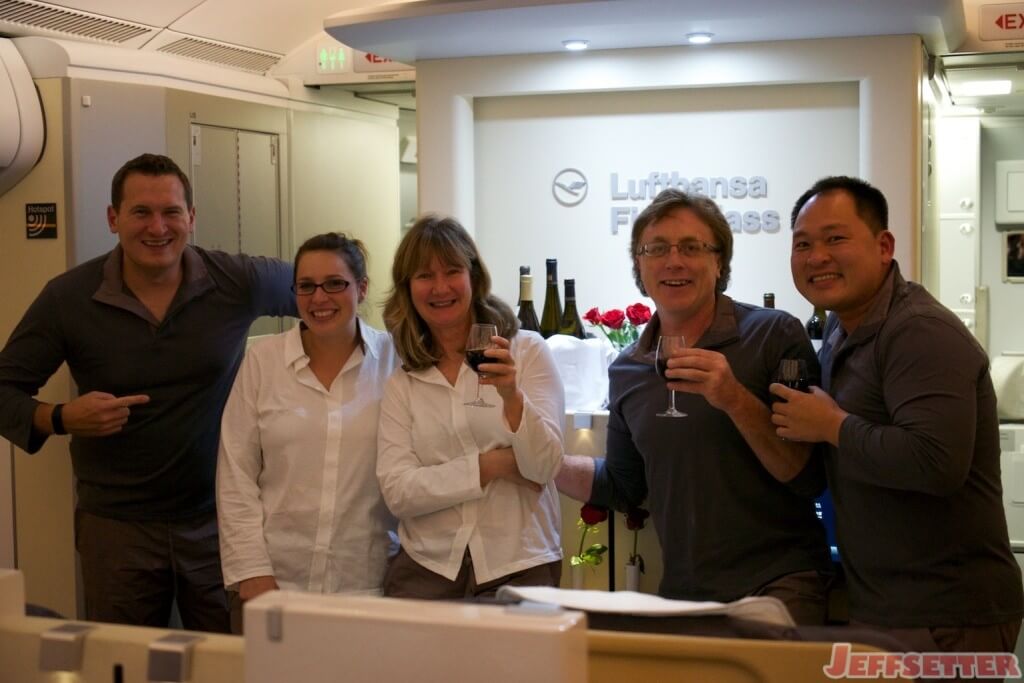 Upon landing in Munich, we all parted our separate ways. Some were staying in Europe, others continuing on to Asia. I was doing a little of both, spending an afternoon in Munich at Oktoberfest before continuing on through Bangkok to Hong Kong.
Sometimes it's not about the journey, but the destination.
Sometimes it's not about the destination, but the journey.
This time I had the best of both worlds.
First class in every single way.