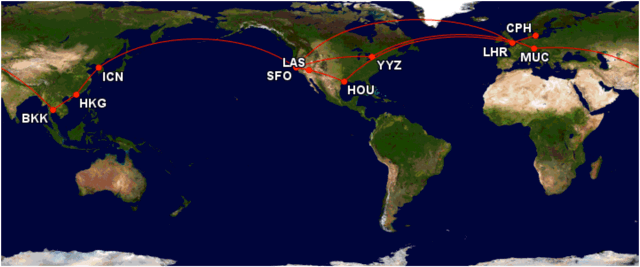 Hello from an airplane! I think I am writing this post over the Atlantic Ocean, but who knows anymore. The past week and the next are all a blur… and it's all by choice.
I'll do my best to explain the details of the two trips that have found me traveling more miles in a fortnight than I usually travel over a 90 day period.
Lufthansa award space bookable at the end of 2013
It all started with Lufthansa opening first class award space on a new Toronto to Munich route in November of last year. Lufthansa first class is highly coveted among many of my fellow travel bloggers (especially Lucky Ducky), and I have long salivated over first class trip reports from those flying on Germany's finest.
Due to the way Lufthansa releases award ticket space to their Star Alliance partner airlines, you can usually only use miles to redeem Lufthansa first class flights about two weeks before the departure of the flight. I do not find booking a flight two weeks in advance of my trip to be a very reasonable way to travel, so that doesn't really work for me.
One exception to the rule of Lufthansa award ticket space is when the airline opens new routes. The seats on these new routes may be wide-open, with 2, 3, 4… sometimes even 8 seats available in first class. It is like a loophole that you need to jump on right away if you ever want to fly Lufthansa first class on an advanced schedule.
So I booked a ticket for 140,000 United Miles and about $200.00 to fly from Toronto to Munich to Bangkok and back for a random time in September of 2014, thinking that it would be fun to go to Oktoberfest in Germany once again and stop in Thailand for a massage at the airport.
These are the types of things that sound like a good idea when this trip is 10 months away and you had just quit your job.
Then reality sets in, the travel dates approach, and you start to think maybe the trip isn't that good of an idea after all.
Over-filling my schedule with travel
A few months ago, I was presented with the opportunity to travel to Copenhagen and deliver a keynote speech to an audience of 500 eager marketers. That's an opportunity that I couldn't pass up, even though the travel dates happened to align right next to my Lufthansa award trip and BAcon in Las Vegas.
Naturally I said yes to all opportunities and booked flights into a complex web of travel that would see me spending a lot of time in the air. I would also be able to make significant progress on my United status match along the way, which was a nice side benefit as well.
When all was booked, I would be leaving my home in San Francisco on a Saturday coming home the next Sunday and then flying out again on Monday to fly around the world until I came back the next Sunday. Got all of that?
Add it all up and I will be traveling over 33,000 miles, visiting 10 unique airports and taking 13 flights.
Economy, First Class, Business Class – experiencing it all
The trip started out nicely with an upgrade on the United Airlines 787 Dreamliner from SFO to Houston. The rest of the trip went IAH-LHR-CPH-LHR-SFO-LAS-SFO, with all legs being in Economy or Economy plus class. I did not particularly enjoy the trans-atlantic flights in Economy Plus, but I did not complain either.
The highlight of my week of travel was the presentations that I gave along the way. The presentation in Copenhagen went over quite well and I received all kinds of positive feedback from the attendees.
In Las Vegas I gave a presentation to my fellow Boarding Area bloggers at BAcon, and that was a blast as well. It was great to share what I do in my day job with my fellow hobbyists. Getting to meet the 70+ bloggers who make up Boarding Area was awesome and I am definitely re-energized as a travel blogger after the conference.
This week = a first class bonanza!
Now to this week. As I mentioned at the beginning of this post, I had a round trip flight from Toronto to Munich to Bangkok and back using United miles. This was booked before United devalued their award chart and raised the prices to redeem their miles significantly. According to the new chart, this flight would cost 240,000 miles to redeem.
My original itinerary had me being away for 2 weeks, which sounded like even more insanity since I was on top of being in Europe for a week. Taking two more weeks away from home to go to Oktoberfest is not something that would make Mrs. Jeffsetter happy.
I thought about canceling the flights several times, and was on the verge of canceling about a month ago, but I decided to hold onto the itinerary and just see if I could get the dates and destinations changed. Since Lufthansa award space is so hard to book AND it would now cost nearly twice as many miles to redeem under the new award chart, I decided that this was probably my last chance.
At first I tried calling United's agents to get a change, but they told me that each change would cost me tens of thousands of miles. This must have been the effect of the new award chart being dominant in their computers.
Fortunately, I was able to go onto the United website and play around with options for re-routing my trip for no extra charge (in some cases I actually would get money back). After getting some advice from Drew at Travel is Free, I decided to make Hong Kong my "destination" instead of Bangkok, and to try and route back to North America going over the Pacific ocean to save time.
The final routing had me going from Toronto to Munich to Bangkok to Hong Kong in first class on Lufthansa and Thai Airways, spending a few nights in Hong Kong and then routing back to San Francisco via Seoul on Asiana in their first class long haul product (HKG-ICN is in business class).
Add it all up and I am taking a very unnecessary trip with no real purpose other than to fly international first class and try to hone my photography skills in Hong Kong. I will be flying 3 airlines in first class and enjoying every minute of it!
The highlights of the trip will be…
While I am definitely looking forward to flying Lufthansa, I am also psyched to be flying in a "Suite" on Thai Airways. According to their website the route is on a 747 with an enclosed suite. Stay tuned for pictures.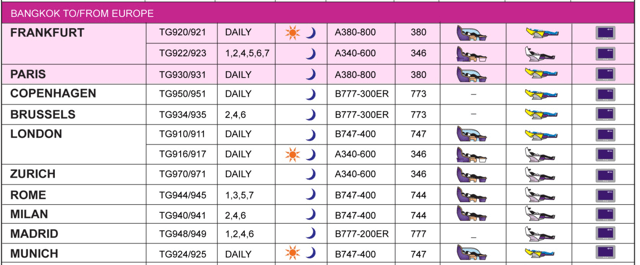 Flying Asiana to San Francisco through Seoul is just icing on the cake. The layover is fairly long, so I am going to call Asiana about a Seoul tour that I understand that they offer to premium cabin passengers. Should be interesting.
This post is going up while on the plane to Munich, so if you have any recommendations for things to do along the way, please do feel free to share!
Total for the travel? $124.10 and 135k miles (although I swear this said 140k miles the other day).

Can you book an award like this?
Not really. Sorry to be a bummer and get hopes up with this post, but these types of award flights are really hard to redeem unless you get lucky and book a trip on speculation. In addition, it would cost a lot more miles to do this after the United devaluation. You could piece together a cool award trip using one-way tickets and airline points transfers, but it will probably cost you more miles than what you see here.
World map image courtesy of Great Circle Mapper