Three months since the deadly Maui wildfires, and things are still far from normal – no surprise there, really. Despite West Maui reopening completely (with the exception of Lahaina), Maui tourism remains depressed and is likely to stay that way well into 2024. Of course, that's only making the situation worse.
As was the case during the first part of West Maui's phased reopening, plan, the complete reopening of the region has not resulted in a big rush of visitors. Quite the opposite. The area remains fairly quiet, as most visitors continue to stay away. As a result, Maui tourism remains depressed, causing more economic pain for area residents already struggling to get back to normal.
Maui Tourism Remains Depressed
So how bad is it? According to the Honolulu Star-Advertiser, visitor arrivals through March 2024 remain than they were at the same time in 2022 and 2019. The same is true of hotel bookings through September 2024. Now, West Maui accounts for 15% for all of Hawaii's tourism activity, so these reductions in performance are depressing our statewide projections. However, experts note that hotel bookings are below 2022 numbers through September 2024 for the entire state.
Compounding these declines is the fact that Lahaina Harbor remains closed, which means boat tours can't operate, more on that later, while it reduces the island's cruise ship capacity. That's because Kahului Harbor can only handle a single cruise ship at a time, and can't accommodate the largest vessels. If a ship is too large, or if Kahului Harbor is full, it typically anchors offshore and tender passengers into Lahaina, giving an area an economic boost. But because this option is no longer available, cruise ships are skipping Maui altogether.
While the above figures are concerning from a tax collection standpoint, the larger concern is the impacts they're having on an island struggling to pay for its recovery. 7,000 Maui residents are currently unemployed, either as a result of the fires, or due to reduced visitor demand. And before you ask about West Maui's occupancy rates, remember that a lot of the rooms there are being occupied by survivors, first responders, and recovery workers – not the type of people that are going to be splurging on food, drink, tours, souvenirs, etc., which does impact peoples' ability to work.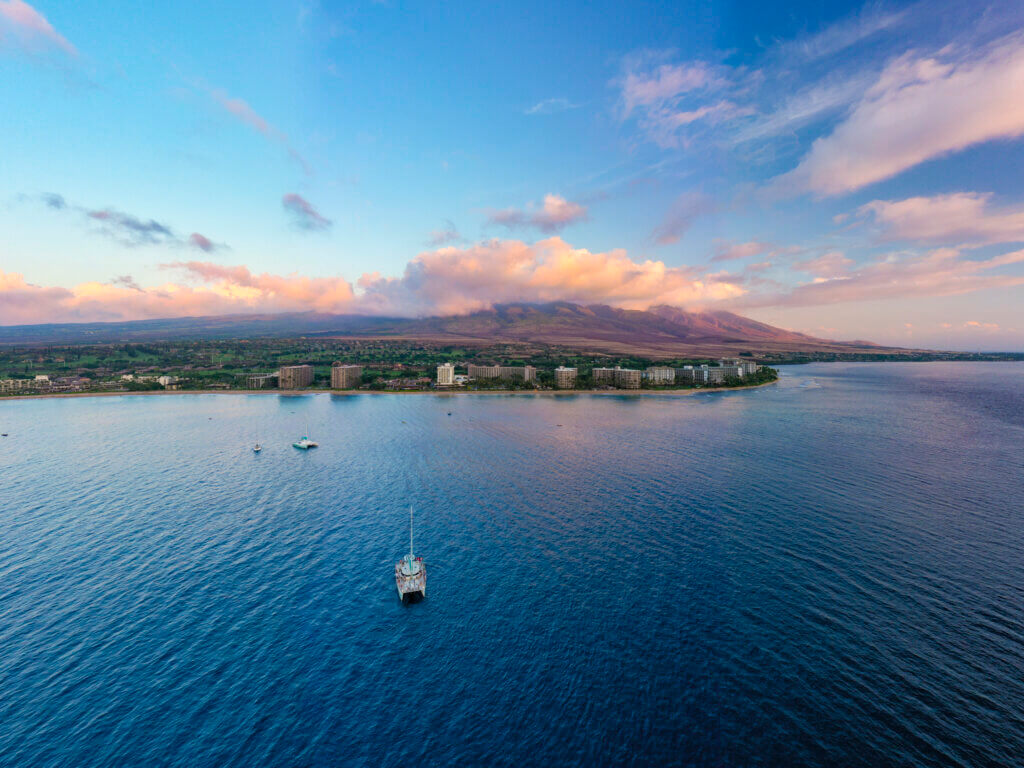 Whale Season
During the winter, humpback whales become a major economic driver for West Maui. However, even if you wanted to travel to the reach to go whale watching, you might not be able to, which may add to why Maui tourism remains depressed. Part of the problem is that, as I mentioned earlier, Lahaina Harbor remains closed. But the problem here runs much, much deeper.
The reason Maui Harbor remains closed, aside from the area surrounding it remaining unsafe, is the fact that the harbor isn't navigable due to the presence of roughly 80 sunken boats. Of these, 45 have commercial permits, which represents at least 50% of the Valley Isle's whale watching fleet. Understandably, this means that available tours are far below what they used to be, reducing opportunities for visitors, and income potential for locals.
Maui Tourism Remains Depressed, Final Thoughts
As I've said numerous times already, Maui is in trouble, and Hawaii as a whole isn't doing so hot. If you have plans or are thinking of visiting Maui, I urge you to do so. Even without Lahaina, there is much to do and see on Maui, and the areas restaurants, bars, tour operators, and hotels really could use the business. And despite what the naysayers loudly proclaim, the average person that wants to work will be happy to see you.