By now, I'm sure you've all seen the devastation on Maui. Numerous brush fires turned much of Lahaina, parts of Kihei, and a portion of Kula into absolute hellscapes. Because of this, Maui needs help – and not just financially or via human effort. They need everyone's kokua in ways you may not even think of.
That Maui needs help is abundantly evident. But what can I do? How did we get here? What have we lost? I'll touch on all of these topics as best I can throughout this post.
What Happened?
Brush fires across Maui went out of control and spread much quicker than any fires Hawaii has seen before. What caused the fires? We don't know. What we do know is that low humidity and ongoing droughts gave the fire the perfect conditions to burn. Add in unusually strong winds driven by a high-pressure above Hawaii along with low-pressure conditions below us caused by Hurricane Dora, and all the ingredients were there to create absolutely perfect conditions for a devastating wildfire.
This culminated in the fires entering downtown Lahaina on the afternoon of August 7. It quickly inundated the tightly-built Front Street area, decimating hundreds of homes and businesses and even forcing people to jump into the ocean to escape the hellscape that Lahaina became. And, unfortunately, as of this writing (the evening of August 9) the fires are still burning and are NOT under control.
What We Lost
The images and videos portray unfathomable damage to what was a vibrant and historic community. And while precise losses will be difficult to determine until the fires are out, we already know of many very significant losses already:
Baldwin Home Museum – an original missionary house built in 1834 that was the oldest standing house on Maui
Best Western Pioneer Inn – a hotel in Lahaina built in 1901
Lahaina Banyan Tree – 150-year-old tree in central Lahaina
Lahaina Heritage Museum
Lahaina Hongwanji Mission – a Shin Buddhist temple completed in 1912
Lahaina, Kaanapali, and Pacific Railroad's Lahaina Station – built in the 1970s, the railroad has been abandoned
Lahaina Shingon Mission – a Shingon Buddhist temple built in 1902
Old Lahaina Courthouse – built in 1860
Old Lahaina Prison – prison built in 1853
Sale Pepe – an Italian restaurant in Lahaina and one of the best restaurants on Maui
The Plantation Inn – built in the 1980s, the hotel was recently acquired by Outrigger Hotels & Resorts
Waiola Church – a 200-year-old Christian Church built by Queen Keōpūolani in 1823
Wharf Cinema Center
Wo Hing Temple Museum – an ex-pat community home built in the early 1900s
Again, this probably isn't a comprehensive list of historic sites (and some popular sites/restaurants) that have been lost. Only aerial inspections are possible at this time, and it's difficult to get an accurate picture of all of the smoke in the area. I'm sure things will get worse as we get boots on the ground.
It's worth noting that Maui Ku'ia Estate Chocolate is one of those organizations in limbo. While it seems likely, they haven't been able to confirm if their production facility has been destroyed.
Immediate Impacts
With such destruction, it's not surprising that much of Lahaina's infrastructure has also been destroyed or is at least partially blocked. The main roadway in and out of the area is still not open to personal vehicle traffic – if you're driving yourself, you can go the sketchy/scary back road through Kahakuloa but know that you CANNOT take a rental car this way. Cell phone service and even landline service remain down, too, meaning there's virtually no phone service in the area and no power.
It may take weeks for power to be restored to much of the area, while telecom could take even longer. Wireless networks will likely deploy mobile cell towers when it's safe and practical to do so, but reconstruction of regular cell service may take MONTHS.
Given the extremely limited resources in the area, in addition to the enormous amount of destruction, it's easy to see why Maui needs help from all of us.
Maui Needs Help
Naturally, I'm when I say Maui needs help; I'm sure most people's thoughts immediately jump to financial aid, food donations, and labor. But what Maui needs help with the most now is crowd control. Specifically, visitors need to stay away. Lt. Governor Sylvia Luke signed an emergency proclamation yesterday, which runs through at least August 15, asking visitors to postpone their travels to Maui. Even if you're not staying in the Lahaina/Kaanapali region, traveling to Maui now will further tax their already stressed resources and infrastructure. And think about it, without power, how will hotels care for and feed their guests?
Not only are there concerns about resources, but there's going to be an extremely dire need for housing. HUNDREDS of homes have been destroyed in the area, which means that officials will likely turn to area hotels to house displaced residents. We don't know how this will work, but I'd imagine hotels will allow the government to use unreserved rooms, but hotels could also flat-out cancel reservations to accommodate the needs of the community.
In fact, in the latter half of the day on 8/9, the State of Hawaii asked all visitors that are able to leave West Maui immediately. Complimentary bus transportation was being arranged to transport visitors directly from the resort area to Kahului Airport, with the first wave (with a capacity of roughly 500) departing from the Sheraton Maui at 4 pm on 8/9.
For visitors that arrived on-island on 8/9 and even on 8/8, visitors were held at the airport. 2,000 visitors had to spend the night at Kahului Airport, which must have been rough – it's not a pleasant place to be. Those visitors, as well as those being bused to the airport, are now being transported to Oahu, where they'll be put up in the Hawaii Convention Center.
Why are visitors being moved to Oahu? There isn't really anywhere for them to go on Maui. Plus, between cancelations and just the sheer volume of people, airlines are having a hard time accommodating people that now need to leave. Of course, that's just another reason why people need to stay away for the time being.
Travel Accommodations
Maui needs help from us by staying away. Unsurprisingly, travel providers are providing accommodations to visitors that need to change their plans. I encourage you to reach out to your airline, hotel, etc. to see what they can do. Different providers have different policies right now, for example, Southwest's accommodations run through Friday, while Hawaiian's runs through 8/20. I don't think either of those is going to be long enough, but it is what it is.
That said, both Southwest and Hawaiian are offering special $19 fares to those looking to leave Maui. It doesn't matter if you're a resident or a visitor, if you want to or need to get off the island, you can for less with these special fares. Hawaiian has also increased its frequencies to help get more volunteers there and more people out.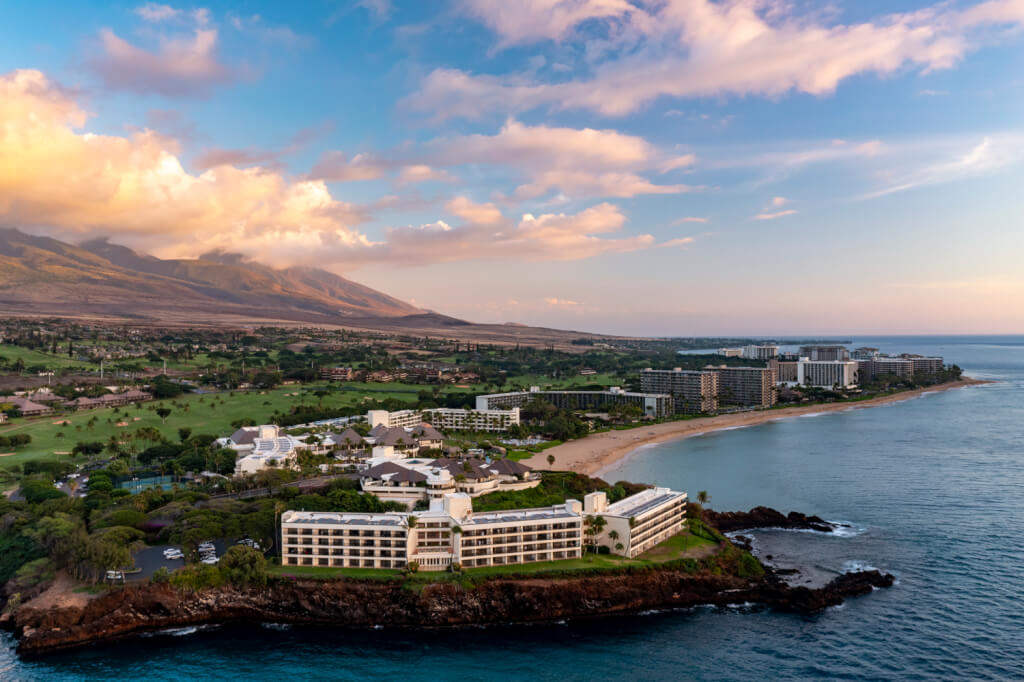 How You Can Help
Beyond staying away, there are things we can all do to help Maui. However, you have to be careful. Since Maui needs help, you better expect to see fraudulent fundraising efforts. So if you want to provide financial aid, be sure to donate only to known, trusted organizations. Here are a few I'd recommend donating to:
It's worth noting that if you need to get items to Maui in support of friends/family there, Aloha Air Cargo is shipping supplies over for free. For more information, visit their Facebook page.
Impacts On Other Islands
Maui isn't the only island burning – the Big Island is, too. Thankfully, things are quite as bad there, but the fires haven't been put out, either. To be clear, the two incidents aren't related, but the winds are definitely making fires on both islands worse than they usually would be. Of course, the smoke from both islands is making its way over to Oahu, degrading air quality here.
Beyond air quality impacts, though, the fires are having very real impacts on Oahu's infrastructure, too. You see, Maui needs help with medical care. Like all islands aside from Oahu, their hospitals don't really have specialty care and aren't equipped to handle mass casualty events. In fact, the only burn center, and the main trauma centers in Hawaii, are on Oahu. The burn center on Oahu is at Straub Medical Center, which has been put in divert status, meaning its ER isn't accepting local patients. This is to preserve the capacity for patients being transported from Maui.
And of course, there's the thousands of displaced Maui visitors that will be making their way to Oahu, all of which will likely be trying to get back home sooner than later.
Maui Needs Help, Final Thoughts
It's ironic, isn't it? We dodged a bullet with Hurricane Dora passing hundreds of miles to the south of us, but impacts from the storm ended up devastating Maui, anyway. Regardless, Maui needs help, and we all need to do whatever we can to help that. That could mean donating a dollar or two or changing your vacation plans. And honestly, though accommodations and emergency proclamations only run through the next couple of weeks, I'm sure that it'll be months before things even begin to return to some semblance of normal.
Even when things do begin to return to normal, Lahaina has been changed forever. We lost enormous amounts of historical and irreplaceable assets. But, more importantly, an entire community, one which was already struggling massively with affordability and housing availability, has been decimated.