Marriott Rewards has long been my hotel loyalty program of choice.  While often ignored by hardcore points/miles collectors because of it's difficult to attain elite status with weak benefits, I grew to be a fan of the program because it's the best earn and burn option around.  In my opinion, Marriott Rewards strikes a great balance compared to it's peers, allowing for tremendous points earning potential with decent redemption values.  So today, I'm going to go over my Marriott Rewards point earning strategy.
The most obvious way to earn points is to stay at Marriott Rewards properties.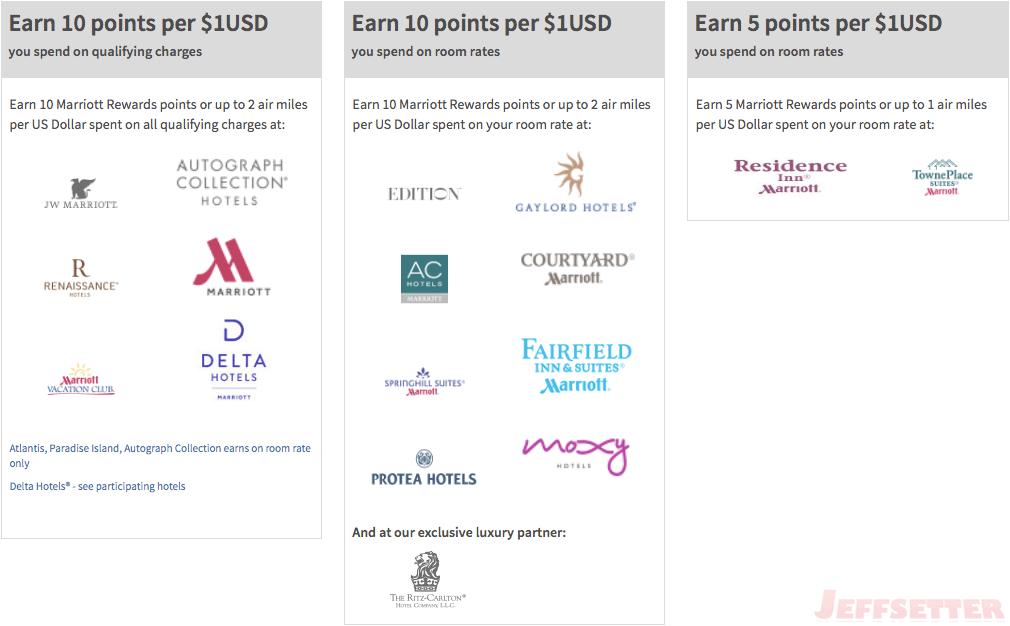 Typically, members earn 10pts/$ on stays.  At Marriotts, JW Marriots, Autograph Collection Hotels, Renaissance Hotels, Delta Hotels, and Marriott Vacation Clubs, you earn 10pts/$ on room rates AND qualifying spend.  Unfortunately, Marriott also has a collection of properties where you earn 10pts/$ on room rate only, and has been adding most of it's new brands into this bucket. Room rate only brands include Edition, Gaylord, AC Hotels, Courtyard, Springhill Suites, Fairfield Inn & Suites, Protea, Moxy, and Ritz-Carlton.  At extended stay brands Residence Inn & TownePlace Suites, members will earn 5pts/$ on room rate only.

Stays at "partner" extended stay brands Marriott Executive Apartments and Execustay will earn members a measly 2.5pts/$.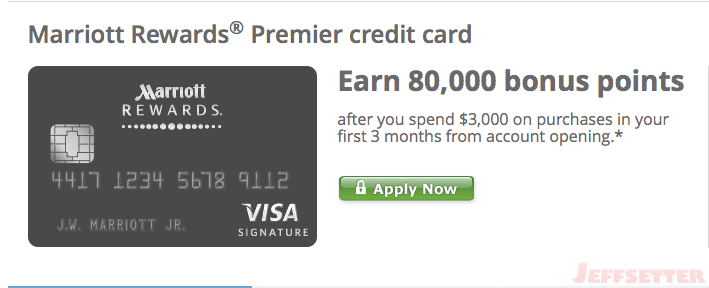 If you're really serious about earning Marriott Rewards, one of the first things you should do is apply for the Chase Marriott Rewards Premier Visa Signature Card.  The cardholders receive 15 Elite Qualifying Nights (EQNs) every year the card is open, automatically qualifying them for Silver Elite status.  Further EQNs may be earned at a rate of 1 EQN per every $3,000 spent (aggregate) on the card.  This spend doesn't need to occur at once, but can be spread out over months.  Obviously you aren't going to earn Platinum Elite (75 nights) through spend alone ($180,000), but every little bit helps.  The card does also offer point earnings at 5pts/$ on all Marriott spend; 2pts/$ on car rentals, airline tickets (booked direct), and restaurants; and 1pt/$ on all other spend.  The Marriott Rewards Premier even comes with an annual category 1-5 certificate with no minimum spend requirement, but is pretty useless for my stays.  The $85 annual fee isn't bad, especially if you can use the certificate.
If you don't care about the annual night certificate and EQN earnings from the Marriott Rewards Visa and simply want to attain/maintain Marriott Rewards Elite status, then you may want to consider the JP Morgan Ritz-Clarton Rewards Visa Signature card.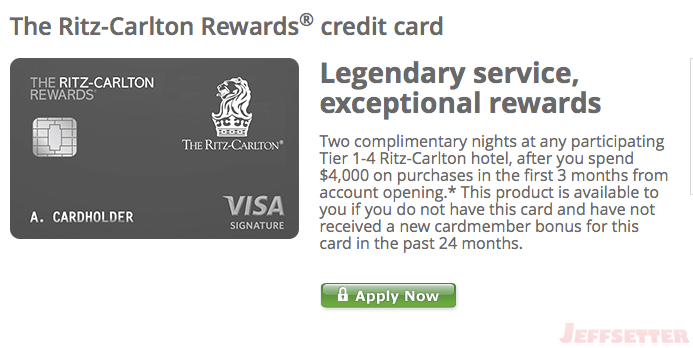 The card offers the EXACT SAME bonuses as the Marriott Rewards Visa, but awards you automatic Gold Elite status the first year, and then every year thereafter in which you spend $10,000 or more.  You can also achieve Platinum Elite through spending $75,000/year on the card.  The card carries a hefty $395 annual fee, but this is offset by the $300 in travel, which can be applied to airline seat upgrades, lounge membership dues/day passes, baggage fees, in-flight meals, in-flight entertainment/internet, and Global Entry fees.  So if you travel enough, the card's annual fee may actually be lowered to $95/year.
So, if you're a Marriott cardholder and charge your stays to your Marriott Rewards Premier Visa or the JP Morgan Ritz-Carlton Visa, you're already looking at 17pts/$, including the 20% bonus you get for being a Silver Elite member.  If you're a Gold member, that means stays will earn you 17.5pts/$ with the card, and a full 20pts/$ for Platinum members using the card.  Of course this calculation only works at properties that award points for room rate plus incidentals.  At other properties that award on room rate only, your actually earnings will be slightly lower, thanks to incidentals such as room tax being excluded.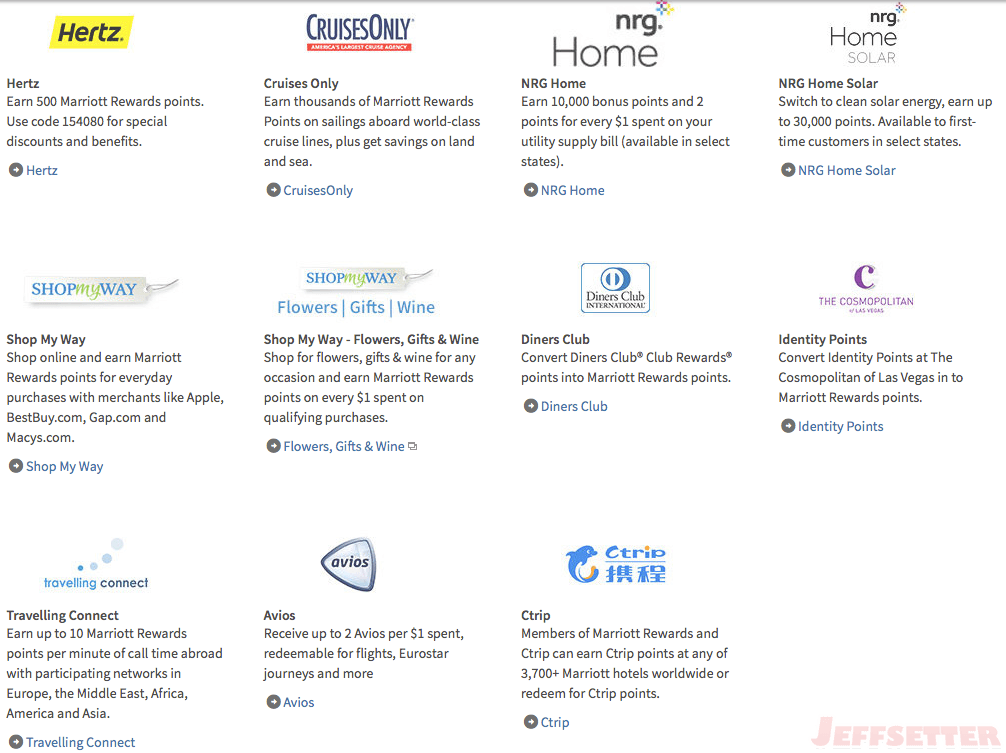 Like some of its competitors, Marriott Rewards does offer point earning opportunities with some partner businesses.  One of my favorite ways to earn additional points is by taking advantage of one of these partnerships, ShopMyWay.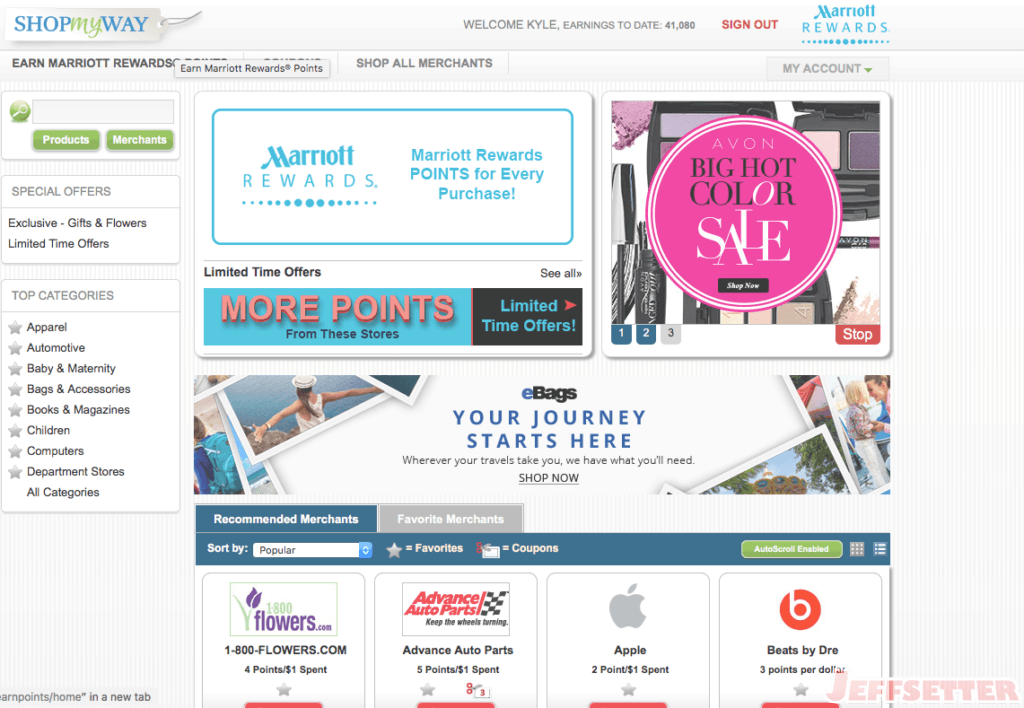 This is a great way to earn some incremental points for things you probably would have bought anyway, and at no extra cost to you…. well, sort of.  I say this because one of my favorite merchants in the Mall, drugstore.com, may or may not be cheaper than shopping locally.  But at 6pts/$, I often ignore small differences in price, and choose to simply order through drugstore.com to earn more points.  Another favorite vendor of mine in the mall is eBags.  I buy nearly all my travel bags from eBags, and at a current earn rate of 15pts/$, this can be VERY lucrative.  And be sure to pay attention to ShopMyWay's e-mails, as there are often bonus point earning opportunities, sometimes going as high 30+pts/$.  The hardest part is remembering to check ShopMyWay when shopping online, and the fact that you should shop via a desktop computer, as shopping via a smartphone can sometimes cause earnings to be unrecognized.  You can further boost your points earnings through the Mall by using your Chase Freedom Unlimited card too, but more on that later.
If you're already a points junkie, this next bit of info is probably not news to you.  But another great way to earn Marriott Rewards points, in a roundabout way anyway, is by being a Chase Sapphire Preferred (CSP) cardholder. You see, CSP earns UltimateRewards points, which as a CSP cardholder, transfers 1:1 to a variety of partner programs, including Marriott Rewards.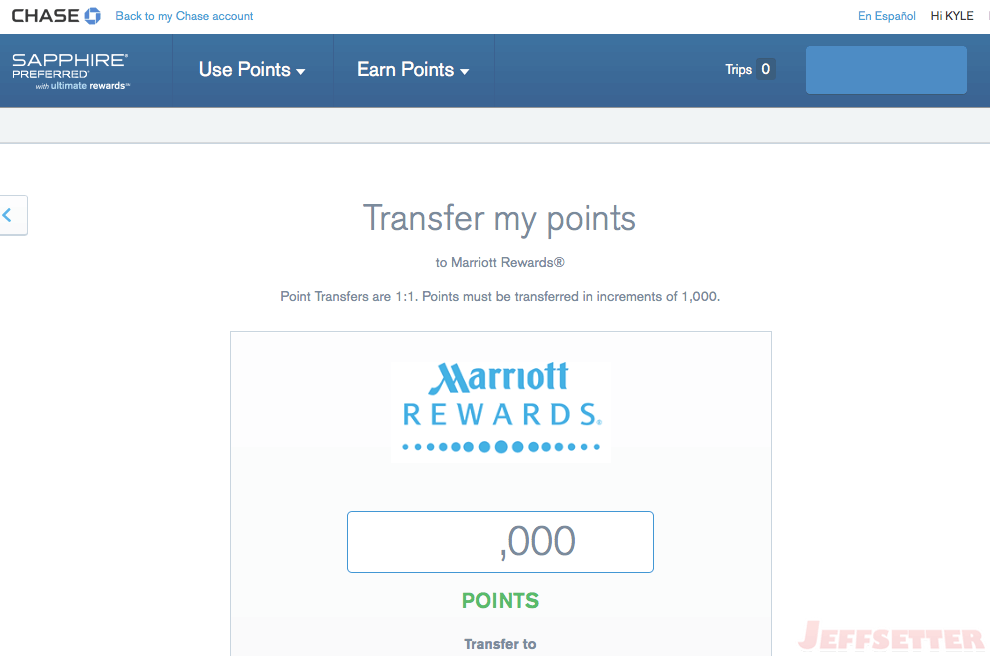 This means that through the CSP, you can earn double points on spend categories that don't have bonuses on the Marriott Rewards Premier Visa Sig.  With the CSP you earn 2x points on "travel," which Chase defines as: airlines, auto/car/RV rental, limos/taxis (including Lyft & Uber), lodging, travel agencies, railways, tolls, parking (meters, garages, etc), buses, and timeshares.  You also earn 2x points on all dining spend, but that's the same on the Marriott Rewards Visa, so it's up to you which card to put that spend on.  And while the $99 annual fee may seem high, remember this card comes with PRIMARY auto rental collision coverage, in addition to these awesome points earning opportunities.
Of course the CSP's best friend has long been the Chase Freedom.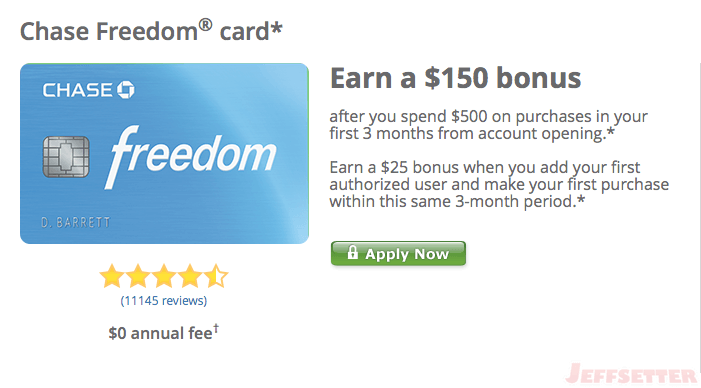 The Freedom earns 1pt/$ on everyday spend, but offers quarterly bonus categories that earn 5pts/$.  For example, this quarter the Freedom card earns 5pts/$ on all grocery and club store (Sam's Club, etc. but excludes Costco) spend up to $1,500.  That means if you maximize each bonus category every quarter, you could earn 7,500pts/quarter, or 30,000pts per year.  This card is only useful for points accrual, however, if you're a CSP cardholder.  If you aren't a CSP cardholder, then those points are available only for cash back rewards and cannot be transferred to Marriott Rewards.
For spending categories that don't currently fall under bonuses for the Marriott Rewards Premier Visa, Chase Sapphire Preferred, or the Chase Freedom, you now have another option for bonus earnings, the Chase Freedom Unlimited.

As the picture says, the Freedom Unlimited earns 1.5 points on ALL spend.  This has become my go-to card for all non-bonus spend, and with no annual fee like the old Freedom, it's an easy card to keep too.
Admittedly having 4 credit cards for earning Marriott Rewards seems excessive, but it is the BEST way to maximize your points earning potential.  Just think about your own everyday spending and make a rough calculation of the points you could earn, and you'll see that having all 4 is worth it.  Unfortunately, obtaining all 4 cards is getting harder and harder thanks to Chase's new rules, which puts sever restrictions on their approval process.  Now if you've had more than 5 new accounts opened in the past 2 years with ANY bank, you will likely be denied, though it doesn't hurt to appeal your case, especially if you're a good/loyal Chase customer.
If you're a business owner, there is a 5th Chase card you may want to consider.  The obvious choice here may be the Marriott Rewards Visa Business card by Chase, but I'd actually recommend the Chase Ink Plus.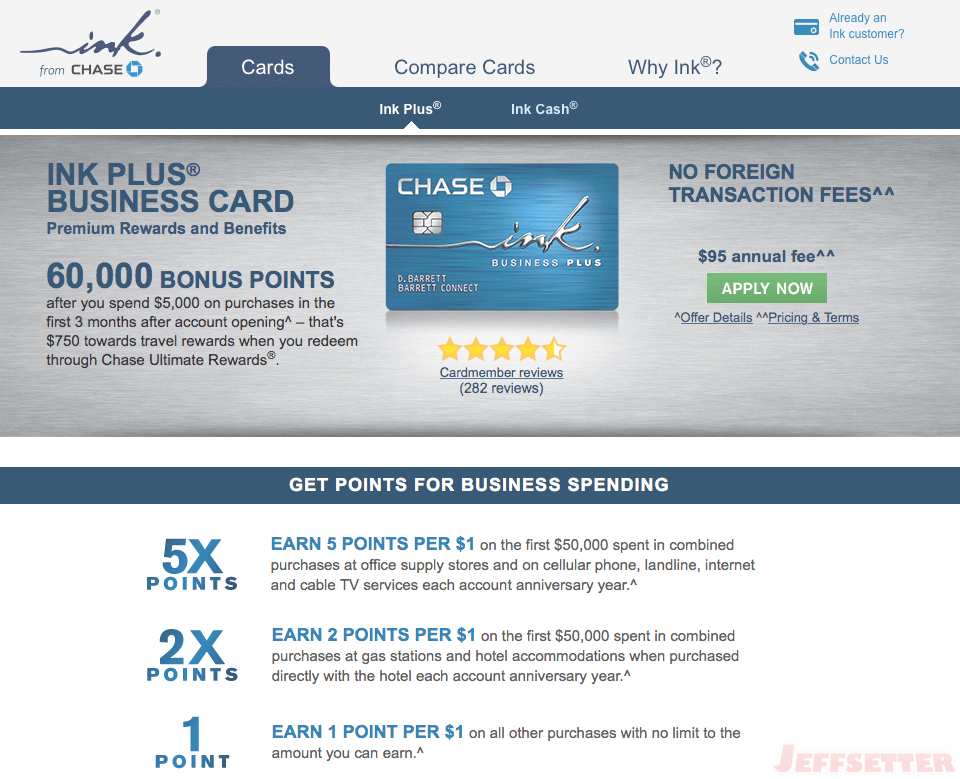 The Ink Plus is a much better than the Marriott Rewards Business Visa.  Why?  Because the MR Business Visa earns 5pts/$ on Marriott Spend, 2pts/$ on office supply stores/cell phone service/etc, and 1pt/$ on everything else, while the Ink Plus earns 5pts/$ on office supply stores and cell phone, landline, internet and cable service each account anniversary year.  This is good for spend up to $50,000 and is awarded on your anniversary.  The card also earns 2pts/$ on gas and hotel accommodations, and 1pt/$ on everything else.  It does have a $95 annual fee, but if you can make the most of the 5x points bonus, thats A LOT of Ultimate Rewards points that you can transfer to Marriott Rewards points.
The last points earning opportunity are Marriott Rewards Rewarding Events.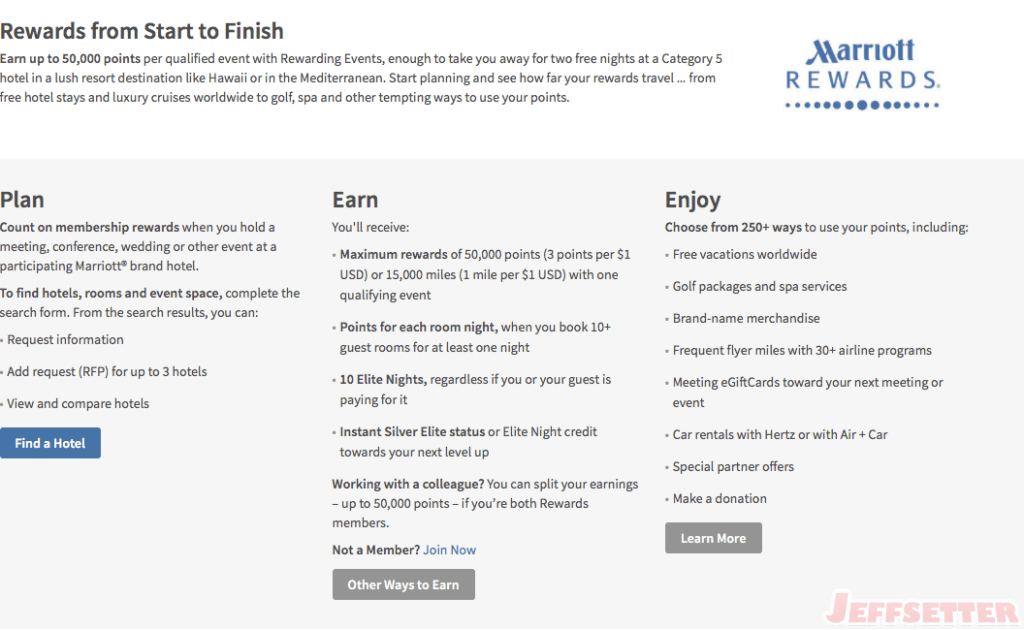 Through Rewarding events, you can earn up to 50,000 points at a rate of 3pts/$, plus an additional 5pts/$ when you charge the events to your Marriott Rewards Premier Visa.  This isn't a tremendous points earning method, but is another option.  Further, Rewarding Events offers 10 EQNs for events, though which events qualify is VERY loosely defined, and often properties have different interpretations on the rules, so check before signing contracts.
As you can see, Marriott Rewards offers a larger variety of ways to earn points, both directly and indirectly through its partnership with Chase.  You opportunities for earning points are better than with most other hotel loyalty programs, making it an easy program to earn free nights with.  And while the value on the redemption side isn't the greatest by any means, it's still way better than the value you get via HHonors.  How this strategy may change in the future remains to be seen, however, especially as Marriott begins integration with Starwood and SPG.  In fact, it might be worth your while to bulk up SPG points now as well, if not via stays, then at least via the Amex EveryDay Preferred and Starwood Preferred Guest card.  ?