Last updated on November 20th, 2017 at 03:55 am
Hawaii, like many tourist destinations, has a lot of great places to eat, but also a lot of bad ones.  Knowing where to go, however, is only half the battle.  With Hawaii's isolation, price also plays a major factor.  So when you find somewhere that's great, it's awesome.  But when you find a great place and doesn't cost a lot… Score!  Of course the best resource for finding these kinds of places is to ask the locals.  And so here's my list of Oahu dining hidden gems to help you along.
Maguro Brothers Hawaii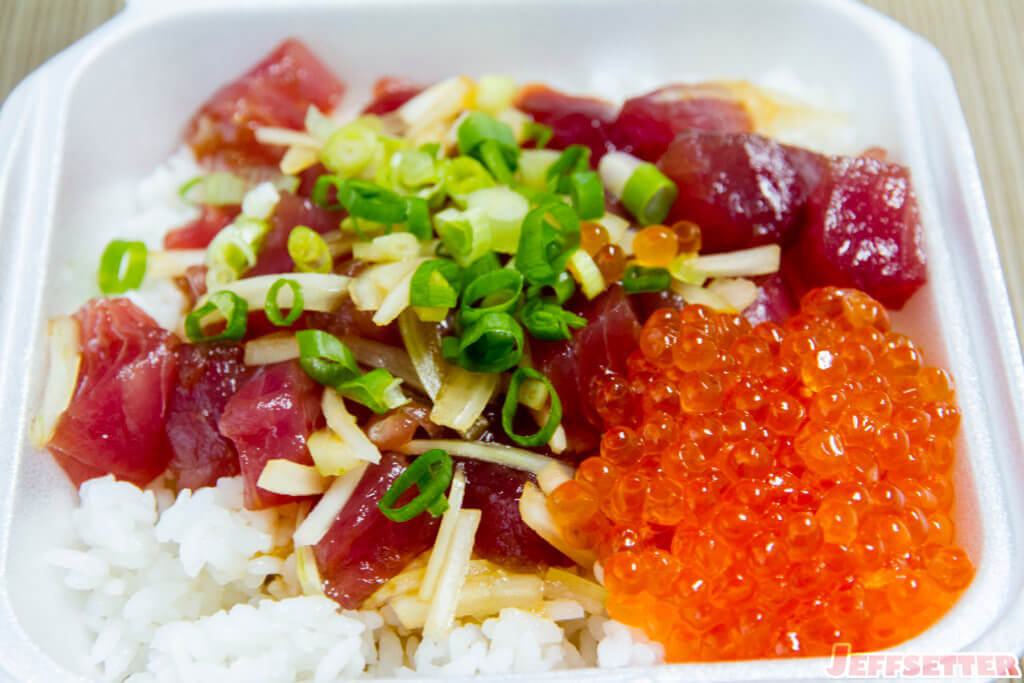 Tucked deep inside Chinatown's Mauna Kea Market Place, Maguro Brothers specializes in one thing: affordable fresh  fish.  Here you can get a variety of raw and cooked dishes.  Selections include poke, sashimi, grilled preparations, and more.  And for two, you can get away with paying between $20 and $30.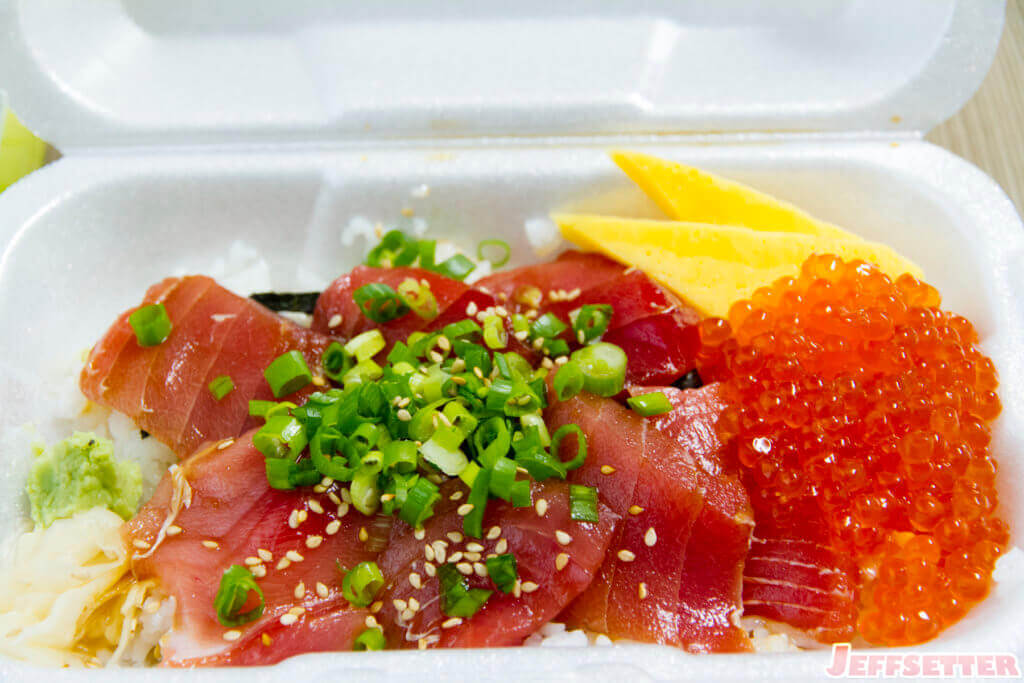 The ambiance is, uh, not the best.  The limited seating available is open to the rest of the market… And the vendor near Maguro Brothers sells various cuts of meats, including lots of offal.  No matter though.  The service is good, and the quality is excellent.  The fish is not only fresh, but very high quality.  The sashimi pictured above just melts in your mouth.  The huge scoop of ikura (add-on) was a great value, though it's the best.  But still.
Marukame Udon
A great quality, quick, and cheap meal can be found in the heart of Waikiki.  Don't believe me?  Check out Marukame Udon along Kuhio Ave.  It's in back of the International Market Place, and almost always has a line.  And with good reason, too.  You can get two udons, some tempura, and some musubi (rice balls) for under $25.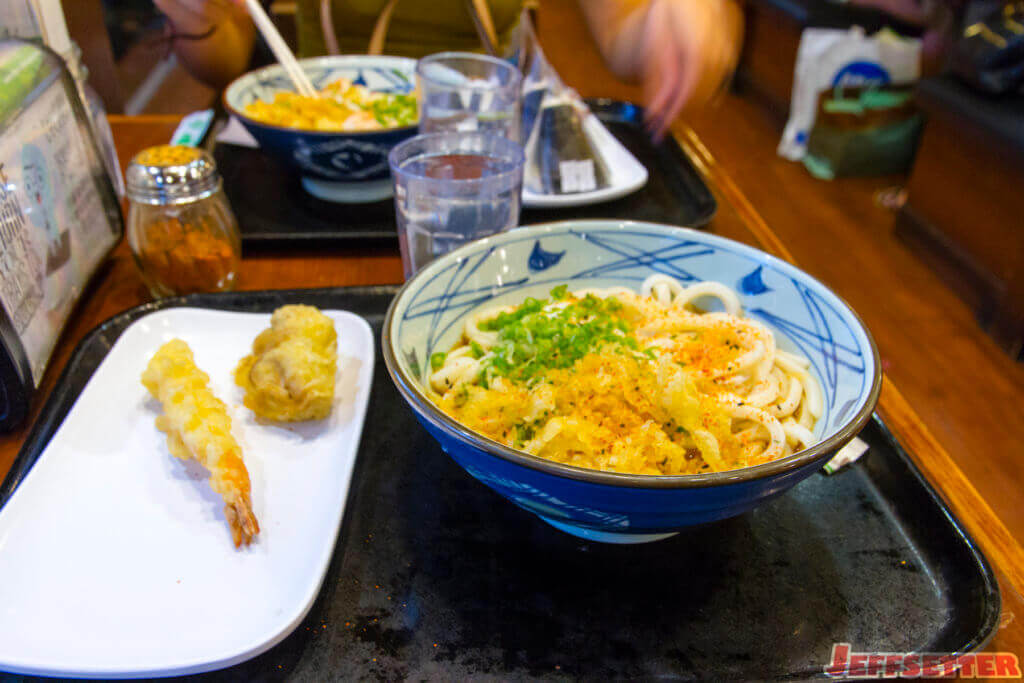 The udon noodles are made in-house daily with flour imported from Japan and can be had hot or cold.  There's a number of different styles, too.  The musubis and tempura also come in a variety of different styles.  Drinks?  You can get soft drinks, or simply enjoy the free iced water.
Service is cafeteria style, so you just walk down the line and choose what you want.  When you're done, take your dishes to the drop-off counter.  Yes the line can be LONG and the crowds quite large, but the lines move quickly and we never had difficulty finding a table.  So if you want a tasty, quick, inexpensive meal in the heart of Waikiki, Marukame is your best bet.
Cafe Kaila
Hotel breakfasts are expensive and often not so great.  You could simply head to a Starbucks, McDonalds, etc., but why?  Just outside of Waikiki is a restaurant that specializes in good, cheap breakfasts.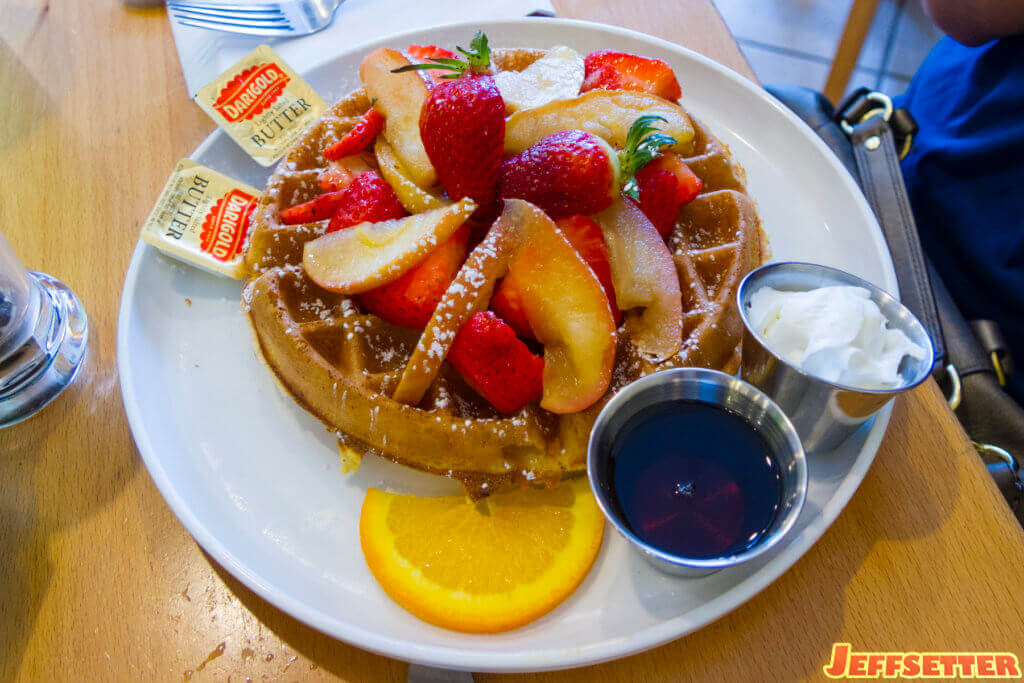 Located in the Market City Shopping Center, Cafe Kaila is another location that attracts big crowds.  They serve-up breakfast all day, plus lunch and dinner services.  What they're known for, though are their breakfast items.  I'm not a fan of their omelets, because they really aren't omelets, but their other stuff is good.  Plus most breakfast items are under $12, with most being around $10.  Not bad huh?  Just be sure to get there early if you don't want to have to wait around.
Your Kitchen
This one really is a hidden gem, sort of.  Your Kitchen is incredibly popular among locals.  There's almost always a crowd, despite the lack of parking in the area and seating.  In fact, Your Kitchen is more like a little neighborhood take-out joint in the middle of a residential neighborhood.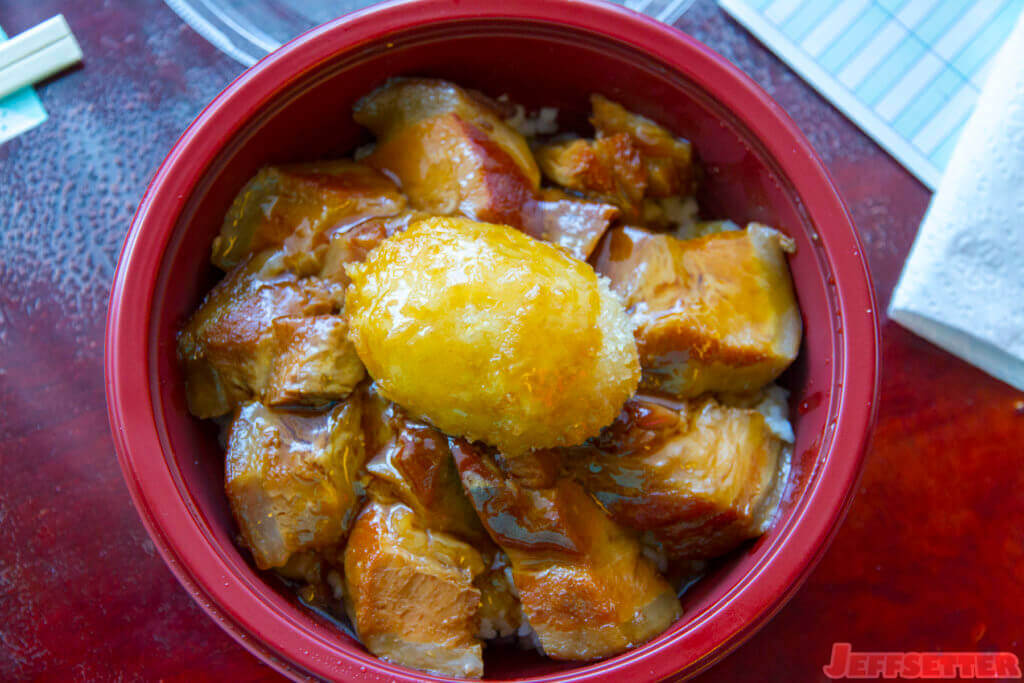 The reason for all the love is the above dish.  Almost everyone that comes to Your Kitchen comes for their Pork Bowl.  This delectable dish is a bowl of rice topped with buta no kakuni (soy sauce braised pork belly) and a panko bread + deep fried egg.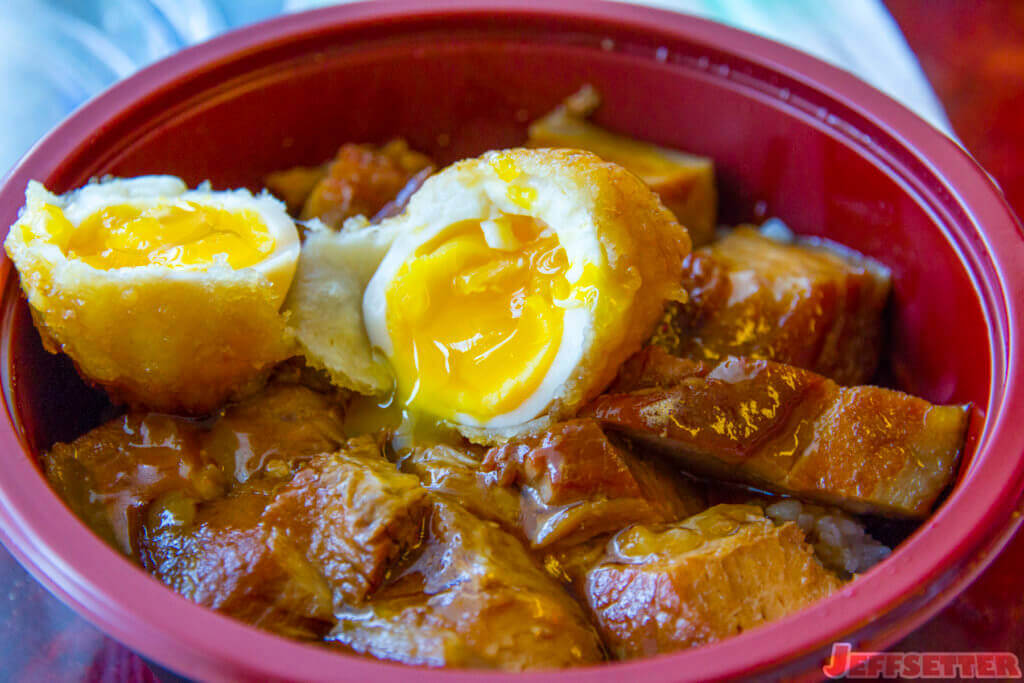 The pork melts in your mouth and is lacquered in a sweet-salty sauce that just goes so well with rice.  And the egg… How do they do that?!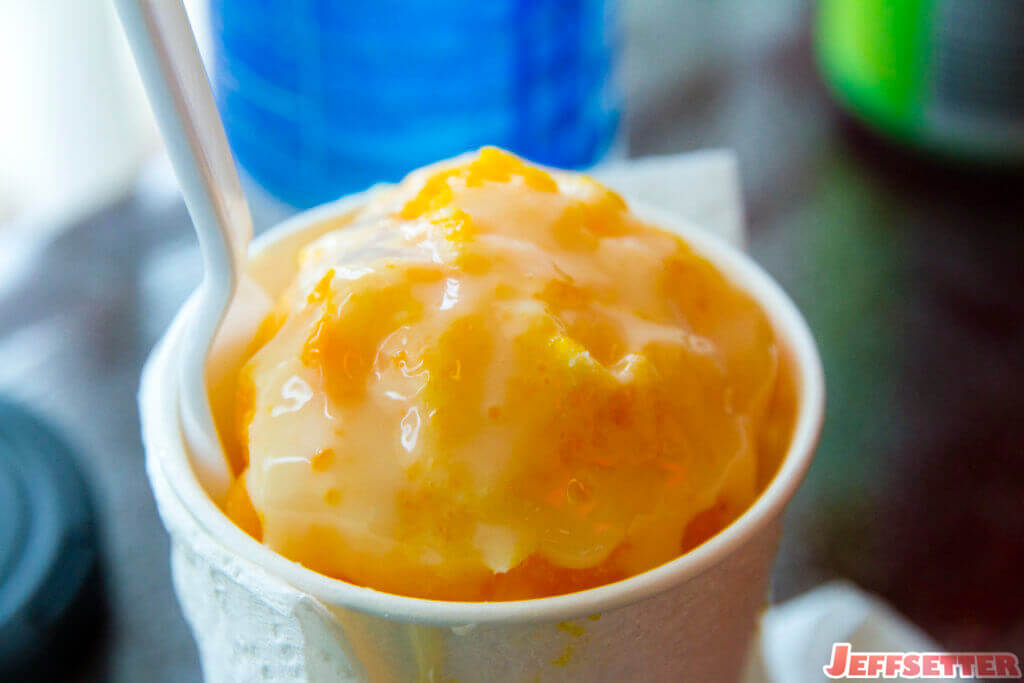 Your Kitchen's shave ice is pretty darn great too.  The syrups are homemade, taste like real fruit, and aren't too sweet.
While the place is primarily a take-out joint, there are a limited number of states available inside.  Or you can do as the locals and just sit outside along the curb.  But if all else fails, you can simply call in your order, have someone hop out of your car, and be happily on your way.
Kona Coffee Purveyors + B. Patisserie
So far everything on this list has been inexpensive, but Kona Coffee Purveyors takes things in the other direction.  Located on the ground floor of the International Market Place fronting Kuhio Ave, Kona Coffee Purveyors is easy to miss.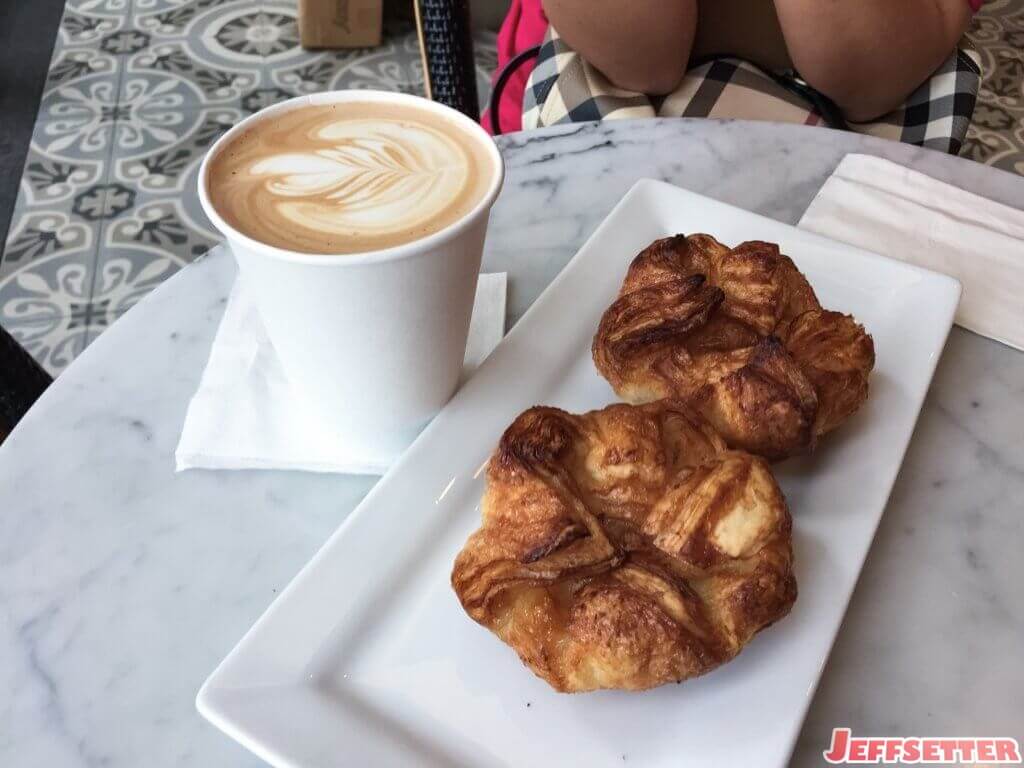 What's so great about Kona Coffee Purveyors?  The coffee of course!  I'm not much of a coffee person, but their mocha is incredible.  It's well balanced, very high-quality, and isn't too sweet.  The main attraction here, though, are the B. Patisserie pastries.  If you're not familiar with B. Patisserie, they're a famous San Francisco bakery known for their Kouign Aman.  They're sinfully delicious croissant-like pastries that tastes of butter with a hint of salt and sugar.  I'm also a big fan of their chocolate chip cookies and Bostock.  There's much more to try there, but I just can't pull myself away from my current favorites.  They do also serve wine and bubbly, so it's a great place to stop any time of day.
Boa Sushi
Back to the inexpensive stuff, Boa Sushi is another hole-in-the-wall raw fish place.  It's primarily geared towards take out and is located in downtown Honolulu at Remington College.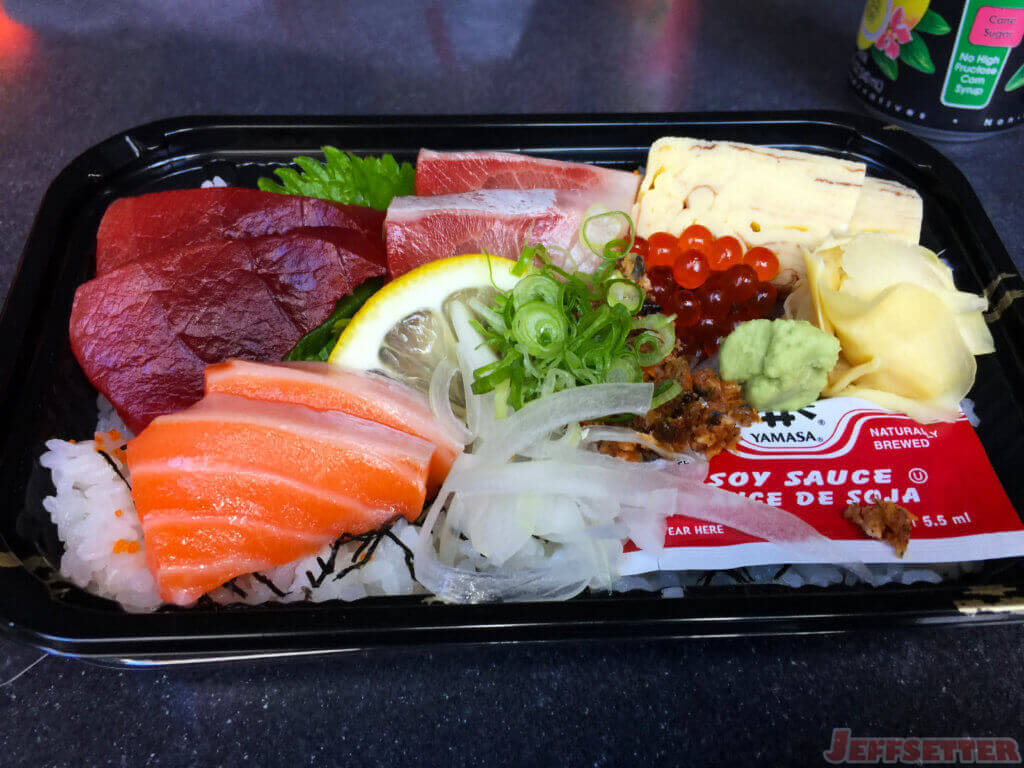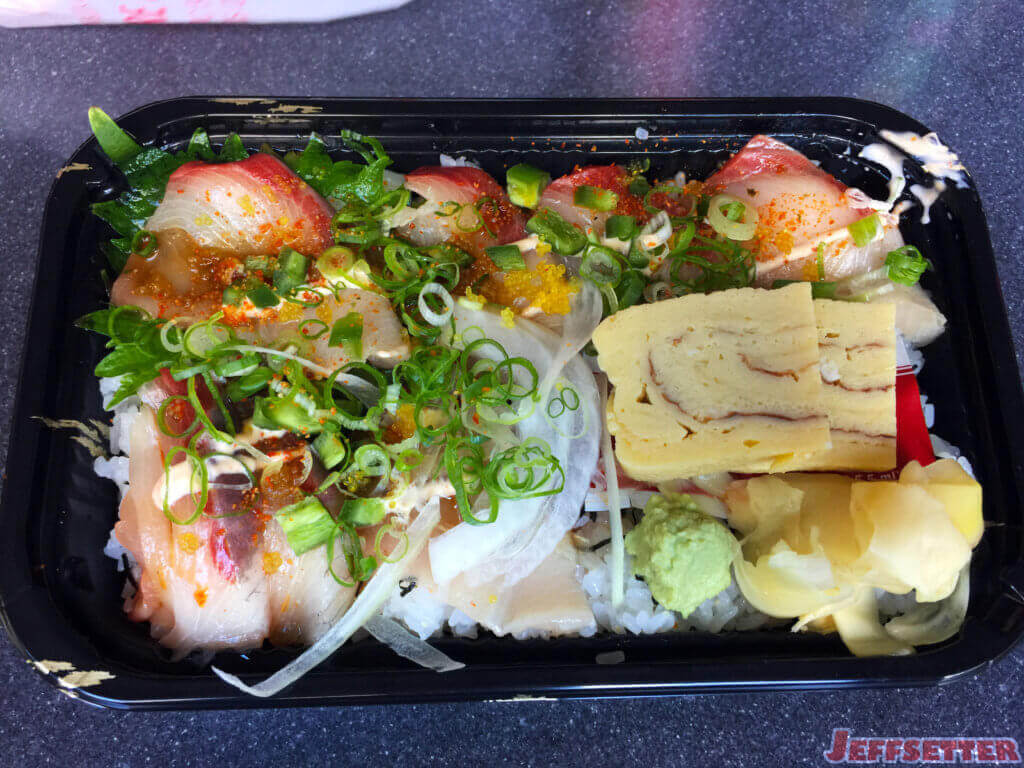 Like Maguro Brothers, you could easily get out of here paying $20-$30 for two, depending what you pick.  Unlike Maguro Brothers, however, Boa Sushi serves both donburi style lunches with sashimi and sushi.  We stick with the donburi style when there, which has an added bonus of coming with a free drink!
Chubbies Burgers
Chubbies Burgers is one of the newer food trucks on the island.  They have a highly curated menu of 50's style burgers, crinkle cut fries, and lemon slushies.  Thier locations and times of operation may vary quite a bit, but normally you can find them at Sandy's Beach on the weekends for lunch, at SALT at Our Kakaako on Wednesday for dinner, and Makers and Tasters at Kewalo Basin on Thursdays for dinner.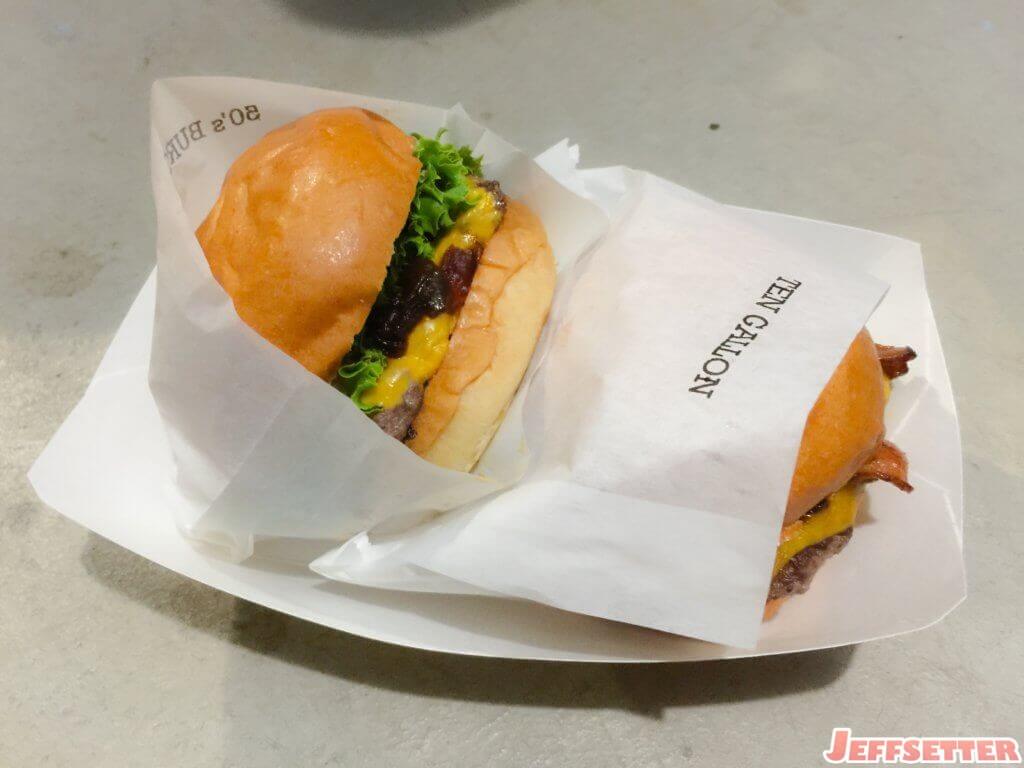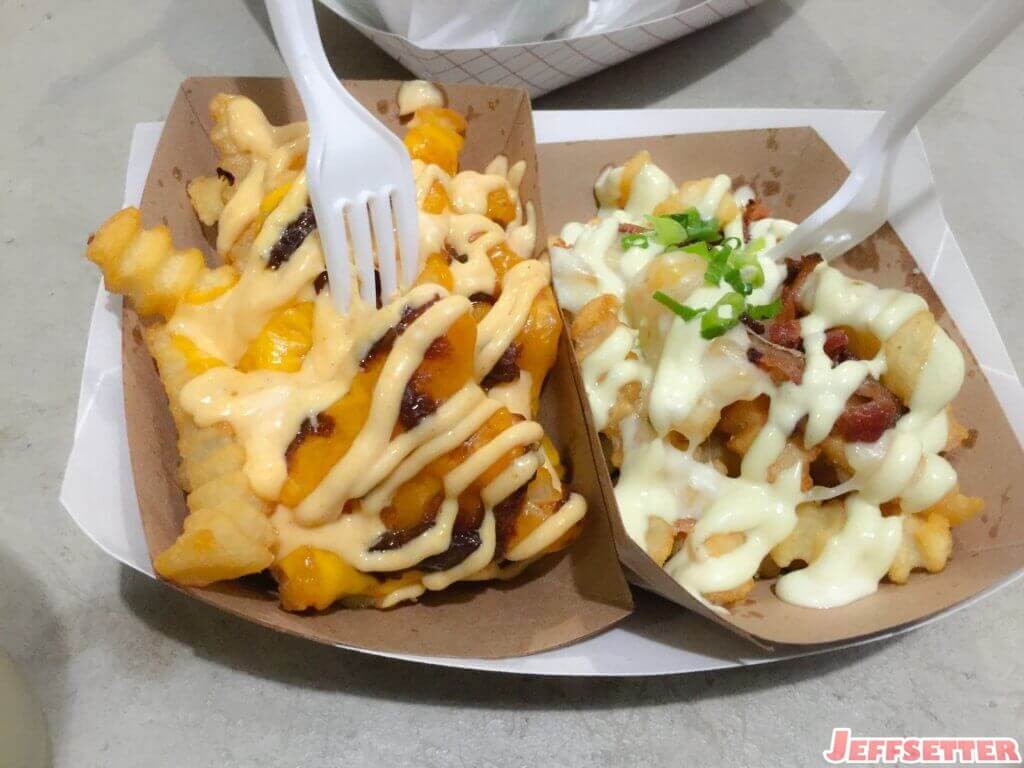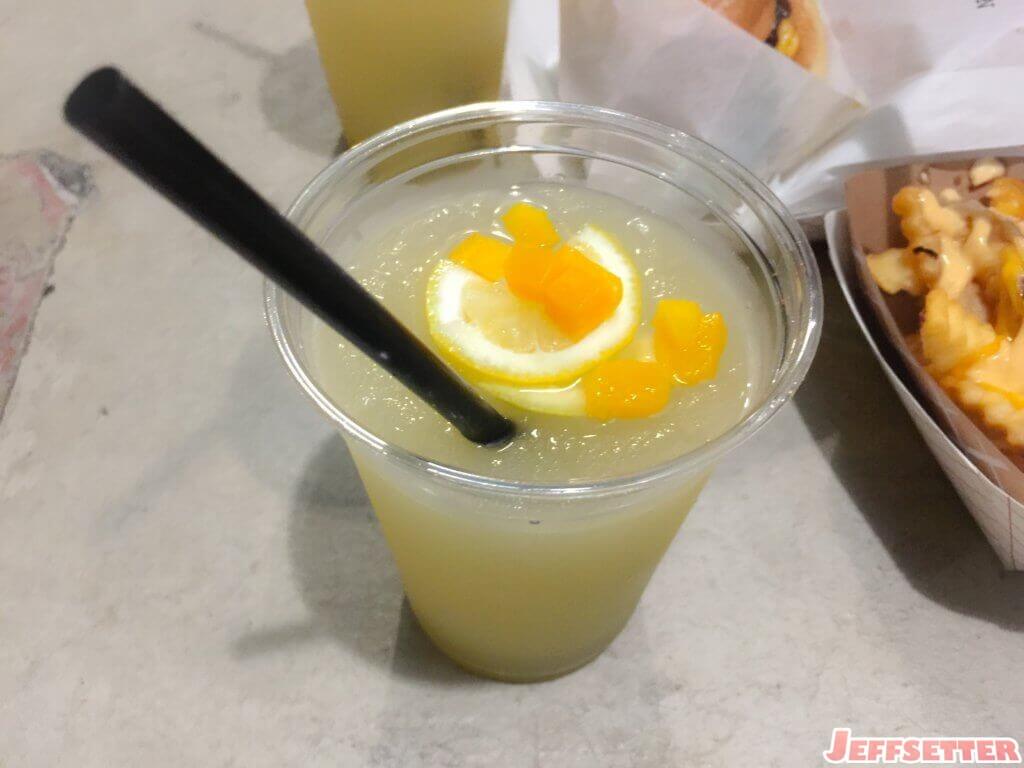 Cheap?  No.  Worth it?  YES!!  All in, I paid roughly $30 for all that you see above.  But everything was delicious.  The slushies weren't too sweet, the fries were actually crispy, and the burgers were tasty.  Their customer services is even great!  The ran out of tomatoes, so they offered a free upgrade on the burger.  I went with caramelized onions and didn't regret it.
Sammies HNL
Sammies HNL is probably a true hidden gem.  It isn't on any lists visitors may see, and it's located it a space formerly occupied by a popular dessert restaurant.  But, for $9 to $10 per sandwich, you get truly great quality subs made with a lot of love.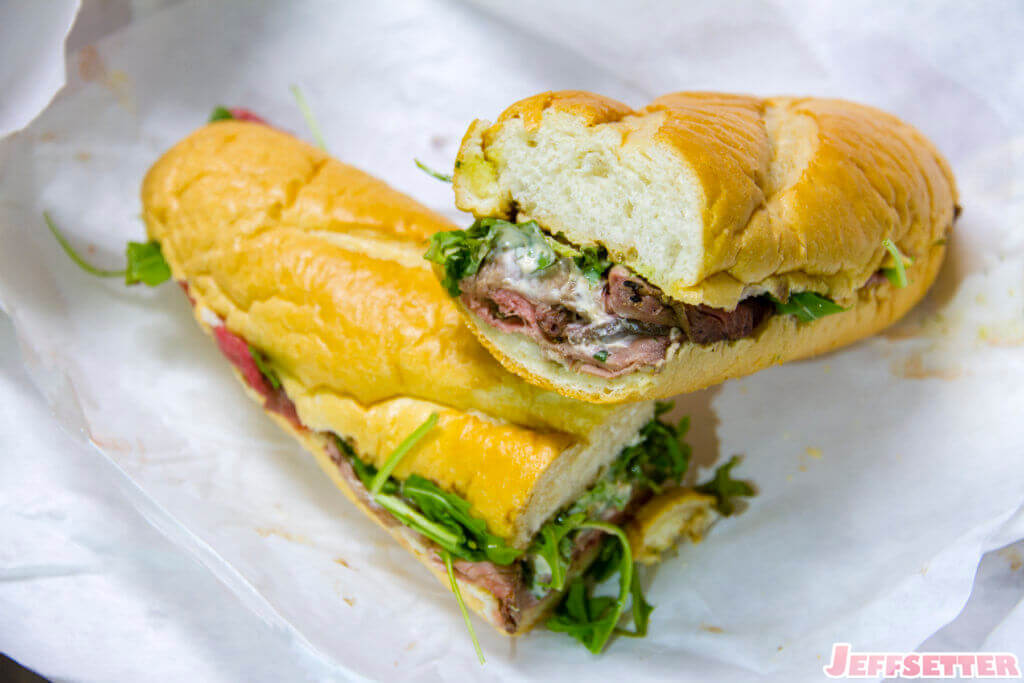 $5 footlongs these are not.  What they are, then, are primarily french dip style sandwiches.  They are messy, but oh-so good.  My personal favorite is the Cubano, which may not be the most authentic rendition, but it is tasty.  The above lamb with arugula was also killer good.  The wife even liked it and she isn't a fan of lamb.
So there you have it.  For now, this is my list of Oahu Dining Hidden Gems.  Are there more?  You bet!  But this post is already getting LONG, so I'm going to stop for now and come back with another later.  Hopefully, though, you'll find some of these places interesting and make it a point to visit them on your next visit!