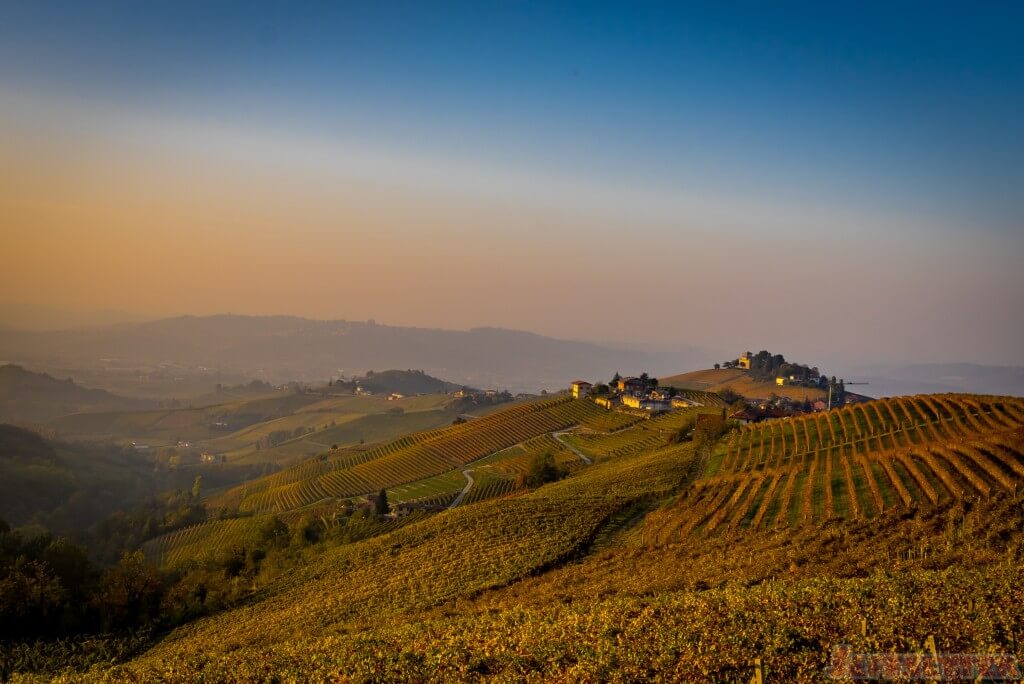 Warning. I started this blog post innocently enough, and then I got mad at Delta and started swearing. If you don't like the F-word, sit this one out please. Also, the cover photo is from Italy, and I loved it. Nothing to do with the post, just a beautiful sunset over autumn leaves in Italy. Because that is how I roll. 
"Well this just got interesting."
I said to myself as I canceled flights to Aruba that I booked using the Southwest Companion Pass. Even though we only spent ~26,000 RapidRewards points and $22.40 in fees, I found a better deal in an unexpected place. How is that possible?
Let's walk through the process.
First of all, we are about to enter the next phase of One Way Neverending. This is the phase where we fly the Latin Hopper to South America for 20,000 United Miles each.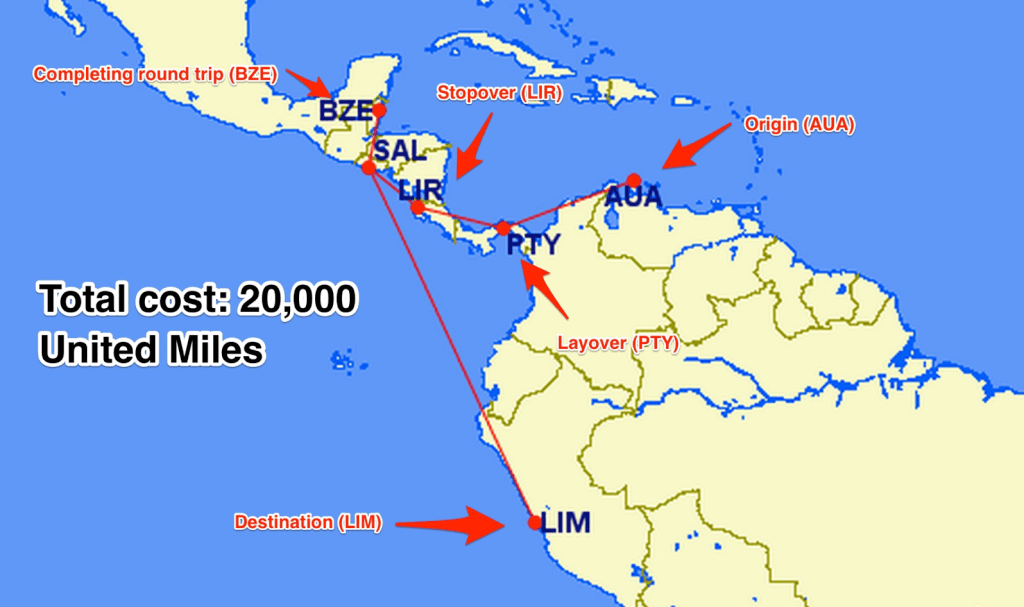 In order to get the Latin Hopper to work, you need to position yourself into Mexico, Central America or the Caribbean. We booked our positioning flight to Aruba using ~9,000 Southwest points + companion pass. This flight was from BWI (Baltimore) to Aruba (AUA).
We booked that flight as a stake in the ground, but weren't positive we would ever fly it. But we took comfort in guaranteed passage to Aruba, as long as we could make it to Baltimore on time. We figured that part would be easy, but our plans brought us elsewhere.
Our travel plans leading up to the BWI flight had us in Jacksonville, Florida. We looked for flights from Jacksonville to Baltimore and soon realized that we would be backtracking quite a bit. Not only that, but flights from JAX to BWI were ~16k RapidRewards points + companion pass on Southwest.
Not only that, but with flight schedules, we would need to spend the night in Baltimore to make this work. That adds another $100+ to the bill. Plus we would have to wait for checked baggage, hotel shuttles and other logistical challenges to make this happen. Suddenly this didn't seem like a great deal anymore.
With the value of flying Southwest diminished (it's a no brainer at 9k miles + $11.20. It is questionable at ~26k miles + $120), we decided to look elsewhere.
The shortest distance to Aruba was either American (through Miami) or Delta (through Atlanta). Having just flown American on Wednesday with no status, checked bag fees (and not a great experience), we thought Delta would be our best bet. But the tickets were over $400, which is way too much to pay.

Miles were a terrible value as well at 37,500 each person.

Plus, as a Delta Platinum (Jeffsetter) and Gold (Mrs. Jeffsetter), we thought our chances of upgrading would be better on a cash ticket (although still unlikely given how few premium seats are open).
Last, Mrs. Jeffsetter is very close to requalifying for Silver elite status in 2016 – less than 1,000 miles needed. Other than Aruba, we have no travel planned for 2015 that could be credited to Delta. So a cash ticket was necessary for her to make Silver. Silver elite isn't worth a whole lot, but better than nothing.
My first thought would be to book her ticket for cash and mine using Skymiles. We could use $200 in gift certificates from my Amex Platinum to reduce her cash expense to $200 and then I would use Skymiles for my ticket.
So I bought $200 in certificates at $50 each and started the booking process.
<rant>
Then I realized that Delta has the ABSOLUTE WORST POLICY toward gift cards. You can't use them until 72 hours after purchasing. WTF Delta IT. You are garbage.

Maybe I have just been out of the Delta game too long, but I completely forgot about this policy from the last debacle I had with trying to redeem eGift certificates.
But I am not going to blame myself. I am going to blame Delta, because really? It is 2015. Your systems know that I bought something from you. You have a record of it. You sent me an email. You generated a code. You charged my credit card. I am an elite member of your program. I have flown half a million miles with you. I am good for the money. I have a computer science degree myself, and I know that there is no reason to make me wait 72 hours to redeem. NONE AT ALL.
Yet you require me to wait at least 72 hours? What the fuck does that even mean? Is it 73 hours? Is it 96 hours? Is it when the ball drops on 2016? Is it when one of your IT managers coughs really hard and their balls finally drop?
"Fuck you Jeffsetter," – that is when you can redeem your code.
</rant>
Now back to the subject of this post: Using Membership Rewards points to save the day!
During this gift card fiasco, I was reminded of something in the email that seemed like an outlet to my problems. Because I chose Delta as my airline for gift cards, I would also be given a 30% miles bonus when using Membership Rewards points to pay with a ticket.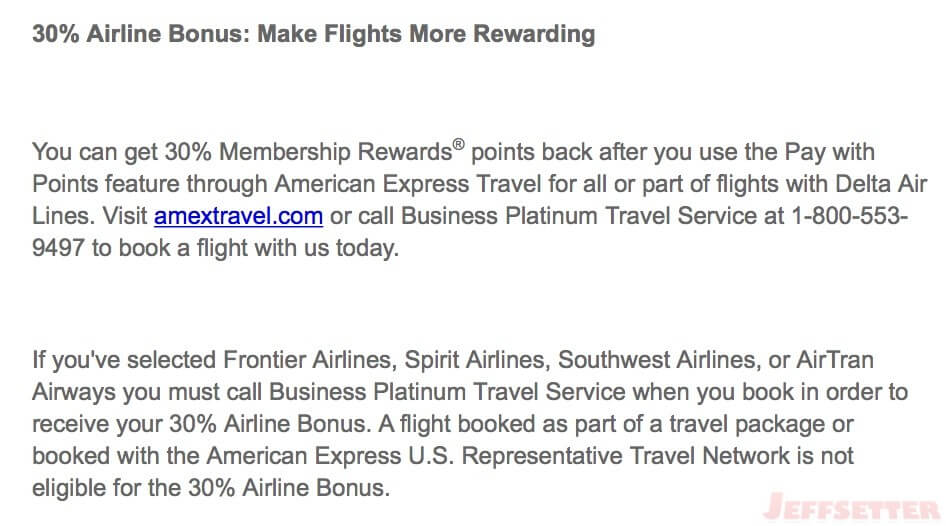 Not only that, but on the American Express travel website, there were certain Delta flights that had preferred pricing for Amex travel members.
Now, at 1 cent per point, redeeming with Delta is a terrible deal. But redeeming with a 30% bonus + preferred pricing on certain flights, the deal sounded a little better.
Sure enough, I was able to find a flight from JAX to Aruba that did not require an overnight stay + the cost was very reasonable at $268/ticket. For two people, this was 53k Membership Rewards points before the 30% redemption.

If my math is correct, this flight will only cost 37,000 points when all is done. If my math is incorrect? Someone will surely let me know in the comments. Because that is what the comments section is for – to nitpick and miss the entire point of the post.
Final tallies for this experiment
Ok, so let's tally up what happened here.
I now have $200 in credits with Delta that I can use into the future, as long as it is at least 72 hours from now.
I have ~26k Southwest RapidRewards points I can use in the future and $120 in cash saved.
Mrs. Jeffsetter will make Delta Silver in 2016.
We will earn ~4,000 combined Skymiles miles for the trip.
We spent 37,000 Membership Rewards points.
We pay no cash at all.
We have a very small chance of getting an upgrade.
We will get an entire day of our lives back.
Mrs. Jeffsetter and I spent about 45 minutes sorting through all of this yesterday, weighing the pro's and cons. In the end, Membership rewards became a NO BRAINER for us. Sure, it wasn't the cheapest deal. But it was the best deal.
I never thought I would be so excited about paying for a flight with Membership Rewards points.