I drive a relatively old car with no built-in touchscreen system. As a result, I've long used a RAM Mount X-Grip to keep my phone visible while I drive. Recently, though, I replaced the X-Grip on the mount with the new Peak Design Mobile Ball Adaptor.
If like me, you drive an older car that doesn't have built-in navigation or CarPlay/Android Auto support, you need to keep your phone somewhere easy to see. Or, perhaps, you prefer not to connect your phone to your rental car's infotainment system. In these cases, you'll need something to keep your phone high enough to use as a navigation unit. For this, I've long used RAM Mount's excellent X-Grip. However, the thing is bulky, making it hard to travel with, and the rubber grips tend to fly off and vanish. That's why I was elated when Peak Design recently sent out an email introducing the Peak Design Mobile Ball Adaptor.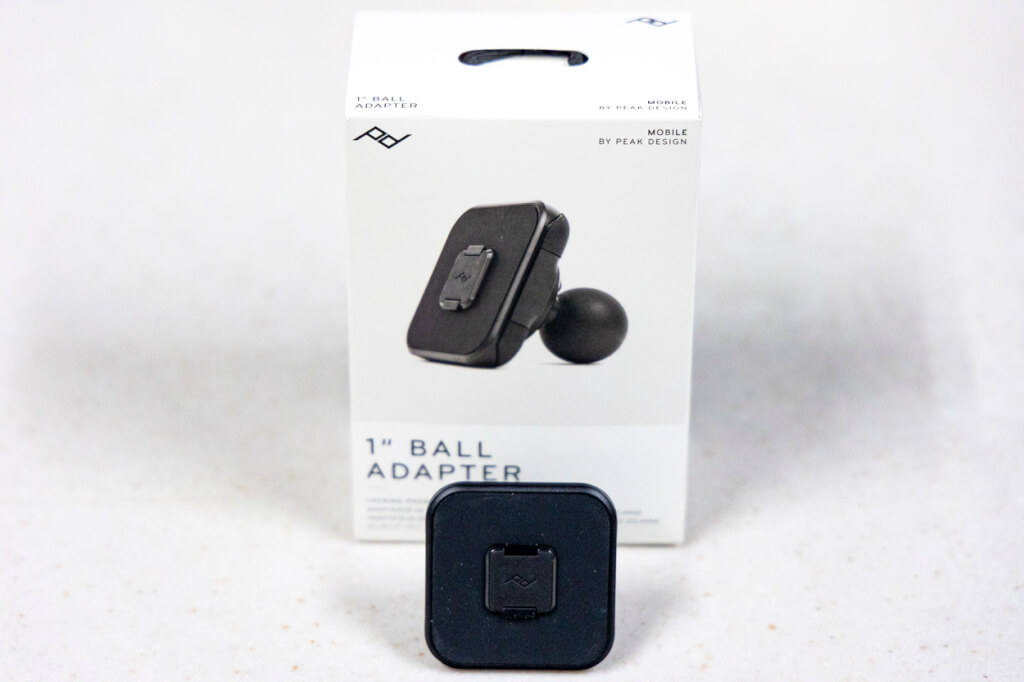 Peak Design Mobile Ball Adaptor
For those who aren't familiar, Peak Design Mobile is Peak Design's excellent mobile phone-focused product line. I already have and use their case for my iPhone 12 Pro MAX, along with a tiny mobile tripod I have yet to use. Aside from its good looks, Mobile is meant to provide ease of use thanks to its magnetic (and MagSafe-compatible) mount. This mount forms the base of a large ecosystem of mounts, adaptors, and accessories that aims to make your life easier.
In this case, the Peak Design Mobile Ball Adaptor takes the standard Mobile mount and sticks it onto a 1-inch ball mount. This gives it compatibility with other systems, such as virtually every mount produced by RAM Mounts. And for those unfamiliar with them, RAM Mounts makes extreme mounts for automotive, motorcycle, and aviation use, among others. I personally use their Twist-Lock Suction Base to adhere my phone to my windshield. It's an excellent system that has served me well for nearly a decade.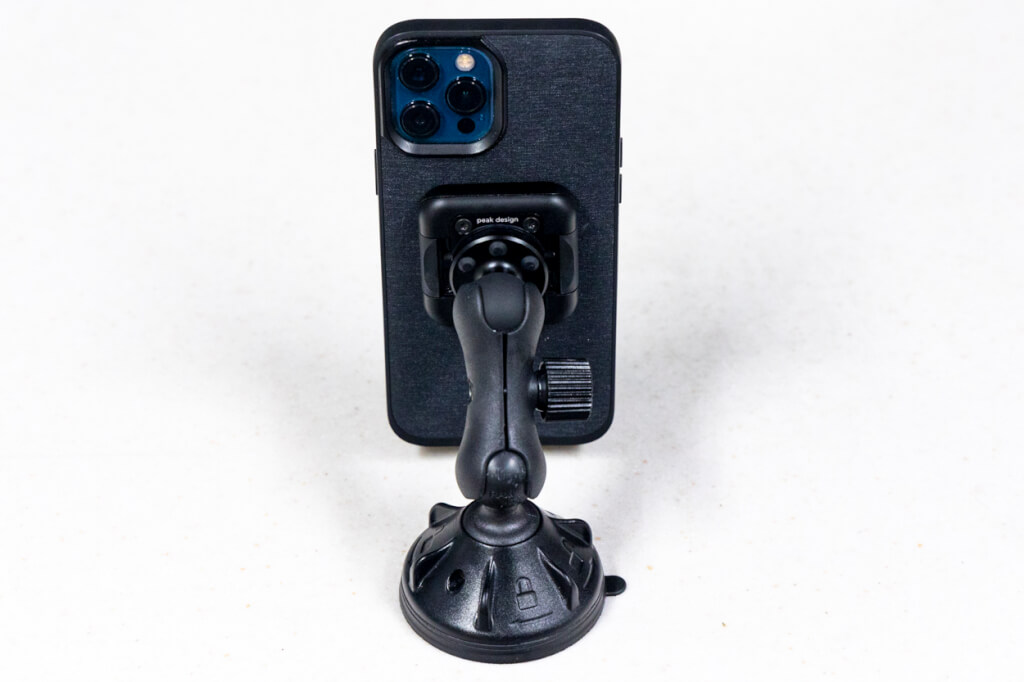 But, as I mentioned earlier, the X-Grip I previously had mounted to it was bulky and a bit inconvenient. More irksome, with my 12 Pro MAX, fitting the grip in my tiny car meant the grip often ended up pressing my side buttons. It had to go. So when I found out Peak Design made a mount for this system, I jumped on it. And it's been fantastic.
Now, there really isn't much to this. All I can say here is that the adapter fits into my suction base perfectly. The magnetic and latching mount for my phone also works incredibly well. Connecting your phone to it takes zero effort, and it stays there until you're ready to dismount it. Once you're ready to go, all you have to do is depress one of the release buttons, and the phone effortlessly slides off. I couldn't ask for a more convenient or better-performing system.
Final Thoughts
If you have a RAM Mount in your vehicle – or even in your kitchen – you should definitely consider a Peak Design Mobile Ball Adaptor and their case if you don't already have one. Sure, having this mount isn't going to create a huge change, but it is far easier and more convenient, in my opinion. That and both companies make legendarily reliable products, which is why I keep returning to both!