I'm a HUGE Peak Design fan. I use many of their products, including their various bags, camera accessories, and tripod. So, when Peak Design launched their new Mobile line, I knew I had to snag some of their new gear. Well, my first product finally arrived, so let's review the Peak Design Mobile Everyday Case.
Back in October 2020, Peak Design announced their new Mobile line. Essentially, it's an ecosystem of products designed to make your smartphone not only more stylish but also more convenient to use. Everything revolved around a new magnetic latching system that, at least publicly, pre-dates Apple's MagSafe system on iPhone. And like most of their new product launches, Peak Design first released Mobile on Kickstarter with a projected delivery date of May 2021. Of course, launching a new product in the depths of a global pandemic isn't going to be easy. Needless to say, a cascade of delays ensued with finally going out to backers in late October/early November – nearly six months late. But, that's ok. They came through, kept us informed, and provided a quality product.
Peak Design Mobile Everyday Case
When I backed the project, I still had an iPhone 8 and they were only supporting iPhone 11 (IIRC). A lot changed since then, though, with the launches of both iPhone 12 and 13. I ended up upgrading to a 12 Pro Max soon after it launched and, when it came time to complete my backer survey, I changed my award to the corresponding Everyday Case. After a couple more bumps in the road, my Everyday Case finally arrived last week.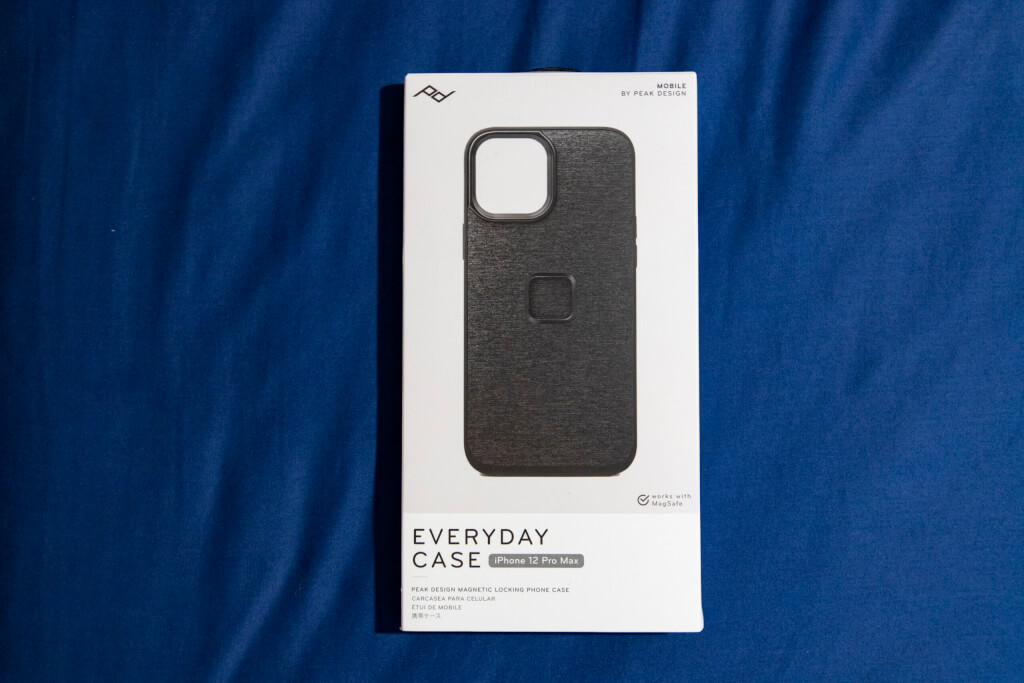 First Impressions
Right out of the box, the Peak Design Mobile Everday Case feels like a quality product. The rugged nylon and rubberized shell feel substantial and lightweight all at once. Tolerances on this thing are crazy too. Everything looks and feels incredibly precise, which isn't what I can say about my old (and far cheaper) Spigen case. The side buttons work effortlessly, while the speaker and Lightning port openings down below offer additional functionality by providing space for you to attach Peak Design Anchors.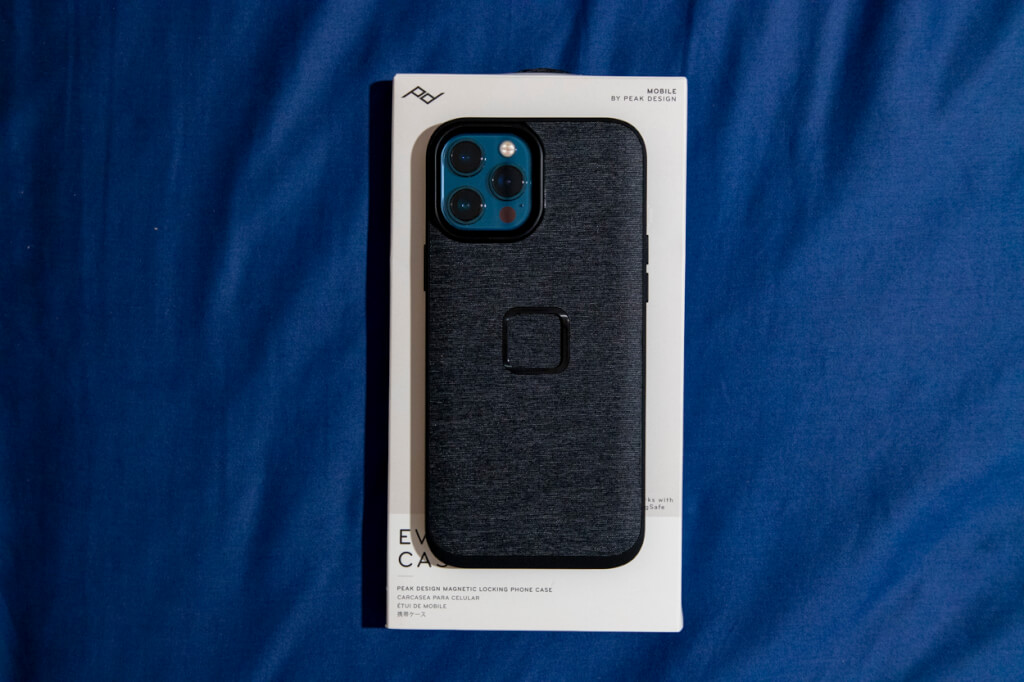 The square in the back of the case is where Peak Design's Slimlink magnetic locking system is. While none of my accessories arrived with the case (they're coming in wave 2), this is how the case interacts with the rest of the Mobile ecosystem. In the future, this means seamless and effortless linking and mounting to car and motorcycle mounts, desktop stands, wall mounts, wallets, tripods, and more. And while it's a little odd having a depression in your phone case like that, I haven't found it to be bothersome at all.
MagSafe Compatibility
I know one of the biggest questions people have is whether or not the Everyday Case works with Apple MagSafe. This is something Peak Design addressed way back when iPhone 12 launched. And, true to their word, MagSafe works perfectly fine. In fact, my MagSafe charger connects far better with the Everday Case than my simple Spigen case. What's more, my Anker desk QI charger (non-magnetic) seems to work better now too.
Screen Protector Issues
My one gripe about the Everday Case is that the way the front side of the case was designed makes it hard to use with screen protectors. This wasn't something I even remotely considered before. But, immediately after putting the case on the first time, issues became apparent REAL QUICK.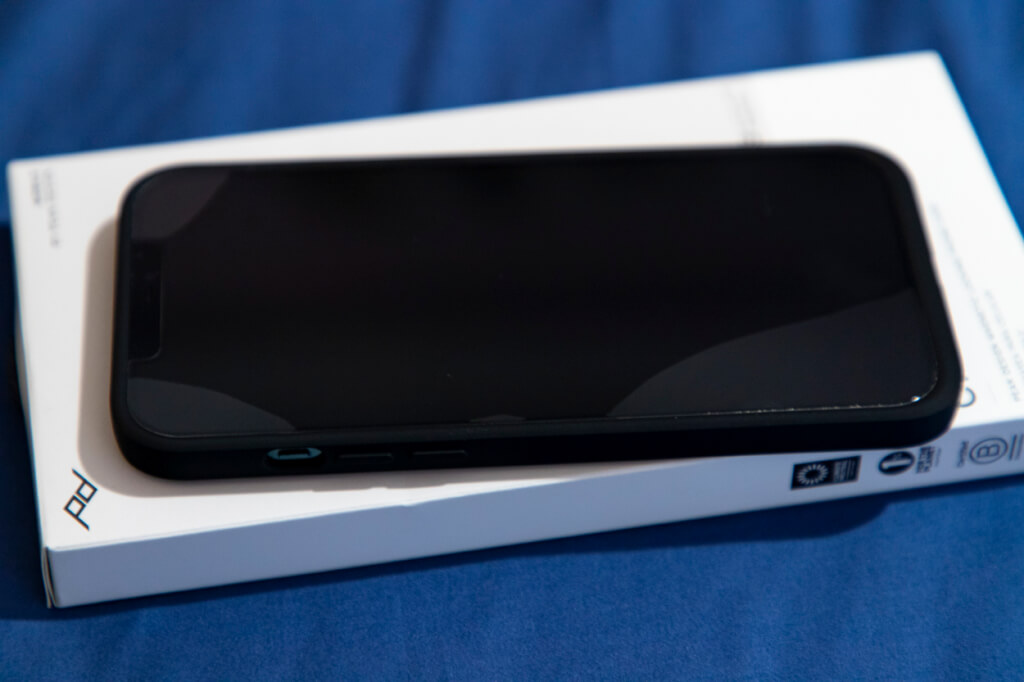 This isn't what I'd call a MAJOR issue. However, it is annoying nonetheless. As you can see in the above picture, the Everyday Case began pushing my existing tempered glass screen protector off my phone. The particular protector I'm using is the amFilm OneTouch tempered glass screen protector.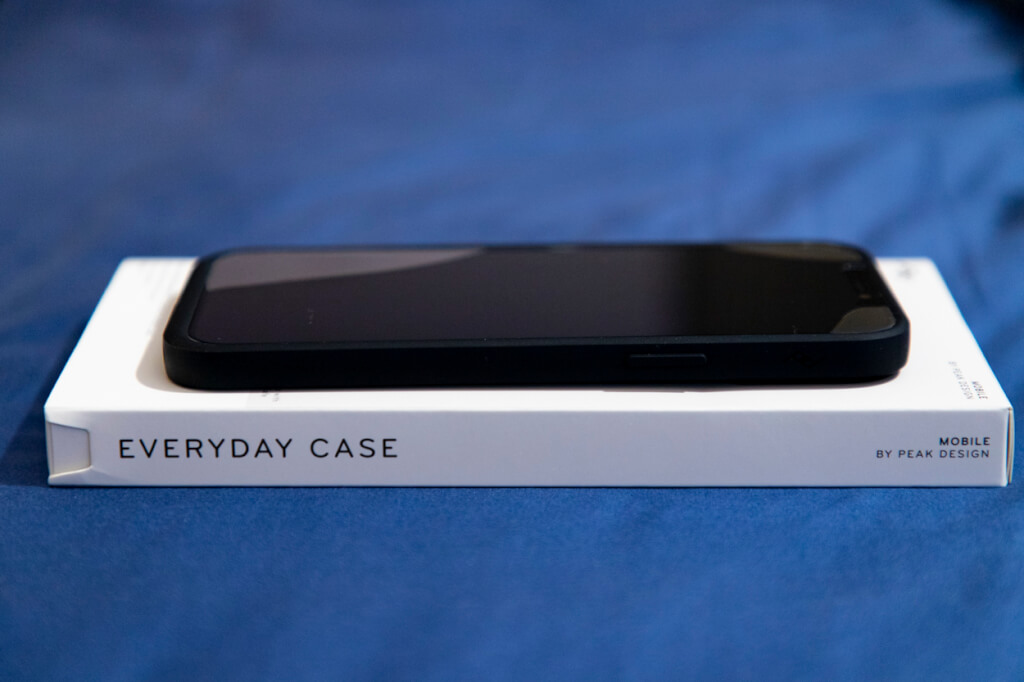 I plan on installing another one once it arrives, though I fear the same issue will occur. If it does, I'll try to find another screen protector in hopes that it'll be a better fit with this case. If that ends up being an impossible task, though, then the good folks at Peak Design may have to implement some minor design tweaks to the case.
Availability
If you'd like to join the Peak Design Mobile ecosystem, you can preorder your products today. Everyday Cases are available for the full iPhone 11, iPhone 12, iPhone 13, and Samsung Galaxy 21 lineups. If you preorder now, however, you'll likely be in for a wait. Peak Design states that they will not ship any other orders until all Kickstarter backers receive their orders. That means that new orders likely won't ship out until late November/mid-December. The wait will be worth it in my opinion, though.
Final Thoughts
Despite the delay and the screen protector issue, I think the Peak Design Mobile Everyday Case is worth the admittedly steep MSRP of $40. It is an incredibly well-made product and is (in my opinion) rather stylish too. I do like it far better than my clear Spigen case, as it not only works far better but also vastly improves the overall look of my phone. Bravo, Peak Design. I can't wait to see what you guys come up with next!