When it comes to food, Hawaii is known for a number of things.  Shave ice, Kings Hawaiian sweet bread, and Spam musubis come to mind, among others.  Perhaps nothing, though, is spreading across the nation quite like the poke bowl.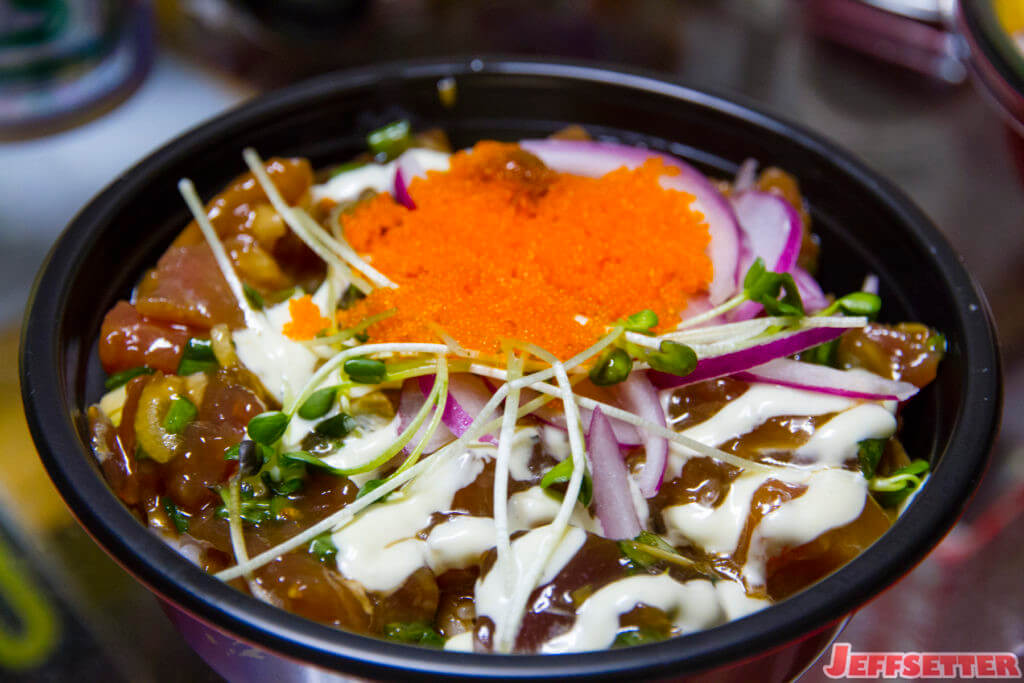 It seems like just a year or two ago, in fact, that poke bowl shops started popping up all over the place.  California and New York in particular seems to have the most shops.  In a way, I'm surprised that the poke bowl has become such a popular item.  Poke itself seems to have flown under the radar with visitors to the islands.  Then again, sushi has been popular around the world for quite some time now.  Both are basically cooked rice and raw fish, though the similarities end there.  Sushi, as you know, has seasoned rice with a slice of fish (or other sea creature) on top.  Poke bowls, on the other hand, are plain rice topped with seasoned fish.  And where as sushi (traditionally) is more about the rice, poke bowls are all about the fish and seasoning.  However, if you like sushi, you'll probably like poke, and vice-versa.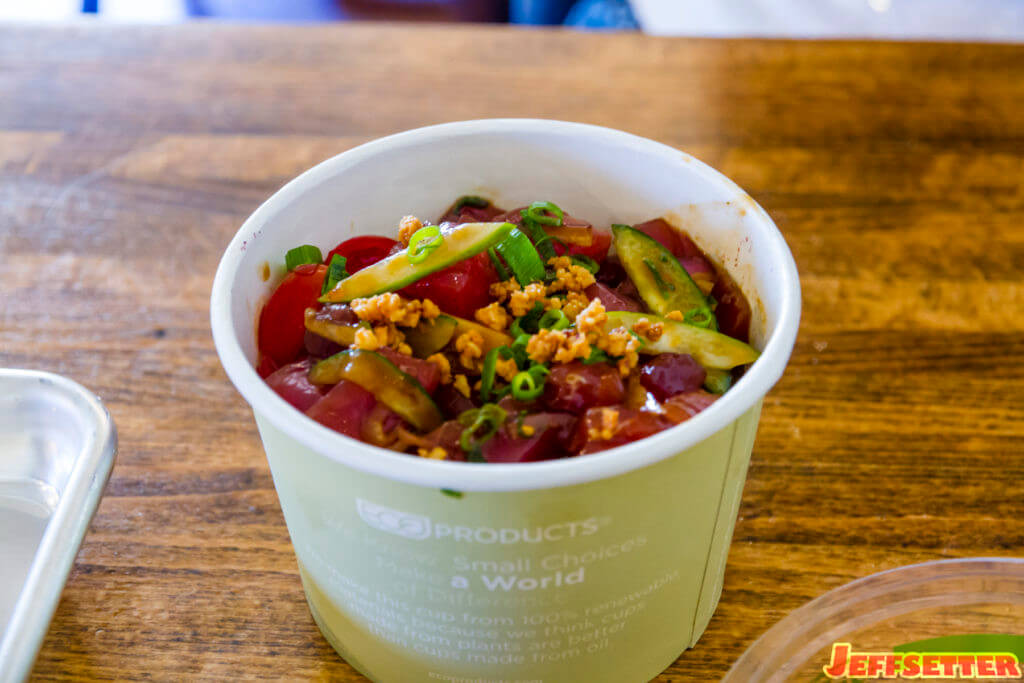 In Hawaii, poke bowls are much like pizza in New York.  We have "utility" poke bowls that are inexpensive and delicious, then there's the high-quality stuff.  The primary difference is usually the type of fish and freshness.  Utility poke bowls, for example, largely use yellowfin tuna that's previously frozen, while the high-quality stuff usually uses bigeye ahi that's fresh, never frozen.  It's nearly impossible to tell which type you're getting just by looking at it.  The best way to tell?  Price.  Fresh, never-frozen poke is usually about double the price of the frozen version.  Understandably, us locals primarily eat the frozen version, except for special occasions.
My favorite everyday poke bowls?  Probably Paina Cafe (featured image).  Their Kewalo Bowl is my favorite, with shoyu ahi, wasabi mayo, sprouts, onion, and masago.  It's a sizable bowl for under $10 and tastes fresh enough.  Foodland's poke counter is another favorite.  I love the Hawaiian style poke, which simply uses salt, inamo, and onion as seasoning.  This is the most traditional type, though I'd maybe get the poke and rice separate with Foodland.  They use hot rice when assembling their bowls, which makes the fish hot… which is weird to me.  Then again, the new Ala Moana Shopping Center Location has this intriguing new option.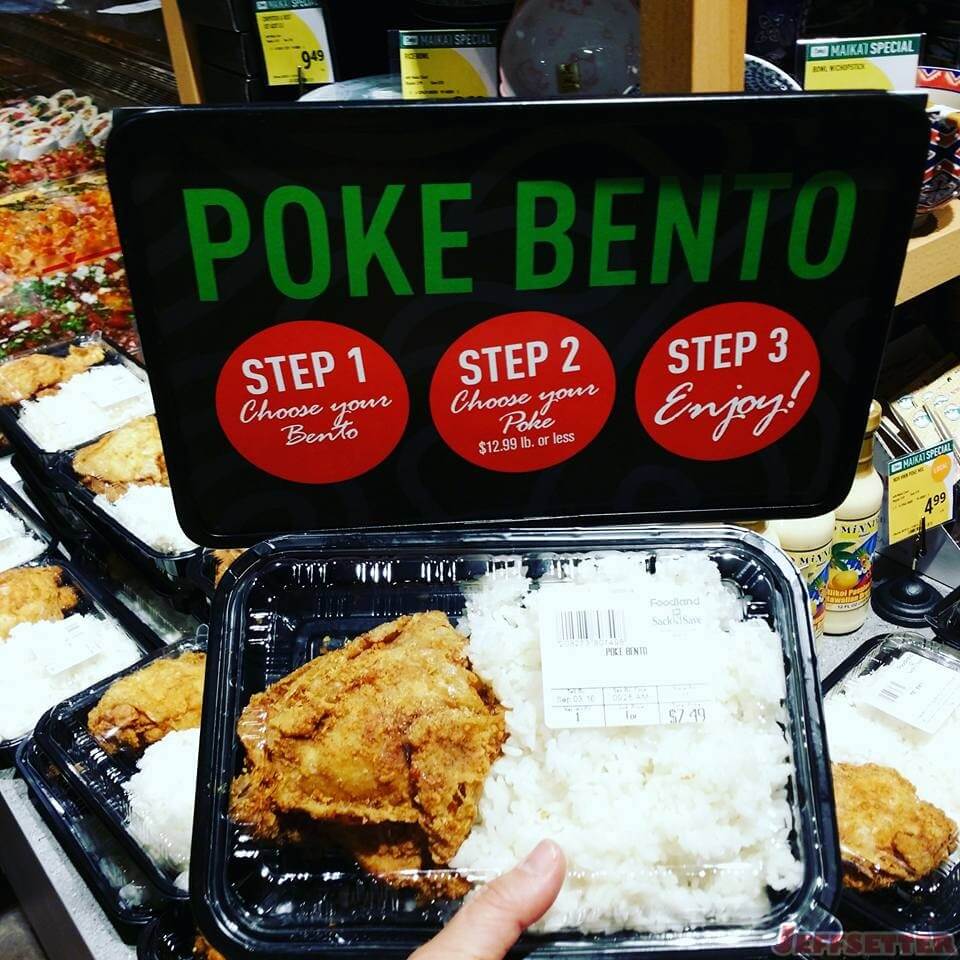 Fried chicken, rice and poke?  What's not to love!
Unfortunately, poke's explosive popularity have brought up important issue: sustainability and respect.  Ahi (tuna) stocks are at risk at best, and collapsing in the case of bluefin tuna. And while ahi is still the most common and popular type you'll find in the islands, forward thinking chefs are more trying to diversify.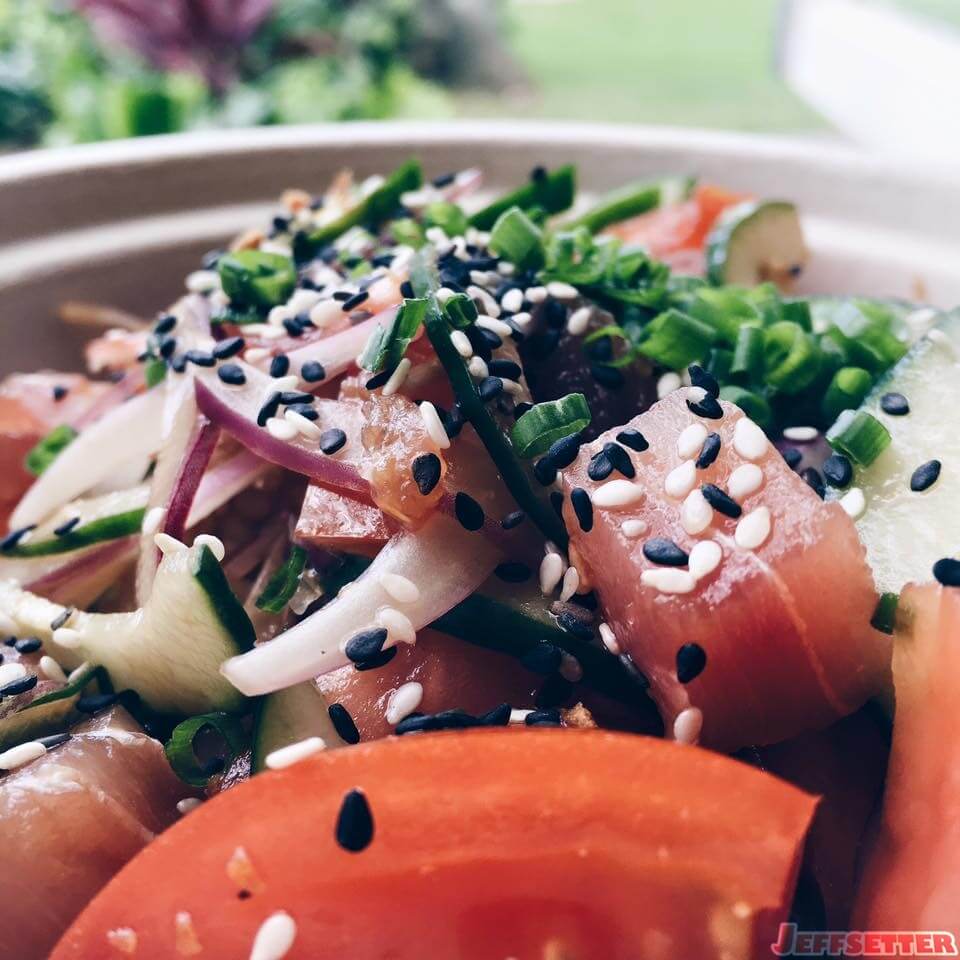 Take this poke bowl, for example.  It uses kajiki (swordfish) in place of ahi.  This one in particular is from local celebrity chef Mark Noguchi's MISSION Social Hall.  Even places like Foodland offer different alternatives.
OK, so these aren't exactly sustainable options, but they aren't ahi.  And they aren't raw, either.  The Tako Poke (octopus) is a really common, popular version locally.
There's also this all white version called "Salt Poke" I've had at a local Japanese restaurant.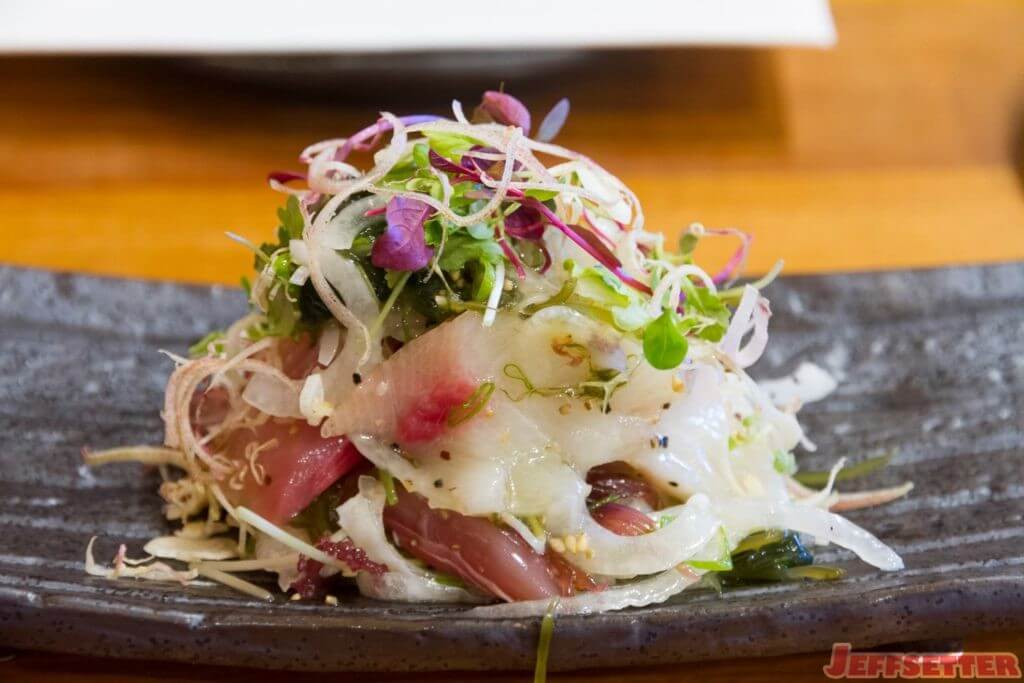 It wasn't ahi in there, but rather, shiromi.  What kind of fish is that exactly?  No clue.  Shiromi could be any variety of ocean going, white-flesh fish.
But what the above pictures really show, though, is the diversity and creativity that can be had with poke.  And that's what makes poke so popular, in my opinion.  There's no right or wrong way to do it.  You can be as crazy as you like, or as traditional as you like.  Heck, we even have poke pizza and poke tacos.
Of course this diversity and openness to creativity bring up the other issue, though, which is respect.  Poke is a traditional Hawaiian dish, and much like any other cuisine, to simply commodify it would be disrespectful.  As Mark "the Gooch" Noguchi so eloquently said, while everyone is talking about poke, no one really cares to discuss where it came from.  And I agree with the Gooch in that if you're going to make a dish and sell it, you better respect it and its origins.
The same holds true for any dish from any culture really, like ramen.  You see so much creativity and diversity in ramen, but also a lot of respect.  Some of those that pushed the envelope first, like Ivan Orkin, actually went to Japan and learned the traditional craft before respectfully giving it his own twist.  I would hope that these poke bowl restauranteurs would do the same.  Or at the very least know where poke came from, know how to do it the right way, and then add your twist to it, respectfully.  I don't know enough about the new poke places to judge, but really the best chance you're going to have with meeting the above criteria in New York, is probably Noreetuh.  This Hawaiian food hotspot is owned and operated by 3 Per Se alumni that were all born and raised in the islands.
I guess what I'm trying to get at is, yes, poke is extremely popular in Hawaii and growing in popularity across the mainland U.S. I understand why, too.  It's simplicity and flexibility is nearly unparalleled.  But at the same time, we should use that flexibility to it's advantage and be mindful of the environmental effects poke's popularity has.  Enjoy poke, but perhaps enjoy non-ahi/tuna varieties, too.  They can be equally delicious, if not more.  It doesn't matter what type of fish you use, so long as you use (or go to a place that uses) quality ingredients that are matched to the characteristics of that fish.  And of course, be respectful of its origins.  Poke, at its heart isn't a commodity, it was and is something special.  Coming to Hawaii?  You better try it here, too.
Poke Featured in this Post: