With Hawaii's recent surge in tourism, things have been quite different than before the pandemic. For one, many more visitors are doing things they aren't supposed to be doing. So, as a reminder, touching protected species is a felony – both at the state and the federal level.
At the moment, Hawaii is seeing a tourism boom. Arrival numbers are now higher than before the pandemic. But, unlike in the before times, nearly all arriving visitors are domestic. What's more, cheaper airfare is drawing a different kind of crowd than we've traditionally seen. That means that free activities such as driving the Road to Hana, hiking, etc., are more popular than ever. This, of course, is leading to unprecedented congestion in certain areas.
Unfortunately, the visitors arriving in the islands today are also far less aware of what is and isn't allowable while on the islands. So, let's go over the most obvious rules/laws concerning protected species that should be followed.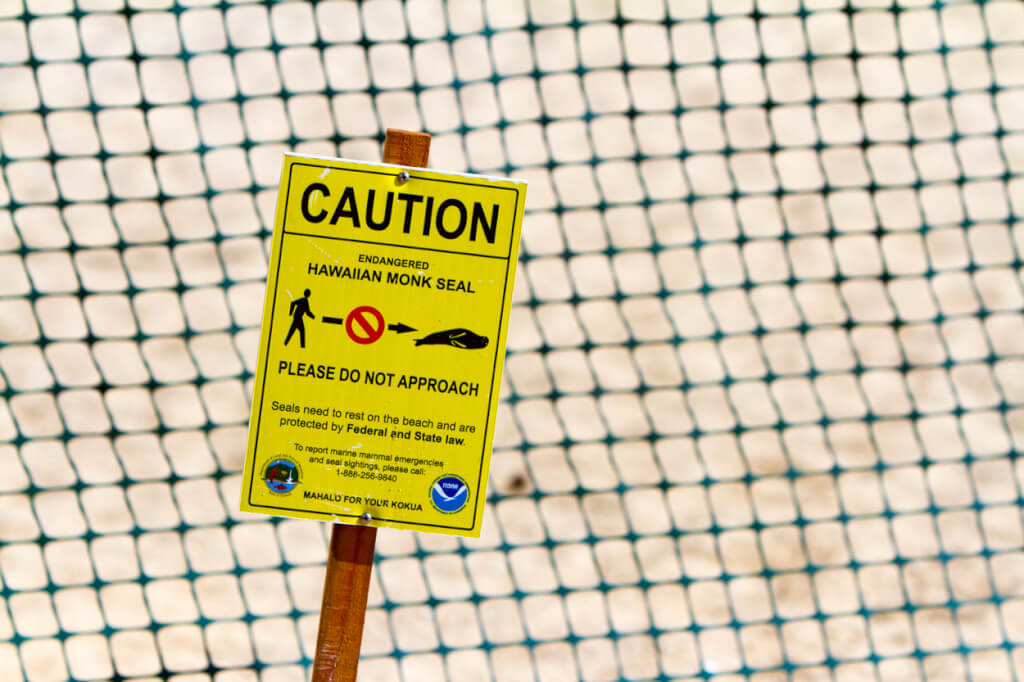 Touching Protected Species is a Felony
Lately, we've seen an uptick in grotesque visitor behavior. The worst of these is the harassment of protected, endangered animals. More specifically, visitors are disturbing Hawaiian Monk Seals and green sea turtles. And then, some have the audacity to record themselves in the act and freely share it online. You know, if you're going to do something illegal, then don't share incriminating evidence, ok?
Anyway, under state law, disturbing ANY protected animal in Hawaii is a Class C Felony, punishable up to $50,000 in fines and five years in prison. The Endangered Species Act states that up to $50,000 in fines and a year in prison for violators on the federal side.
Legal consequences aside, why on earth would you touch a wild animal in the first place? Wild animals are just that – wild. They're not tame and can seriously hurt you. Plus, a sleeping animal is sleeping because, well, it has to. Besides, how would you like it if someone came a randomly tapped you sleeping or awake?
Endangered Hawaiian Species
Hawaii is the endangered species capital of the world. Were are home to over 300 species of wildlife and plants that are – often – on the brink of extinction. The Hawaiian Monk Seal, of which there are just 1,400 left, is one of the more common of these. But, while in Hawaii, other endangered species you may encounter are:
Nene goose
Hawaiian Duck (all look like female mallards)
Green sea turtles
Every single endemic forest bird, including the Pueo (owl), 'Io (hawk), and all honeycreepers
Hawaiian Stilt
Hawaiian Coot
Short-Tailed Albatross
Hawaiian Petrel
Newell's Townsend's Shearwater
All Hawaiian Damselflies
Ahinahina (Silverswords)
Hawaiian Hoary Bat
Humpback Whales
Hawaiian Spinner Dolphins
and more
How to View Hawaii's Endangered Species
Common sense – which may not be so common – states that you should keep your distance from wild animals. Alas, since you can trust people to act responsibly, there are guidelines for viewing certain endangered animals.
Green sea turtles – remain at least 10 feet away.
Hawaiian Monk Seals – remain at least 50 feet away
Humpback whales – stay at least 50 yards away.
Hawaiian Spinner Dolphins –  do not approach within 100 yards.
Touching Protected Species is a Felony, Final Thoughts
If you thought paying to get a COVID test was expensive, getting slapped with a massive fine for disturbing an endangered species is far worse. So, when in doubt, keep your distance! And let's remember, regardless if you're a lifelong resident or a visitor, the islands really belong to these plants and animals – they were here first. So let's all show them the respect they deserve.