Last week we reintroduced the weekly poll on Jeffsetter and results have started to flow in since that time. We have collected several responses to the poll and it turns out that readers are most excited to visit Asia and Antarctica for their next international trip. With 20 responses for Asia and 19 for Antarctica, these two destinations were clearly the winners of the poll. The good news is that all continents received votes and with the exception of North America, at least 10% of votes went to one of the 7 continents.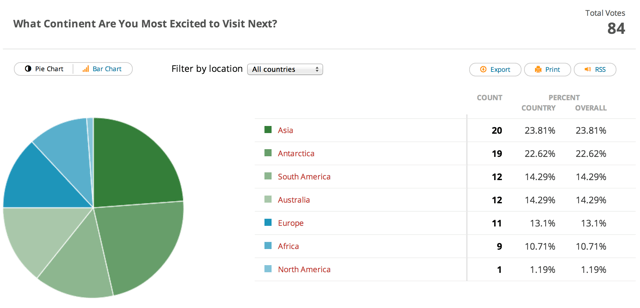 Of the results that came in, I am not surprised that Antarctica was a popular answer, because it is the final destination frontier for many avid travelers. With the way that the question is phrased, it is also among the most exciting. I'm most surprised that so few people were excited to visit Africa. With the wildlife and untapped beauty, it is a place that I am always excited to visit. In fact, I'm heading to Africa again next April for a safari!
North America only had one vote, which is not surprising at all given that the vast majority of votes came from North American countries.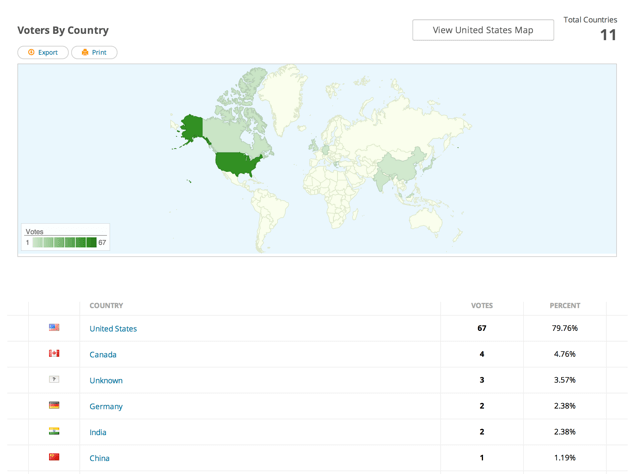 Perhaps the best sign that I take away from this week's poll is how many people responded in such a short amount of time. My last poll had only 16 responses over the course of several months while this poll had 84 votes in a little over a week. That leads me to believe that maybe I need to write more intriguing questions. It's also encouraging to see that voters came in from Europe and Asia!  Feels great to have international readers (or readers who are voting while traveling).
Lastly, I wanted to share a fun twitter conversation that came out of the poll. Lots of good talk with friends Heels First Travel, The Girl and the Globe and Chris formerly of Do it for the Points about the potential for a trip to the frozen continent.
[New Poll] What Continent Are You Most Excited to Visit Next? – http://t.co/Z4V3tCkGFB

— Jeffsetter Travel ✈✈✈ (@jeffsettravel) October 1, 2013
(View the full Twitter Conversation here).
In the end, we decided that it might be a good idea for travel bloggers to get together and do a MegaDO to Antarctica. How fun would that be?!  Now we just need to convince the great Randy Petersen to come aboard.