Rocky the monkey caught the attention of all of Hawaii when she became the first Hawaiian Monk Seal to give birth on bustling Waikiki Beach in forever. Recently, she came back to Waikiki to give birth again, though things have gone quite wrong this time. So, this is a reminder to keep your distance from monk seals.
Hawaiian monk seals are one of the most endangered species on the planet. As was the case when Kaimana was born, roughly only 1,400 seals survive today in the while, the bulk of which call the isolated Northwest Hawaiian Islands home. So seeing a seal in a densely populated area like Waikiki is a treat – doubly so when one gives birth in such an area. However, these incidents also can become problematic. These are, after all, wild animals. And like many wild animals, monk seal mothers are extremely protective of their young. Recently, a visitor found that out the hard way.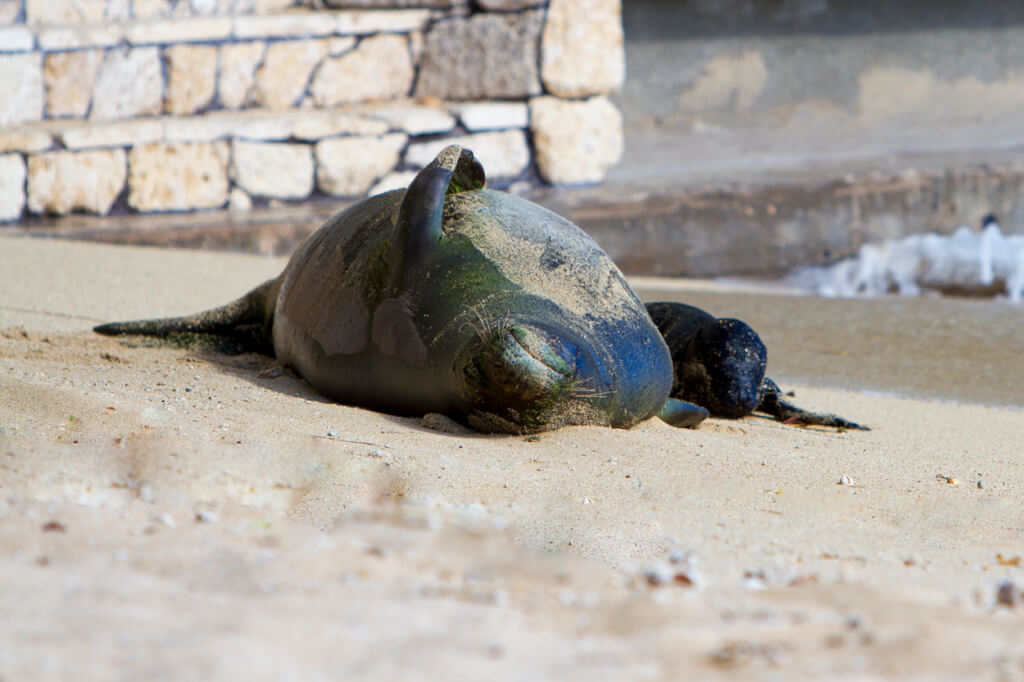 Keep Your Distance from Monk Seals
Common sense is to keep your distance from monk seals or any other wild animal. However, given their endangered status, federal law mandates that you stay at least 150 feet away from monk seals. In the case of Rocky and her yet-to-be-named pup, volunteer caretakers erect fencing and signs around her nursing area to keep onlookers a safe distance away. But seals need to venture into the water every so often, and that's when things begin to get more complicated.
Over this past weekend, a visitor from California decided to take a swim along Kaimana Beach. According to officials with the Hawaii Department of Land and Natural Resources, the woman claims she didn't know Rocky and her pup were in the water. She also claims that her swim cap prevented her from hearing the multiple verbal warnings issued by lifeguards and caretakers.
The result? The visitor got far too close to Rocky and her pup, causing Rocky to attack her violently. Luckily, onlookers distracted Rocky while others helped bring the woman to shore. Emergency Medical Services officials state that the woman was very lucky, having sustained only minor cuts to her face and arm. Things could have been far, far worse.
On Monday, DLNR officials announced that, given the woman's recount of the incident, they believe it to be an innocent accident and won't be fining her. However, they took the opportunity to remind the public to keep your distance from monk seals. Had the woman been fined, she could've been on the hook for $50,000 and up to five years in prison.
What You Should Do When Seals Are Around
The above incident may very well be an accident. However, it could've been avoided altogether. The woman acknowledged seeing the signs around the beach, though she states that she didn't see the seal, so she though nothing of going for a swim. That's a categorically wrong sentiment to have. If you don't see a mother seal and her pup around, it means they're in the water. And if they're in the water, you better stay the hell out of the water. If you're swimming, it'll be difficult for you to keep an eye on where they are, especially if they're submerged. Plus, seals don't know that you approaching them is an accident – it's a threat to them.
If you get into a situation in which you've breached a monk seal's bubble, well, there's not much you can do. While they're slow on land, monk seals are QUICK in water. In fact, they can swim at up to 35 mph. You have absolutely no hope of outswimming that, so the best thing to do is, again, keep your distance from monk seals. Never assume a mother and pup aren't around when they're known to be in the area.
Keep Your Distance from Monk Seals, Final Thoughts
I'm glad no one was seriously hurt in this incident, though it does serve as a poignent reminder that you really do need to keep your distance from monk seals and all other wilde animals. Though they appear cute and cuddly, monk seals can and will attack when they feel threatened. They are most aggressive, however, when protecting their young. So give them space and maybe choose another swimming spot for the time being.