During the pandemic, numerous new hole-in-the-wall businesses popped up across Honolulu. One of these businesses is Beyond Pastry Studio, renown for their epicurean cheesecakes. And, this past Thanksgiving, we finally tried the Beyond Pastry Studio Cheesecakes.
Beyond Pastry Studio is one of the newest new spots in Honolulu. They opened earlier this year and only recently began regularly operating out of their brick & mortar location. Prior to this, owner-baker Cristina sold her pastries and cheesecakes via pop-up events. Located in downtown Honolulu, Beyond Pastry Studio truly is a hidden gem. Blink, and you'll miss it along busy Alakea Street. And while they're open five days a week, you'll want to plan your visit accordingly, as not everything is available every day. You see, Tuesday through Friday, they have their normal pastries for sale. You can either pre-order these or drop by and shop. The cheesecakes, however, are an entirely different story.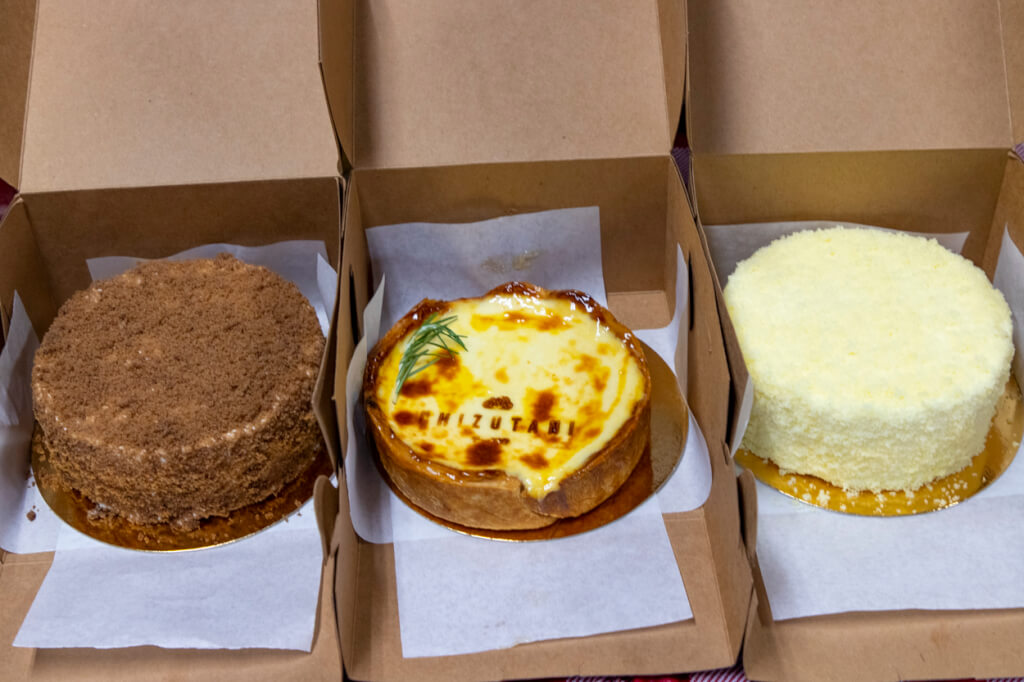 Beyond Pastry Studio Cheesecakes – How to Order
If you have your heart set on the Beyond Pastry Studio cheesecakes, you're going to need to do a bit of planning ahead. You see, the cheesecakes are available for pick up only once per week on Saturdays (between 10 am and 2 pm) and must be pre-ordered in advance. What's more, only a certain quantity of cheesecakes are made available each week. So, you'll want to head to Beyond Pastry Studio's website on Monday on the week you want to pick up your cheesecake(s) to place your order.
Cheesecake Types
There are three different types of Beyond Pastry Studio Cheesecakes – the original Epicurean Cheesecake, the Chocolate Epicurean Cheesecake, and the Chizutani. The first two are quite similar to each other and will be at least somewhat familiar to most. However, that last one is quite a bit different from anything I've ever tried before.
The Epicurean Cheesecake
The two Epicurean Cheesecakes are basically the same except, of course, for their flavor and color. Both have a think cake base with two cheese layers and a crumb exterior. In the case of the original Epicurean Cheesecake, those two cheese layers include a base lilikoi cheesecake layer and a Laie Vanilla one. Taste and color aside, you'll notice that these two layers also have different textures. The base "flavor layer" is often denser and creamier, while the top layer is slightly lighter and fluffier.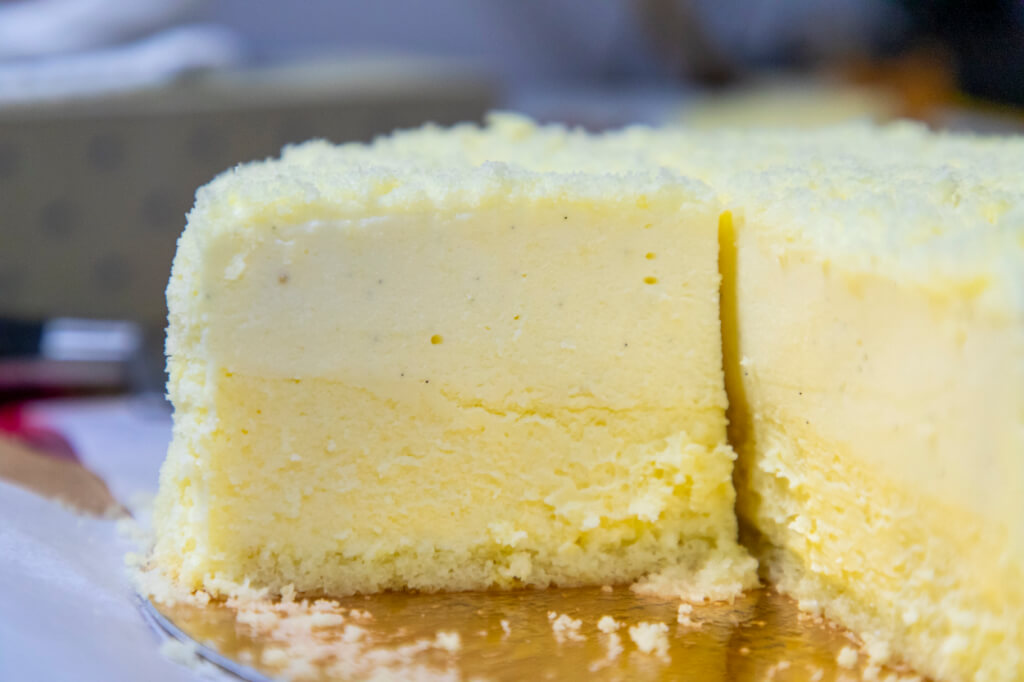 In this cheesecake, the lilikoi layer lends a tart, tropical fruitiness to it, while the top layer counters the bottom one with lush, creamy, vanilla. It's perfectly balanced, being neither too sweet nor too tart nor is it too heavy or fluffy.
The Chocolate Epicurean Cheesecake
Much like the original Epicurean Cheesecake, the chocolate one is comprised of a top layer Laie Vanilla and a bottom of chocolate. Textures remain the same as the original, so it's really only the flavor that differs here, which is a good thing. In this case, however, the two different layers make the experience akin to eating a scoop of chocolate and vanilla ice cream together. Only, here, the chocolate layer has a subtle tart cheesiness to it, which helps to balance the whole thing out.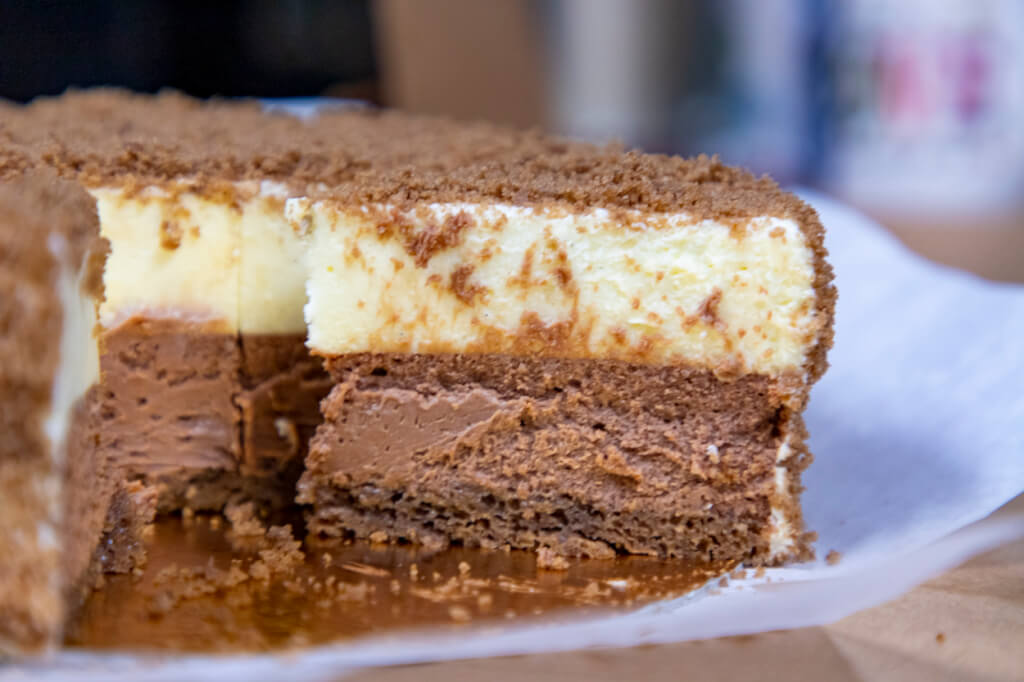 Chizutani
The third cheesecake is a bit of an oddball. Cristina calls this one Chizutani and describes it as a cheesecake meets cheese tart. As you can see, it has a tart crust and, as suggested by the sprig of rosemary, is more on the savory side. And, indeed, this one is far less sweet than the other two, not that the other two are what I'd consider to be sweet either. But, the Chizutani has more of a pronounced cheesiness to it. This cheesy tartness is further enhanced by the tart yuzu glaze covering the top. The flavor, however, is really subtle. I couldn't taste yuzu until I hit a deep pocket of lazy pooling near the crust.
To be quite honest, I wasn't sure if I liked this one or not. The crust is quite good – a flaky, buttery masterpiece –  though it's a challenge to cut through. Plus, the overall flavor profile is a bit perplexing. I was leaning more towards not liking the Chizutani when we first tried it. However, I ended up liking it more when I tried it again the next day. Somehow, the flavors mellow a bit more, and while still a little unusual, it ends up balancing out a bit more. Oh, and I highly suggest eating this one by hand-cut a wedge and enjoy! That's a far easier way of enjoying this one than using a fork.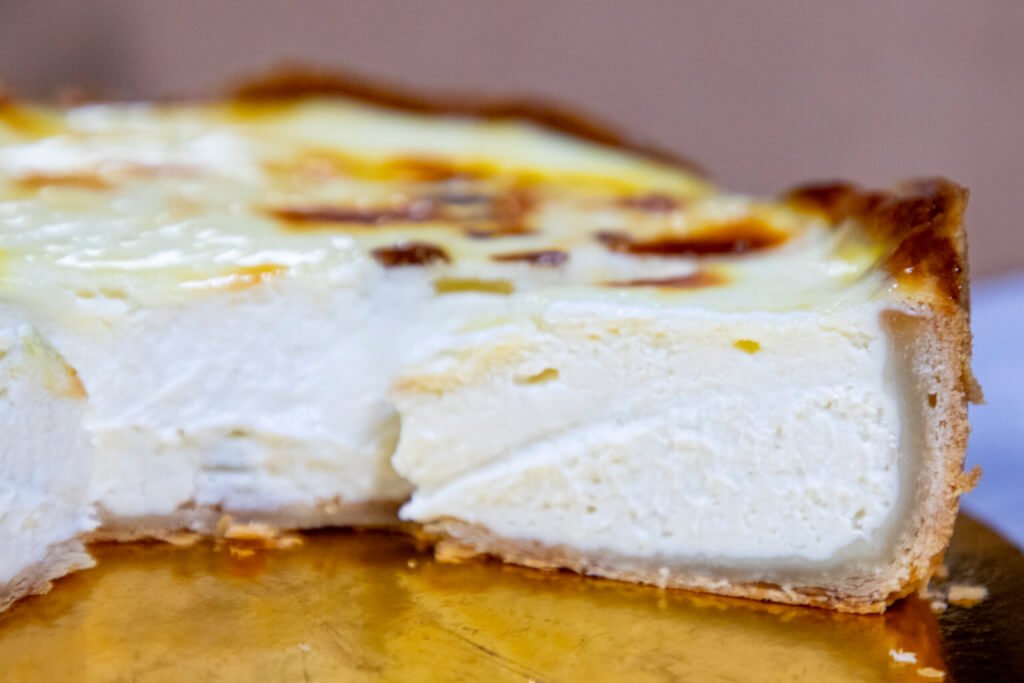 Final Thoughts
My entire family actually liked the Epicurean cheesecakes quite a bit. So much so that we ordered them again just a couple of weeks later. What's more, they aren't badly priced either. All cheesecakes come as 6-inch rounds, with the Epicurean types costing $34 and the Chizutani coming in at $30. Yeah, that sounds a bit expensive, but they're well worth the money, in my opinion. Besides, a 7-inch Godiva Cheesecake at the Cheesecake Factory comes in at just under $36, and the 6-inch Chocolate Mousse Cheesecake comes in at just under $28. But, you get a higher quality product made with local ingredients at Beyond Pastry Studio. Plus, Cristina's cheesecakes don't leave you feeling like you're going to die after eating them. I can't say the same about the Cheesecake Factory's cheesecakes, though I like them on occasion too.
At any rate, I highly suggest checking out Beyond Pastry Studio if you're looking for an elegant, tasty, well-balanced dessert for your next special occasion – or even just because!