I knew we'd be doing a lot of driving in our Living It Up in California trip, so I wanted a good car. After much research, I settled on renting with Enterprise SJC, choosing their Standard Elite class via Costco Travel. I just hoped I wouldn't get the same car I did a couple of months earlier in Seattle.
Ok, so let's get one thing out of the way right now. If you're reading this blog for the first time and didn't know, I'm from Hawaii. We don't drive long distances. So, to me, driving three hours is LONG. And on my recent visit to California, I knew that my longest drive would be at least four hours long. As a result, having a car that drives well and is comfortable was a top priority for this adventure. Superficially, having something that blended in with the areas we'd be visiting wouldn't hurt either. That's why I decided to splurge and booked a Standard Elite car with Enterprise SJC.
Booking
But was this car really all that much of a splurge? No. You see, for my dates, it would've cost me $440 to rent a Toyota Corolla or equivalent. For $60 more, I could have an Infiniti Q50 or Audi A4/A5. For a week. With the amount of driving we'd be doing, I felt that a $60 premium was well worth the upgrade to a Standard Elite vehicle.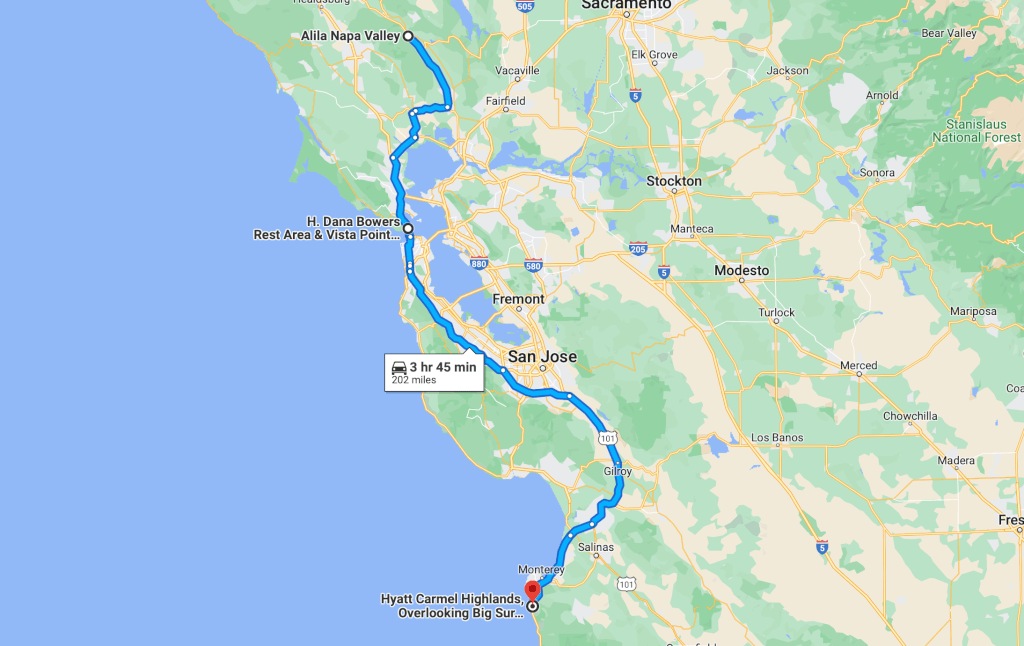 Enterprise SJC Pick-Up
As mentioned in my review of Alaska Air Flight 830, that flight arrived about 30 minutes before the whole CONRAC closed. So while Mrs. Island Miler went to the baggage claim, I booked it over to the CONRAC with our carry-on bags. I made it with just over 10 minutes to spare. At that time, I had to go straight up to the garage instead of the counter, where very friendly employees were waiting to assist me. After quickly going through the paperwork, they took me over to the cars and let me pick from the selection. Not wanting the Infiniti Q50 again, I settled on an Audi A4.
After a quick once-over, I loaded up my bags and headed out. There was a bit of a wait to get out of the CONRAC, which eventually took me about 10 minutes. After which I looped back towards the terminal to collect Mrs. Island Miler and our checked bags.
Enterprise SJC Audi A4
Our Audi A4 from Enterprise SJC had just 5,000 miles on it and looked practically brand new. Unlike some of my previous Silvercar rentals, this one didn't have a funky smell, either. However, also unlike my Silvercar rentals, this A4 didn't have GPS, didn't let you display your CarPlay Nav in the dash, didn't have satellite radio, and didn't have blindspot monitoring. That said, this newer model did have several features my Silvercar A4s didn't have, including wireless CarPlay, a top-down camera, a forward-looking creep-out camera, and lane-keep assist.
Overall, this A4 wasn't all that different than the others I had. What I will say is that the wireless CarPlay was convenient and a curse all at once. It would randomly cut out here and there and would always cut out when we drove past airports/airfields. That said, the heated seats and steering wheel were marvelous during cold mornings, especially in Big Sur. And the top-down 360 camera was super convenient in tight spots.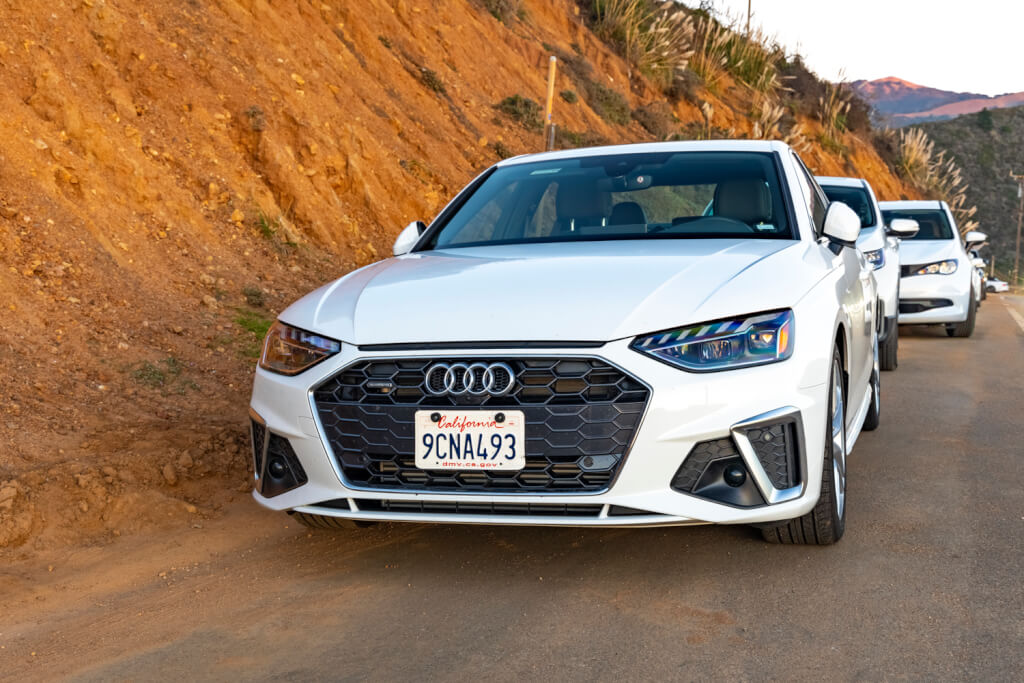 That said, the one feature of the car I couldn't stand was the lane-keep assist. It was overly aggressive and, in contraflow situations, was borderline dangerous. Figuring out how to disable it isn't all that straightforward, either. There's a little button on your windshield wiper stalk that does the trick. But it's hard to spot if you don't know to look for it there.
Enterprise SJC Return
At the end of our trip, we headed back to SJC early in the morning. So early, in fact, that Enterprise SJC was still closed. Thankfully, they have an after-hours drop-off option. So, all we had to do was drive the car into the CONRAC, park it in the designated area, and walk off with our stuff. After a short elevator ride and a walk across the street, and we were in the terminal. Easy.
Final Thoughts
As I mentioned in my flight review, part of the reason I chose San Jose Airport is for the on-site CONRAC. And, to be honest, that convenience was well worth the lack of in-terminal amenities. In fact, I think I'll fly into San Jose the next time I'm in the bay area again. I can't tell you how much I dislike tranisiting between the terminal and CONRAC at SFO.
Either way, I was happy with my decision to splurge a little with the Audi. The heated steering wheel and seats were absolutely essential during the cold mornings, while the performance, conveniences, comfort, and creature comforts were great over our 763 miles of driving.
Living It Up in California
Alaska Air Flight 830
Enterprise SJC