As I mentioned in my introductory post, I chose not to fly Southwest Airlines to Hilo because of the poor timing. That's how we found ourselves on Hawaiian Airlines 212 – the first time I've purchased an inter-island flight on Hawaiian in nearly a decade.
Yeah, yeah. I flew Hawaiian to and from Maui in December 2022. But that was for work – I didn't have a choice, so that doesn't count. Alas, though I didn't want to redeem my HawaiianMiles for this flight (it's such a damn ripoff) I did manage to get this flight for free.
Booking Hawaiian Airlines 212
This was a last-minute trip as far as my typical planning process goes. We went to Hilo over the Memorial Day weekend, and I booked our flights in early April. At the time, the standard fare came out to $63.40 per person. However, since they were available, I upgraded us to Extra Space seating, so we could bump into Zone 3 boarding at a cost of $10 per person. Then, of course, I had to pay $15 for our one checked bag.
In all, the tickets for Hawaiian Airlines 212, the seat upgrades, and our checked bag would've cost me $161.80. One way. But, I put the purchase on my Chase Sapphire Reserve, which canceled out these charges by applying my $300/year travel credit to it. That wasn't the way I wanted to use them, but it ended up being for the better, as we're no longer going to Maui this year.
Hawaiian Airlines 212 Ground Experience
What can I say, it was a post-lockdown holiday weekend. Hawaiian's check-in lobby was a damn circus, and we ended up waiting in the bag drop line for about 10 minutes. Then, of course, we had to walk quite a ways to get to a TSA lane with Pre-Check, which, thankfully had no line, and we made it through fairly quickly. Once through, it was time to get some breakfast and waters.
The gate area was kind of crowded when we got there and, of course, the older part of terminal one has its waiting area on a different level from the gate area. We hung out there until boarding began, when many others started making their way down, too.
Our aircraft – N480HA, called Pueo – was running late. It was scheduled to arrive at 8:41 am but ended up pulling into our gate at 8:55 am. Miraculously, the aircraft was offloaded and turned quickly, allowing us to begin boarding at our originally scheduled time – 9:20 am, at which time, the pre-boarding call was made for Hawaiian Airlines 212.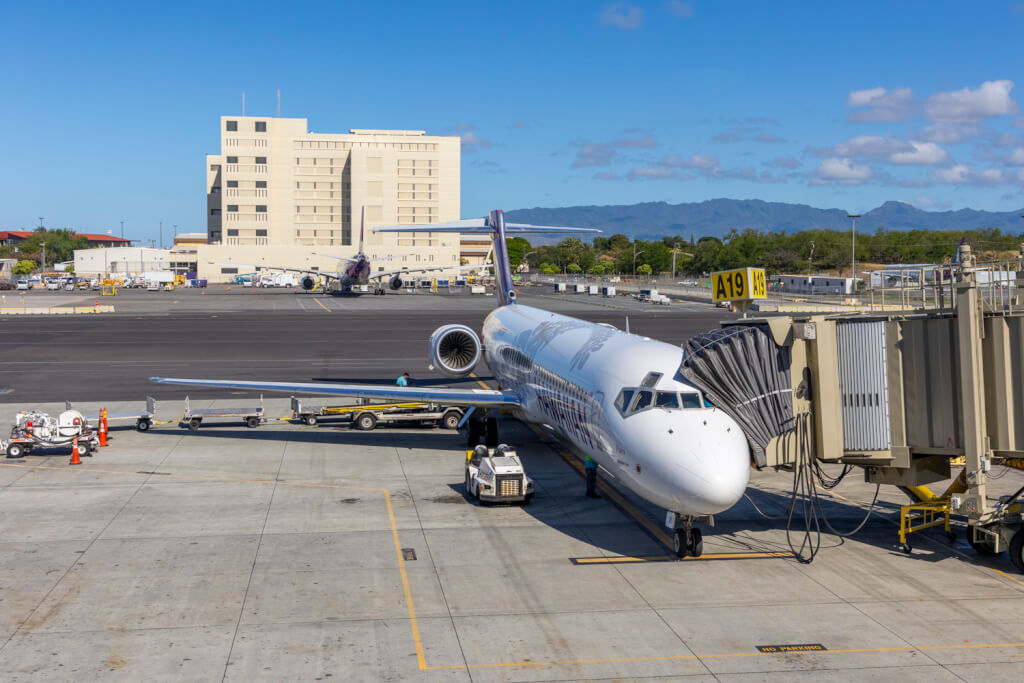 Eight minutes later, the call for first class was made, along with Pualani Platinums, and Pualani Golds. Two minutes later, families and military were called, followed by Zone 3 at 9:31 am, at which point, we quickly headed onboard.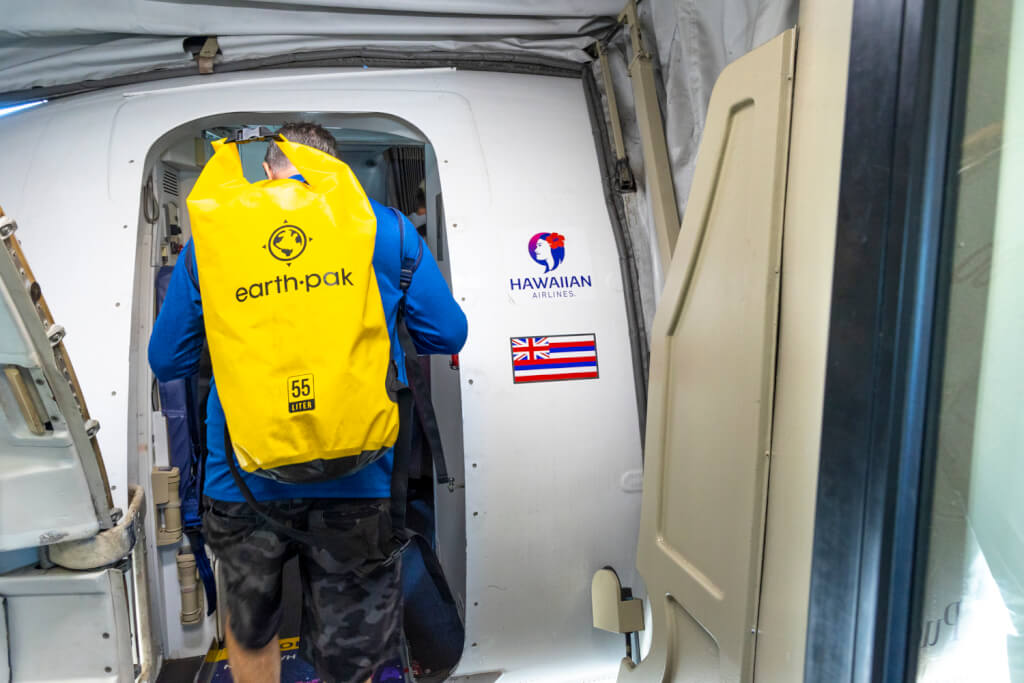 Boarding completed fairly quickly, especially considering that our flight was mostly full. Just 14 minutes after our boarding zone was called, and 25 minutes after it began, the cabin door was closed.
It's been a while, but Extra Space seating on Hawaiian's Boeing 717s hasn't changed. You still get a little more leg room than standard economy seats, and the tray table is still in the armrest rather than on the seat in front of you. That means that the armrests aren't moveable, either. Interestingly, the seat rails meant that the space below the seat in front of me was really small. So small, in fact, that Mrs. Island Miler's purse barely fit there. Thankfully, the space in front of her was large enough for my backpack.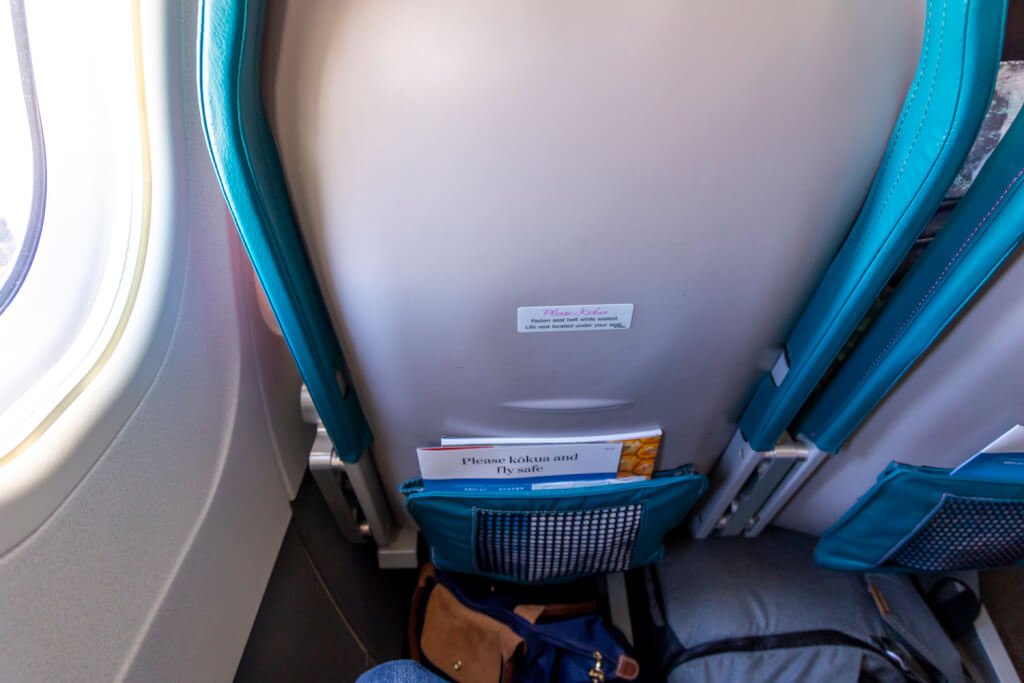 Hawaiian Airlines 212 Flight
Our scheduled departure time was 9:45 am. Naturally, that wasn't going to happen, as that was the time the cabin door closed. Instead, Hawaiian Airlines 212 began its pushback six minutes later.
As we taxied out of we passed by one of ANA's Flying Honus.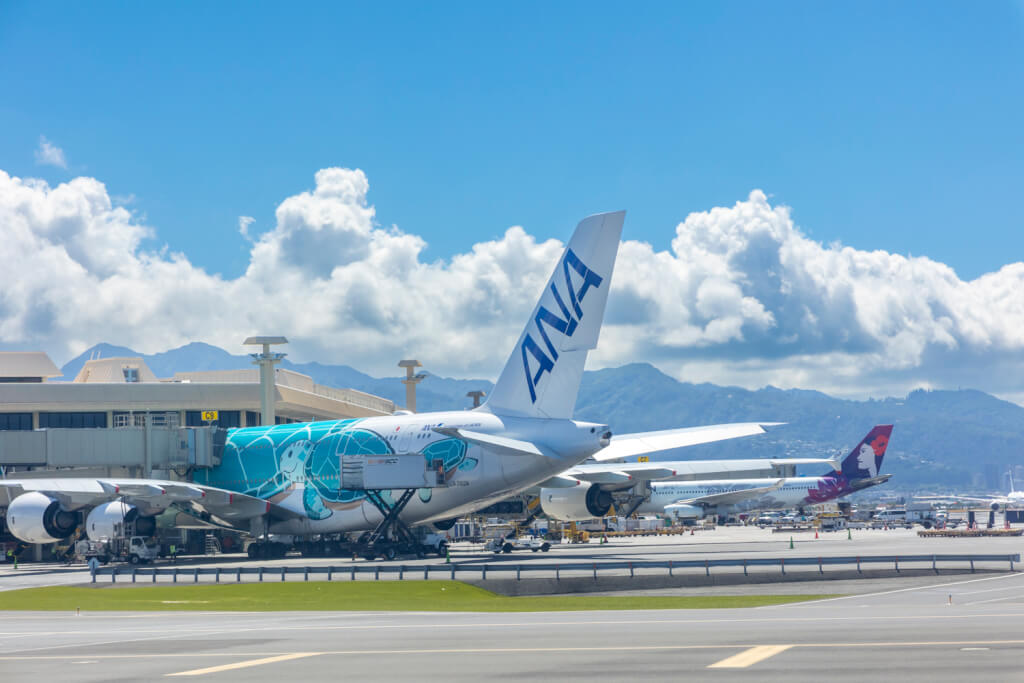 On our way out, we passed over the then partially rebuilt runway 8L, which just reopened for limited operations.
10 minutes after we began our pushback, arrived at our departure runway, 8R and immediately began our takeoff roll.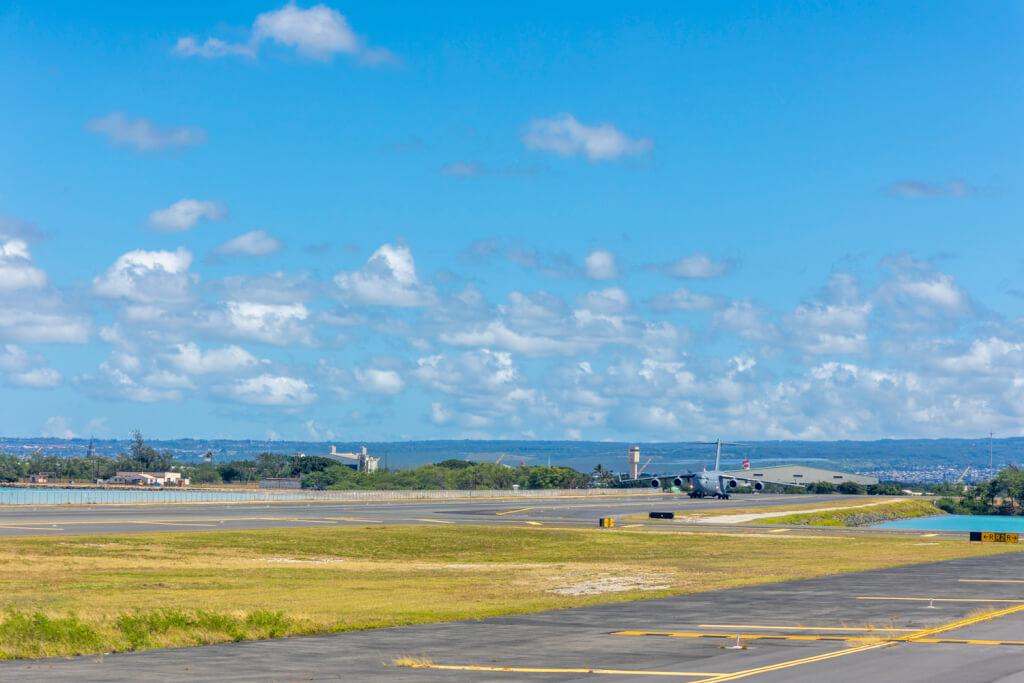 As we began rocketing off, we saw a C-17 following us, along with a FedEx Boeing 777 taxiing off the runway.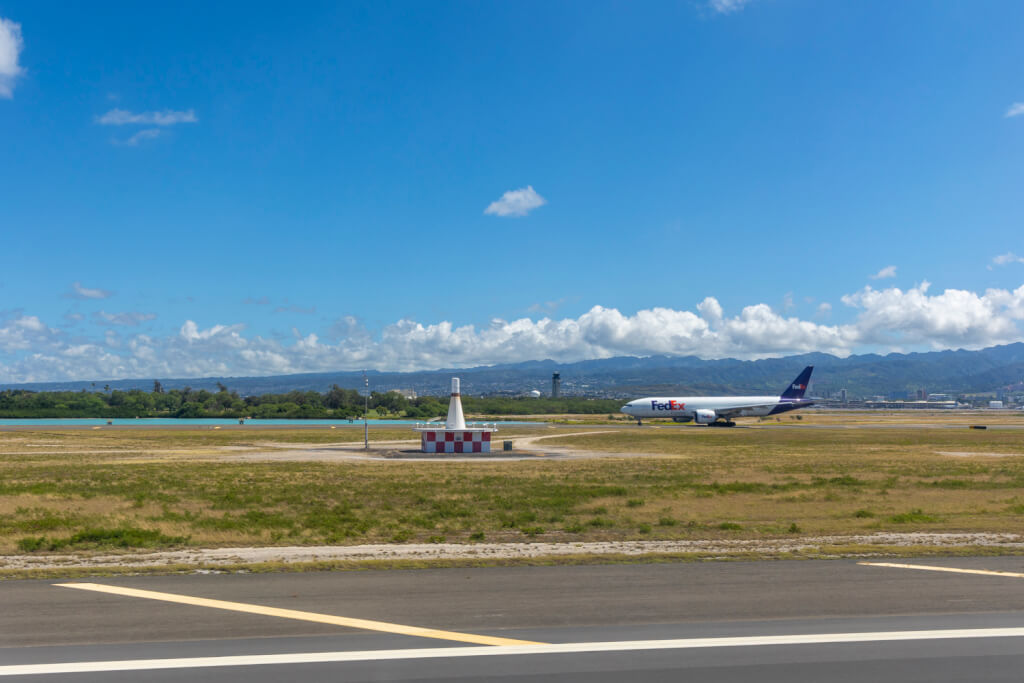 As we rocketed out, we got a great view of Terminal 2.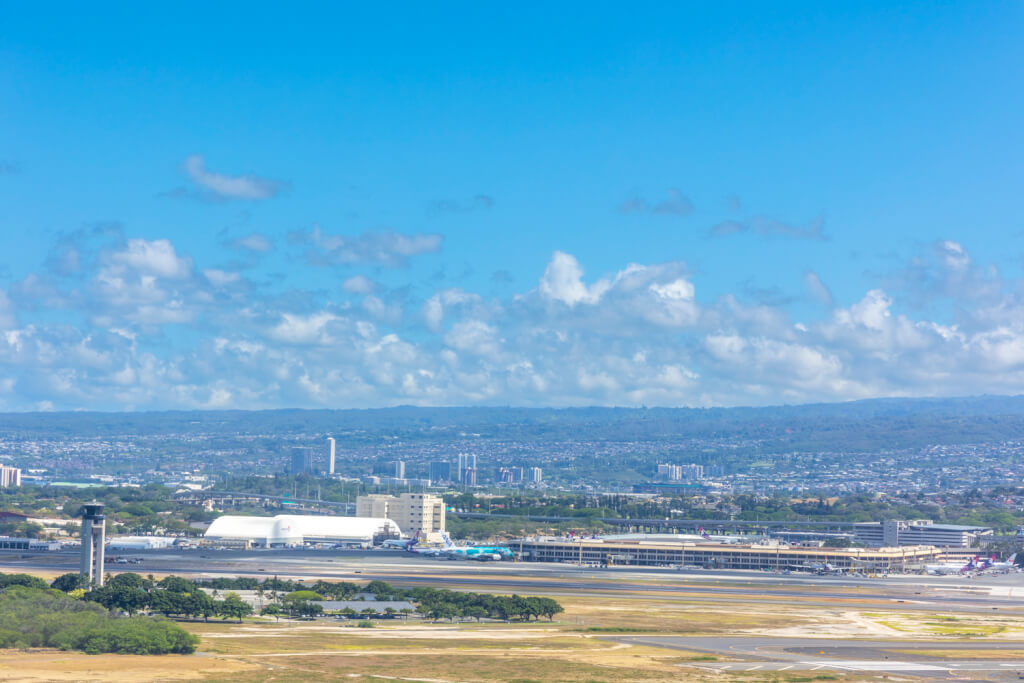 It was a sunny, gorgeous morning, which is why some of my photos look odd. The bright, harsh sunlight can make taking photos difficult. But it also gave us great views of Oahu's south coast on our climb out.
At 10:06, five minutes after we began our takeoff roll, flight attendants came around with their beverage cart. On that day, they were serving Passion-Orange Nectar. No POG that day, but that's ok. I think this one is better – it isn't as sweet.
As we were enjoying our beverages, we passed over Molokai.
It's at this point that a flight attendant approached us and asked us to switch seats with a couple in the first row of Extra Space on the starboard side of the aircraft – opposite from where we were sitting. The issue in this case is that the couple had a lap infant, which isn't allowed in that row because the seats in that row have air bags in the seatbelts.
The flight attendant apologized profusely, saying that the gate agent should've never assigned the couple those seats to begin with. She also gave us cup full of Biscoff cookies.
I've never sit on the starboard side of the aircraft when flying to the Big Island, so this was a first for me, even if we were just halfway thru. As such, I'ever never seen Kaho'olawe in its entirety from the air until this flight. Molokini was visible, too.
Not long after we passed Kaho'olawe, we began our initial descent at 10:18 am. Shortly thereafter, we began making our turn to the left towards Hawaii Island, passing by Hawi. From here, we began flying along the Hamakua Coast.
There was just enough breaks in the clouds for us to see the summit of Mauna Kea, which still had some patches of snow.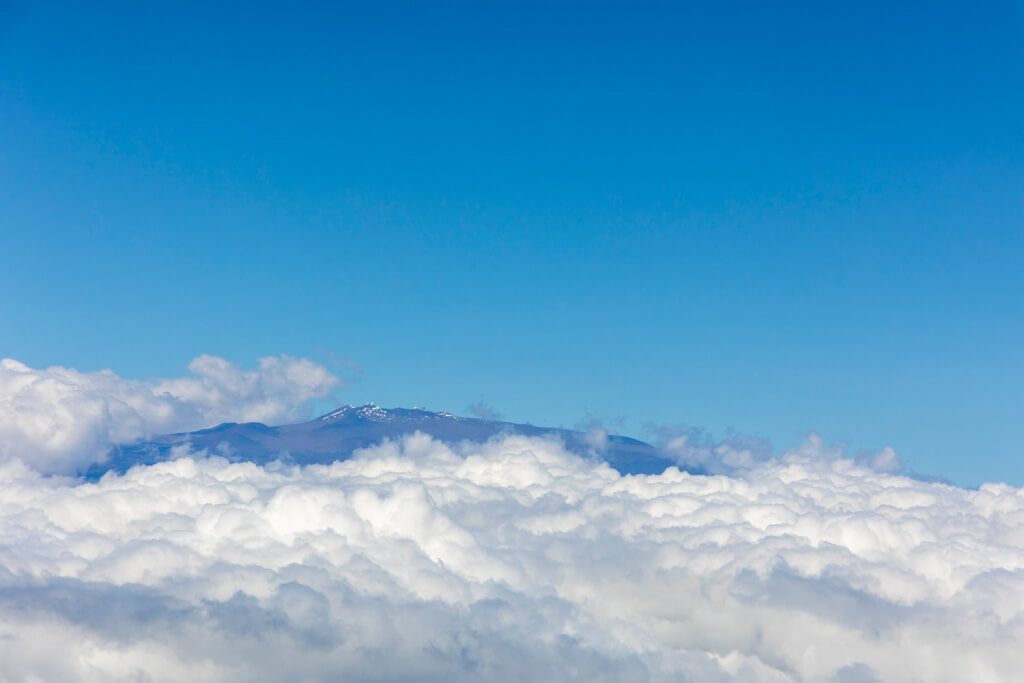 As we continued to fly down the coast, many waterfalls came into view.
At 10:32 am we began our final descent, coming in low over Hilo, as is always the case. As we did, we passed by the Hilo Hawaiian Hotel, then the Edith Kanaka'ole Stadium – home of the Merrie Monarch Festival – and the former Hawaii Consolidated Railway roundhouse.
Just three minutes later, we touched down at Hilo International Airport.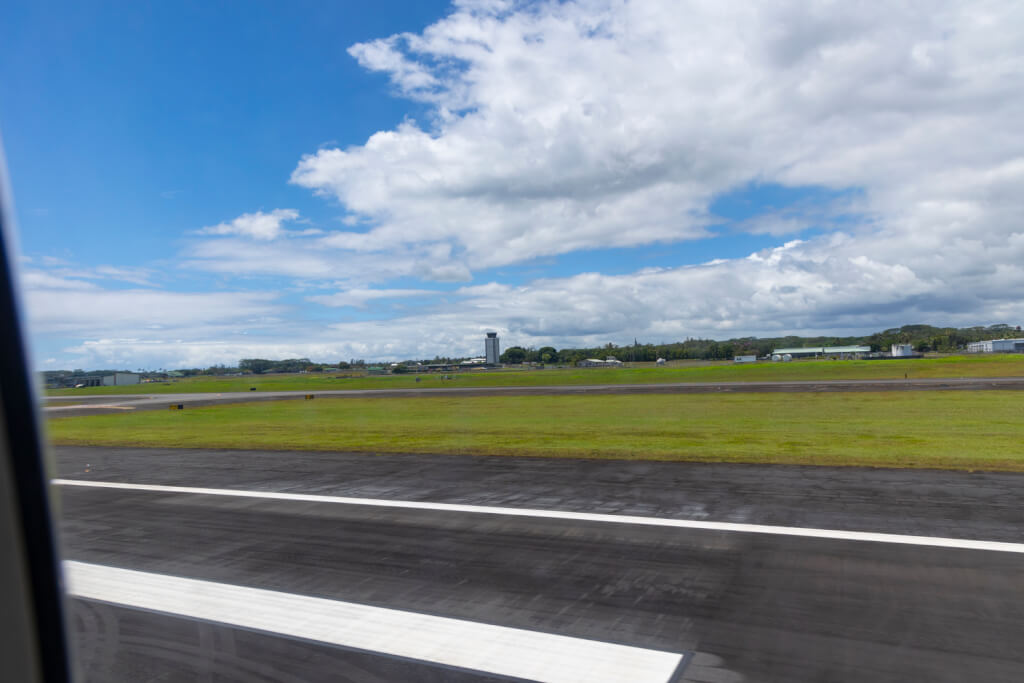 Three minutes later, we pulled into our gate at 10:38 am which, ironically, is three minutes behind schedule.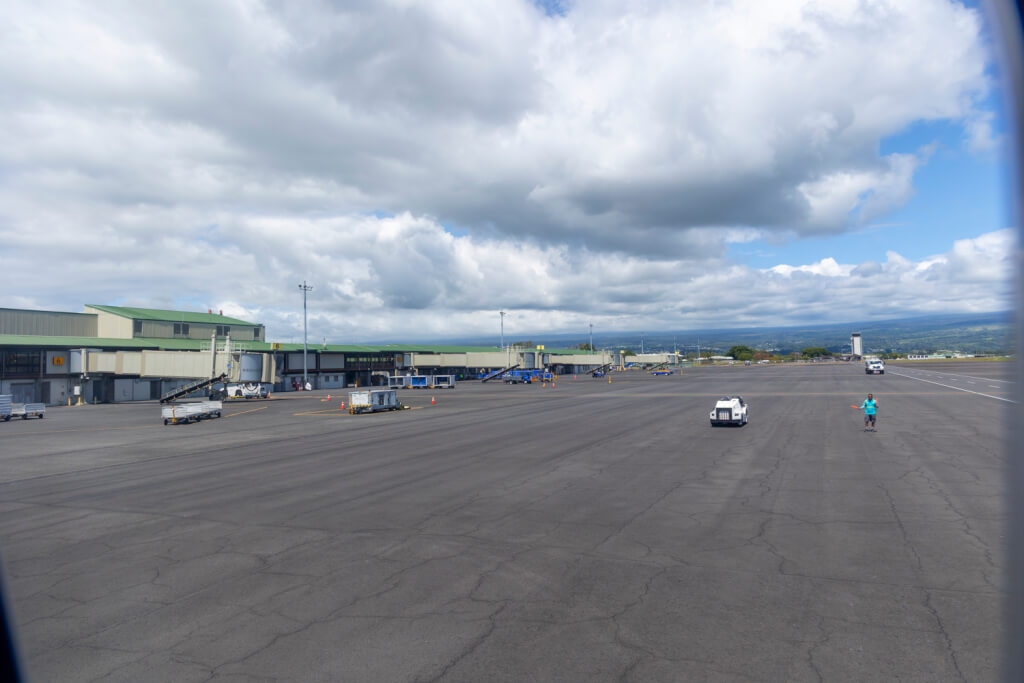 Two minutes later, the cabin door was opened and we began filing out. That was a little more difficult this time around, as I had to go a couple of rows back to grab our carryon bags, but eh. From there, we headed straight down to the baggage claim. 12 minutes after the door opened, our bag made its way out on the conveyor belt. That's the fastest I've ever gotten my checked bag from Hawaiian!
Hawaiian Airlines 212, Final Thoughts
Honestly, our experience on Hawaiian Airlines 212 was the best inter-island flight I've had with the airline in years. Still, I'm not going to get into the habit of flying with them. Sure, this flight and others go well, but delays are very regular occurrences, too. Plus, if Southwest has similar pricing, I'm sticking with them, even if they cost a smidge more. After all, they give you two checked bags, and Rapid Rewards points are more valuable than HawaiianMiles.
Big Island Bird-Watching
Hawaiian Airlines 212 HNL-ITO