I was debating whether or not to review this property, as the Waikiki Parc Hotel is closing this fall for an extensive, 2 year renovation.  The renovation will slash the room count in half, and will undoubtedly raises prices appreciably, but for now, the Waikiki Parc remains a good value.  In fact, I recommended the property to Mr. & Mrs. J, which was admittedly a long shot since it's not part of a big brand, but was a good backup to have.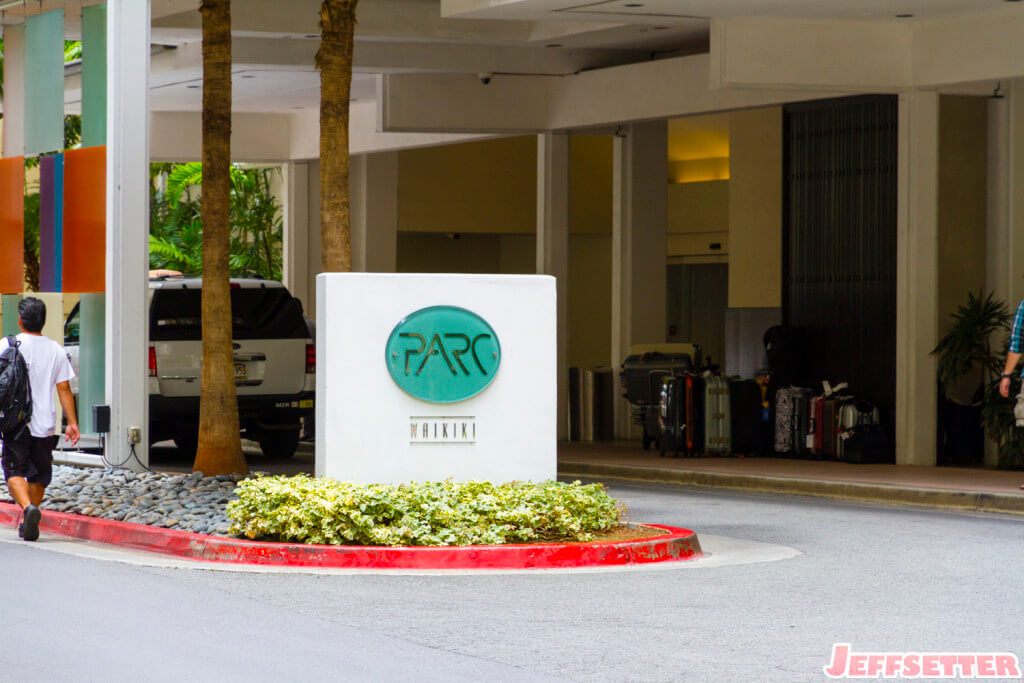 So normally I'd stay at a branded property too, but last year we had a minor emergency at home, but needed a place to stay for a night.  My primary choices of Marriott & Hyatt were sold out, so I decided to give the Parc Waikiki a shot.  Despite many other properties being sold out, we seemed to luck out here, as they were offering a (somewhat frequent) deal for $160/night, which included parking… And best of all?  No resort fee!  Score!!
The main entrance to the property is along the tiny backroad, Helumoa Rd, while the parking garage entrance is on Kalia Rd.  In fact, the parking garage faces the Parc Waikiki's pretentious luxurious sister property, the Halekulani.  The garage  is shared between the two, so it can get pretty crowded.
The garage isn't attached to the lobby, but is just a short walk away.  When you enter the lobby…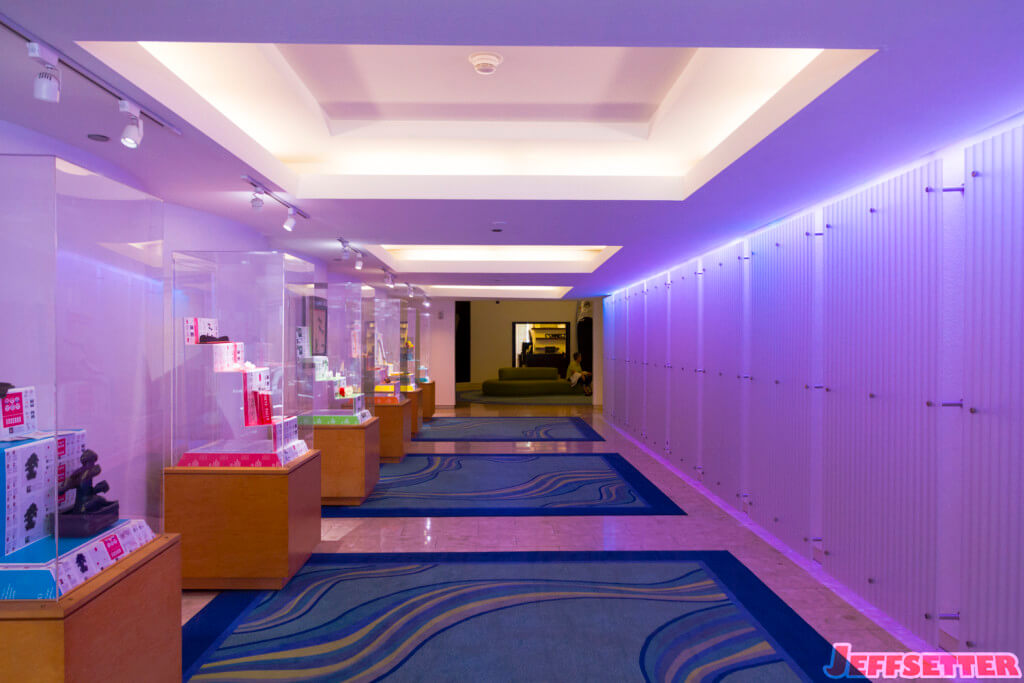 Wow the mood lighting!!  The front desk itself is much more subdued and the elevator bank looks pretty dated… In fact, the rest of the property is very dated looking.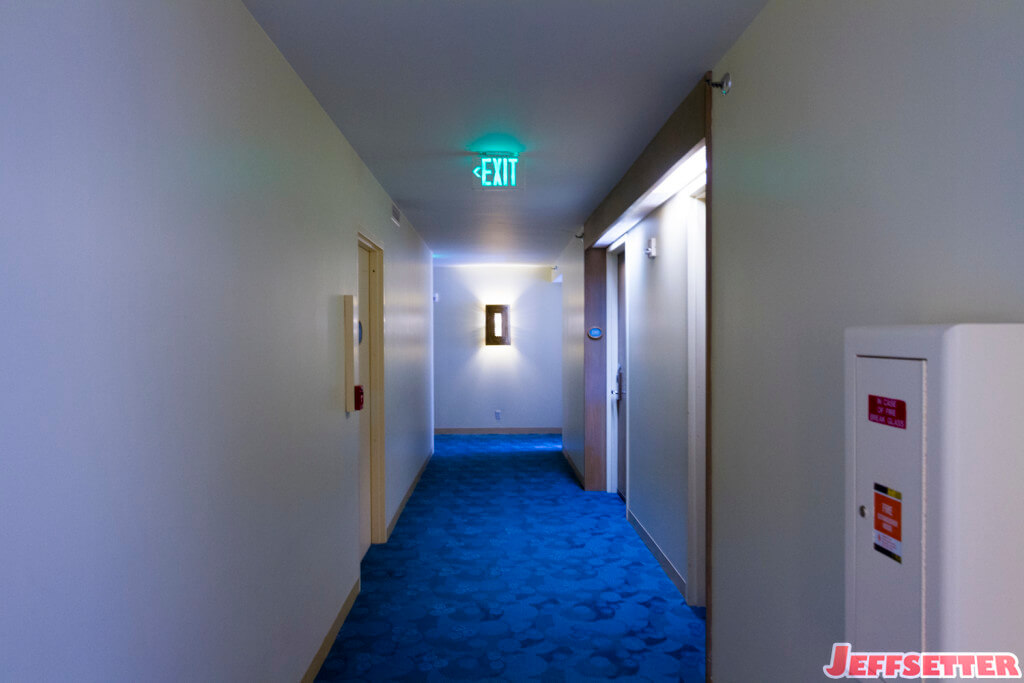 The front desk agent was very friendly and got us checked in quickly.  We were offered an "upgrade" of sorts to a higher-level room, which was nice.  Maybe they felt sorry for us?  Anyway, we were assigned room 2216, a king room with a city view.  Immediately upon entering the room, you'll find the closet on the left.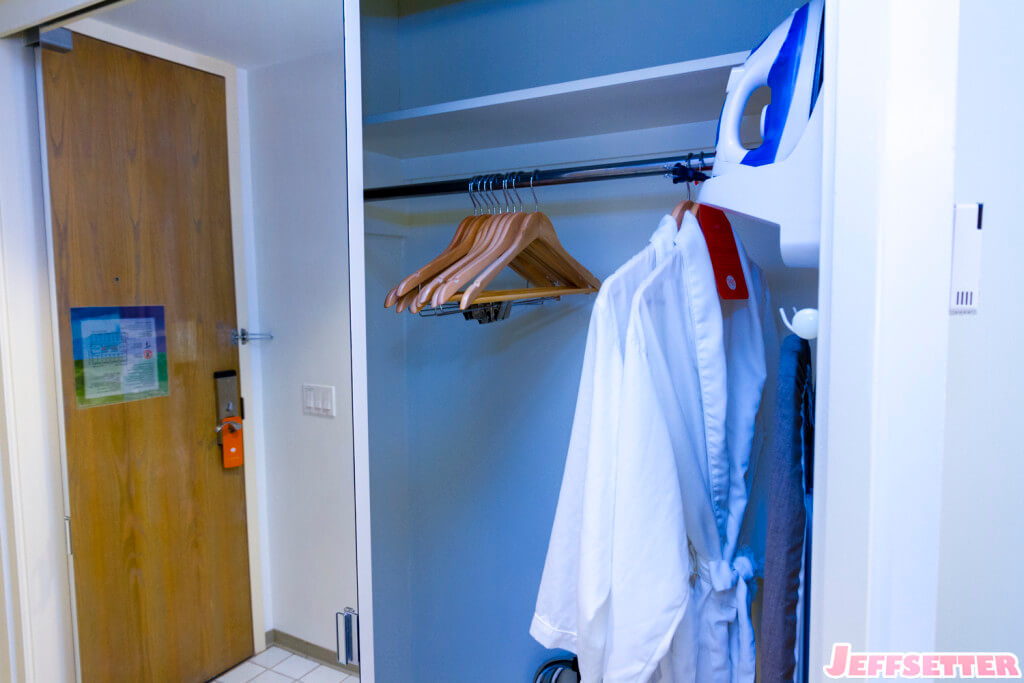 The closet contains two robes, an iron, ironing board, safe, and hairdryer.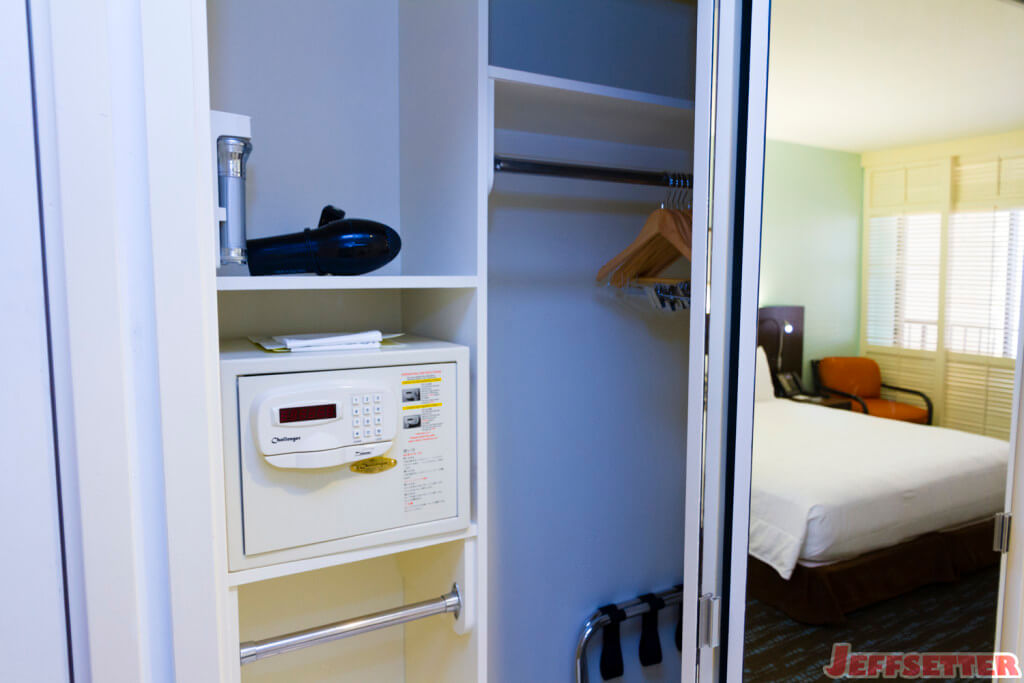 Immediately across from the closet is the claustrophobic small bathroom.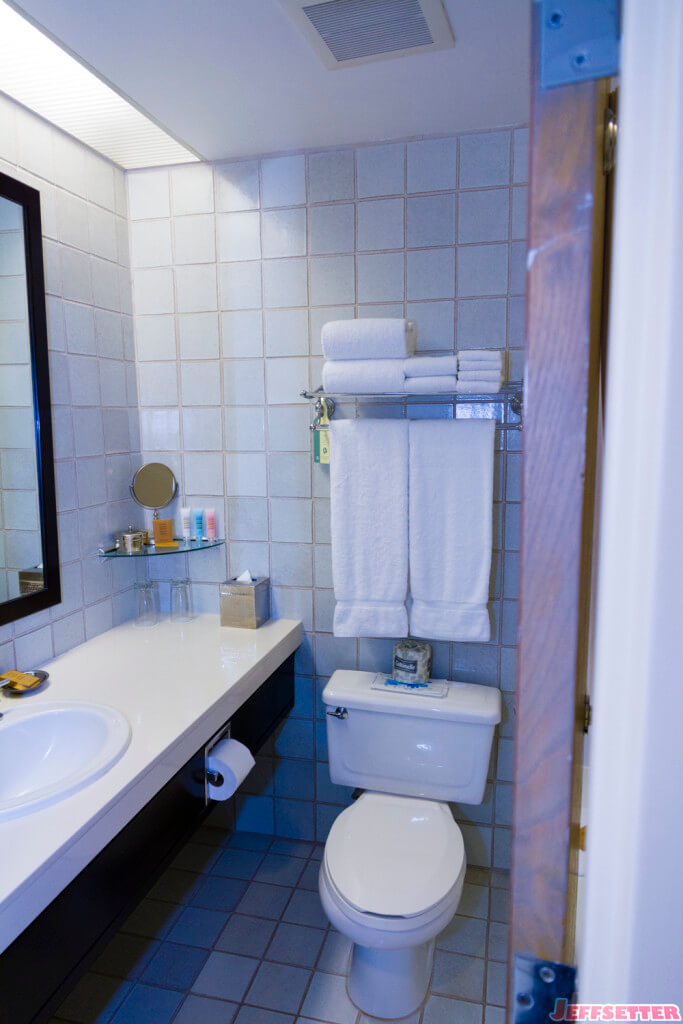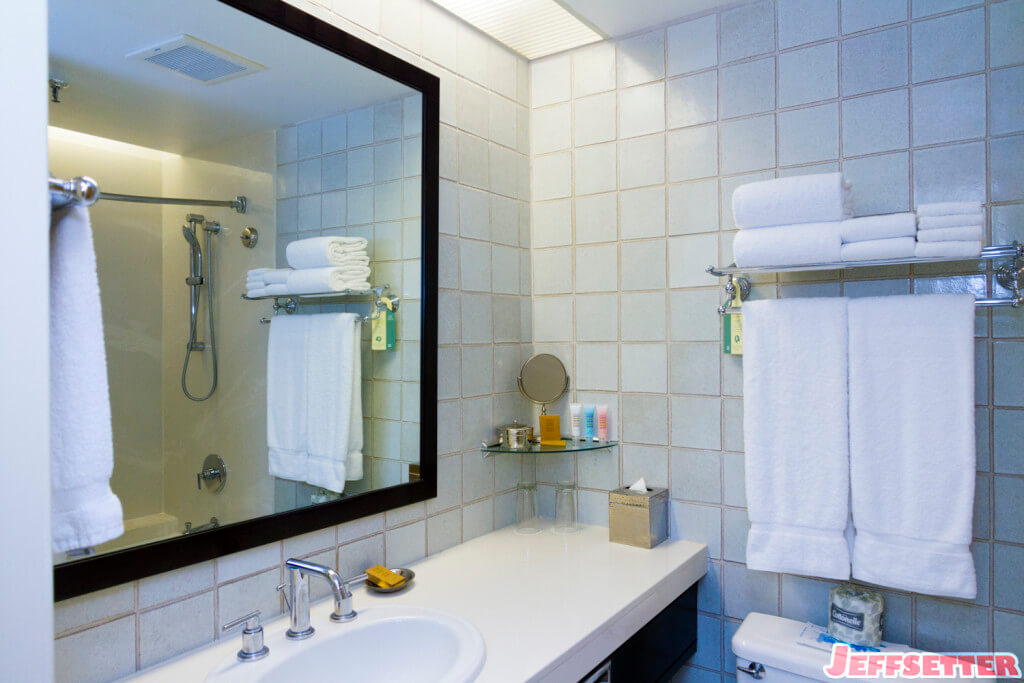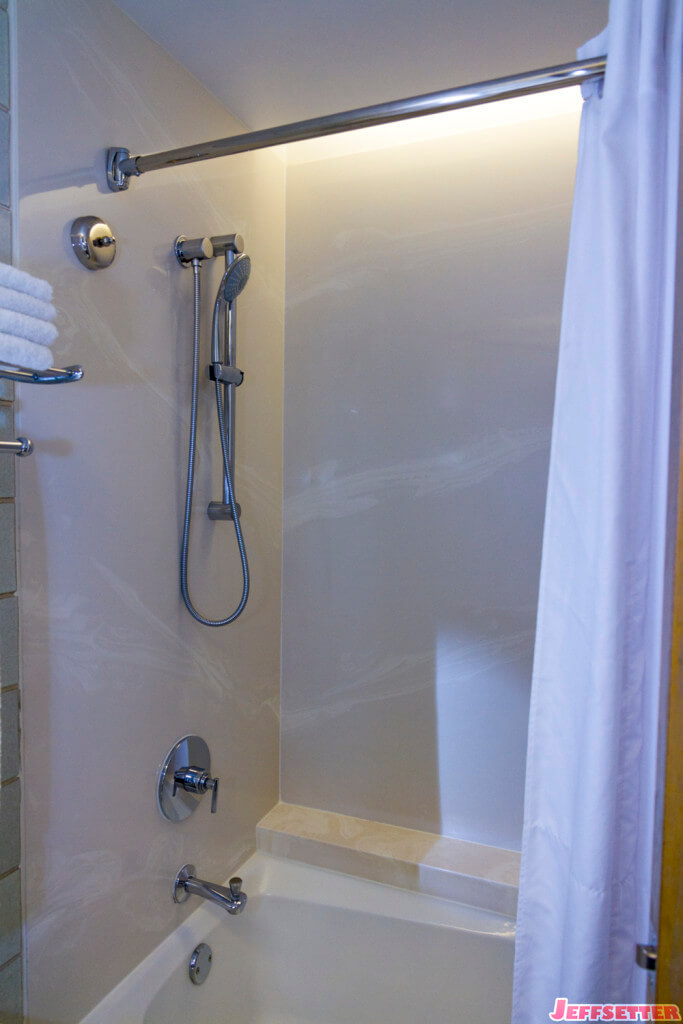 It's so small, only 1 person can really stand in it, and you have to close the door to be able to get into the shower/tub.  It does come with a decent variety of toiletries, though they aren't of great quality or a brand name.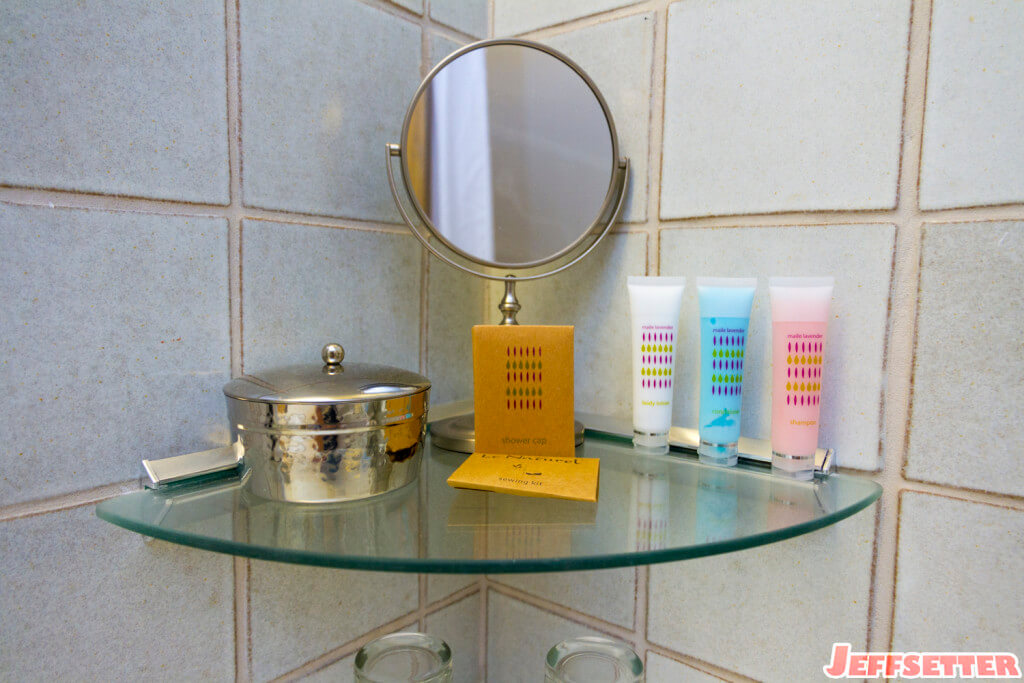 Beyond the bathroom and closet is the main portion of the room with a king bed, nightstands built into the headboard, a small sitting chair, a work desk and chair, and a dresser with the tv, coffee maker and fridge.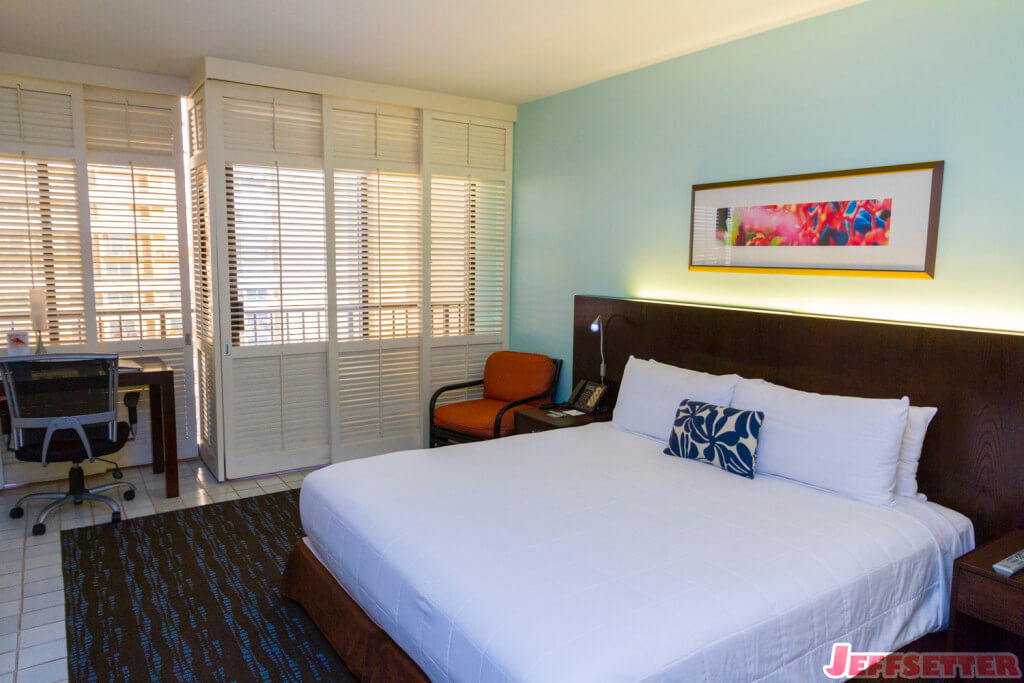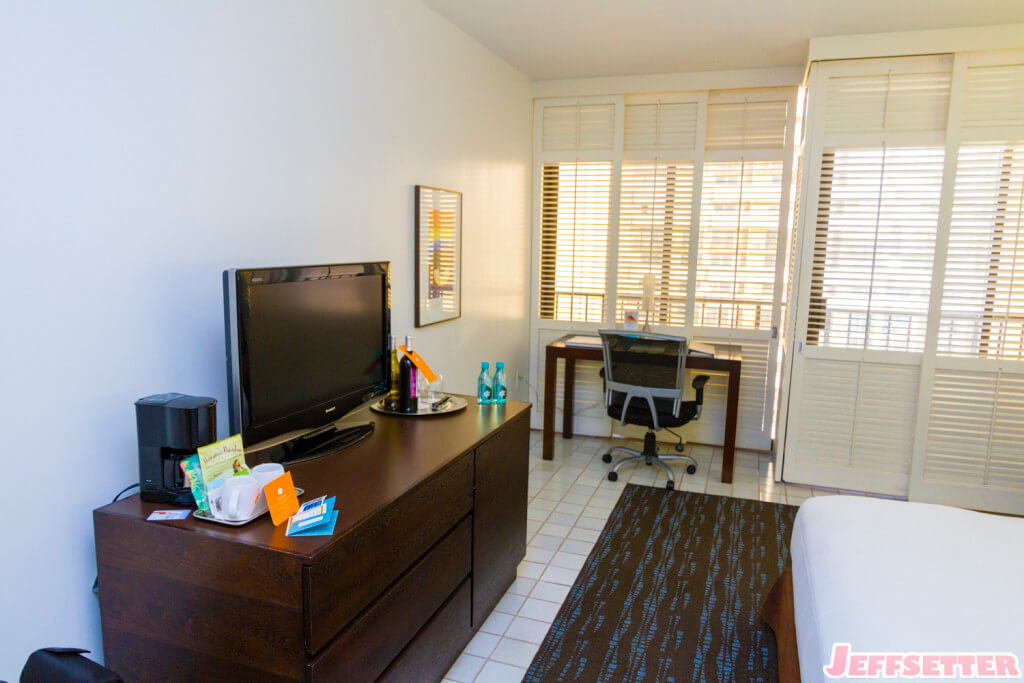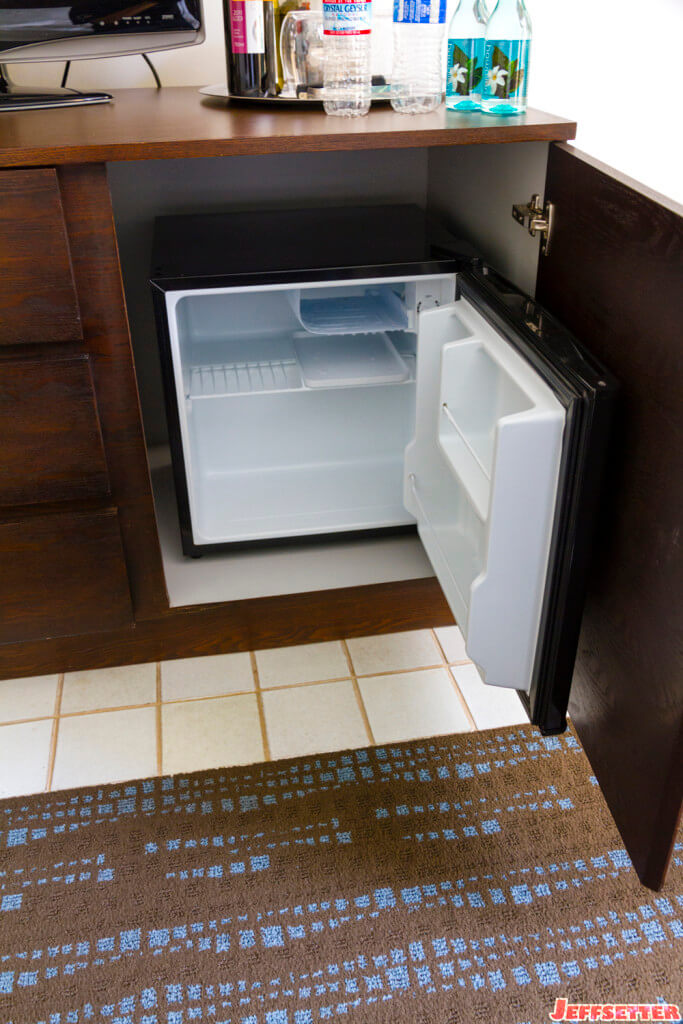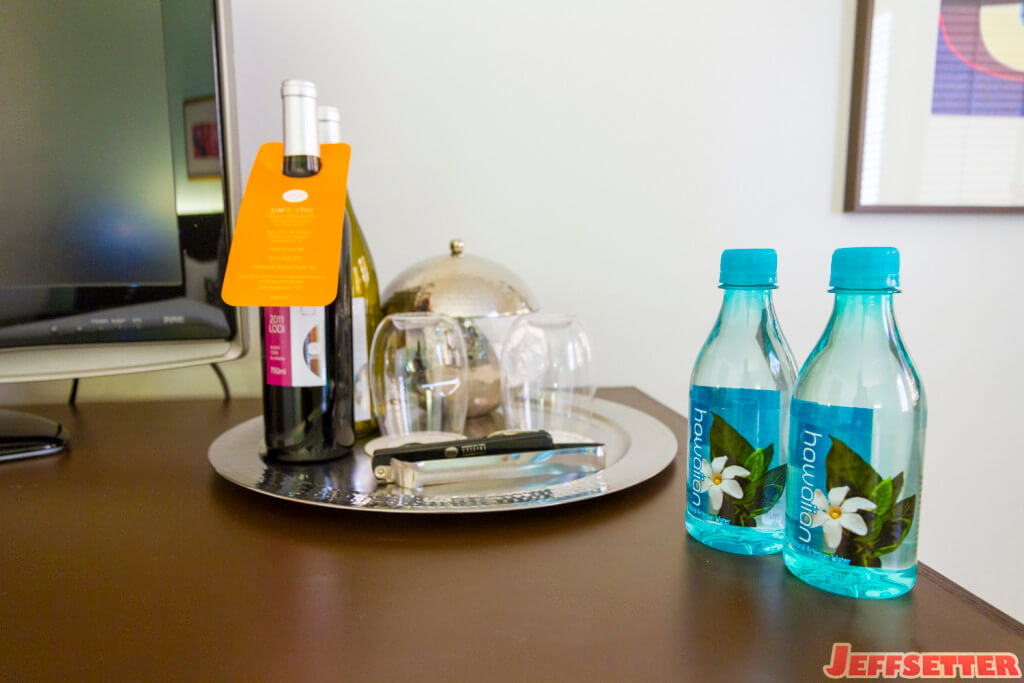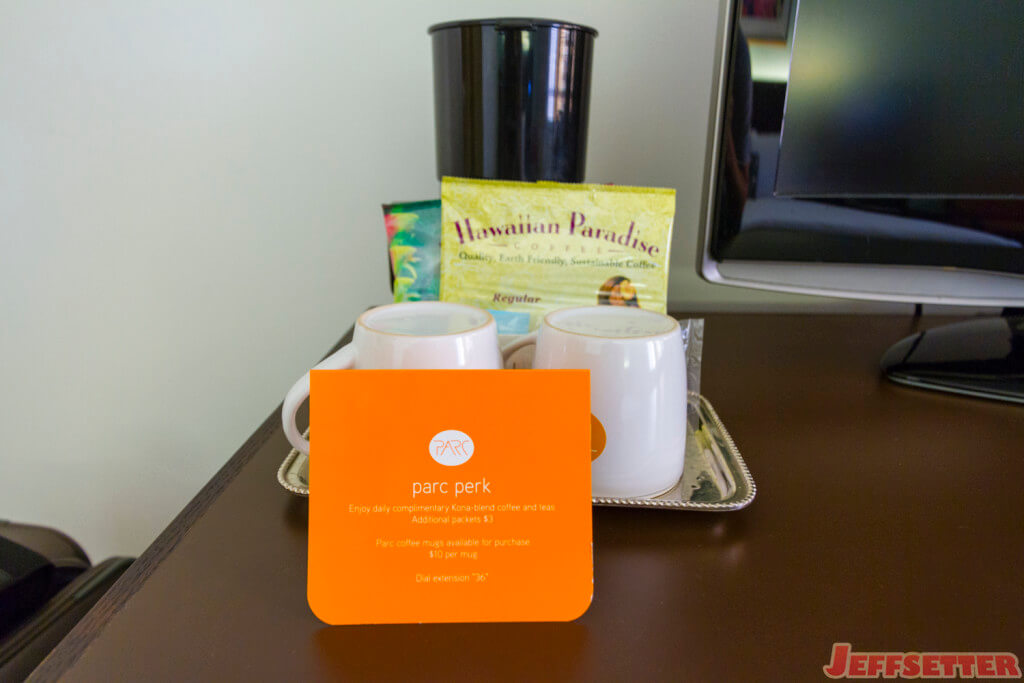 The room, despite the tiny bathroom, is a fairly decent size and well appointed.  The furniture wasn't the most comfortable, the bed was decent (but not Marriott/Westin comfortable), and the room had interesting features like a 30-pin and Lightning connector for iOS.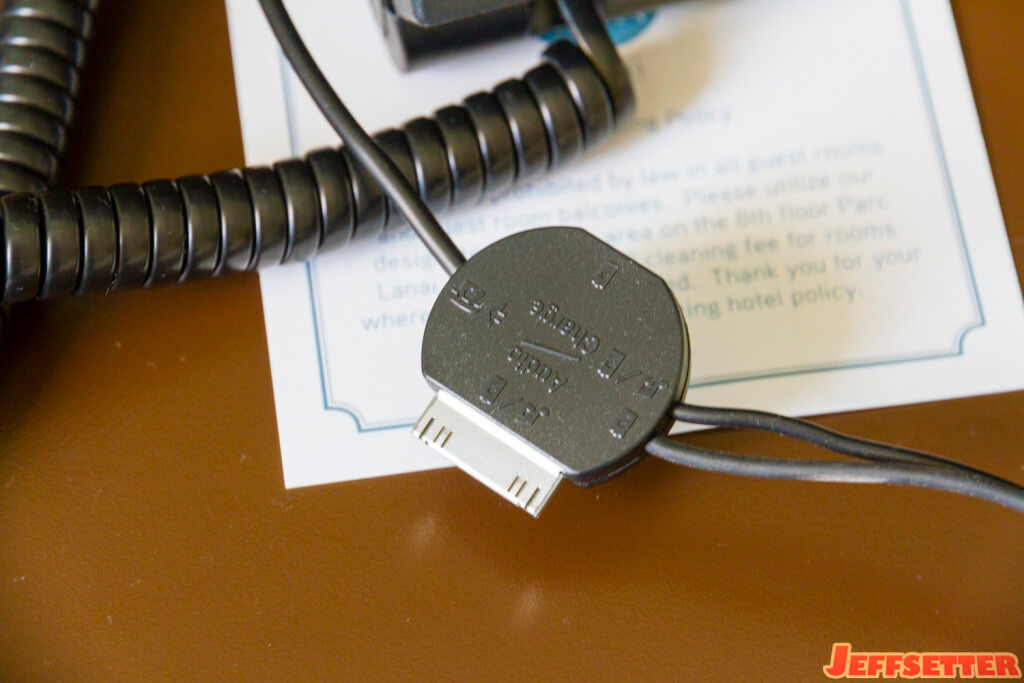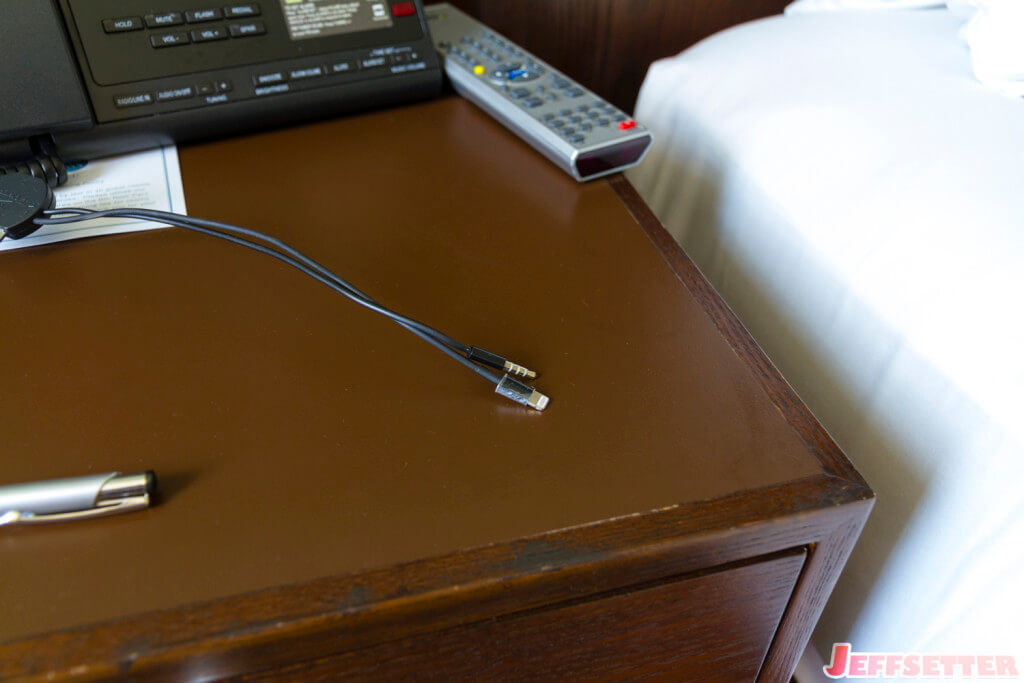 As I said earlier, our room didn't have much of a view.  It was on a high floor, which helped cut down on the noise, but the view was of the Royal Hawaiian Hotel & Shopping Center to the left, and the Sheraton Waikiki to the right.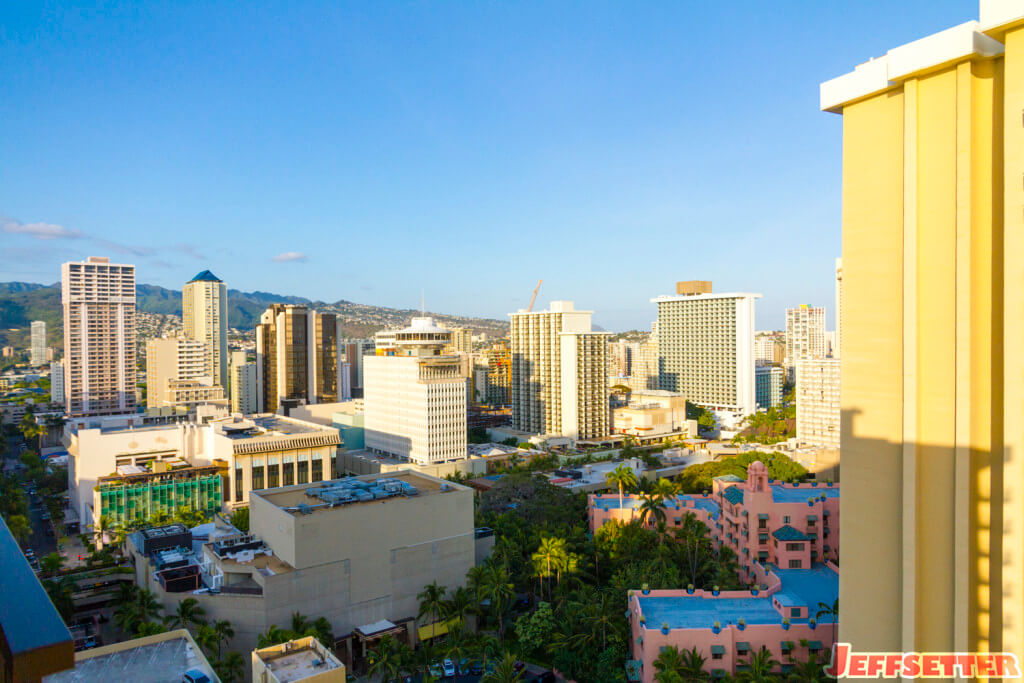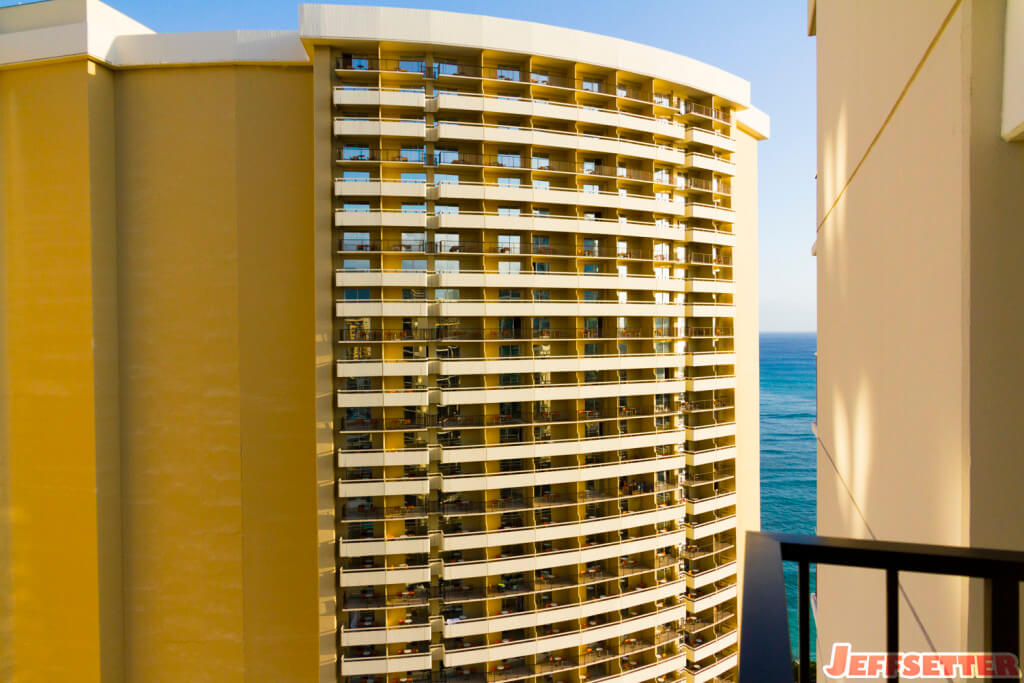 There was a tiny sliver of ocean though!  Oh, and more water view below… the pool.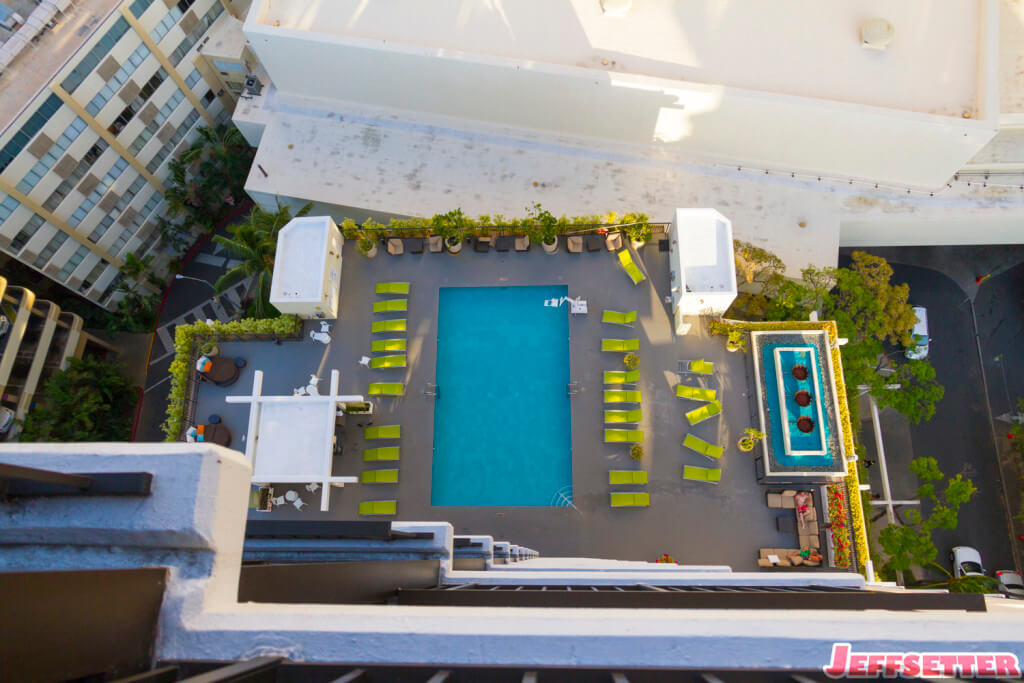 Either way, the balcony was tiny, so it's not like you'd spend much time out on it.  And if you do get a view like ours, I'd recommend not staying out on your balcony… I still can't believe how many people walk out onto their balcony completely naked!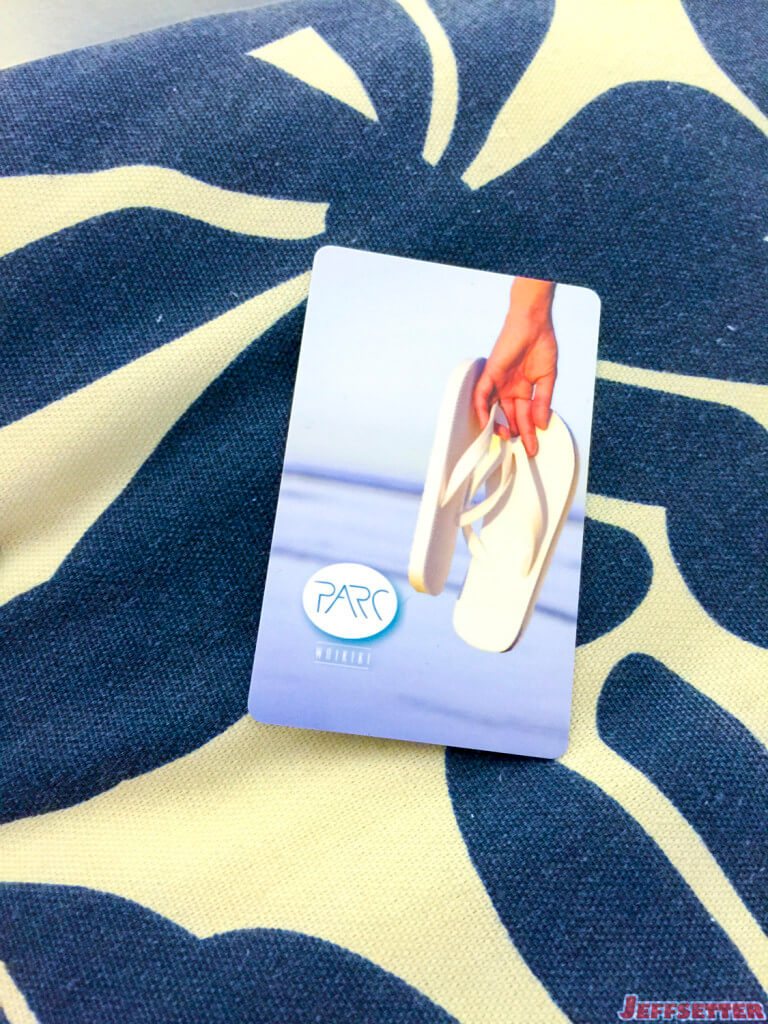 As far as amenities, the Waikiki Parc doesn't have much in the way of it's own.  Rather, it shares amenities, like the spa, with its sister property, the Halekulani.  The property does have a single restaurant, Nobu Waikiki.  This is only temporary too, however, as Nobu will be closing and reopening in Howard Hughe's Ward Villages project in Kaka'ako thanks to the upcoming renovation.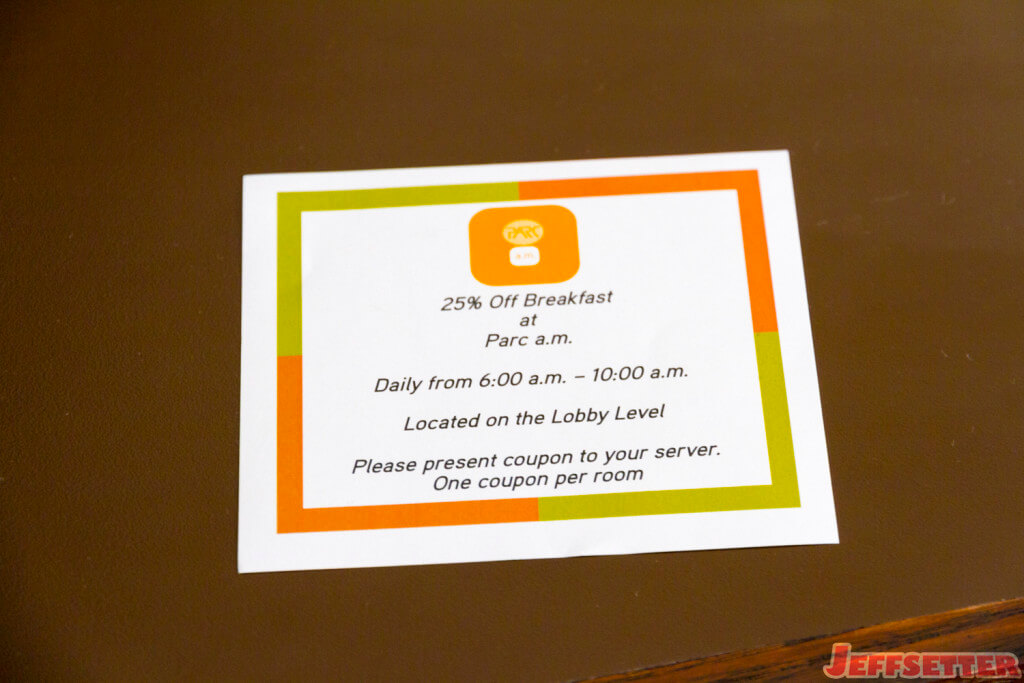 As the only restaurant property, Nobu's actually leads a double life.  During the morning Nobu's converts into the Waikiki Parc's breakfast buffet, Parc a.m.  Guests of the property are offered 25% off the buffet of American and Japanese fare, including a small selection of pastries, some produce, scrambled eggs, bacon, sausage, hash browns, white rice, miso soup, cereal, juice, coffee, tea, and an omelet station.  At the time of our stay, this spread cost around $15 with the discount applied.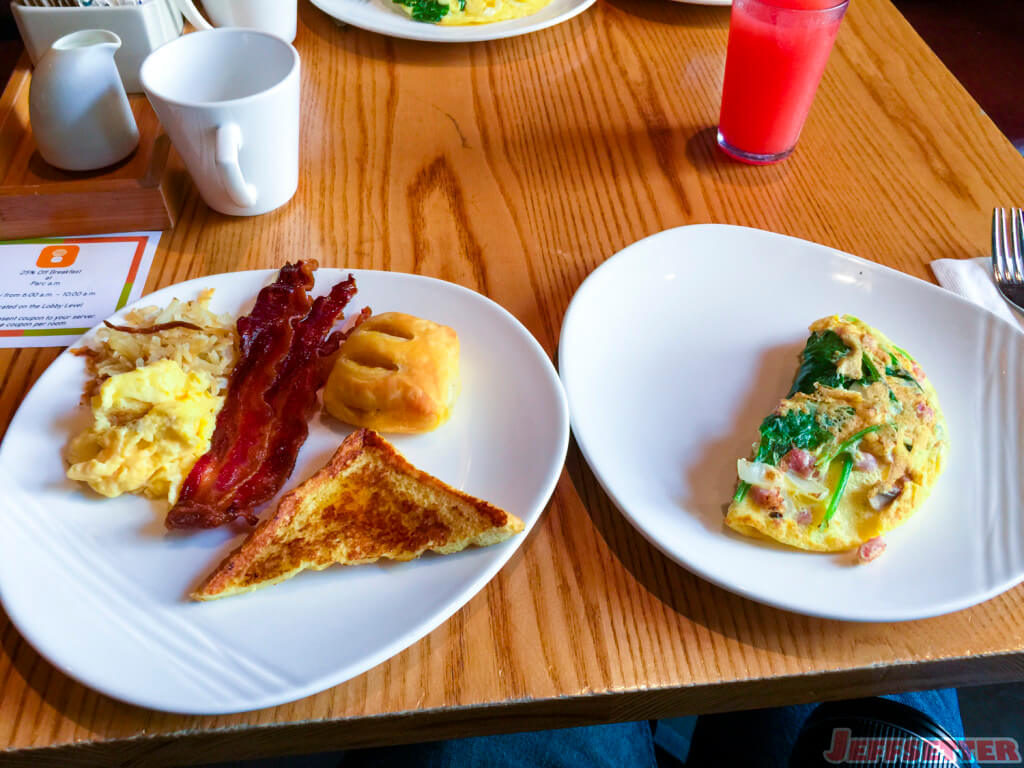 The property does offer 24/7 in-room dining as well, so you don't have to go down stair for breakfast if you don't want to.
In all, our stay at the Waikiki Parc was a pleasant one.  The rooms were decent and the property has a great, central location in the heart of Waikiki with plenty of shopping and dining nearby.  Best of all?  The property represent a great value, especially if you catch one of their numerous sales or package deals.  I'd personally prefer to stay with Hyatt or Marriott for elite perks and point earning potential, but if those options are too expensive or unavailable, the Waikiki Parc is a solid option for me.
If you do decide to book a stay at the Parc, be sure to signup for the loyalty program, iPrefer, first.  Standard benefits include room upgrades (based on availability at check-in), free internet, and priority early check-in/late check-out (based on availability at check-in).  The standard tier (Insider) earns 10 points/$, while Elite tier members earn 15points/$.  Elites also receive a welcome amenity, in addition to Standard benefits.  To earn Elite status, you need to earn at least 50,000 points per calendar year.  The program doesn't allow you to redeem directly for stays, instead you can redeem for $25, $50, 25GBP, or 25Euro certificates.  The $50 certificate will cost 25,000 points, meaning you'd have to spend $2,500 to earn a $50 certificate, representing a redemption value of $0.02.  Of course, for Elites this would equal $1,667 in spend and a redemption value of $0.03.
Though I mentioned it at the start of this post, it's worth mentioning again that the property will be closing later in 2016, to undergo extensive renovations.  Current estimates says the property will be closed for nearly two years as the entire building is gutted, and the current rooms are turned into one and two bedroom units.  The property will go from 297 rooms, down to 200 rooms, so I expect prices to not only rise significantly once renovations are complete, but the property will look drastically different.  But for now, the property remains an excellent value!